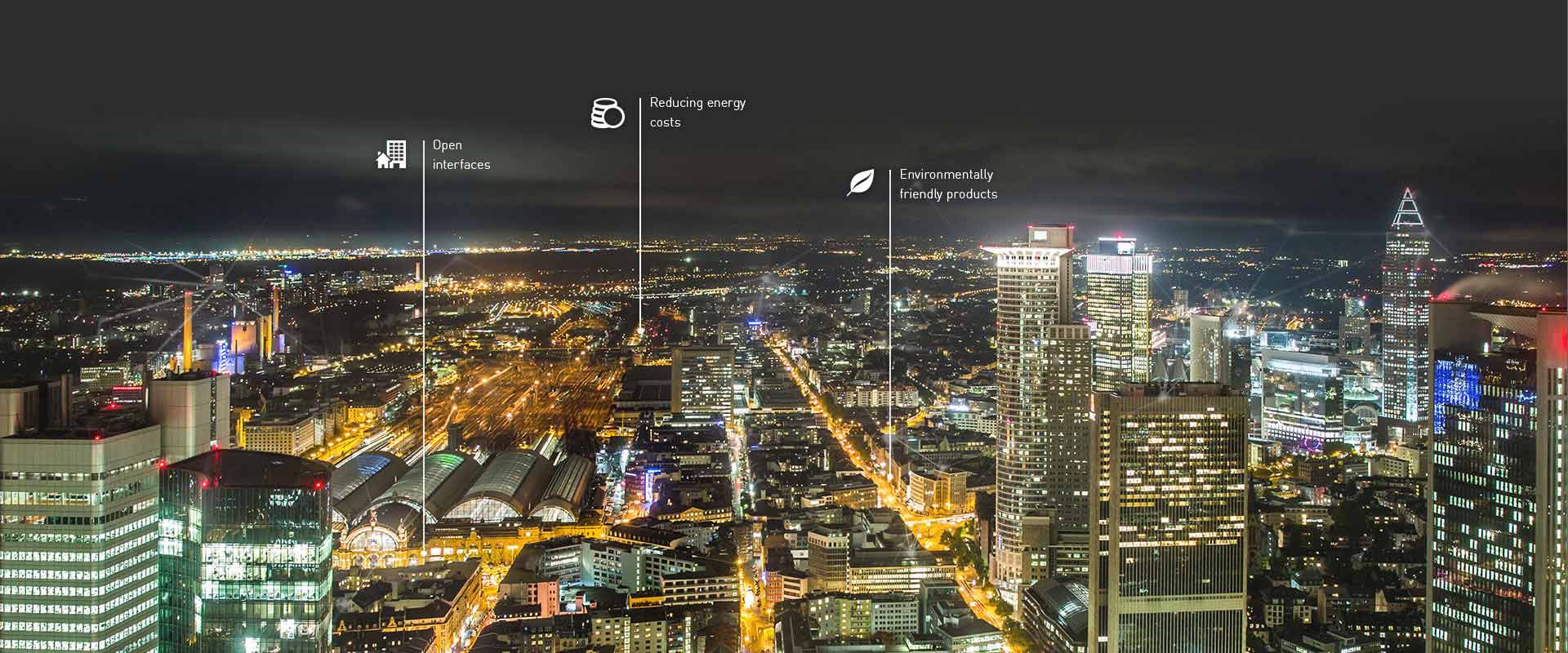 Smart City meets Smart Lighting
Road lighting will become increasingly intelligent. Not only the diverse advantages of light management systems are utilised, but completely new application options have been created by connectivity and Smart City. Light posts and columns with sensor technology help to locate parking spaces, provide wireless internet access, feature small screens that can be used for city marketing or city tours and serve as "filling stations" for E-bikes and electrically powered cars.
As you can see, TRILUX lighting solutions are not only clever but are becoming increasingly smarter. In the outdoor luminaires sector, TRILUX has been setting standards in the lighting market for over 100 years thanks to its product innovations. Whether it's energy efficiency, connectivity or smart lighting – TRILUX has extensive lighting expertise and supports you in the implementation of customised lighting concepts. We also aim for top quality of service and accessibility.
Interview with an expert
Smart City meets Smart Lighting
with Stefan Metzner, Head of Outdoor Luminaires at TRILUX
What do the terms Smart City and Smart Lighting actually mean?
The term Smart City combines technical, economic and social innovations intended to make our towns and cities more efficient, sustainable and more worth living in. Also, intelligent cities in the future should develop solutions for urban challenges such as environmental pollution and population growth. Topics such as smart mobility for example are focused on ...
For many people Smart Lighting is still in the distant future. What will outdoor lighting of the future be capable of doing and what's currently possible?
The street luminaire of the future is actually the ideal functional carrier for progress. Thanks to additionally installed intelligent hardware, light columns and posts can be upgraded to infrastructure nodes with diverse uses. Equipped as such, luminaires will become feasible that measure the frequency on roads and pavements and that dim their light according to the traffic density. In addition, future luminaires equipped with small monitors and loudspeakers will function as electronic guides or provide wireless Internet access thanks to integrated W-LAN routers. They can also serve as filling stations for e-bikes and electric vehicles, or help to find free parking places using their sensor technology.
As part of an intelligent network, city luminaires of the future contribute to more safety, improved traffic flows and enhanced energy savings. TRILUX with its Smart Lighting luminaires ConStela and ViaCon already offers the possibility to equip outdoor lighting with many Smart City applications and functions. TRILUX also uses a new light management system especially for outdoor luminaires, as shown at Light + Building 2016. This offers users extensive control functions, e.g. information about the lamp status, adaptation of illumination via stepless dimming, activating the energy-saving mode with the night-time reduction function, the maintenance and early identification of failures, as well as optional expansion via motion/brightness sensors or radar. With the luminaires we installed on the Brückenplatz in Arnsberg as part of the Klosterbrückepilot project, the colours can also be modified among other factors using a light management system. This allows the bridge itself to be illuminated differently according to needs. The control also enables intelligent maintenance of the luminaires.
What is the greater challenge and why? Newly designing a Smart City or upgrading existing urban structures?
Both are exciting and stimulating tasks, no question about it. Planning a Smart City has its particular challenges, as does upgrading an existing city to a Smart City. That makes it more difficult to compare them – it can be said though that you have more flexibility when newly designing a Smart City on the drawing board because the design process literally starts on a sheet of empty white paper. Upgrading existing urban structures with smart systems and functions is somewhat restrictive in comparison. In those cases the challenge is rather to accommodate any existing urban structures and develop them further. Another point – Smart Cities do not exist alone but need smart people, i.e. people that respond to and drive forward new technology, infrastructures, networks and control systems in the urban environment. That's actually the case in both situations.
Which costs occur in districts/cities when they progress to become intelligent cities and take the decision for installing lighting systems with Smart City applications and functions?
That can't actually be specified in general because Smart Cities don't come "off the shelf". Each town or community selects its particular package and defines the desired utilisation extent and functional extent of its smart lighting system individually. In such cases TRILUX uses a modular kit method to avoid the costs becoming unmanageable. As an example – our ConStela and ViaCon luminaires can be retroactively upgraded with Smart City modules because of their modular designs. With this we enable cities to upgrade their basic luminaires step-by-step to Smart City luminaires. That's also a significantly good reason for capital expenditure in this time of tight public budgets.
Smart City with TRILUX
Customised, innovative solutions
The close cooperation between TRILUX and proven Smart City experts has created customised, innovative, networked and highly affordable solutions for indoor and outdoor areas.
Need-oriented lighting
With TRILUX outdoor luminaires, highly efficient need-oriented lighting is very simple: Light only where and when it is needed and at the level required.
Charging stations
Luminaire poles and light columns serve as "power points" for E-Bikes and electric cars. With a conventional plug or a quick-charge plug, street luminaires and light columns become charging stations.
Wi-Fi Hotspots
Street luminaires and light columns become Wi-Fi hotspots providing internet access for passers-by
Looking for a parking space
Street luminaires and light columns equipped with sensors help with the search for a parking space. This helps prevent traffic jams and lowers CO2 emissions.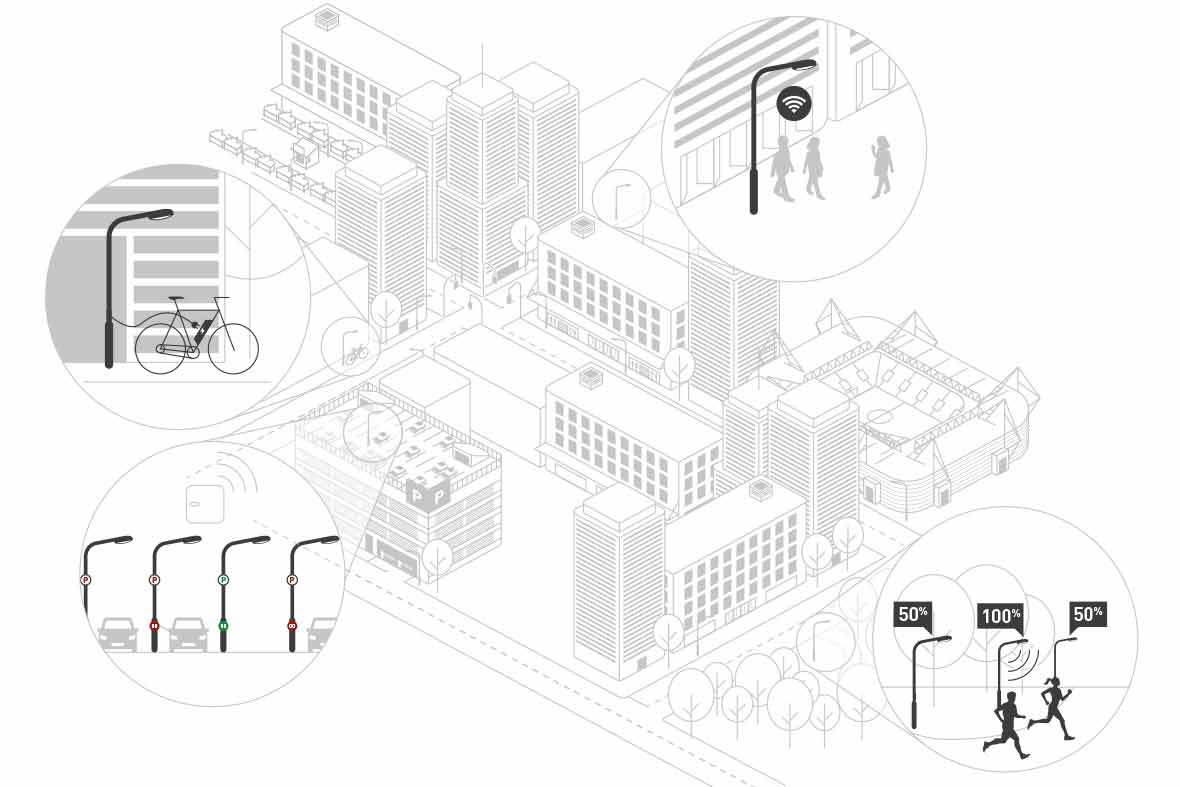 Ludwigsburg calculation example
23 luminaires (complete system)
| | Old system: 50 W HST | New system: LED (Convia SB3L) |
| --- | --- | --- |
| Wattage | 66W | max. 13W |
| Operating hours | 1825 h/a | 4000 h/a |
| Energy consumption | 2770.35 kWh/a | 533.45 kWh/a |
| Energy price | 0,125 € | 0,125 € |
| Annual electricity costs | 346,29 € | 66,68 € |
| Light control | - | improved |
| Luminous flux | ca. 5300 lm | 1200 lm |
| Glare | - | - |
| Protection rating | - | IP66 |
| Location | - | - |
| Saving | - | 81% |
Old system switched off from 11 pm to 5 am. New system on standby. Calculation for new system is based on 150 presence detections per night.
TRILUX outdoor light management -
light points become an intelligent network
The challenge
Towns and communities can achieve high savings in operating costs by refurbishing their obsolete communal road lighting. However, many decision-takers are still hesitant because upgrading paves the way for the next decades. In addition to the benefits provided by upgrading to energy-efficient LED technology, councils wish to keep all options open regarding current and future network and Smart City applications.
The solution
When upgrading to LED lighting, TRILUX outdoor light management enables many network and Smart City applications to already be implemented without effort. The individual light points are combined to create a wide-area network either via Powerline using the existing power grid or via a wireless 2.4 GHz radio system. Configuring and controlling the luminaires is highly convenient with user-friendly, web-based software and a graphic user interface. "Light according to needs" can be created for example using integrated sensor technology. Intelligent data monitoring gives the operator an overview of the most important system parameters at all times – e.g. the operating state of each individual luminaire in the network.
The result
The TRILUX outdoor light management is a high-performance and user-friendly light management system with high flexibility and transparency. The system enables outdoor luminaires to be simply and conveniently networked, controlled and monitored – this enables municipalities to drastically reduce their operating overheads. Compared to conventional outdoor lighting systems, energy costs alone are reduced by up to 80%. Maintenance effort is also significantly cut. The open interfaces also allow the integration of possible third-party providers for flexibility and future safety.
Powerline light management
Existing electricity grids can be used by Powerline technology for establishing a data transmission network.
Light management radio settings from the office
The user-friendly interface enables configuring, analysing, controlling and monitoring of luminaires from an office. The associated software provides an overview of the complete lighting installation, thereby guaranteeing optimum maintenance planning. All data is transmitted in encrypted form to protect the system from unauthorised access. A PIN code provides further protection from third party access.