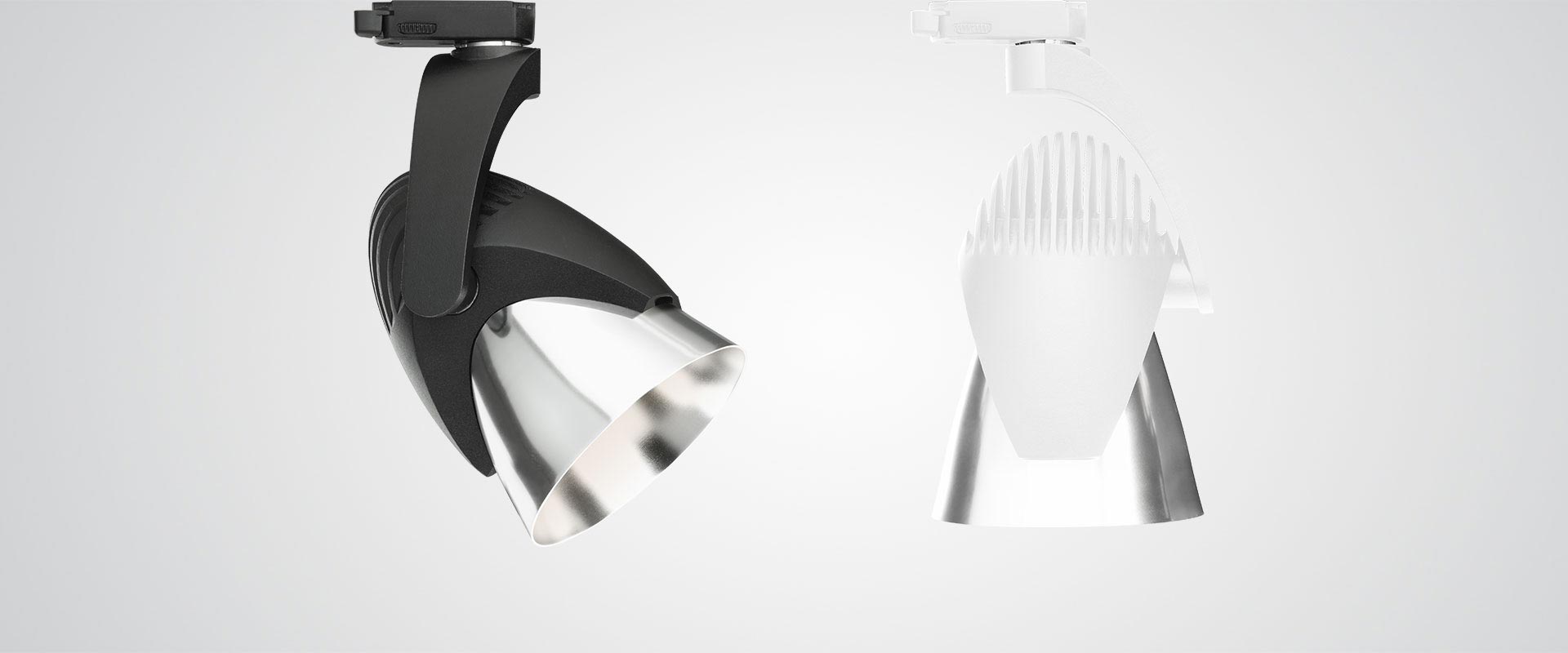 Antelope LED
a functional design with atmospheric light
The challenge
In many sales areas, successful goods displays are not just effective accent lighting. Especially in the fashion and lifestyle segments, the point of sale benefits from an inviting atmosphere. It's here that well thought-out, discreet complete solutions are needed which can do both: highlighting goods with light and creating a pleasing atmosphere of well-being.
The solution
With the Antelope LED, the choice of reflector determines whether the luminaire emits a narrow, accenting light cone or soft, wide light. The lighting system itself has a uniform look because the reflectors look the same on the outside. Oktalite uses a new type of technology with the Antelope spot; a LED light engine. This single unit, consisting of LED module and integrated driver, makes the luminaire's especially compact, small design possible, allowing it to blend ideally into rooms, without any disturbing components or separate control units. Thermal management is also an integral part of the design: the spotlight housing, in the form of a fork, acts as a heat sink. The simplicity principle also applies to it's use - the spotlight can be simply mounted and directed towards the goods with just a few flicks of the wrist.
The result
The clever design enables customers to implement several different lighting tasks with just one luminaire range in shops, providing a uniform overall look. Thanks to the reduced amount of materials used in its construction,, installing the spot is quick and therefore cost-efficient. At the same time, the luminaire therefore also adds a great design element in shops.
Product and application images
Intelligent concept: spotlight housing and heat sink in one
The luminaire features and intelligent design: the die-cast housing is an integrated cooling element at the same time, directly regulating the temperature of the luminaire.
Compact – new technology
Oktalite has equipped the surface-mounted directional spot with an innovative LED light engine, a single unit consisting of LED module and integrated driver. This technology makes the small construction size possible.
Flexible: two beam angles
The luminaire has a highly specular aluminium reflector with an anodised layer. Clients can chose between spot or medium flood beam angles. The reflector also ensures high efficiency and visual comfort.
Freedom of choice: two light colours
The Antelope LED surface-mounted directional spot is available with two different light colours: 3,000 or 4,000 Kelvin. This means the lighting can be optimally adjusted to suit the design of the store.
Functional design
The fork-shaped design of the die-cast aluminium spotlight housing also acts as the luminaire's heat sink.
Innovative technology
The spot features an innovative combination of LED module and integrated driver – allowing the use of less material in the construction.
Flexible light
The spotlight is available in spot or medium flood beam versions.
Selectable light colours
The Antelope LED surface-mounted directional spot is available in light colours 3,000 and 4,000 Kelvin.
Technical features
| Reference | Value |
| --- | --- |
| Lumen class: | 3,000 lm |
| System luminous flux: | Up to 2,655 lm |
| Connected load/efficiency: | 33 W ; 80 lm/W |
| Service life: | 30,000 h L70/B50 |
| Colour rendering/-temperature: | 3,000 K, 4,000 K; CRI = 83 |
| Electrical version: | AC module, no DALI possible |
| Dimensions (L x W x H): | 215 mm, Ø 120 mm ; luminaire head: h = 173 mm ; rotatable 355°, tiltable 180° |
| Protection rating/safety class: | IP20 |
| Light distribution: | Spot, Medium Flood |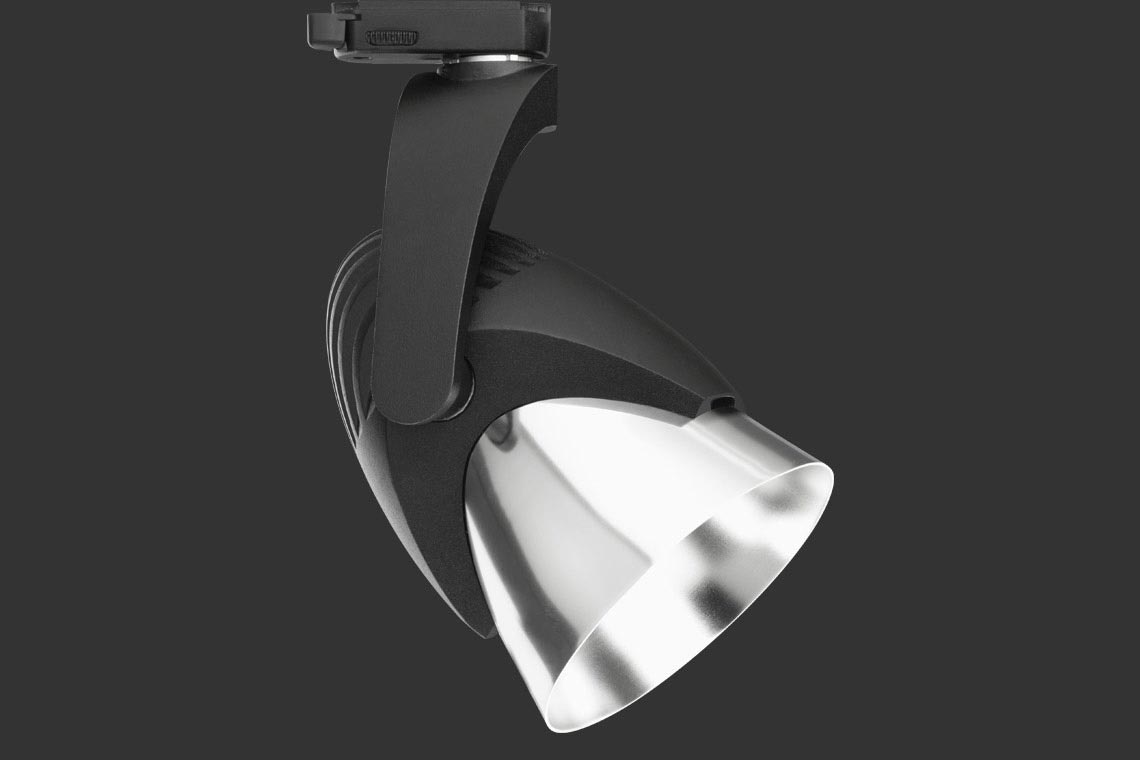 Antelope LED
view in the online catalogue