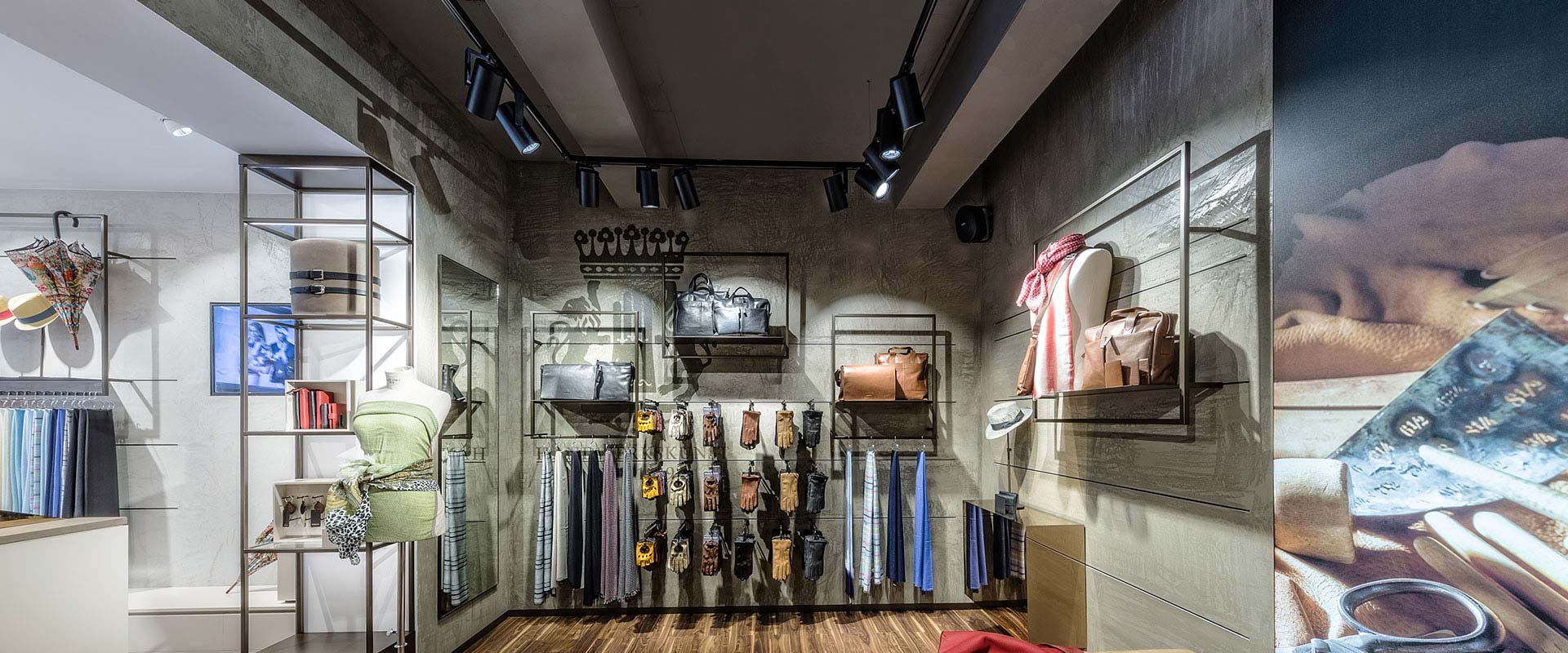 Canilo LED
a trio of discreet elegance
The challenge
Fashion, food or lifestyle – all products need to be displayed in the right light in modern, sophisticated sales environments. In addition to this: frequently changing groups of goods and decorations require a diverse lighting solution that can be quickly and simply adapted to such changes and as if that wasn't challenge enough, the luminaire's appearance as an element of design must have a qualitative look and blend ideally into the shop's surroundings, without being too conspicuous.
The solution
The Canilo LED range of products can do one thing exceptionally well: impress. All thanks to its elegant design and enormous flexibility and diversity. The Canilo LED is optionally available as a suspended luminaire or surface-mounted directional spot, with various interchangeable reflectors and different beam characteristics, along with a wide spectrum of white light colours. The latest members of the range are for special tasks: the larger and higher lumen output Canilo Plus LED spotlight also ideally illuminates fresh goods areas thanks to its special light spectra, as well as illuminating high rooms. All versions have an attractive, discreet design. The characteristic side flap on the luminaire body can have individual colours (e.g. company colours) to provide an unmistakable overall ambience.
The result
Thanks to its diversity within a uniformly elegant design, the Canilo LED is ideal for all lighting tasks in sophisticated sales surroundings – ranging from goods lighting and accent lighting to displaying architectural elements. Its high-quality and simultaneously diverse light makes the luminaire range ideal for food, shop, automotive and fashion areas.
Browser information
The model cannot be displayed. Unfortunately your browser does not completely support this web technology.
Use Google Chrome for example to gain complete user experience.
Zoom
Scroll to zoom towards the model
Drag and Drop
Rotate the model by clicking and dragging
Change the background
Change the background colour with this icon
Close
Close the application with this icon
Product and application images
Complete solutions thanks to range diversity
The range, consisting of spotlights and a suspended luminaire, provide stylish lighting with a uniform look in sophisticated and multi-use buildings. Interchangeable reflectors offer even greater flexibility making up to five different beam characteristics possible.
Uniform design for all versions
Luminaires in the Canilo LED range are classically elegant, setting sophisticated accents within prestigious sales environments. With all versions the supply unit is integrated in the luminaire, so that no additional driver housing disturbs the classic elegance. Typical for the Canilo LED, is its characteristic side flap that can be optionally colour-designed according to customers' wishes. Harmonious overall appearances in stores are created thanks to a uniform design with all versions.
All versions with intelligent details
Each luminaire version makes the most of its individual strengths. All luminaires in the Canilo LED product family have a black anti-glare ring to optimise visual comfort – the ring is also an attractive design element. With a single-arm construction, the track spot has a particularly lightweight appearance. The suspended Canilo LED version sets filigree, stylish accents: suspension via the current-conducting cable emphasises the attractive lightweight appearance. The luminaire can be adjusted without tools, enabling lighting to be simply adapted to the current goods assortment.
Highly diverse light for many different applications
Canilo LED luminaires are available in six white light colours and the Canilo Plus LED, with its additional special light colours, is also ideal for fresh product displays. The recessed reflector provides good glare reduction without light loss. The efficient segmented reflectors also contribute to a pleasant light atmosphere thanks to their optimum light distribution.
The power package: Canilo Plus LED
The latest member of the range, the Canilo Plus LED, is a real power package thanks to luminous flux levels up to 6000 lm and is also perfect for sophisticated lighting tasks in high rooms. The high lumen-output Canilo Plus LED is one third more efficient than solutions with HIT lamps. An optional glass cover also protects the Canilo LED from soiling.
Flexibility across the range
The Canilo and Canilo Plus spots, as well as the Canilo suspended luminaire, provide flexible use with a uniform design.
A wide spectrum for many applications
Various LED modules are available for the luminaires with up to 4,000 lm (Canilo LED) or 6,000 lm (Canilo Plus LED). The Canilo Plus LED also features special light colours for fresh goods displays.
State-of-the-art light management
The Canilo Plus LED is DALI-compatible, enabling it to be effortlessly controlled using the latest light management systems such as TRILUX's LiveLink system.
Five beam characteristics
Interchangeable reflectors enable up to five different beam angles: Spot (SP), Medium Flood (MF), Flood (FL), Wide Flood (WFL) and Very Wide Flood (VFL).
An efficient power package
The Canilo Plus LED can be equipped with light levels of up to 6,000 lm – this version effortlessly illuminates rooms with high ceilings and is also 34% more efficient than conventional HIT 70 W solutions – the luminaire also generates 6% more light.
Elegant design
The classically elegant housing blends optimally into prestigious sales surroundings. The characteristic side flap can be modified to customers' colour specifications.
Well thought-out details
Suspension height with the pendant luminaire is variable and can be adjusted without tools.
Technical features
| Reference | Values |
| --- | --- |
| Lumen class: | 4,000 – 6,000 lm |
| System luminous flux: | Up to 6,040 lm |
| Connected load/efficiency: | 4,000 lm: 33 W, 5,000 lm: 45 W, 6,000 lm: 58 W ; Best Colour: 4,000 lm: 38 W, 5,000 lm: 58 W ; up to 118 lm/W |
| Service life: | 50,000 h L80/B10 |
| Colour rendering/-temperature: | White light colours: 2,700, 3,000, 3,500, 4,000 K + Efficient Colour, CRI = 85 + Best Colour, CRI = 95 |
| Food colours: | B+V+C (Bakery+Vegetables+Cheese), M (Meat), M+D (Meat + Fish) |
| Electrical version: | LED, LEDIQ (DALI) as standard |
| Dimensions (L x W x H): | 140 x 162 x 340 mm ; rotatable 355°, pivotable 180° |
| Protection rating/safety class: | IP20 |
| Light distribution: | Spot, Medium Flood, Flood, Wide Flood, Very Wide Flood |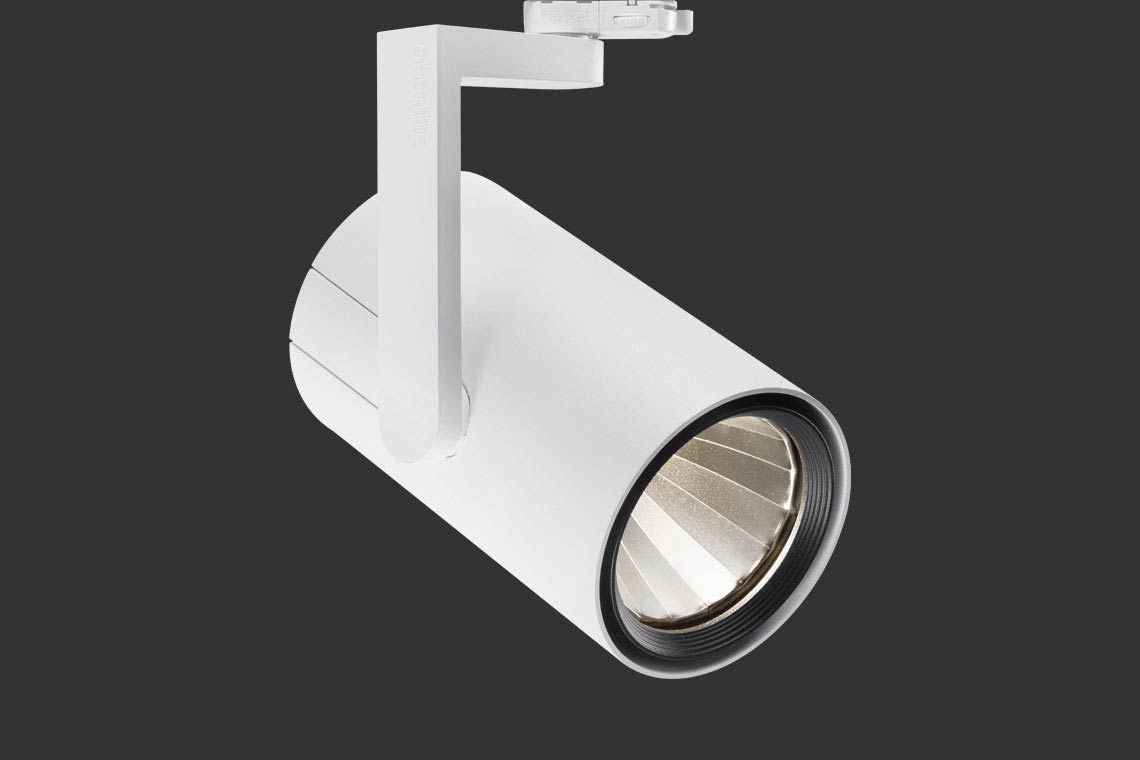 Canilo LED
view in the online catalogue