E-Line LED
A continuous line for every application
The E-Line series has now been one of the most successful continuous lines in Germany and across Europe for the past 25 years. There are several good reasons for this: on the one hand, E-Line has always set standards in terms of quality of light and product quality as well as energy efficiency. On the other, the continuous line can be adapted extremely flexibly to the often highly specific requirements of the market – across almost all sectors and applications. Get to know the innovative continuous line from its best side and become inspired by this highly unusual highlight.
The challenge
Whether in halls, classrooms, offices or retail areas – for functional lighting, continuous lines are the classic lighting solution. Many providers now make the spectrum of offers and quality vast, which means that choosing the right partner is difficult.
The solution
With E-Line LED, TRILUX as an expert in continuous lines offers a high quality and simple-to-install solution for all situations: thanks to decades of experience and continuous further development, the continuous line features maximum product quality and quality of light – this customers can rely upon. With an extremely broad portfolio as well as customer-specific special solutions, E-Line LED features maximum flexibility and reliably masters any lighting requirement in industry, office, education as well as shop & retail.
Flexible
One continuous line – countless versions
Optimum lighting for an industrial production hall is significantly different to perfect solutions for a distribution hall or office building. One lighting solution exists though that fulfils almost all lighting needs thanks to its exemplary flexibility and ability to adapt: E-Line LED. The spectrum of applications hardly has any limits because of its high diversity of versions. If the portfolio does not meet all needs, E-Line LED can also be modified specifically to your project as a custom-designed solution.
Innovations in 2018 with E-Line LED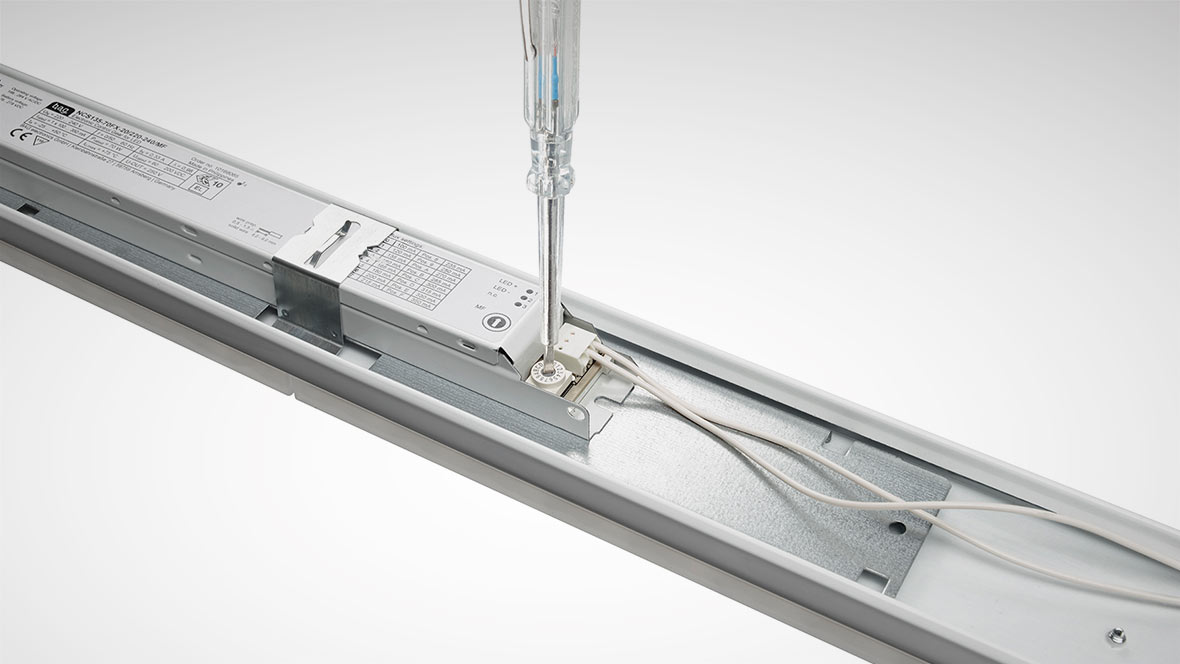 Multilumen (ML)
The new E-Line LED multilumen versions with 16 different lumen packages (ranging from 3,000lm to 10,000lm), adjustable directly on the gear tray, offer tangible advantages:
on-site adaptation of the light output to real spatial conditions and installation positions (no returns or re-planning if the planning concept is deviated from)
reconfiguration on site, e.g. with changes of use
efficient and accurate lighting designs thanks to 16 different lumen packages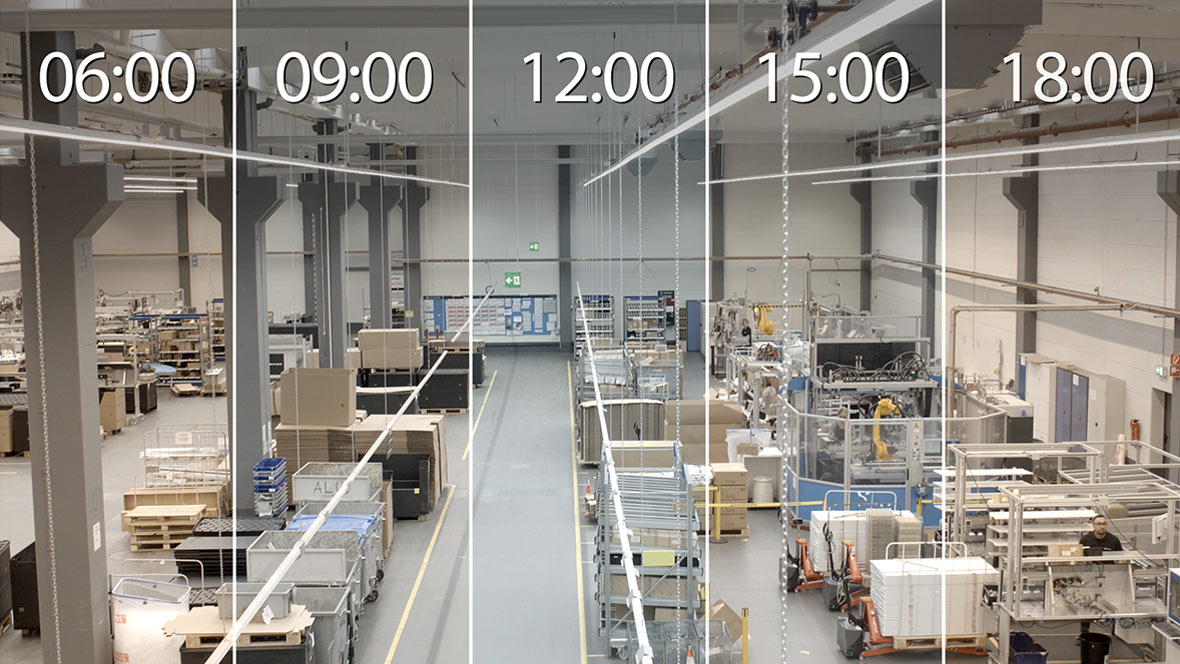 Human Centric Lighting ("act"=active)
E-Line LED ACT influences the biological rhythm of people by adapting to the natural course of daylight. The light thus supports employees by day and night and scores with real added values:
highest quality of light for concentrated and efficient work processes and maximum safety at work
greater flexibility thanks to quick hall conversions, for example when processes in the production area are changed
strengthens general well-being and supports motivation in industrial working environments
Custom-designed customer solutions
with the market, for the market
E-Line LED is in its element everywhere where maximum quality of light is required along with highly specific framework conditions. Thanks to in-house production at the TRILUX location of Arnsberg in Germany, special solutions can be individually implemented according to needs in close cooperation with our customers.
Flexible: The advantages of E-Line LED
During the planning stage
Great flexibility with lighting design
E-Line LED is available with a large number of options to offer maximum lighting design flexibility when covering various lighting requirements in the industrial, retail, office and education market sectors. In its manufacturing facility in Germany, TRILUX can make individual modifications to the continuous line system according to specific customer requirements or projects.
In operation
Flexible light solution
With its wide range of versions, E-Line LED is so flexible that it meets all lighting requirements in any application in industry, education, office or retail sectors. This high level of adaptability enables the future re-use of rooms without any issues by simply exchanging the E-Line LED inserts in the trunking.
Simple
Highly variable, simple handling
Although E-Line is exceedingly versatile thanks to its extremely wide portfolio, it still has simple handling in terms of lighting design, installation and maintenance: quickly and conveniently put together online with the E-Line Configurator, the continuous line is quickly installed without tools due to very easy mounting. A further benefit: the trunking rails enable E-Line LED units to be simply replaced in refurbishment projects.
E-Line Configurator
Configured in less than 90 seconds
Do you need help configuring your E-Line continuous line? With our E-Line Configurator you can identify your most suitable continuous line quickly and simply.
Configure your continuous line now
Mounting & Installation
Few parts. A wealth of benefits.
With E-Line LED, gear trays, reflectors and light sources are supplied in the form of a pre-assembled unit. Fewer components simplify and accelerate logistics, replacement and installation. Installation is carried out very swiftly thanks to the intelligent catch system.
Lighting refurbishments
LED technology in next to no time
Simple, quick refurbishments – no problem with E-Line LED. Thanks to its intelligent construction, E-Line is installed as quick as a flash. Even upgrading from a conventional E-Line T5 or T8 unit to a new LED unit takes just 44 seconds. This means refurbishment projects do not suffer from long downtimes or high mounting costs. We can demonstrate how quick and simple an E-Line unit is upgraded in real time with two examples.
Refurbishment of a conventional E-Line unit to LED in just 44 seconds
Refurbishment of an E-Line lighting system in practice
Simple: The advantages of E-Line LED
During the planning stage
Simple, comfortable planning
The E-Line configurator enables continuous lines to be simply and conveniently configured online. This significantly cuts planning time with lighting projects.
During installation
Ultra-quick refurbishments
A conventional E-Line unit with T5 or T8 can be upgraded to the highly efficient LED technology in just 44 seconds, which saves both time and costs during refurbishment work.
In operation
Minimum idle times during refurbishment
Upgrading a conventional T5 or T8 E-Line to E-Line LED in just 44 seconds minimises installation times and associated costs. This means that expensive idle times in running production processes are a thing of the past.
Efficient
Maximum cost-efficiency – thanks to efficiency improvement to 169 lm/W
Many operators of lighting installations are not aware that energy consumption is a decisive factor in the complete energy balance of a building – thereby also influencing its cost-efficiency. With especially good luminous efficiency of up to 169 lm/W, the new E-Line LED achieves a peak value that is unsurpassed in the lighting sector. Compared to a conventional lighting solution, this means that energy costs and operating costs can be significantly reduced. Also, investment costs are paid back very quickly because of this high efficiency.
Light management
more options for less energy consumption
Energy efficiency comes together with intelligence: With the optional TRILUX LiveLink light management system, the operating costs for lighting can be further reduced and light comfort increased. By integrating high-performance sensors for presence- and daylight detection, E-Line LED only illuminates when genuinely needed, thereby providing precisely the amount of light that is actually required.
Efficient: The advantages of E-Line LED
During the planning stage
Simple, comfortable planning
The E-Line configurator enables continuous lines to be simply and conveniently configured online. This significantly cuts planning time with lighting projects.
During installation
Time-saving installation
E-Line LED is simply and quickly installed and has a major advantage – no tools are necessary. Further time savings come thanks to the new 108-series packaging: this saves time when unpacking and therefore cuts installation time by 10 to 15%.
In operation
Rapid payback with refurbishments
E-Line LED offers optimal value for money: thanks to its high energy efficiency, operating costs are significantly reduced compared to conventional lighting solutions so that an investment is rapidly paid back, meaning that from this point onwards operators can make real savings with their lighting system.
High quality
Quality across all levels – a simple formula for success
Because of the continuously increasing diversity of continuous lines in the market, it is becoming increasingly complicated for users and decision-takers to find the optimal solution for their needs. E-Line LED simplifies this decision process. The reason for this is that for the past 25 years quality has taken pride of place at all levels of the complete E-Line product series. Due to decades of experience and continuous development, the continuous line was continuously optimised and today scores with maximum flexibility, product quality and quality of light.
25 years of E-Line – the milestones of a success story
In 1992 one of the first continuous lines with tool-free mounting left the factory in Arnsberg in Westphalia, at that time still going under the name of X-Line. Since then countless kilometres of today's E-Line LED have been installed, and the product has been subjected to many development steps in the past 25 years. These steps are based on the company's own expertise as well as feedback from customers.
As a result we have been able to expand and improve not only the individual components but the complete portfolio as well. It is here that the quality and long-term success of E-Line is found. Take a look into the past of E-Line and find out about the milestones in its development.
Passion and pride – the people behind E-Line LED
The E-Line range has now been one of the most successful continuous lines in Germany and Europe for the past 25 years. This success is not surprising because many people are behind the product, and they work with enthusiasm and passion to ensure that the continuous line always goes with the times and repeatedly sets standards in terms of quality.
The continuous development of E-Line also benefits from feedback from customers that strengthens and inspires us. Three of the continuous line's faithful companions, the constructor Helmut Ufermann, the Product Manager Klaas Keur and Detlef Iseken from Romberg Elektrotechnik GmbH discussed the topic with us in an interview.
High quality: The advantages of E-Line LED
During the planning stage
Maximum safety with product selection
Customers can completely rely on the quality and safety of E-Line LED. The continuous line system is certified with the independent product safety- and performance symbol ENEC and ENEC+, therefore guaranteeing conformity to European safety standards and accuracy of the specified technical data.
During installation
A five-year guarantee as proof of quality and safety
Electrical contractors who register their projects online are given a guarantee extension to 5 years by TRILUX on all products delivered for the project – completely without added costs.
In operation
Maximum safety and problem-free operation
With E-Line LED, operators choose maximum product quality and 50 years of expertise in the development of mature continuous line solutions. Customers can rely on this quality promise: independent ENEC and ENEC+ product safety and performance certificates guarantee the reliability of the lighting technology.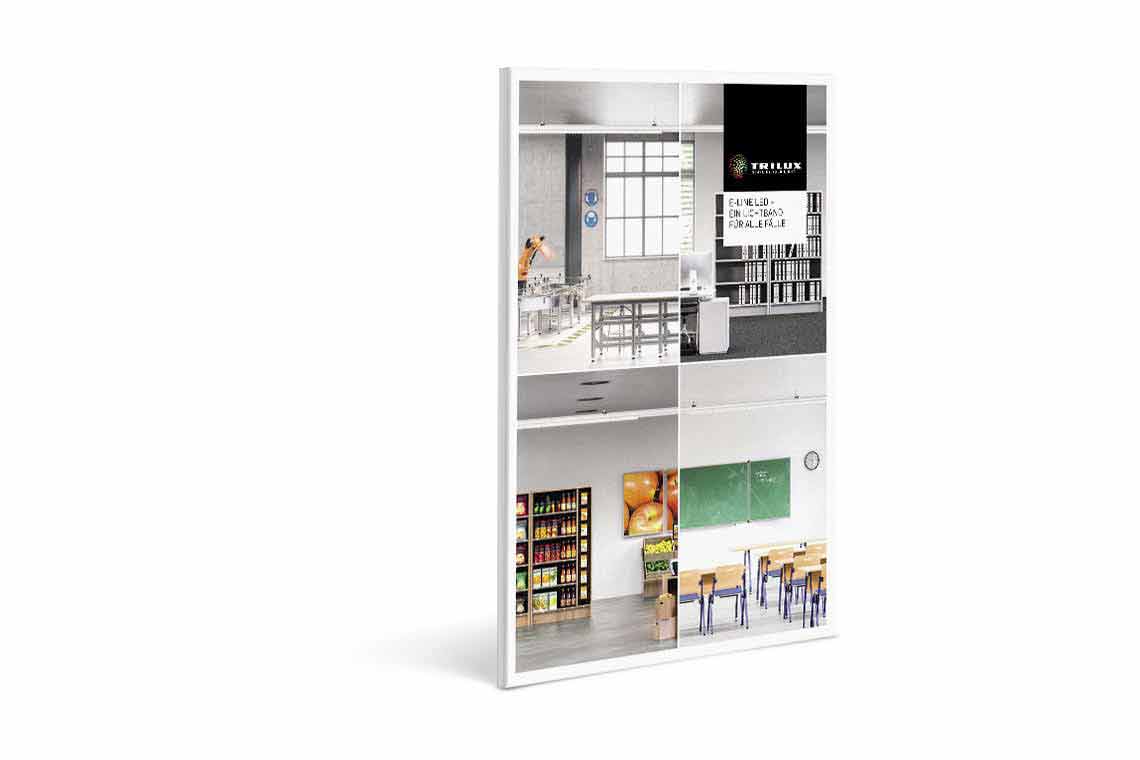 Broschure E-Line LED
For 25 years now, the E-Line series has been one of the most successful continuous line systems in Germany and throughout Europe. Get to know this innovative continuous line system from its best side.