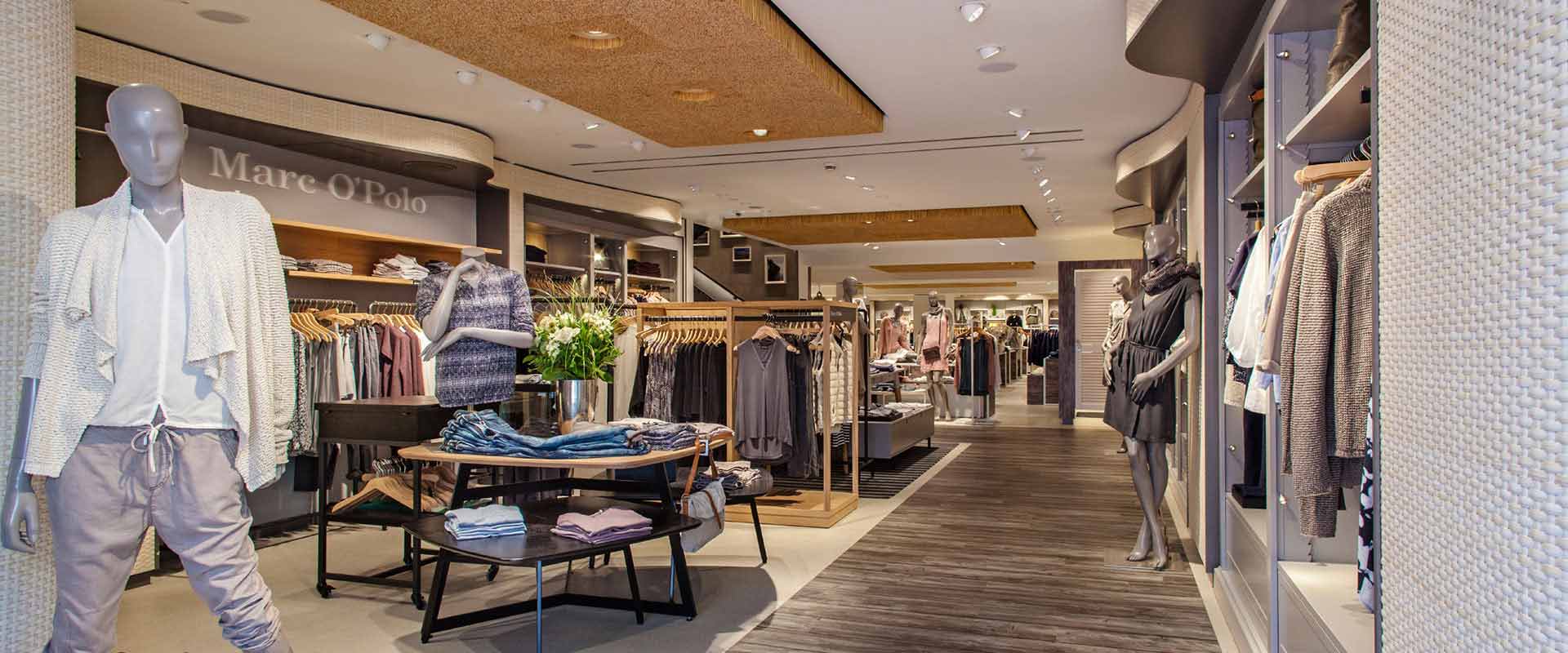 Quira LED
design flexibility in the very best light
The challenge
Those who want to successfully sell must offer customers variation: not only in terms of assortments and collections, but also shop design and goods displays should be changed at regular intervals, ranging from table displays and walls of goods to structures and displays on mannequins. Lighting systems on the other hand are created for the long term for cost reasons.. Contemporary lighting solutions must adapt to sector-related, frequent changes of goods and optimally highlight any setup.
The solution
The Oktalite Quira LED range of products offers flexibility across the board – as a discreet downlight, the luminaire can be swivelled in by up to 15° to position it flush with the ceiling, e.g. for lighting mid-space furniture. If more spot light is required, the Quira LED can be swivelled out to illuminate high decorative components with just one flick of the wrist thanks to the intelligent grip edge. The wide selection of six white light colours provides additional creative flexibility. The Quira Plus LED can even be equipped with an extra-high 5,000 lumen level, while still maintaining high efficiency. Thanks to additional special light colours, the luminaire can also also attractively display fresh food. The perfect refurbishment solution; the Quira Plus LED is also available with a mounting ring in three different sizes for mounting into existing ceiling apertures.
The result
Quira LED provides efficient and high quality lighting solutions for all retail areas, ranging from goods illumination on display tables to rear walls and high decorative elements. Whether displaying single products, groups of goods or structures – the Quira LED shows everything in optimum light.
Product and application images
Intelligent concept: Downlight and spot in one luminaire
With luminaires from the Quira LED family, store owners in prestigious sales environments no longer need to decide between spots and downlights. One flick of the wrist is enough to transform the downlight into a rotatable spotlight – ideal for illuminating walls of goods for example. The luminaire can be swivelled out by up to 70° for this purpose. The Quira LED is also manoeuvrable as a downlight. It can be swivelled in by up to 15° and stays flush with the ceiling.
Adaptable: An optimal refurbishment solution
Flexible: best light for best goods
The luminaire is equipped with efficient segmented reflectors. These emit efficient light and, thanks to good glare reduction, outstanding quality of light. A wide selection of light colours enables precise adaptations to on-site requirements. The Quira Plus LED with special colour spectra is ideal for the tempting display of fresh food.
Efficient: the Quira Plus power package
The Quira Plus LED is also available with an extra-high 5,000 lm light output.
An efficient power package
The Quira Plus LED with 5,000 lm is 28% more efficient than HIT 50 W.
Diversity thanks to manoeuvrability
Thanks to its intelligent grip edge, the luminaire can be swivelled in simply and according to requirements. The Quira LED can thus be used as a spot and pivotable downlight.
A flexible refurbishment solution
Quira Plus LED is available with mounting rings in three different diameters (175, 185 and 195 mm), and is therefore ideal for installing into existing ceiling apertures of different sizes.
Perfect light
Efficient segmented reflectors (Spot, Medium Flood and Flood) achieve optimum light distribution at any swivel position. The Quira LED features six white light colours and the Quira Plus LED in addition to these also offers special light colours for fresh food areas.
Additional protection
An optional glass cover provides additional protection against soiling for the LED module and reflector.
Technical features - Quira LED
| Reference | Values |
| --- | --- |
| Lumen class: | 3,000 – 4,000 lm |
| System luminous flux: | up to 3,680 lm |
| Connected load/efficiency: | 3,000 lm: 28 W, 4,000 lm: 36W; up to 107 lm/W |
| Service life: | 50,000 h L80/B10 |
| Colour rendering/-temperature: | 2,700 / 3,000 / 3,500 / 4,000 K + Efficient Colour, CRI = 85 + Best Colour, CRI = 95 |
| Electrical version: | LED, DALI not as standard |
| Dimensions (L x W x H): | ​Ø 140 mm, recessed Ø 130 mm |
| Protection rating/safety class: | IP20 |
| Light distribution: | Spot, Medium Flood, Flood |
Technical features - Quira Plus LED
Reference
Values
Lumen class:
1,500 – 5,000 lm
System luminous flux:
up to 4,910 lm
Connected load/efficiency:
3,000 lm: 24 W, 4,000 lm: 33 W, 5,000 lm: 45 W ; up to 120 lm/W
Service life:
50,000 h L80/B10
Colour rendering/-temperature:
White light colours: 2,700 / 3,000 / 3,500 / 4,000 K + Efficient Colour, CRI = 85 + Best Colour, CRI = 95
Food colours: B+V+C (Bakery+Vegetable+Cheese), M (Meat), M+F (Meat+Fish)
Electrical version:
LED, LEDIQ (DALI) as standard
Dimensions (L x W x H):
Height: 200 mm
QUIRA PLUS 175: a.) Ø 175 mm ; b.) Ø 190 mm
QUIRA PLUS 185: a.) Ø 185 mm ; b.) Ø 210 mm
QUIRA PLUS 195: a.) Ø 195 mm ; b.) Ø 210 mm
a.) cut-out opening b.) diameter visible mounting ring
Protection rating/safety class:
IP20
Light distribution:
Spot, Medium Flood, Flood, Wide Flood, Very Wide Flood