Light management is often associated with high-effort installations and complex electronic controls. This is an erroneous assumption since modern light management systems are not only easy to operate but also maximise light comfort and minimise energy costs.

Both spatial conditions as well as personal requirements are relevant for lighting. In the end though, various factors define individually suitable light management systems. Dimming, daylight-dependent control, simple maintenance as well as presence- or time-depending switching provide a wide spectrum of saving options. Intelligent luminaires equipped with sensors not only simplify installation but are also immediately ready for operation. In addition, light management systems can be integrated into existing building controls. In larger building complexes they enable completely new lighting options.
LiveLink simplifies and optimises light management.
Intelligent light will revolutionise our everyday life just as the invention of the incandescent bulb did way back when. The entry of LED technology into the mass market already constitutes the foundation for these far-reaching changes. Already today, LED results in massive energy savings. But this does not, by a long shot, exhaust the opportunities. Light can support healing, improves our ability to concentrate and perform, and increases our well-being as well as safety and security. What are we missing for this revolution? Light management that provides new functions through intelligence and that makes planning and installation completely straight-forward.
Now available:
Jointly with sensor technology specialist STEINEL, we have bundled our know-how and our specific experience and developed exactly said intelligent system: LiveLink.
Saving energy with Light management
Light management enables the energy-saving use of light. This means only using light where it's needed and only as much as necessary. For this purpose, electronic control components switch or dim lighting installations automatically.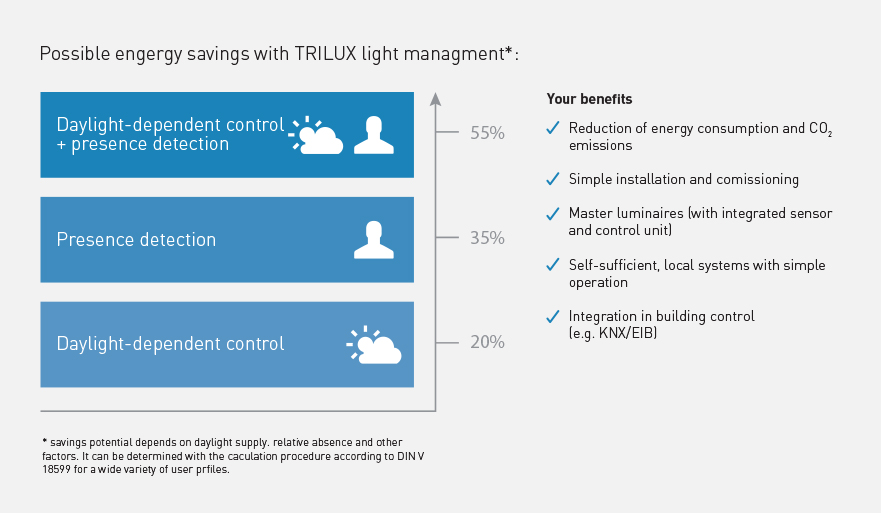 Complete lighting solutions
TRILUX provides simple, room-related solutions with the applications Office, Education, Industry, Shop & Retail and Health & Care and also offers complete solutions for central monitoring and control in outdoor applications. These systems, often directly integrated in luminaires, are simply and effortlessly installed for immediate operation. Optional networking of the systems simply increases comfort as well as the feeling of safety. Integration into existing building control systems is also easily carried out. TRILUX gladly provides you with wide-ranging support, from consultation and project planning to commissioning.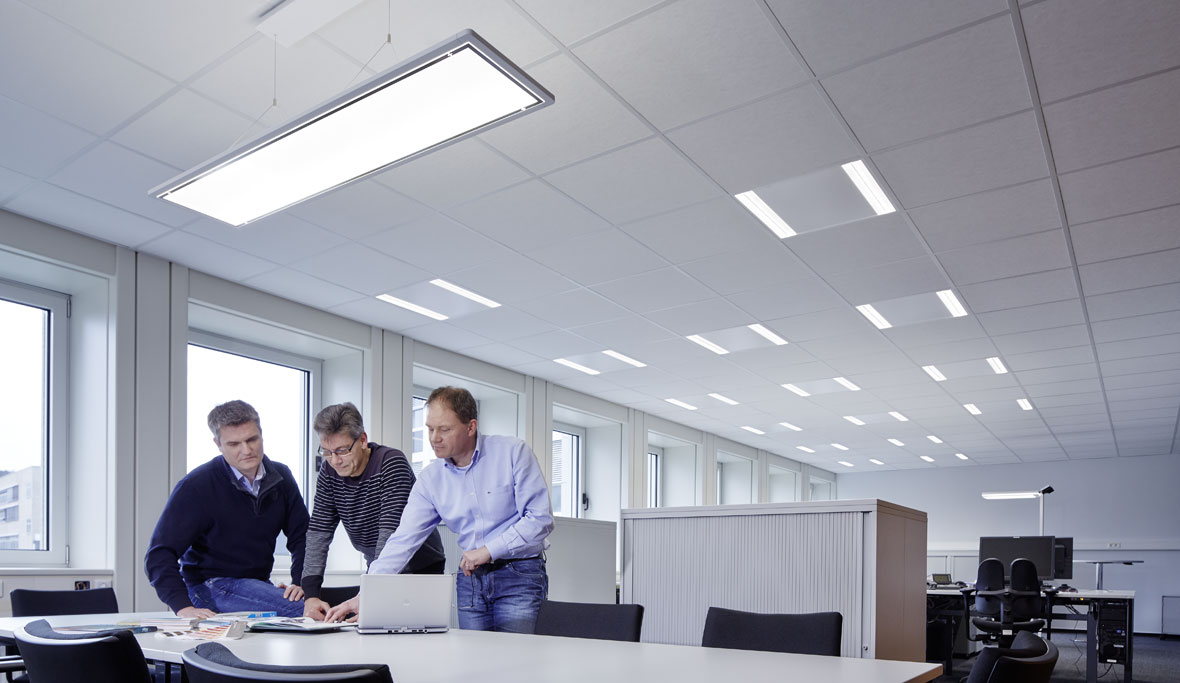 In addition to the increasing requirement for an atmosphere of well-being in offices, light quality is of course also focused on, and connected with this, energy consumption as well. We provide not only maximum lighting efficiency with our innovative light solutions but due to the use of light management systems also minimum energy consumption. In addition, intelligent networking of the systems avoids dark zones and light islands especially in open-plan offices, so that the well-being of employees is not only improved but safety is increased as well.
Energy efficiency is an essential topic in the industrial sector. In factories, the power consumption of lighting accounts for an average of around 15 % of total energy requirements, in warehouses, consumptions are even up to 80 %. By combining energy-efficient luminaires with light management systems, not only comfort is increased but real money is saved.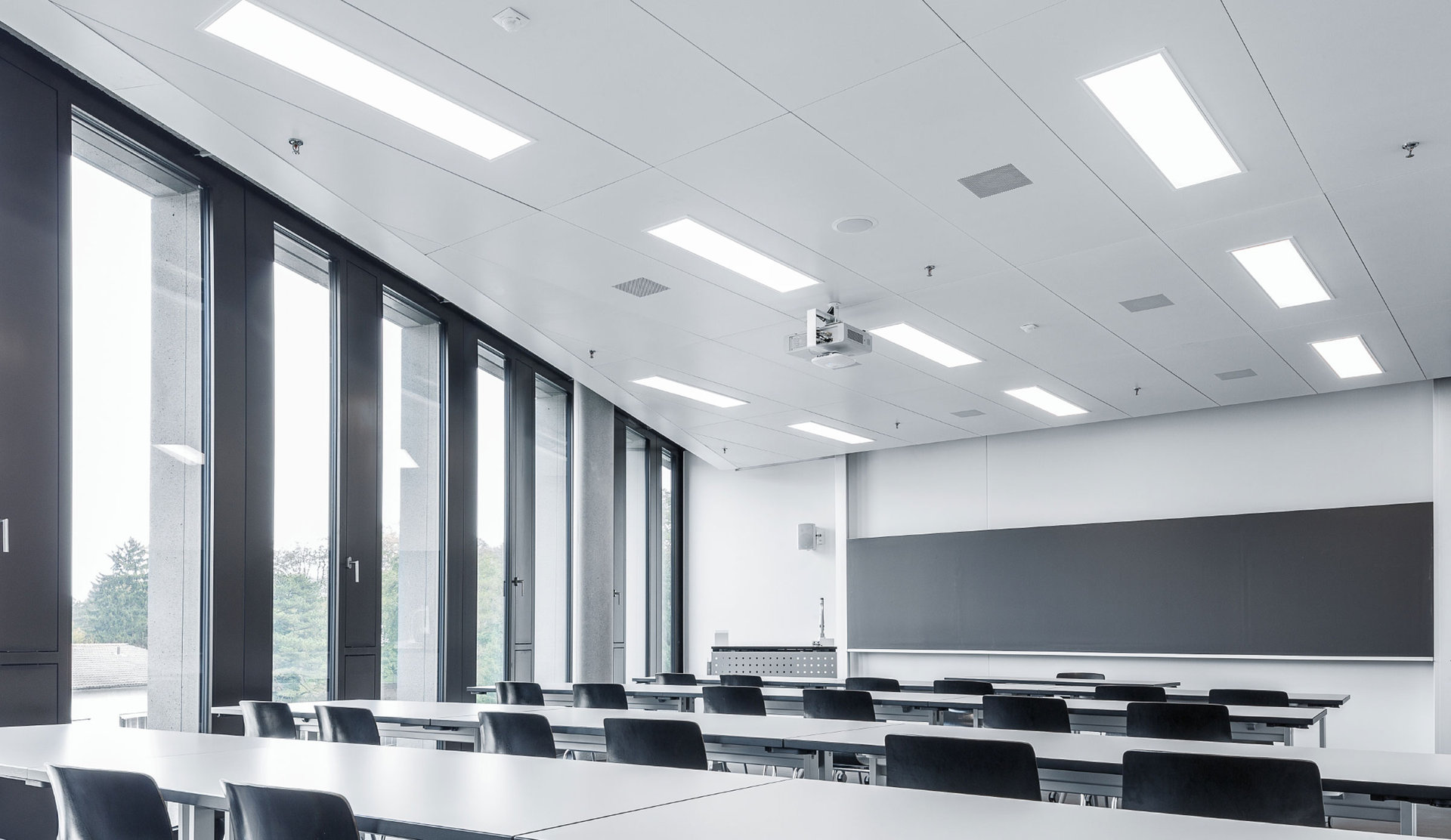 To be receptive to information, people need to concentrate. And a sense of well-being is needed for concentration. Well-being requires pleasant surroundings and lighting as well. Today though, lighting systems in schools not only have to ensure a pleasant atmosphere but must also be energy-efficient. Light comfort can be increased by using modern light management systems, which in turn reduce energy consumption. The consequence is lower operating costs.
Suitable, individual lighting concepts have very high importance especially in the health sector. These help personnel in their daily work, patients with recovery and also the clinic in sustainably improving efficiency. A part of this is biologically effective lighting that dynamically adapts its light intensity and light colour according to daylight. This increases not only comfort but also the sense of well-being and promotes the healing process. Thus, it creates optimal surroundings for patients and hospital personnel. This can be optionally combined with RGB ambience lighting, individually adjustable by patients according to their personal desires and sensibilities.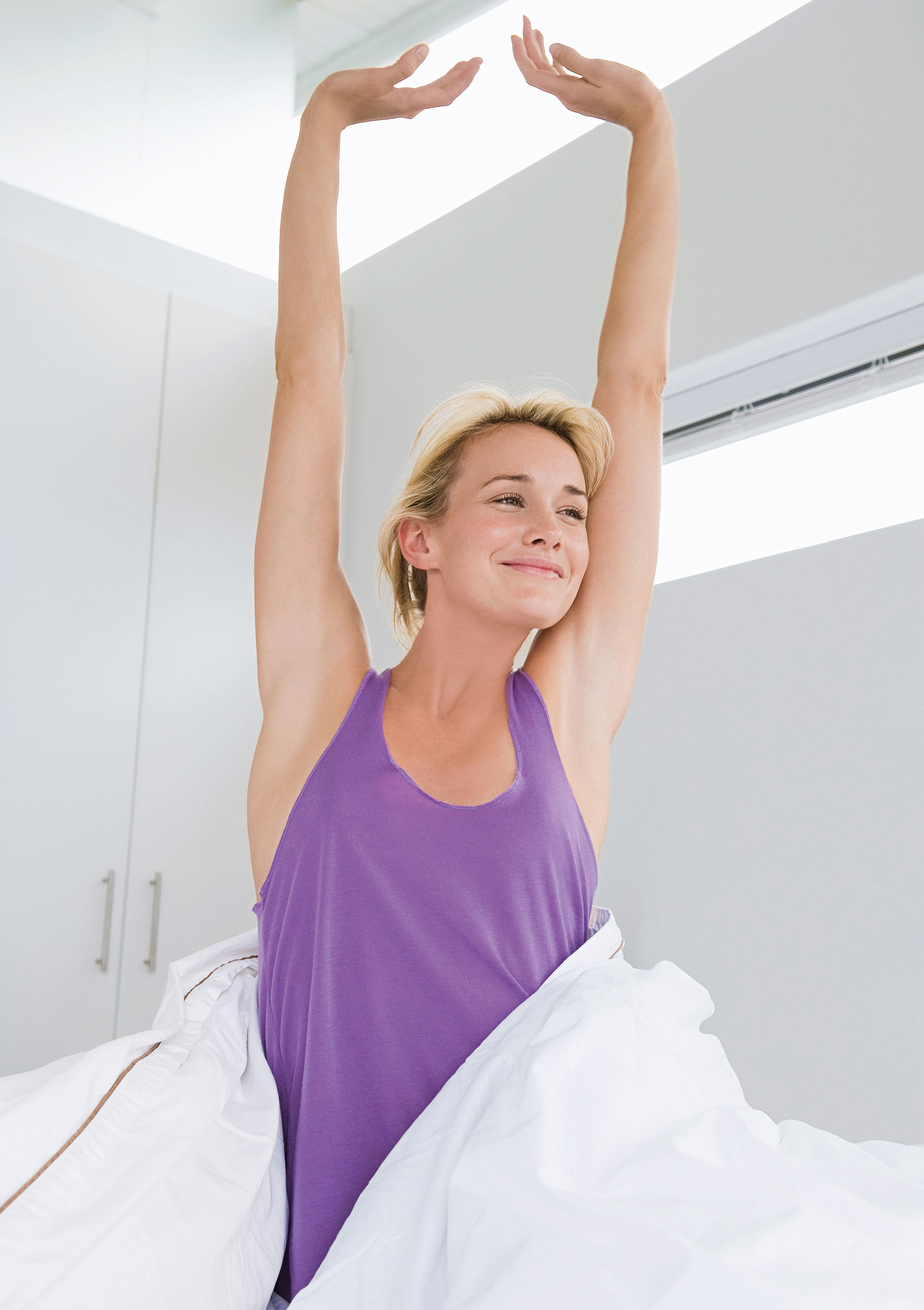 In addition to the demand for higher energy efficiency, the stimulating effect of daylight is alsofocused on. Medical findings show that the biorhythm and therefore further life functions of humans can significantly be influenced by light. It therefore makes sense to adopt daylight as an example for the artificial lighting of our modern living environments. In particular, the blue component of light, i.e. the colour of the sky has proved to be our synchroniser. Modern light management systems use these findings and specifically control the various light components of lighting to noticeably achieve more attention and well-being.
Using light management systems not only pays off financially. The human well-being can alsobe increased with specific forms of lighting. Large, poorly illuminated areas such as car parks or open-plan offices are both safety risks and fear zones. Intelligent lighting prevents unnecessary dark zones and provides safety in a preventative way. This is only one possibility to increase the well-being of customers and employees. Light management systems are also suitable for accenting and displaying. They create appealing atmospheres in sales outlets that influence customers emotionally and therefore also have a sales-promoting effect.
Minimum energy consumption
TRILUX light not only creates an atmosphere of well-being in offices but uses pioneering efficiency that keeps energy costs sustainably low. Our innovative lighting solutions offer maximum illumination output with minimum levels of energy consumption.


Maximum service
In addition, customers benefit from wide-ranging, expert TRILUX consultation: our sales and service employees are available to help with any queries concerning planning and the implementation of complete, individual lighting solutions. After all, the very best innovations come about as part of a dialogue with our customers.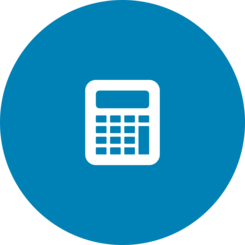 Efficiency calculator
Calculate your energy saving potential and find out how much money and energy you could save.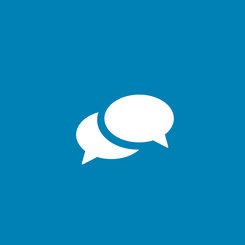 Customer service
Our customer service will be available to assist you, should you have any questions or requests.
Product catalogue Light Management
More information about our indoor products of light management: