TRILUX supports the European Green Deal
The European Union has decided that the European continent is to become climate-neutral by 2050. In order to achieve this ambitious goal, it has presented the European Green Deal, a set of measures that ultimately aims to achieve a profound ecological turnaround. Be it in energy production, industry, building operation, mobility or agriculture – green technologies, sustainable products and applications, new business models and closed-loop recycling management are to ensure climate and resource protection in all areas of society.
TRILUX is highly engaged in the EU Green Deal and thoroughly analysed the set of measures with regard to the potential for its own entrepreneurial activities. Initial directives for action were derived and some have already been put into practice. This sustainability report and explicit provisions on greenhouse gas emissions are examples of this: climate neutrality is to be achieved at all TRILUX locations worldwide by 2025. Direct and indirect emissions will already be reduced by at least 10% per year in the coming years.
Halving energy consumption and greenhouse gas emissions with LED luminaires
TRILUX is already a sustainability leader when it comes to the end use of the company's products. LED luminaires and light control systems are the basis for lighting solutions with high quality of light, an exemplary energy balance and a long service life. In this regard, climate and resource protection are inherent in TRILUX's core business.
By converting existing plants to LED technology, more than half a billion tons of CO2e emissions could be avoided in 2017 alone. CO2e stands for CO2 equivalent. All greenhouse gases are considered to this end and factored into the value in a weighted fashion according to their potential for global warming. Thanks to their energy efficiency, TRILUX LED luminaires demonstrably avoid around 50 % of CO2 emissions compared to conventional lighting and they become more efficient from generation to generation.
The CO2 footprint of a luminaire
If we look at the consumption of primary energy over the entire life cycle of a luminaire, by far the largest item falls into the use phase. Several studies estimate that the operation of luminaires accounts for over 90% of energy consumption . Less than 10% is used for raw materials, transport, production and recycling. This fact is confirmed by extensive audits in which external experts determined the carbon footprint of TRILUX products.
Therefore, if the objective is to make a luminaire more sustainable, increasing its energy efficiency is an effective lever. This can be demonstrated impressively by the following calculation: Since LED luminaires are about 50% more energy-efficient than conventional lighting technology such as fluorescent lamps, their CO2e emissions during the use phase are also roughly halved. Assuming that a conventional luminaire emits around one tonne of CO2e over its service life, the 5,000,000 LED luminaires that TRILUX puts on the market each year can save around 2,500,000 tonnes of CO2e per year. This amount is roughly equivalent to the CO2 emissions of 500,000 passenger cars per year (mid-range, gasoline, 15,000 km mileage) or 0.6% of Germany's overall savings target until 2030.
Even more climate and resource protection through light management
Potential savings indoor lighting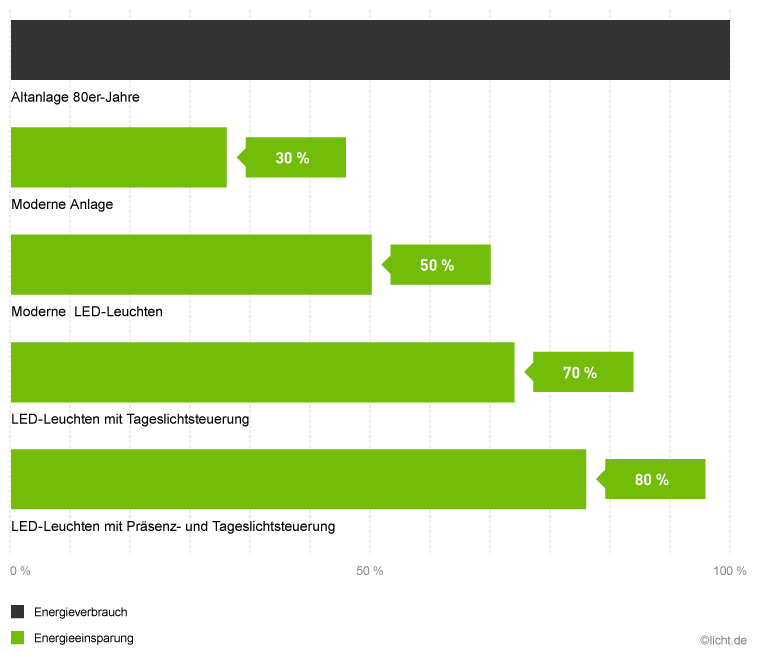 The energy efficiency of LED luminaires is not the only instrument offered by TRILUX for sustainable lighting applications. With LiveLink, TRILUX customers have a freely scalable light management system at their disposal to implement lighting controlled according to requirements in almost all application areas of indoor and outdoor lighting. The system makes it possible to plan and operate even the control of complex lighting systems very easily. For example, the light is switched and dimmed depending on presence (persons, vehicles, etc.), corresponding to the available daylight or simply according to a suitable time schedule. As a result, the lighting is only switched on when it is actually needed and then does not always provide the maximum level of brightness, but always a level of brightness adapted to requirements. Lighting solutions with LED light sources controlled according to requirements by a light management system can achieve energy savings of up to 80% compared to a system with conventional light sources and simple on/off operation. Further options for climate and resource protection are offered by these networked systems through additional services such as energy monitoring or predictive maintenance and the increase of lighting comfort as well as the individualisation of lighting according to user requirements.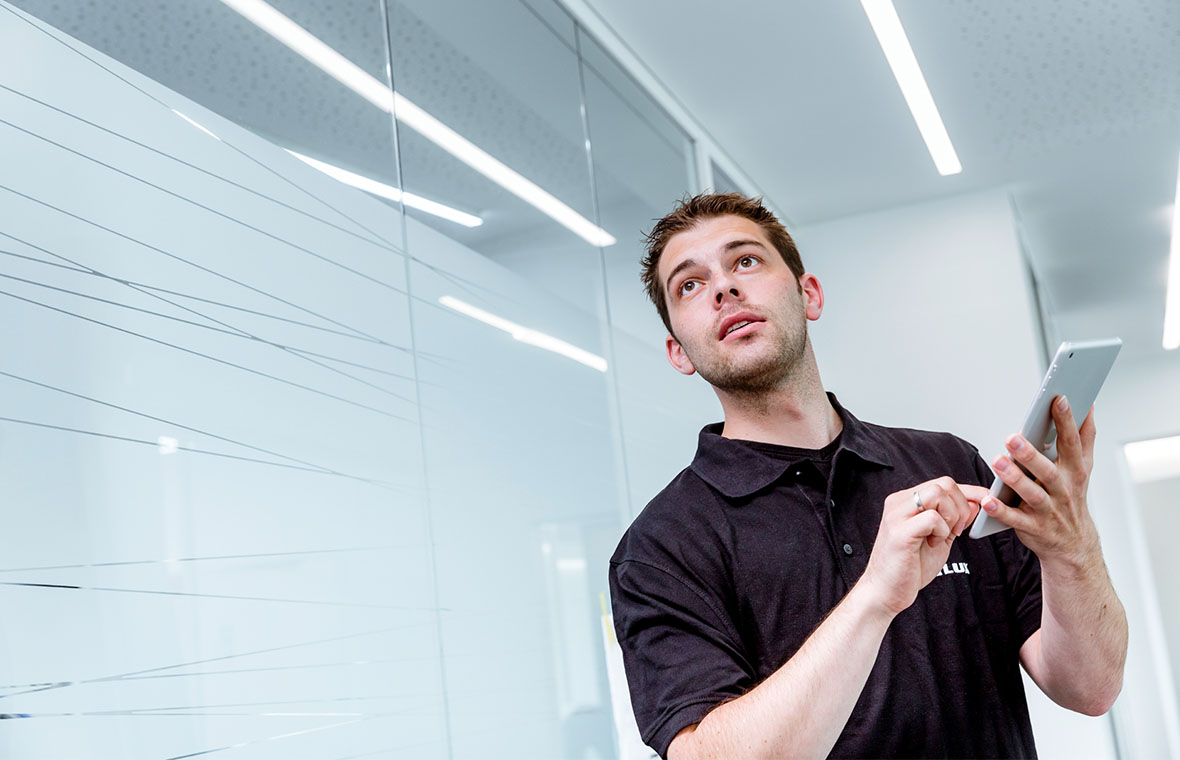 In addition to the CO2 savings targets from Scope 1 and Scope 2, TRILUX's aim is therefore to further minimise CO2 emissions in Scrope 3 through savings measures. Besides measures in the areas of transport and logistics, light management is a focus issue here.