The management of occupational health and safety for employees is firmly anchored in all structures and processes at TRILUX. In addition to mandatory requirements, a framework for action was created to ensure systematic and effective prevention. High standards and extensive sets of measures ensure that accidents at work are avoided and health strain on employees is minimised.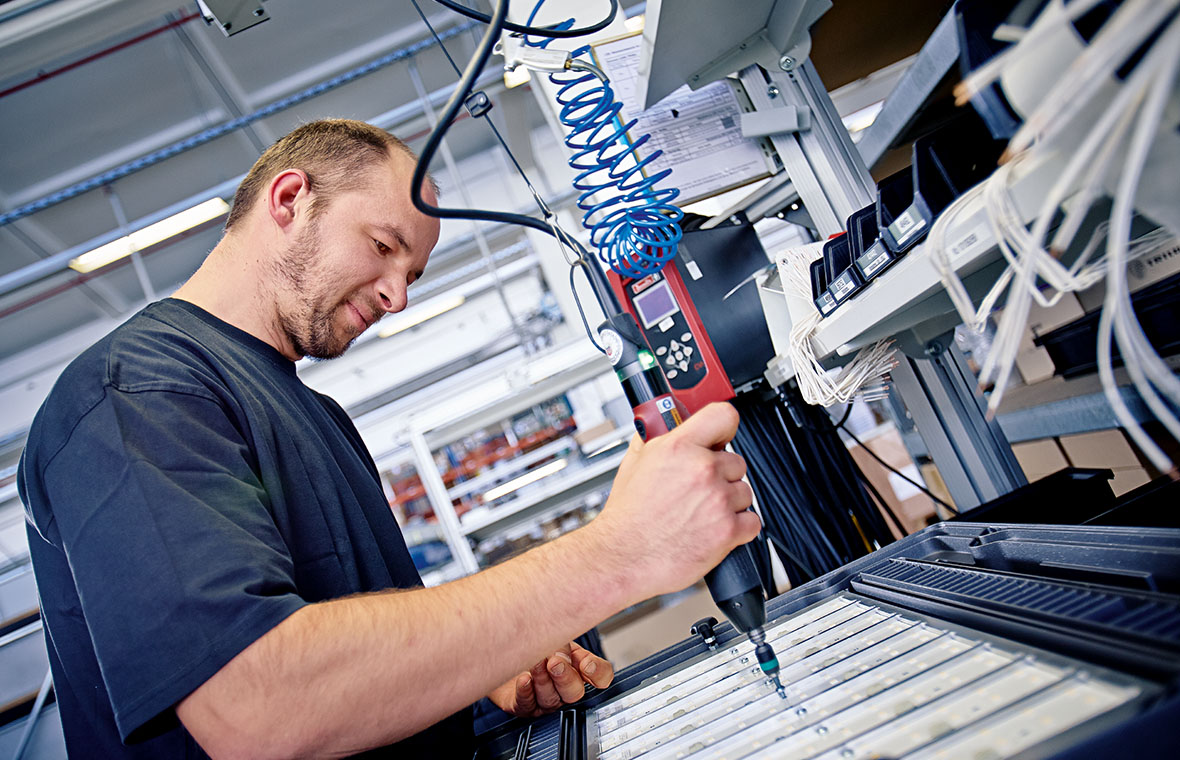 Every accident is one accident too many, which is why it is a matter of course for TRILUX that all its companies around the world fully comply with all occupational health and safety regulations – both in accordance with the respective national legislation and with international standards. At many locations, more far-reaching concepts for accident prevention are in place, which are continuously adapted to current challenges. The management approach related to occupational health and safety is based on the principles of prevention and continuous improvement. This strategy's success is confirmed by the fact that the number of accidents has been declining for over ten years.
TRILUX has signed the global "Vision Zero". It is a preventive approach in the dimensions of safety, health and well-being at all levels of work. Vision Zero's roadmap follows Seven Golden Rules, all based on proven proactive management concepts.
Positive development
The number of accidents at work has been declining for years and is relatively low. There were no accidents resulting in death or serious injuries in 2019. Regarding accidents at work with minor injuries, the accident focus is on contusions, sprains and minor cuts. On the occupational disease side, only one case is known from 2019 (tennis elbow, Spain).
Mistakes are a chance for improvement
In every respect, the employees are the focus of occupational safety. On the one hand, all measures are designed to ensure their integrity and well-being; on the other hand, safe working is only possible through their competent and rule-compliant behaviour. TRILUX therefore consistently relies on the close involvement of its employees in occupational safety management. They are urged to report defects, suspected hazards or near-accidents immediately. Each of these reports is taken up as an opportunity for improvement. In addition, all employees can participate actively in improving occupational health and safety on a permanent basis via the TRILUX Idea Management (TIM).
Germany
| | | |
| --- | --- | --- |
| Year | Reportable occupational accidents | |
| 2019 | 10 | |
| 2018 | 8 | |
| 2017 | 11 | |
| 2016 | 6 | |
| 2015 | 14 | |
| 2014 | 17 | |
| 2013 | 8 | |
| 2012 | 8 | |
| 2011 | 18 | |
| 2010 | 20 | |
| 2009 | 17 | |
| 2008 | 26 | |
| | | | | | |
| --- | --- | --- | --- | --- | --- |
| | Germany | Spain | India | China | |
| Fatalities | - | - | - | - | |
| Work accidents with serious consequences | - | - | - | - | |
| Work-related injuries | 242 | 8 | NA | 6 | |
| Reportable work accidents | 8 | NA | NA | NA | |
| Rate at 200,000 working hours (reference rate) | 19,2 | 2,66 | 0,88 | ? | |
| | | | | | |
| --- | --- | --- | --- | --- | --- |
| | Germany | Spain | India | China | |
| Occupational diseases | - | 1 | - | - | |
| | | | | | |
| --- | --- | --- | --- | --- | --- |
| | Occupational health and safety management | Environmental management | Energy management | Quality management | |
| Germany | BS 18001 | ISO 14001 | ISO 50001 | ISO 9001 | |
| Spain | | ISO 14001 | | ISO 9001 | |
| India | | | | | |
| China | ICT Own System | ICT Own System | | ISO 9001, IATF 16949 | |