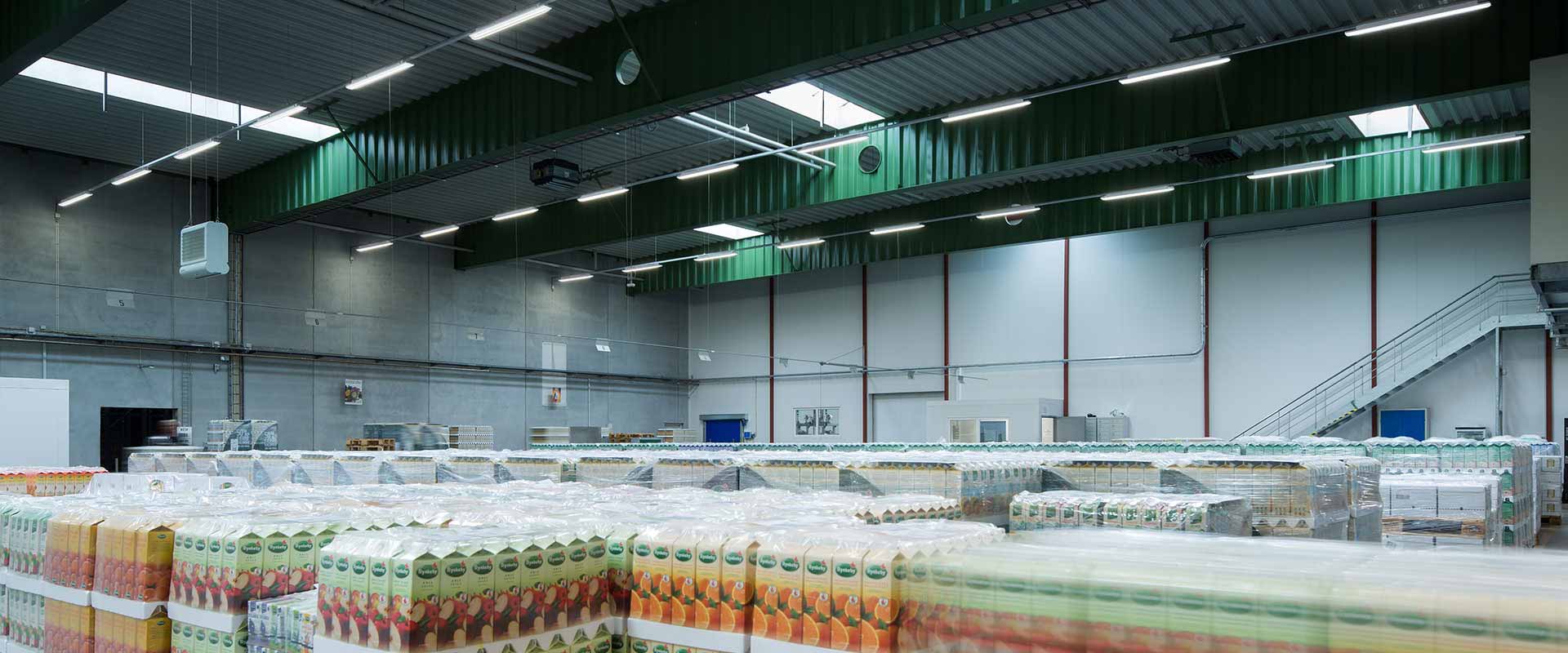 Araxeon LED
a smart solution for greater flexibility

The challenge
Previously, when lighting car parks, cold stores and food production facilities the following was true: compliance with standards was the main point. Today, lighting designers and electrical contractors have high demands and look for energy-efficient, application-specific planning solutions that are also simple and can be intelligently controlled.
The application
Araxeon LED enables the advantages of LED technology to also be used in damp rooms. Thanks to high light quality and material quality, the Araxeon LED can also be used in the food industry. The slender weather-proof luminaire is also intelligent: together with sensors or a light management system, practical and energy-saving functions can be effortlessly implemented, e.g. motion detection in car parks.
The result
Lighting designers can carry out sophisticated damp room projects with minimal effort with the Araxeon LED. In addition to impressive energy-efficiency, service life and resistance values, the LED weather-proof luminaire also features flexible lighting technology and optional control possibilities using sensors and an intelligent light management system. The Araxeon LED also makes full use of today's LED technology benefits due to its modern design..
Profitable: high energy efficiency and a long service life
Economically, the Araxeon LED is very attractive: The luminaire is very energy-efficient with up to 146 lm/W and performs well with a long service life in continuously high temperatures - 50,000 hours (L80) even at an average temperature of +35 °C.
Flexible: adaptable lighting technology for optimum visual conditions
The luminaire, with three light distribution characteristics and three lumen packages, can be individually adapted to the specific application situation.
Very wide light distribution in parking garages minimises dark spots and improves the feeling of safety. The narrow wide distribution version in logistics and storage halls improves the quality of lighting conditions and also cuts costs thanks to a possible reduction of the number of light points.
Robust: high resistance and simple cleaning
The premium-quality luminaire body of glass fibre reinforced polyester has especially high resistance to external factors of influence. Thanks to its smooth surface, the luminaire is also insensitive to dirt deposits and is especially easy to clean. The Araxeon LED version with PC diffuser complies with the HACCP regulations for the food industry.
Simple: rapid installation, an attractive refurbishment solution
Ideal for upgrading: the Araxeon LED has an extended mounting slot so that it can replace all conventional TRILUX weather-proof luminaires 1:1 with minimum effort. Once mounted, the luminaire is almost immediately ready-for-operation thanks to a Wieland rapid connection.
Intelligent: individual, more efficient light
The Araxeon LED is also available with intelligent sensor technology. Luminaire control via daylight detection and presence sensor cuts energy consumption by up to 35% compared to non-sensor solutions. The Araxeon LED offers yet more options if controlled via the LiveLink light management system – enabling individual light scenes to be simply and quickly implemented.
High energy efficiency
The Araxeon LED is especially energy-efficient with up to 146 lm/W. Service life is 50,000 hours (L80) at ta 35° C.
Suitable for the food industry
The Araxeon LED version with PC cover conforms to HACCP requirements and is suitable for use in the food industry.
Flexible lighting technology
With three luminous flux levels between 2,300 and 6,000 lm and three beam characteristics (wide, extremely wide and narrow wide distribution), the Araxeon LED can be individually modified to specific framework conditions.
An attractive design
Slender, filigree and timeless – the luminaire design looks good even in damp rooms.
Premium materials
The high-quality, glass fibre reinforced polyester has high resistance and low flammability.
Intelligent light management
High operating cost savings are achieved in combination with STEINEL sensors for presence and daylight detection. In addition, integrating the Araxeon LED into the LiveLink light management system is simple.
Technical information
Reference
Values
Luminaire luminous flux:
2.300 lm/ 4.000 lm (1.200 mm); 4.000 lm / 6.000 lm (1.500 mm)
Connected load/efficiency:
Up to 146 lm/W
Service life:
50.000 h L80 bei ta 35 °C
Colour rendering/-temperature:
CRI > 80/ 4.000 K (further colour temperatures on request)
Electrical version:
ET, ETDD,
+ HFS, + LiveLink, MON, REM
Dimensions (L x W x H):
1.200 x 88 x 77 mm
1.500 x 88 x 77 mm
Protection rating/safety class:
IP66 / SKI
Beam angle:
B - wide distribution, XB – extremely wide distribution, TB – narrow-wide distribution
Electrical connection:
Wieland rapid connection system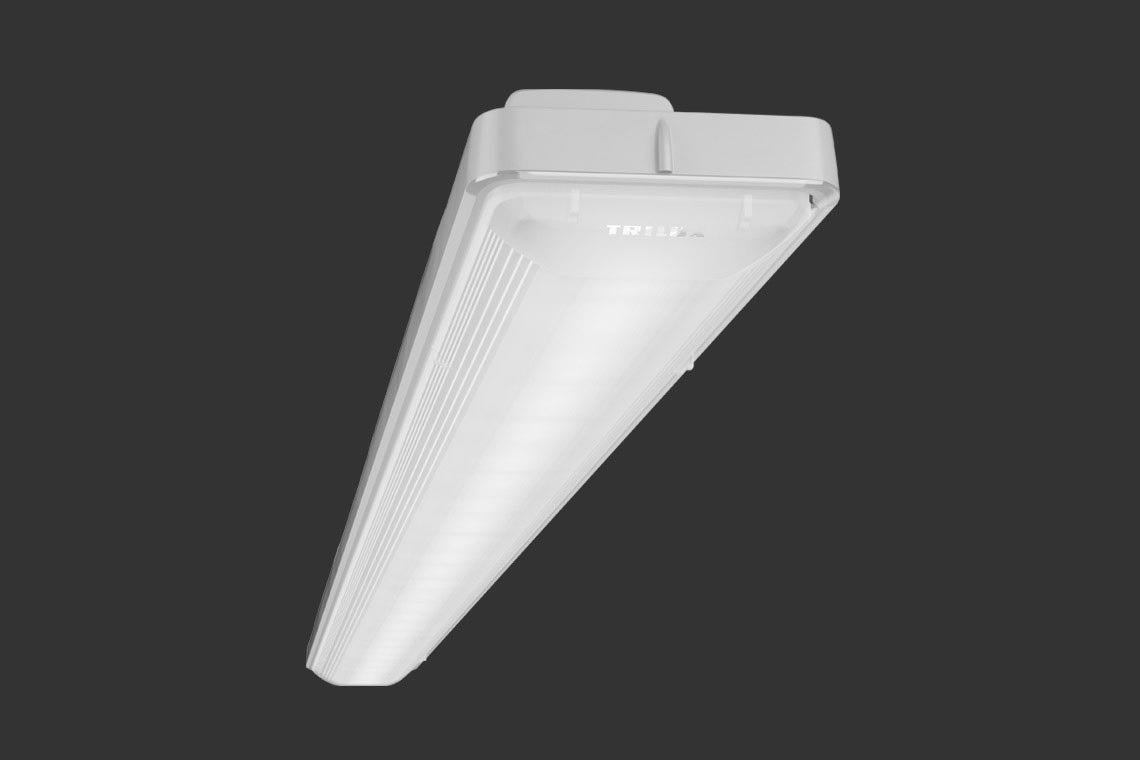 Araxeon LED
view in the online catalogue