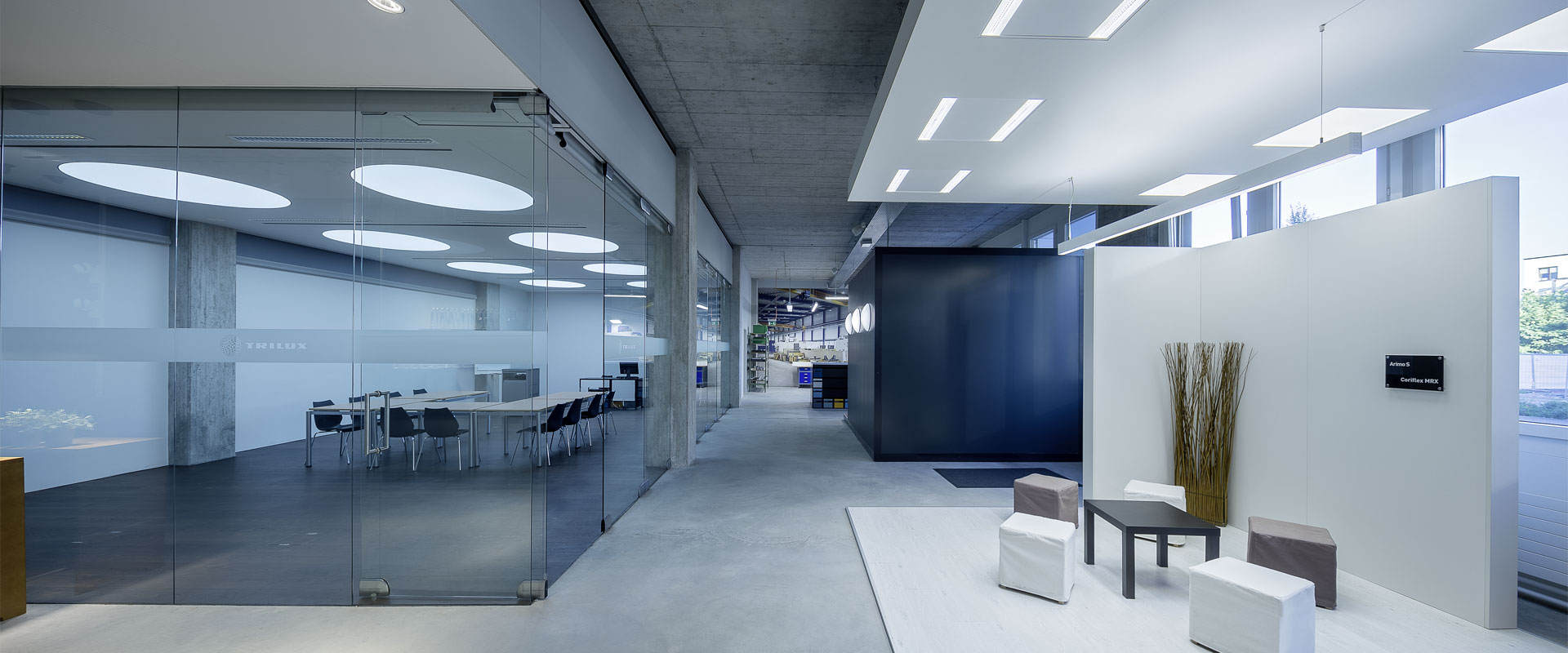 TRILUX ARIMO SLIM CDP LED – THE ULTRA–FLAT REFURBISHMENT SOLUTION FOR WIDE-AREA LIGHT
The challenge
Planar light is the current trend in the office sector. However, many solutions are restricted to a standard square design and cannot cover the complete scope of refurbishment. This is because luminaires in various lengths and with different installation methods are often required. Here it is a matter of finding a product range which has sufficient versions in different construction designs and with various dimensions, so that it can be matched to the spatial conditions. Further obligatory tasks: Luminaires must offer significant savings in energy consumption and feature qualitative improvements with visual comfort and atmosphere.
The solution
Thanks to its diversity, the Arimo Slim CDP LED is the perfect 1:1 refurbishment solution for a complete office. The uniform-appearance luminaire range is available with a square design or in various linear designs, precisely matched to all standard ceiling grids or cut ceilings. Furthermore, versions with IP54 on the room side, various surface-mounted versions and a linear suspended luminaire with indirect light are also available. The luminaires feature a high quality of light and can be connected simply via plug & play to the control unit for easy installation. The Arimo Slim LED is especially decorative with the new, unique CDP-X reflector: a narrow, bright light gap on the uniformly illuminated surface gives an additional prestigious accent. The light gap can also be individually modified according to customer wishes – including a luminous company logo.
The result
The Arimo Slim CDP LED enables even extensive refurbishment projects to be carried out quickly, simply and with a uniform design. Various custom-designed construction forms and versions enable precisely the right, attractive lighting for various applications in office buildings, with high savings potential and minimum complexity. The CDP-X optic creates a completely new type of ceiling appearance and also offers possibilities for individual designs.
Homogeneous light. An efficient working day.
Guaranteed concentration thanks to high visual comfort: The Arimo Slim CDP LED's homogeneous, wide-area light is especially pleasant and glare-free with UGR 19, compliant to standards.
Many versions. Even more possibilities.
The luminaire is optionally available as a recessed, surface-mounted or suspended luminaire in various forms, sizes and versions. The IP54 version of the Arimo Slim CDP can also illuminate kitchens and sanitary rooms. This means the right solution can be found for any office area.
A simple concept. Rapid upgrading.
To achieve rapid and simple refurbishments, the control unit can be connected to the mains cable beforehand and flexibly positioned. Plug & play then ensures simple connection to the luminaire. Available in two square and two linear designs, the luminaire can be precisely laid into all commercially-available standard ceiling grids.
Planar light. Also with an attractive light gap on request.
The Arimo Slim is available with two different optics. The CDP optic emits planar, uniform and glare-free light. The CDP-X optic has a narrow light gap that gives the uniform light emission surface and attractive structure.
Efficient lighting and compact dimensions.
The high luminaire efficiency ensures rapid payback of investment costs and is also very sustainable.

A slender design for modest space requirements.
The Arimo Slim CDP LED, with its slender construction, can be stored in tight spaces and simply transported, which also helps to reduce costs.