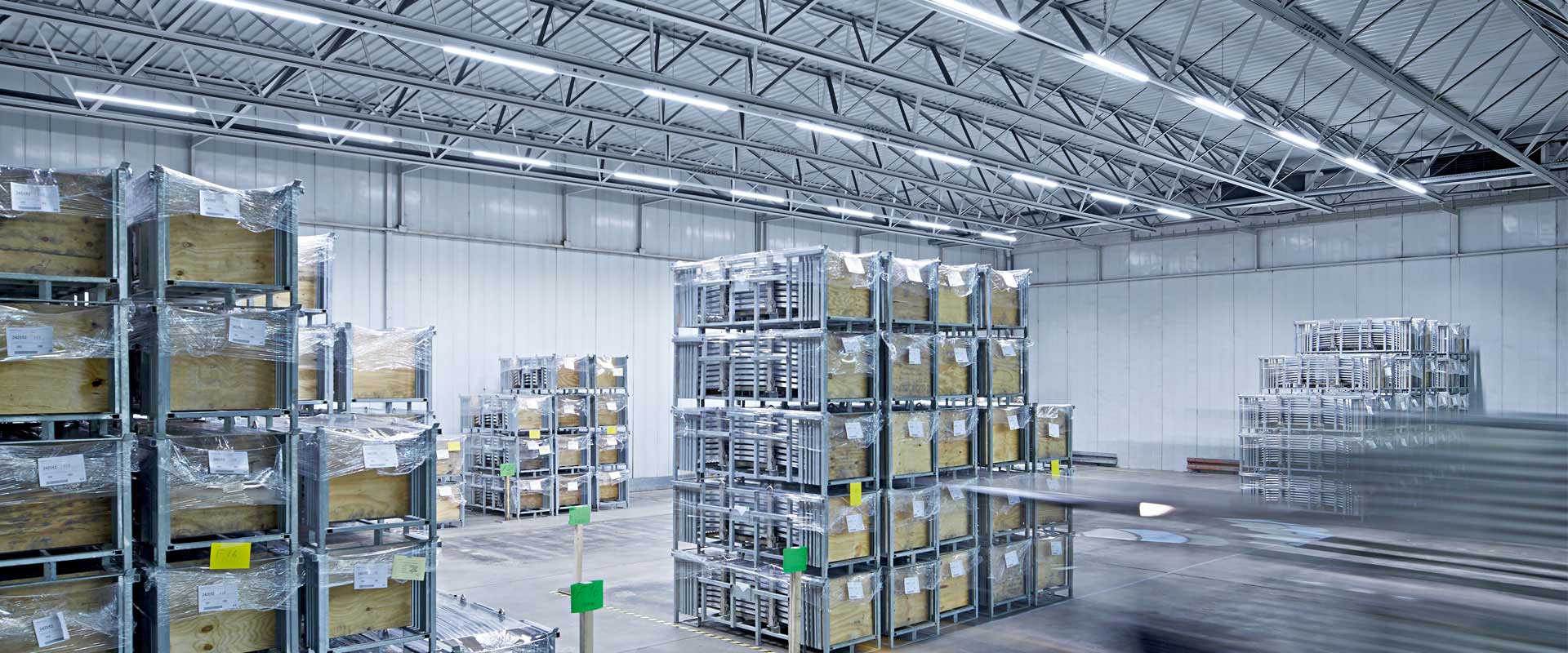 E-Line LED – a continuous line for every application
The challenge
Lighting refurbishments for industrial companies, retail outlets, offices and educational facilities can achieve high cost savings. However, replacing a complete lighting installation across different work areas rapidly becomes complicated due to the variety of different demands. Replacing lighting systems also frequently interrupts every-day running operations.
The solution
The E-Line LED marks the era of LED efficiency across many applications: thanks to selectable lumen levels, optics and protection ratings, the continuous line can be adapted more quickly to application-specific requirements. As a HACCP-compliant solution, the trunking can now also be specifically used in the food industry. In cold stores or canopied outdoor areas for example where high protection ratings are needed, the E-Line version with IP54 protection (protection against dust and spray water) is a highly reliable solution. The continuous line also illuminates offices, educational/training facilities and cashpoint areas in the shop and retail sector in next to no time and with high energy efficiency thanks to its glare-reduced UGR<19 reflector. A fundamental strength of the E-Line is very simple installation – those operating conventional T5 or T8 E-Line trunking for example can upgrade a module to especially energy-efficient E-Line LED in just 44 seconds. If desired, the E-Line can also be integrated into energy-saving LiveLink light management systems as well.
The result
With the E-Line, lighting designers, electrical contractors and end users have an extremely high-performance, flexible all-rounder, which, with its wide range of versions, provides high reliability in challenging industrial environments as well as the office and retail sectors. The quick, simple planning and installation of the continuous line system minimises the effort required and also reduces cost-intensive interruptions to everyday work. This enables the benefits of LED technology to be exploited even more easily.
Browser information
The model cannot be displayed. Unfortunately your browser does not completely support this web technology.
Use Google Chrome for example to gain complete user experience.
Zoom
Scroll to zoom towards the model
Drag and Drop
Rotate the model by clicking and dragging
Change the background
Change the background colour with this icon
Close
Close the application with this icon
Wide range of versions and simple planning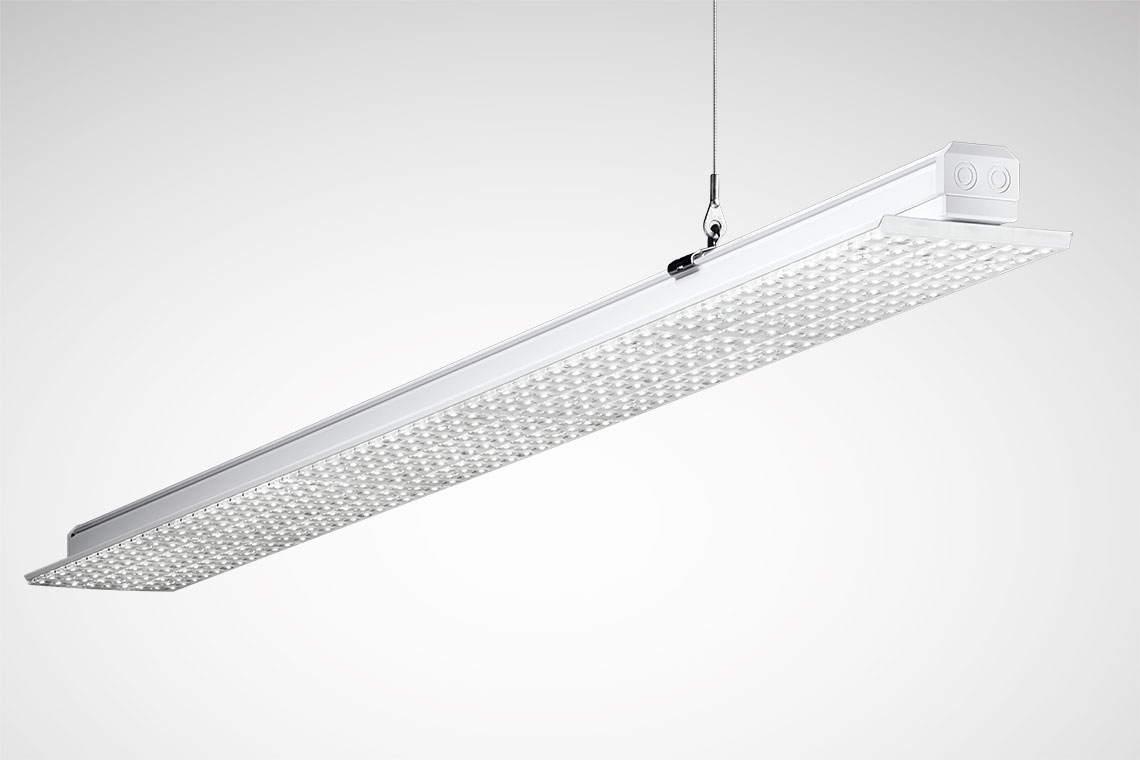 The E-Line LED is available with lumen levels from 4,000 to 20,000 lm as well as a wide range of beam characteristics – wide, narrow wide, medium narrow, narrow, double asymmetric, asymmetric and computer screen-compliant (UGR<19). This enables ideal solutions for highly different lighting requirements. To keep trunking planning as simple as possible, TRILUX provides customers with the E-Line LED Configurator – a simple and convenient planning tool.
Rapid payback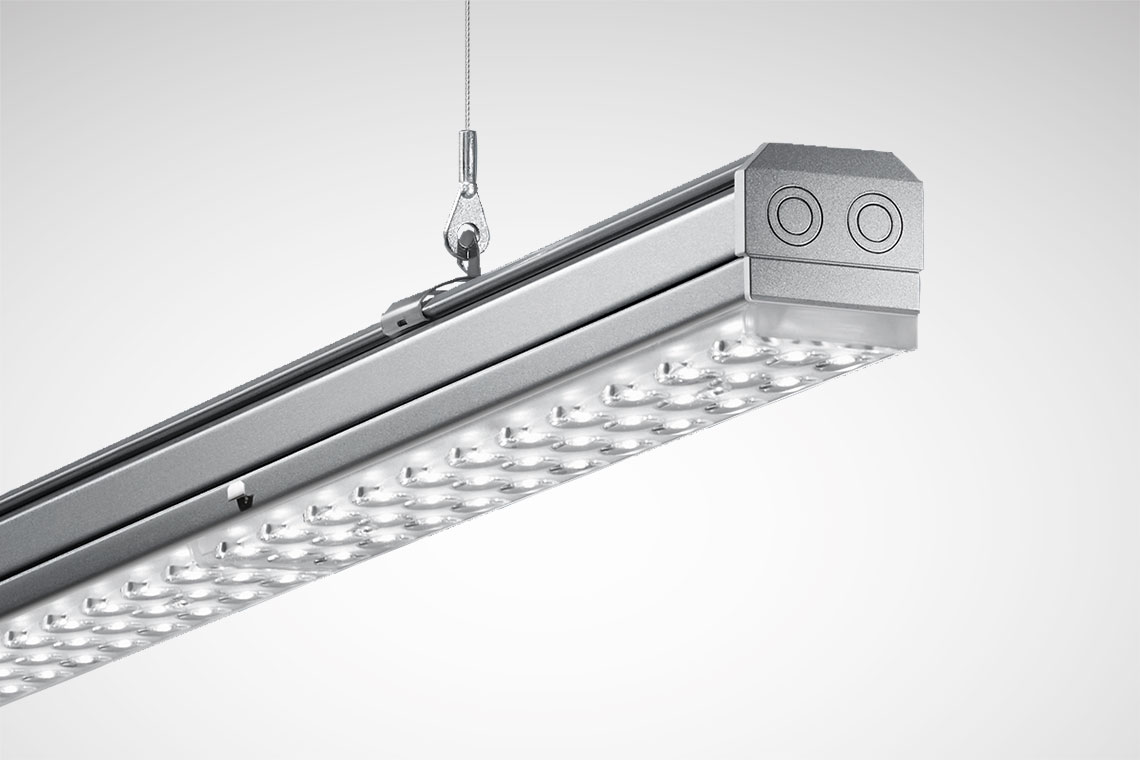 The E-Line LED offers ideal value for money: High energy efficiency of up to 152 lm/W significantly cuts operating costs, meaning the investments can be rapidly repaid..
Problem-free maintenance
The smooth optic simplifies and accelerates any cleaning work and thus reduces maintenance costs while guaranteeing a uniformly high quality of light.
Tough and reliable
The E-Line LED is available in two protection ratings. The version with IP54 protection is dust and splash water resistant and takes the standard LED gear tray. Only new accessory components (mounting profile, cover and gasketing) are required. With HACCP compliance, the E-Line LED also meets more stringent hygienic demands for the food industry.
Breathtakingly simple
Just 44 seconds is all it takes to mount an E-Line LED without tools into existing TRILUX standard trunking rails (T5/T8).
Luminaire data
wide distribution
deep-wide distribution
medium deep distribution
deep distribution
Code
B
TB
MT
T
Protection rating
IP20
IP50 possible on request.
IP54 with corresponding accessories
IP20
IP50 possible on request.
IP54 with corresponding accessories
IP20
IP50 possible on request.
IP54 with corresponding accessories
IP20
IP50 possible on request.
IP54 with corresponding accessories
Connected load
–
105 W (with 13.000 lm)
53 W (with 8.000 lm)
41 W (with 6.500 lm)
35 W (with 5.500 lm)
26 W (with 4.000 lm)
158 W (with 20.000 lm)
105 W (with 13.000 lm)
53 W (with 8.000 lm)
41 W (with 6.500 lm)
35 W (with 5.500 lm)
26 W (with 4.000 lm)
158 W (with 20.000 lm)
105 W (with 13.000 lm)
53 W (with 8.000 lm)
41 W (with 6.500 lm)
35 W (with 5.500 lm)
26 W (with 4.000 lm)
158 W (with 20.000 lm)
105 W (with 13.000 lm)
53 W (with 8.000 lm)
41 W (with 6.500 lm)
35 W (with 5.500 lm)
26 W (with 4.000 lm)
Luminous flux
–
13.000 lm
8.000 lm
6.500 lm
5.500 lm
4.000 lm
20.000 lm
13.000 lm
8.000 lm
6.500 lm
5.500 lm
4.000 lm
20.000 lm
13.000 lm
8.000 lm
6.500 lm
5.500 lm
4.000 lm
20.000 lm
13.000 lm
8.000 lm
6.500 lm
5.500 lm
4.000 lm
Colour rendering/-temperature
865 (Ra > 80, 6.500 K)
840 (Ra > 80, 4.000 K)
830 (Ra > 80, 3.000 K)
865 (Ra > 80, 6.500 K)
840 (Ra > 80, 4.000 K)
830 (Ra > 80, 3.000 K)
865 (Ra > 80, 6.500 K)
840 (Ra > 80, 4.000 K)
830 (Ra > 80, 3.000 K)
865 (Ra > 80, 6.500 K)
840 (Ra > 80, 4.000 K)
830 (Ra > 80, 3.000 K)
Control units
ET, switchable
ETDD, DALI, dimmable
ET, switchable
ETDD, DALI, dimmable
ET, switchable
ETDD, DALI, dimmable
ET, switchable
ETDD, DALI, dimmable
Service life
50.000 h, L85, ta 35 °C
(with 8.000 lm and 13.000
lm)
50.000 h, L85, ta 40 °C
(with 6.500 lm)
50.000 h, L85, ta 45 °C
(with 5.500 lm)
50.000 h, L85, ta 50 °C
(with 4.000 lm)
50.000 h, L85, ta 35 °C
(with 8.000 lm, 13.000 lm and 20.000 lm)
50.000 h, L85, ta 40 °C
(with 6.500 lm)
50.000 h, L85, ta 45 °C
(with 5.500 lm)
50.000 h, L85, ta 50 °C
(with 4.000 lm)
50.000 h, L85, ta 35 °C
(with 8.000 lm, 13.000 lm and 20.000 lm)
50.000 h, L85, ta 40 °C
(with 6.500 lm)
50.000 h, L85, ta 45 °C
(with 5.500 lm)
50.000 h, L85, ta 50 °C
(with 4.000 lm)
50.000 h, L85, ta 35 °C
(with 8.000 lm, 13.000 lm and 20.000 lm)
50.000 h, L85, ta 40 °C
(with 6.500 lm)
50.000 h, L85, ta 45 °C
(with 5.500 lm)
50.000 h, L85, ta 50 °C
(with 4.000 lm)
Colour
White – without M
Silver – M
Black – 05
White – without M
Silver – M
–
White – without M
Silver – M
–
White – without M
Silver – M
–
Certification
ENEC, VDE, CE, SKI, HACCP
ENEC, VDE, CE, SKI, HACCP
ENEC, VDE, CE, SKI, HACCP
ENEC, VDE, CE, SKI, HACCP
double asymmetric distribution
asymmetric distribution
suitable for workstation
symmetric deep-wide distribution
Code
DA
A
B19
PA-TB
Protection rating
IP20
IP50 possible on request.
IP54 with corresponding accessories
IP20
IP50 possible on request.
IP54 with corresponding accessories
IP20
–
IP54 with corresponding accessories
Lamp compartment IP50
Connected load
–
105 W (with 12.000 lm)
53 W (with 8.000 lm)
41 W (with 6.500 lm)
35 W (with 5.500 lm)
26 W (with 4.000 lm)
–
–
–
–
35 W (with 5.500 lm)
26 W (with 4.000 lm)
–
–
–
–
35 W (with 5.000 lm)
26 W (with 3.500 lm)

–
–
57 W (with 8.000 lm)
45 W (with 6.500 lm)
37 W (with 5.500 lm)
–

Luminous flux
–
13.000 lm
8.000 lm
6.500 lm
5.500 lm
4.000 lm
–
–
–
–
5.500 lm
4.000 lm
–
–
–
–
5.000 lm
3.500 lm
–
–
8.000 lm
6.500 lm
5.500 lm
–
Colour rendering/-temperature
865 (Ra > 80, 6.500 K)
840 (Ra > 80, 4.000 K)
830 (Ra > 80, 3.000 K)
865 (Ra > 80, 6.500 K)
840 (Ra > 80, 4.000 K)
830 (Ra > 80, 3.000 K)
–
840 (Ra > 80, 4.000 K)
830 (Ra > 80, 3.000 K)
865 (Ra > 80, 6.500 K)
840 (Ra > 80, 4.000 K)
–
Control units
ET, switchable
ETDD, DALI, dimmable
ET, switchable
ETDD, DALI, dimmable
ET, switchable
ETDD, DALI, dimmable
–
ETDD, DALI, dimmable
Service life
50.000 h, L85, ta 35 °C
(with 8.000 lm and 13.000 lm)
50.000 h, L85, ta 40 °C
(with 6.500 lm)
50.000 h, L85, ta 45 °C
(with 5.500 lm)
50.000 h, L85, ta 50 °C
(with 4.000 lm)
–
–
–
–
50.000 h, L85, ta 45 °C
(with 5.500 lm)
50.000 h, L85, ta 50 °C
(with 4.000 lm)
–
–
–
–
50.000 h, L85, ta 35 °C
(with 5.000 lm)
50.000 h, L85, ta 35 °C
(with 3.500 lm)
50.000 h, L85, ta 35 °C
(with 8.000 lm)
50.000 h, L85, ta 40 °C
(with 6.500 lm)
50.000 h, L85, ta 45 °C
(with 5.500 lm)
–
–
Colour
White – without M
Silver – M
Black – 05
White – without M
Silver – M
Black – 05
White – without M
Silver – M
–
White – without M
–
–
Certification
ENEC, VDE, CE, SKI, HACCP
ENEC, VDE, CE, SKI, HACCP
ENEC, VDE, CE, SKI, HACCP
ENEC, VDE, CE, SKI
wide distribution
wide distribution
symmetric wide distribution
symmetric wide distribution
Code
PA-2
PA-2 FB
OT
OTR
Protection rating
Lamp compartment IP40
Lamp compartment IP40
IP20
IP20
Connected load
67 W (with 8.000 lm)
55 W (with 6.500 lm)
45 W (with 5.500 lm)
33 W (with 4.000 lm)
77 W (with 8.000 lm)
59 W (with 6.500 lm)
51 W (with 5.500 lm)
37 W (with 4.000 lm)
–
–
40 W (with 5.500 lm)
27 W (with 4.000 lm)
–
–
40 W (with 5.500 lm)
27 W (with 4.000 lm)
Luminous flux
8.000 lm
6.500 lm
5.500 lm
4.000 lm
8.000 lm
6.500 lm
5.500 lm
4.000 lm
–
–
5.500 lm
4.000 lm
–
–
5.500 lm
4.000 lm
Colour rendering/-temperature
865 (Ra > 80, 6.500 K)
840 (Ra > 80, 4.000 K)
–
865 (Ra > 80, 6.500 K)
840 (Ra > 80, 4.000 K)
–
865 (Ra > 80, 6.500 K)
840 (Ra > 80, 4.000 K)
830 (Ra > 80, 3.000 K)
865 (Ra > 80, 6.500 K)
840 (Ra > 80, 4.000 K)
830 (Ra > 80, 3.000 K)
Control units
–
ETDD, DALI, dimmable
–
ETDD, DALI, dimmable
ET, switchable
ETDD, DALI, dimmable
ET, switchable
ETDD, DALI, dimmable
Service life
50.000 h, L85, ta 45 °C
(with 8.000 lm)
50.000 h, L85, ta 35 °C
(with 6.500 lm)
50.000 h, L85, ta 40 °C
(with 5.500 lm)
50.000 h, L85, ta 45 °C
(with 4.000 lm)
50.000 h, L85, ta 45 °C
(with 8.000 lm)
50.000 h, L85, ta 35 °C
(with 6.500 lm)
50.000 h, L85, ta 40 °C
(with 5.500 lm)
50.000 h, L85, ta 45 °C
(with 4.000 lm)
50.000 h, L85, ta 35 °C
–
–
–
–
–
–
–
50.000 h, L85, ta 35 °C
–
–
–
–
–
–
–
Colour
White – without M
–
White – without M
–
White – without M
Silver – M
White – without M
Silver – M
Certification
ENEC, VDE, CE, SKI
ENEC, VDE, CE, SKI
ENEC, VDE, CE, SKI, HACCP
ENEC, VDE, CE, SKI, HACCP