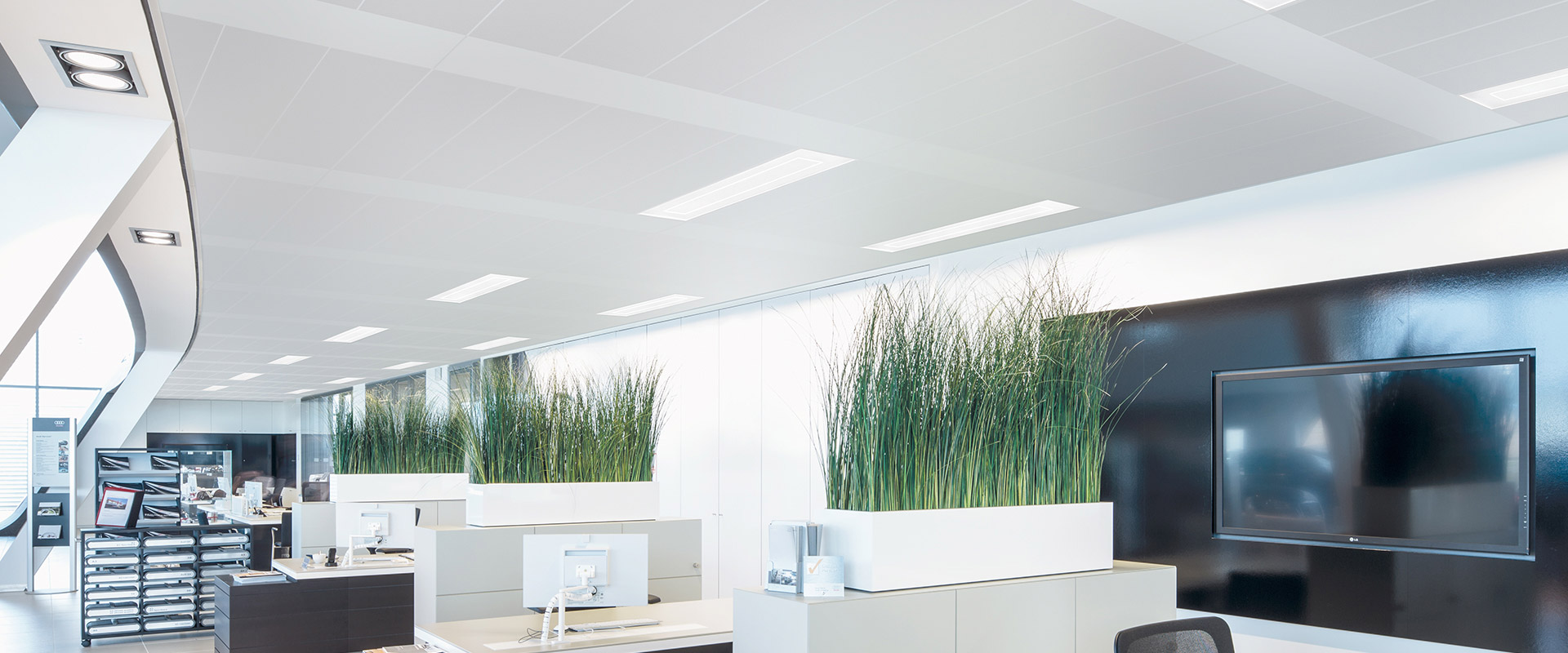 LIVENA LED - FLEXIBLE IN DESIGN AND FUNCTIONALITY
In many office buildings, a complete lighting solution refurbishment is due. TRILUX developed the Livena LED especially for this. The aim: simply and quickly illuminating all areas of an office with planar light, in maximum quality. Livena LED is available in various dimensions and luminous flux levels to achieve holistic and therefore especially simple lighting design. The concept is flexibly designed that individual module sizes are also possible upon request. In addition, the cost-efficient LED luminaire is available with two different microprismatic optical systems – the CDP optic and the further developed CDP-X optic. Livena LED applications range from computer workstations and meeting/relaxation rooms to hallways and corridors. Thanks to its design and especially uniform, high-quality light the luminaire creates optimum visual conditions and an appealing ambience.
Product and application images
Sophisticated design – fresh and modern
The Livena LED improves office atmospheres thanks to its attractive and subtle design. The innovative CDP-X optic creates a new type of ceiling appearance with wide-area light.
Attractive planar light – no glare and no interferences
The Livena LED emits a uniform, glare-free and especially pleasant light that is ideal for illuminating computer screen workstations compliant to standards.
Simple refurbishments and customised solutions
The luminaire is available for SAS 130, SAS 330 and standard open-cell ceilings. Dimensions for the SAS 330 version can be modified upon request - and air-handling versions complete the Livena LED standard portfolio.
High efficiency and low operating overheads
With high energy efficiency and a long service life, upgrading to the Livena LED is also economic. Investment costs for refurbishments are paid back quickly through savings in operating costs.
Diversity – flexible and adaptable
The Livena LED can be modified to the specific application. Among other features, two luminous flux levels are available to choose from for ideal lighting. The design of the CDP-X optic can even be individually modified upon request.
GLARE-FREE OPTICS
The Livena LED is available with a choice of two different optics. The CDP optic generates uniform, planar light without visible interruptions. A further developed, special CDP-X optic gives shape to the planar light, allowing unique interior lighting designs to be realised. Both optics offer maximum visual comfort. The light is suitable for the standard-compliant illumination of VDU workstations with UGR 19 at < 3,000cd/m2.
ENERGY EFFICIENCY
With luminous efficiency of up to 115 lm/W and a 50,000 hour service life, the Livena LED significantly reduces operating costs compared to conventional lighting solutions.
SIMPLE INSTALLATION
Whether into SAS 130, SAS 330 or standard grid ceilings – all Livena LED luminaires can be installed with ease.
HIGHLY ADAPTABLE
Lighting solutions can be customised thanks to availability in two luminous flux levels (3,900 and 4,500 lm). Air-handling versions are also available. Alternative sizes and shapes for the CDP-X optic can also be produced upon customer request.