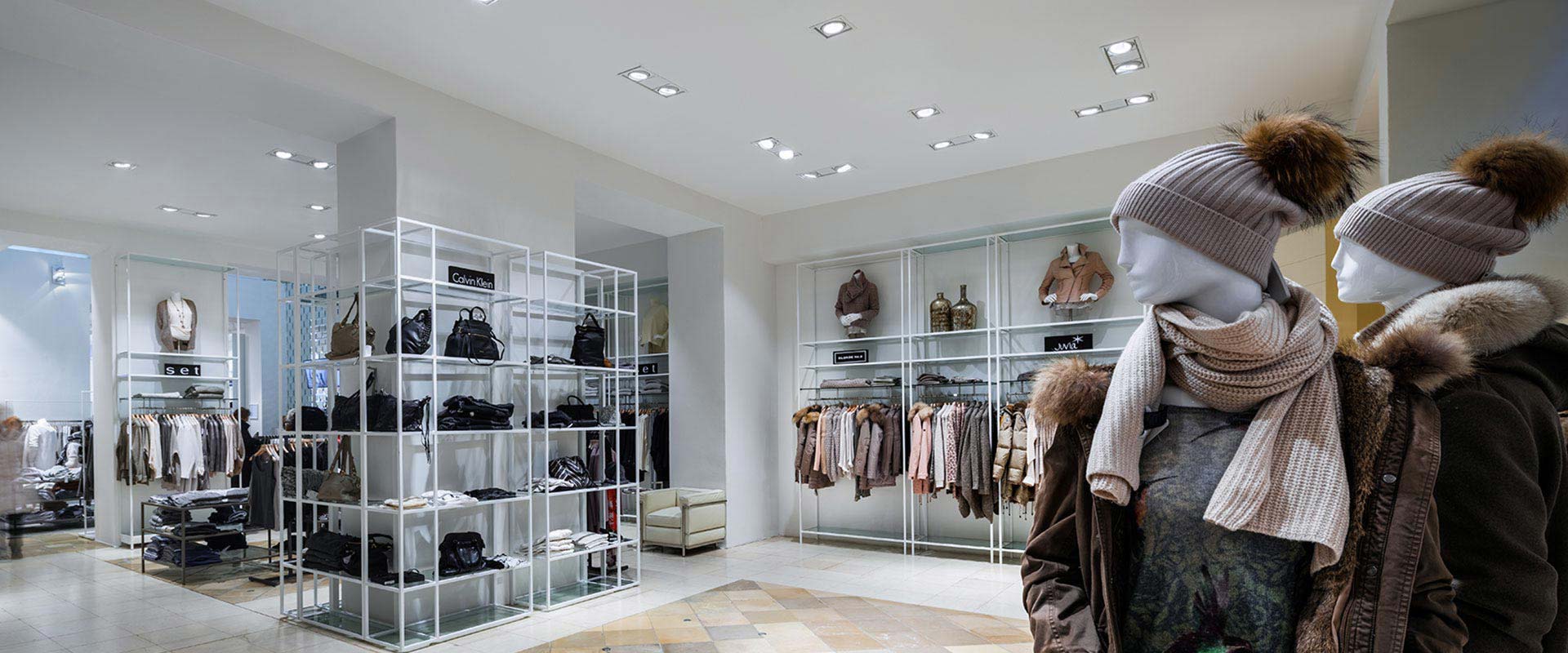 Sistema LED
maximally modular
The challenge
Everyday retail lighting: uniform illumination is required in one area and elsewhere a spot. In shop window areas the mounting space is tight and high decorative elements on walls should be illuminated. Soon the requirements will change completely, because changing assortments demand maximum flexibility. Based on this it's also a matter of achieving a calm ceiling appearance with a uniform luminaire design.
The solution
Sistema LED has perfected the modular principle: the core of the extremely diverse product range is a single, double or triple-cell frame which can be flexibly equipped with highly different light modules. Own-system recessed and surface-mounted spots are also available as well as light modules from other Oktalite product ranges. If requirements change, the light modules or reflectors can be retroactively exchanged without tools. The range of luminaires is available as Sistema LED in standard size or the extra-small Sistema Compact LED.
The result
The modular, diverse family of luminaires provides maximum flexibility with minimum effort, so that desired light effects can always be simply implemented. Despite differing light modules, a calm and uniform ceiling appearance is achieved thanks to the range-typical square frame.
Product and application images
The Sistema LED range – modular, flexible, tool-free
Thanks to the modular design and a wide selection of light modules, the Sistema LED can be used to equip almost any feasible lighting situation. All components can be quickly installed without tools and can be retroactively exchanged.
One, two or three – the Sistema luminaire frame
The Sistema LED is optionally available with a 1, 2 or 3-cell frame. Each cell can be equipped with a different light module or blind module. This offers diverse possibilities.
Recessed and spot modules – flexible room and accent lighting
The cardanically rotatable recessed module can be pivoted to both sides by 30° and the surface-mounted spot module provides even more manoeuvrability : it has 180° pan-and-tilt in both directions.
The directional spot – open for other Oktalite ranges
For perfectly designed lighting, the Sistema LED can be effortlessly combined with directional spots from other Oktalite ranges e.g. the SCENIC PLUS MINI track spot is available as a supplementary module for the Sistema LED and the Taro Mini surface-mounted directional spot and Quira recessed directional spot are available for use with the Sistema Compact LED.
Freedom of choice –à la carte light
A little more perhaps? HIT and LED reflectors, luminous flux levels to 4,000 lm, light colours from 2,700 to 4,000 K and Best Colour, Efficient Colour and special colour spectra for food are all available.
Sistema Compact LED – the little sister, but really big
The complete Sistema diversity is also available in a compact size: the Sistema Compact LED, thanks to its small size and low ceiling recess mounting depth, is ideal for areas that are challenge for all other luminaires.
Three frame modules
The system is based on 1, 2 or 3-cell frame modules that can be equipped with various light components.
Wide light colour spectrum
The Sistema LED light modules feature 2,700, 3,000, 3,500 and 4,000 K light colours. They have Best Colour, Efficient Colour and special colour spectra for fresh food displays.
Lumen output
The Sistema Compact LED is available with luminous flux levels of up to 4,000 lm.
Compact version
The recess mounting depth of the Sistema Compact LED is just 180 mm. The 1-cell frame measures 175 x 175 mm, the 2-cell frame 175 x 315 mm and the 3-cell frame 175 x 455 mm. Despite these minimum dimensions, the Sistema Compact can be equipped with LED luminous flux levels of up to 4,000 lm. The luminaire is also optionally available with a glass cover to protect from soiling.
Technical Features - Sistema LED
Reference
Value
Lumen class:
1,500 – 4,000 lm
System luminous flux:
up to 3,880 lm
Connected load/efficiency:
up to 148 lm/W
Service life:
50,000 h L80/B10
Colour rendering/-temperature:
White light colours: 2,700, 3,000, 3,500, 4,000 K + Efficient Colour, CRI = 85 + Best Colour, CRI = 95
Food colours: B+V+C (Bakery+Vegetable+Fish), M (Meat), M+F (Meat+Fish)
Electrical version:
LED, LEDIQ (DALI) as standard, HIT
Dimensions (L x W x H):
1-cell: 221 x 221 x 200 mm
2-cell: 221 x 393 x 200 mm
3-cell: 221 x 565 x 200 mm
Protection rating/safety class:
IP20
Light distribution:
Spot, Medium Flood, Flood, Wide Flood, Very Wide Flood
Technical Features - Sistema Compact LED
Reference
Value
Lumen class:
3,000 – 4,000 lm
System luminous flux:
up to 3,680 lm
Service life:
50,000 h L80/B10
Colour rendering/-temperature:
2.700, 3.000, 3.500, 4.000 K + Efficient Colour, CRI = 85 + Best Colour, CRI = 95
Electrical version:
LED, DALI not as standard
Dimensions (L x W x H):
1-cell: 175 x 175 x 180 mm
2-cell: 315 x 175 x 180 mm
3-cell: 455 x 175 x 180 mm
Protection rating/safety class:
IP20
Light distribution:
Spot, Medium Flood, Flood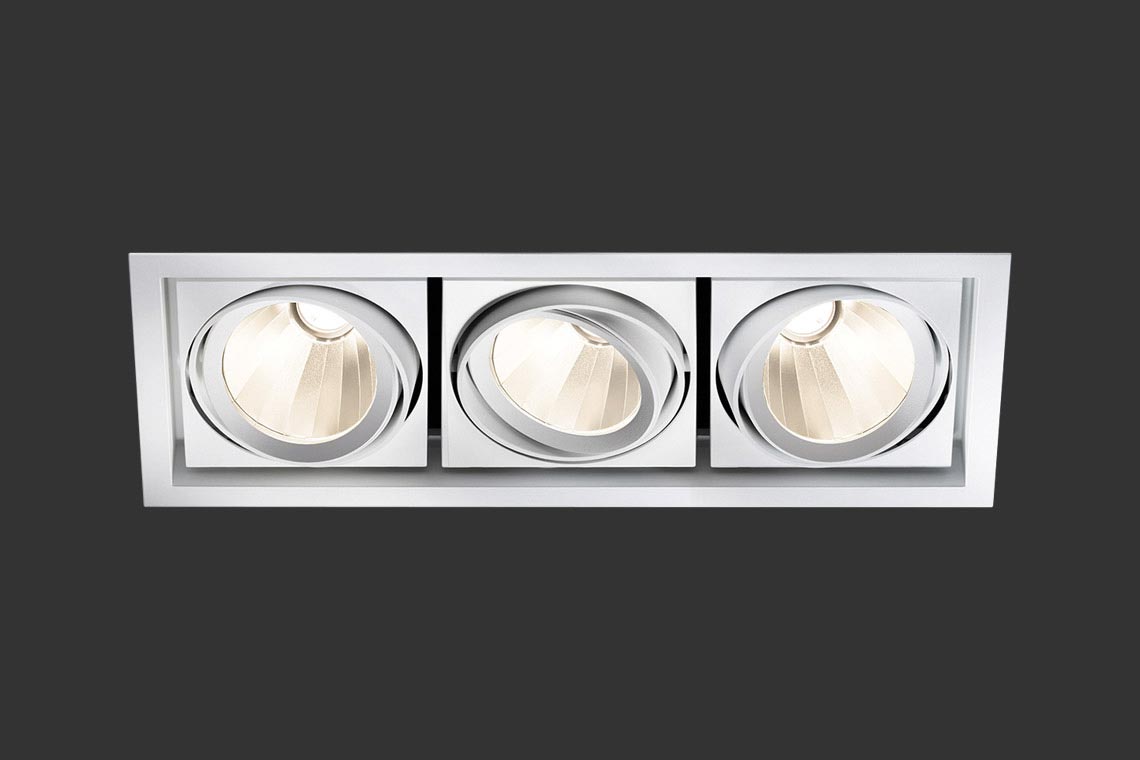 Sistema LED
view in the online catalogue