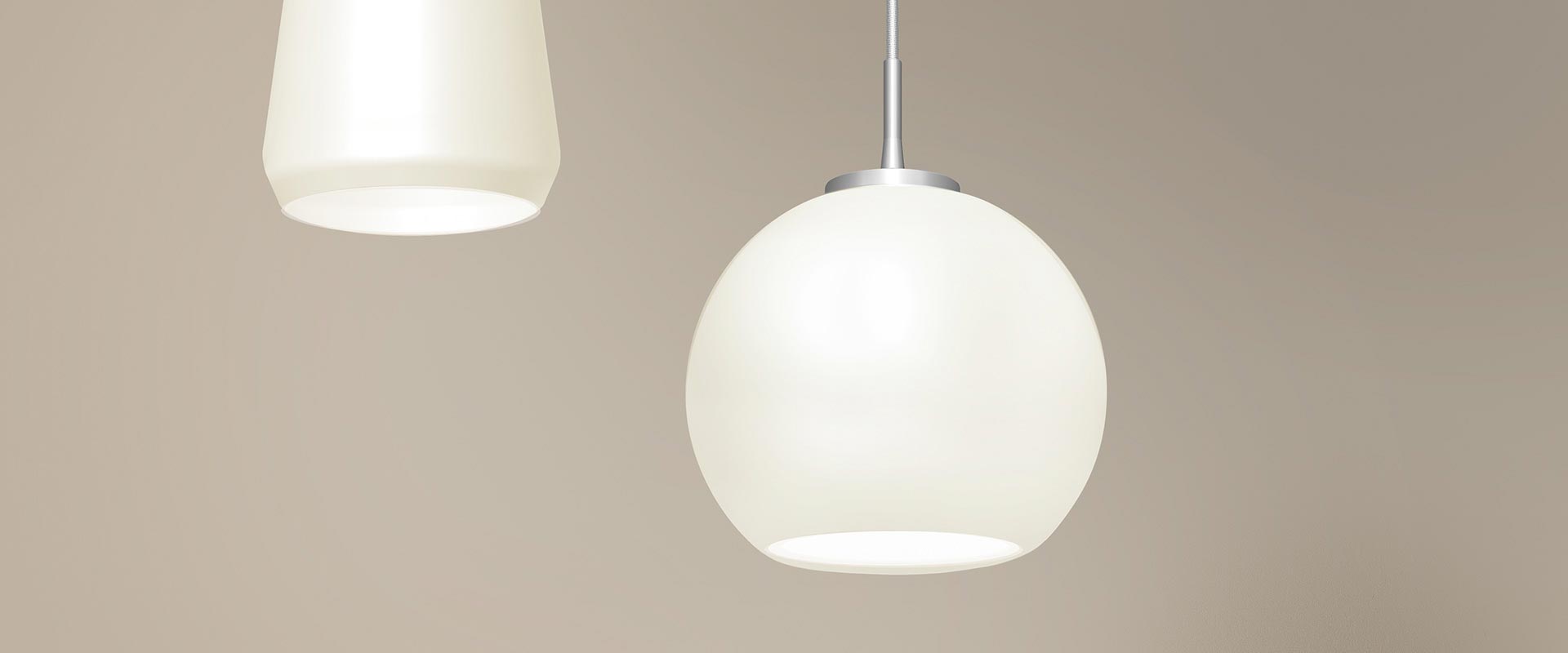 IN.VOLA LED
the suspended luminaire with a personality
Challenge
Whether it's a boutique, department store or supermarket – operators are looking for ways of expressing their corporate identity to positively distinguish themselves from their competition. This also applies to selecting the lighting solution. In the retail sector this is often carried out in a classic way: directional spotlights or projectors fulfil mainly functional tasks. Suspended luminaires on the other hand are mainly used for decorative purposes. This means they must be particularly qualitative in terms of individual design and light effect. Often though, functionality is neglected.
Solution
The In.Vola LED suspended luminaire already attracts attention from a distance. With its translucent, coloured shade it attracts the attention of customers specifically to where it's being used. At the same time, the suspended luminaire represents the company with its attractive and simply customisable design. The shade is available in two shapes that can be adapted on request with the corporate CI. In terms of functionality, the In.Vola LED is also diverse. The luminaire can be used as a mainly decorative version, or as a photometric version with various light distribution characteristics for many different retail lighting tasks – for example the display of goods on tables. Especially practical: the design harmonises perfectly with the In.Evo LED circuit track spotlights.
Result
In.Vola LED gives shops an individual, attractive image that can be optimally adapted to the company identity. In addition to the mainly decorative aspects, the suspended luminaire can also be used for functional tasks such as goods displays. Overall lighting concepts are possible without any inconsistencies in design thanks to harmonising with the In.Evo LED circuit track spotlights.
Product and application images
An eye-catcher: translucent shade in (optional) colour
The elegantly designed, translucent shade is optionally available in two different shapes – spherical or conical segment and in various colours. A special feature: the shade can be colour-matched to the company's CI upon request. Thanks to its attractive design and colouring, the luminaire contributes to individual, easily recognised shop atmospheres.
Flexible: decorative or photometric version
In terms of lighting technology, the In.Vola is available in two versions. The decorative version has a classic E27 lamp base which can be equipped with corresponding lamps. A photometric version is also available. Its core is an optical light guidance system with a diffusion cylinder and prismatic optic inside the luminaire shade. According to the selected beam pattern, goods can be specifically illuminated or zones highlighted.
High quality down to the last detail
The exclusive luminaire design is continued in the details. Premium components such as the current-carrying textile cable create an all-round harmonious look.
Optional: light management system compatible
In.Vola features LEDIQ and can conveniently be controlled with a light management system such as LiveLink. This allows individual lighting concepts to be quickly and simply implemented, e.g. daylight-synchronous light intensity levels.
Two different luminaires and one uniform design
The In.Vola suspended luminaire and the In.Evo track spot belong to the same design series. If both luminaire families are combined, the complete spectrum of retail lighting applications can be carried out with a uniform design and colour appearance.
An attractive design
The attractive and eye-catching design supports premium company images.
Various design versions
In.Vola is available with two shade shapes in various colours. Spherical or conical segments are available.
Individual colouring
The shade colour can be optionally adapted to the company CI.
Photometric flexibility
In.Vola can be flexibly modified to framework conditions thanks to six white light colours from 2,700 to 4,000 K and luminous flux levels of up to 2,500 lm.
Light management
In.Vola features LEDIQ for intelligent light.
A family range
In.Vola and In.Evo are part of the same design range.
Technical features
| Reference | Value |
| --- | --- |
| Lumen class: | 2,500 lm |
| Connected load: | 20 W |
| Service life: | 50,000 h L80/B10 |
| Colour rendering/-temperature: | 2,700, 3,000, 3,500, 4,000 K + Efficient Colour, CRI = 85 + Best Colour, CRI = 95 |
| Electrical version: | LED, LEDIQ (DALI) as standard |
| Dimensions (L x W x H): | Spherical: Ø 222 mm, h = 200 mm |
| Conical: | Ø 163 mm, h = 200 mm |
| Protection rating/safety class: | IP20 |
| Light distribution: | Medium Flood, Flood |