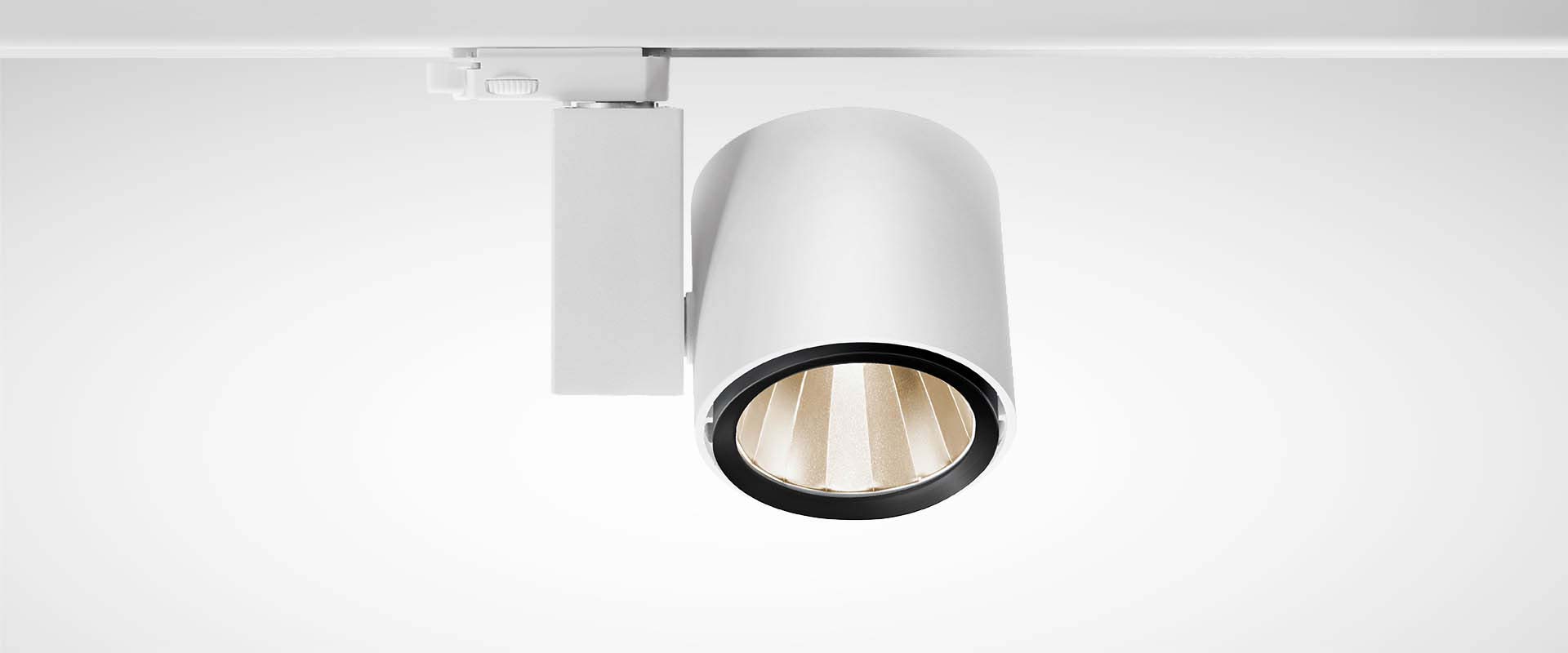 LOBU LED
efficient light in a small format
The challenge
Attractive and optimum goods displays don't depend on giant display areas – in fact, quite the opposite. Perfect displays can also be achieved in small stores and shops with the right lighting solution. It's here that a balance is crucial: the luminaires must not dominate in terms of appearance but need to provide premium lighting technology.
Solution
With the Lobu LED track spotlight, Oktalite offers a purist luminaire design with a compact size and strong photometric properties for the point of sale. Despite its high light output, the small spot emits energy-efficient light. High quality segmented reflectors provide best possible light distribution in all rotation angles. Various beam characteristics ideally illuminate the goods. The spotlight is available with six white light colours.
The result
With the 3-circuit track spotlight Lobu LED, Oktalite offers a lighting solution reduced to the essentials for all retail spaces. With its purist look, the luminaire is highly discreet to place the lighting task in the foreground. Whether fashion, shop or food – the spot provides optimum light in all situations.
Browser information
The model cannot be displayed. Unfortunately your browser does not completely support this web technology.
Use Google Chrome for example to gain complete user experience.
Zoom
Scroll to zoom towards the model
Drag and Drop
Rotate the model by clicking and dragging
Change the background
Change the background colour with this icon
Close
Close the application with this icon
Small and compact: a purist luminaire design
The Oktalite 3-circuit track spotlight Lobu LED features a concise, reduced design. Thanks to its small diameter, the Lobu LED has especially compact luminaire dimensions to blend discretely into all retail surroundings.
Diversified: customised light
The track spotlight is equipped with exchangeable segmented reflectors. This allows the pan-and-tilt luminaire to emit optimum light from any angle. Six white light colours also allow the luminaire to be customised according to requirements at the point of sale.
Mobile: with pan-and-tilt
Lobu LED can be swivelled through 180° and rotated through 355°. This enables extremely flexible goods illumination – ranging from displays on tables to rear walls and window displays.
Efficient: power package
Equipped with 4,000 lm, the small luminaire is a power package and emits efficient light of up to 107 lm/W. The luminaire can also be connected to light management systems such as LiveLink via the DALI standard – this allows even more energy-efficient use.
A purist design
The Lobu LED spot features a compact design. The luminaire blends highly discreetly into the background at the point of sale thanks to its small luminaire dimensions and purist look.
Perfect light
High quality segmented reflectors (Spot, Medium Flood and Flood) achieve optimum light distribution at any position. The spot features six white light colours and is suitable for all shop areas.
An efficient power package
Equipped with 4,000 lm, the small luminaire emits especially efficient light of up to 107 lm/W . The luminaire is also available with the DALI standard, enabling energy-efficient use with light management systems.
Technical features
| Reference | Value |
| --- | --- |
| Lumen class: | 3,000 – 4,000 lm |
| System luminous flux: | up to 3,680 lm |
| Connected load/efficiency: | 3,000 lm: 28 W, 4,000 lm: 36 W ; up to 107 lm/W |
| Service life: | 50,000 h L80/B10 |
| Colour rendering/-temperature: | 2,700 / 3,000 / 3,500 / 4,000 K + Efficient Colour, CRI = 85 + Best Colour, CRI = 95 |
| Electrical version: | LED, LEDIQ (DALI) as standard |
| Dimensions (L x W x H): | 164 x 145 mm ; luminaire head: 100 mm, Ø 100 mm |
| Protection rating/safety class: | IP20 |
| Light distribution: | Spot, Medium Flood, Flood, Wide Flood (WFL), Very Wide Flood (VFL) |