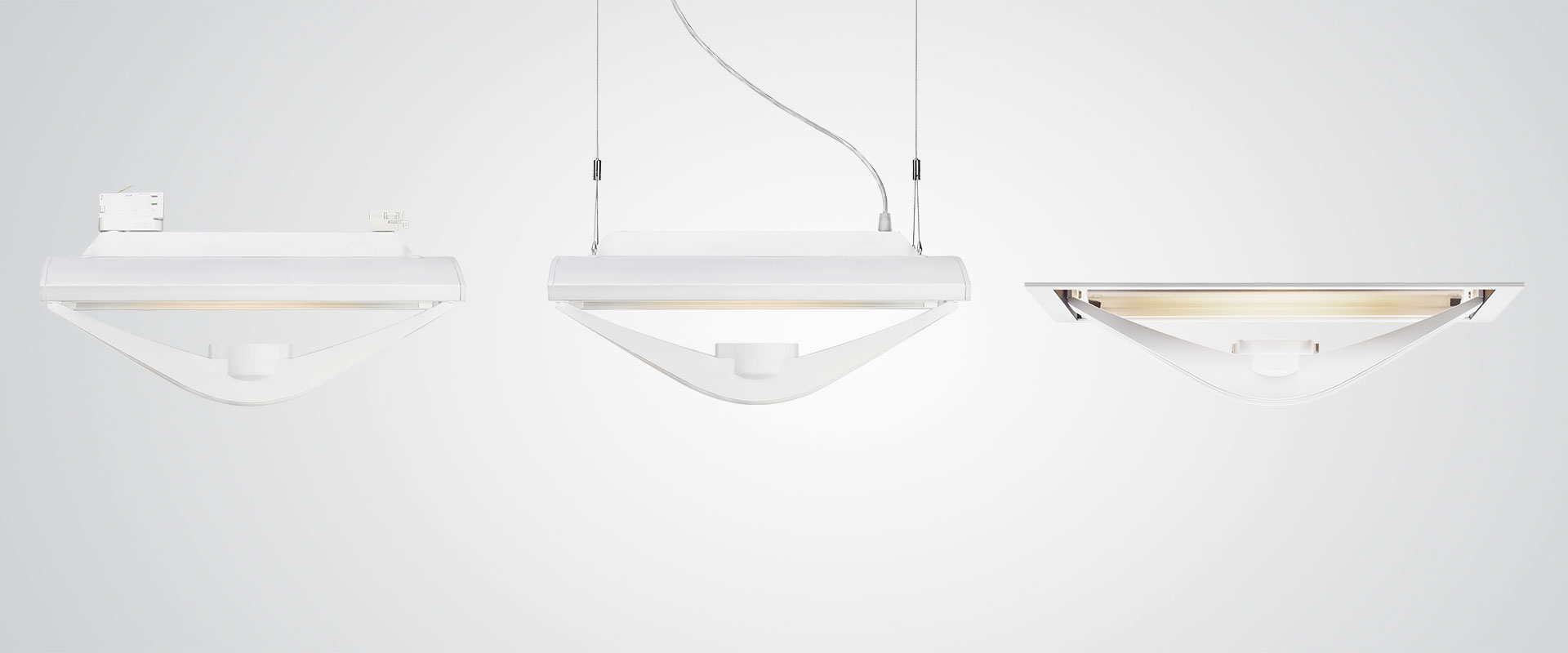 Mido LED
pioneering retail lighting with a new design
The challenge
Continuous lines for illuminating aisle zones and directional spots for targeted goods displays are the indisputable standard when lighting large areas. This combination is primarily functional, but: is a contemporary solution available that is different from the others in terms of light effect and design?
The solution
Just on the outside, the Mido LED is different to familiar features with retail lighting. Instead of linear continuous lines, single, luminaires with a modern appearance, with a designer heat sink create a lively light landscape. The lighting itself is produced via an indirect distribution LED module, emitting light which is elegantly controlled via reflectors into the goods shelving. The lighting focus is on eye-catching displays at customers' eye-level,. and because different spatial and photometric framework conditions exist in each retail outlet, the Mido LED is available with various beam characteristics, a wide spectrum of white light colours and several mounting options.
The result
Emphasis is placed on both the shop and goods: the Mido LED's new design sets exclusive light accents in any store. The indirect, optimally glare-reduced light also creates an especially pleasant shopping atmosphere.
Browser information
The model cannot be displayed. Unfortunately your browser does not completely support this web technology.
Use Google Chrome for example to gain complete user experience.
Zoom
Scroll to zoom towards the model
Drag and Drop
Rotate the model by clicking and dragging
Change the background
Change the background colour with this icon
Close
Close the application with this icon
Product and application images
A strong design for top displays
The Mido LED's modern gives any retail outlet an exclusive and elegant ambience. The luminaire brings together functionality and design in a unique way. A modern-design heat sink for passive heat dissipation of the LED module and high quality reflector wings determine the look of the luminaire.
Customised light for all areas
The double asymmetric version of the Mido LED with two reflector wings emits up to 9,000 lm and the asymmetric version with just one wing emits up to 5,000 lm for illuminating peripheral zones. To optimally illuminate aisles of different widths, the luminaire is optionally available with a 30° or 40° beam angle. In terms of lighting technology, the luminaires can be equipped with four standard white light colours.
Flexibility thanks to diverse mounting options
According to the spatial conditions, the Mido LED can be installed as a suspended luminaire or track spot. A recessed spot version is also available.
Indirect light with an attractive beam
Premium-quality reflectors of highly specular Miro silver guide the light into the sales space and optimally illuminate goods on shelves. The focus of the light is to display products in an especially attractive and lively way at eye-level. To achieve long-term high quality of light, the LED module is protected from soiling with a protective glass cover.
High light intensities
The double asymmetric version emits up to 9,000 lm and the asymmetric luminaire up to 5,000 lm.
Wide white light spectrum
Four standard white light colours are available: 2,700 K, 3,000 K, 3,500 K and 4,000 K.
Two beam angles
The double asymmetric Mido LED is optionally available with a 30° or 40° beam angle and the asymmetric version with 30°.
Three housing colours
The high quality die-cast aluminium luminaire housing is available in black, white or silver.
Technical information
Reference
Values
Lumen class:
5,000 lm, 9,000 lm
System luminous flux:
Asymmetric: up to 3,715 lm
Double asymmetric: up to 7,810 lm
Connected load/efficiency:
Asymmetric: 52 W
Double asymmetric: 74 W; up to 105 lm/W

Service life:
50,000 h L80/B10
Colour rendering/-temperature:
2,700, 3,000, 3,500, 4,000 K
Electrical version:
LED, DALI not as standard
Dimensions (L x W x H):
Asymmetric: 410 x 205 x 195 mm
Double asymmetric: 410 x 317 x 195 mm
Protection rating/safety class:
IP20
Light distribution:
Asymmetric: 30° and 40°
Double asymmetric: 30° and 40°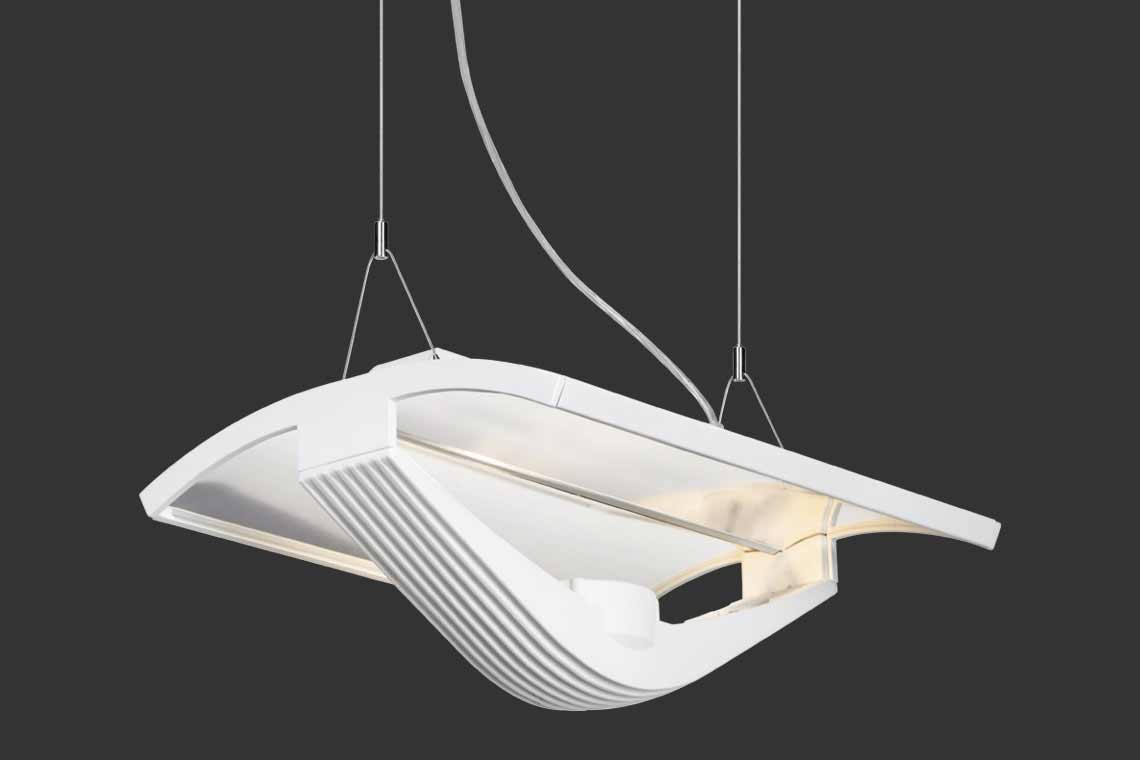 Mido LED
view in the online catalogue