TRILUX's new LiveLink ONE app
Automatically installed - Instantly functional
Date

Category

Trilux Visions

Comments
Arnsberg, August 2023 - Lighting management presents significant opportunities for companies across all industries: cost reductions, increased light quality, improved employee satisfaction, and the ability to achieve their sustainability objectives. With the launch of the new LiveLink ONE app, installation and operation are simpler and safer than ever. The result? True plug and play lighting management at the touch of a button.
Energy-efficient lighting and lighting management deliver significant advantages in all applications, from large logistics halls and modern office complexes to universities and underground car parks. Frequently, lighting control reduces energy consumption by up to 50 percent when compared to uncontrolled solutions. Moreover, substantial improvements in light quality can be achieved, for example, through HCL (Human Centric Lighting), which replicates "natural sunlight" indoors. Users can tailor the lighting to individual preferences and different work tasks flexibly.
Importantly, implementing such systems need not be complex. TRILUX has developed the new LiveLink ONE app in close consultation with the marke to minimize the effort and risks involved in configuring light management systems.. The result is a streamlined, secure, and user-friendly light management solution brimming with advanced features.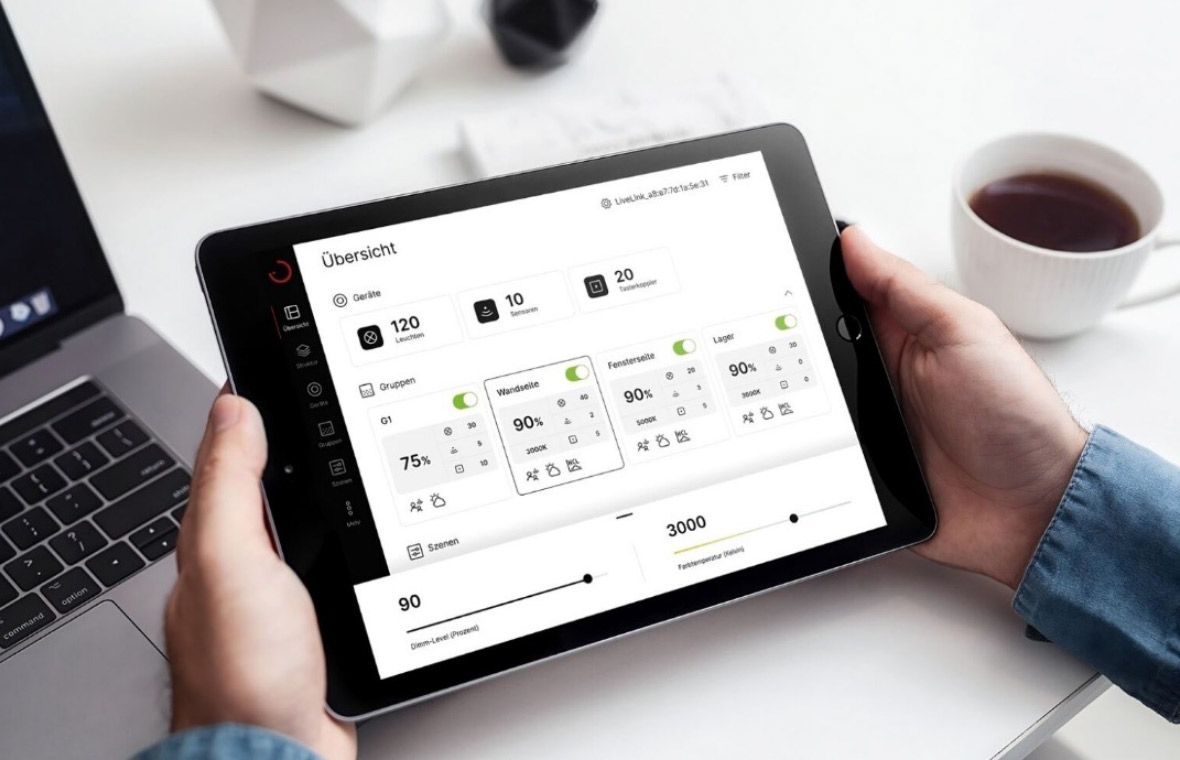 Light management at the click of a button: With the new LiveLink ONE app, everything is fully functional right from the start
Instantly ready to use
LiveLink ONE demonstrates its strengths right from the start of the system. The app automatically detects networked luminaires in the building, including pushbuttons and sensors and puts everything into operation in a basic preset configuration. Luminaires and sensor systems are immediately ready for use. Pushbuttons are preset to touch-dim mode, and the HCL curve is instantly operational with a single click. Installers can then configure individual luminaires to suit the project.
This process is refreshingly straightforward, convenient, and secure. The intuitive user interface allows actions such as grouping luminaires and linking them to sensors, even across multiple rooms, if desired. A unique feature of LiveLink ONE is its non-prescriptive installation procedure, enabling installers to commission systems according to individual preferences, all while ensuring consistent functionality.
Risk-Free Light management with no time pressure
Sebastian Ludwig, Head of the Competence Center Light Management at TRILUX, explains the benefits of the new app, "LiveLink ONE removes all technological and process-related hurdles that have so far prevented lighting management from becoming standard across the board and applications," The automatic basic installation is a real game changing feature which eliminates potential error inherent to manual installation. This reduces the pressure on installers, as the system remains functional at all times. Operators also benefit from this. In addition to the economic and ecological benefits, improved light quality also increases employee satisfaction and loyalty.
LiveLink ONE is universally available across all platforms and devices (iOS and Android), replacing the previously popular apps LiveLink Install and LiveLink Control. LiveLink ONE will recognize existing systems and seamlessly update with all the new configuration specifics.