Rising Costs and Climate Protection: The Logistics Industry Seeks Solutions
REWE leads the way to sustainability with TRILUX Lighting
Date

Category

Trilux Inspirations

Comments
The logistics industry is facing turbulent times. On one hand, the demand for efficient distribution centers is surging due to booming global e-commerce. On the other hand, increasing energy costs, stricter sustainability requirements, and growing environmental awareness are reshaping the industry's landscape.
In response to these challenges, many companies in the logistics sector are actively pursuing "green logistics" by setting clear CO2 reduction targets in their guidelines. This commitment extends to their logistics properties, where the goal is to minimize overall energy consumption and, consequently, reduce building costs.
Here, the implementation of intelligent LED lighting solutions, plays a crucial role. They not only offer high efficiency and long service life but also enable cost-effective operation. These smart LED solutions can be individually tailored, incorporate sensors and cloud connectivity, and provide extensive options for control and monitoring.
REWE
20 kilometers of continuous row lighting for Henstedt-Ulzburg
One example of sustainable lighting application is showcased by REWE, the retail giant, which sought a sustainable lighting solution for its new REWE Central Warehouse North. Collaborating with ROMBERG Elektrotechnik GmbH as their framework contract partner, REWE opted for the smart and energy-efficient lighting provided by TRILUX. The project features a total of 20 kilometers of TRILUX's E-Line Next LED lighting strip. Thanks to its adaptability, it is suitable for various logistics applications, ranging from the 32-meter-high hall to the deep-freeze warehouse at -24°C. To further enhance energy savings, the highly efficient luminaires (190 lm/W) were networked and equipped with sensors for presence detection.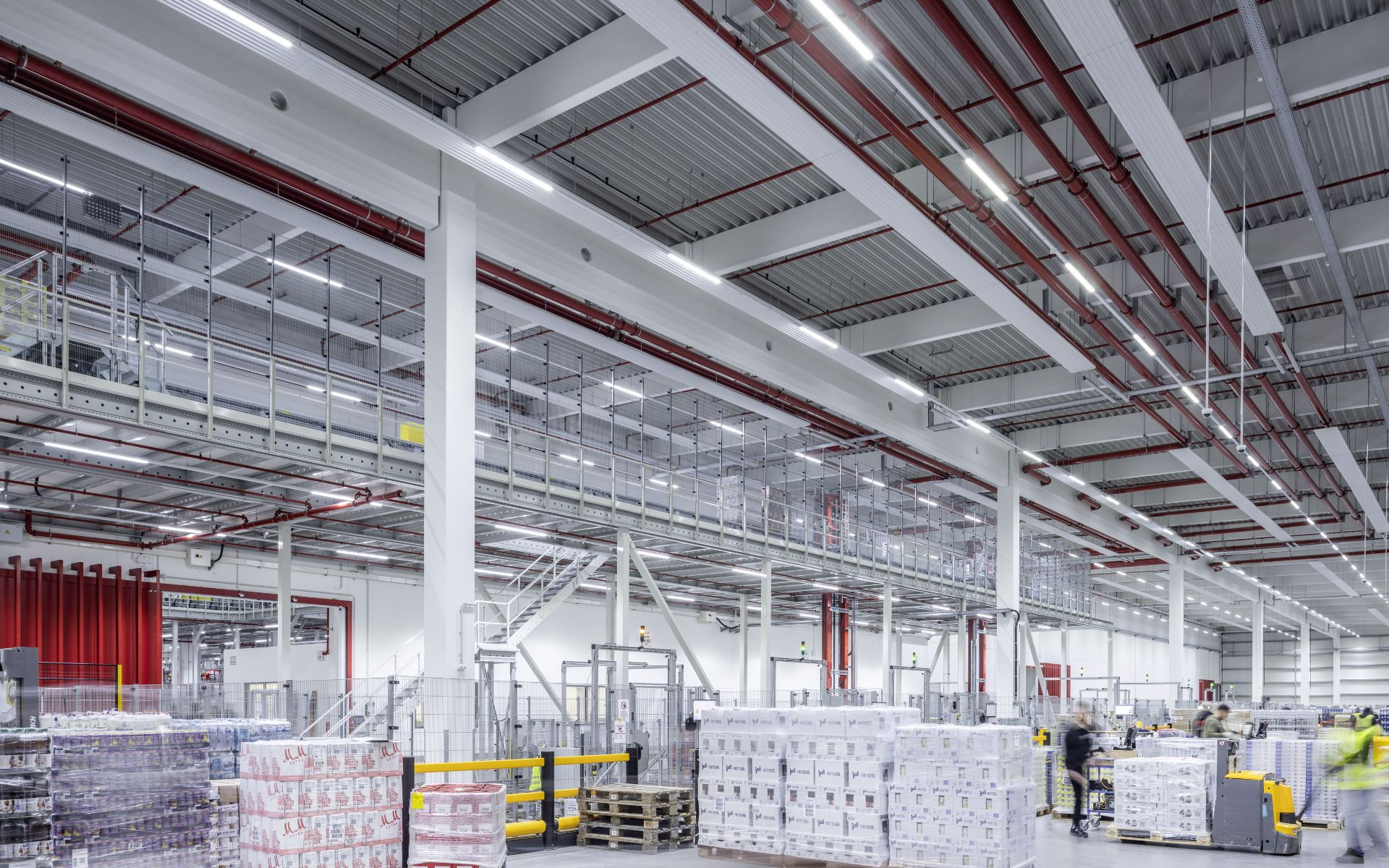 Our lighting significantly contributes to the overall sustainability concept, earning it the prestigious gold certificate from the German Sustainable Building Council (DGNB). Want to see for yourself? Film off:
E-Line Next LED
A Beacon of Sustainability
Our E-Line Next LED sets an example not only in terms of lighting quality, efficiency, and flexibility but also, and notably, in sustainability. The luminaire received the German Sustainability Award in 2022, showcasing its commitment to environmental responsibility.
Thanks to its modular design, the E-Line Next LED allows for easy and quick exchange or replacement of central components, such as lens optics, LED modules, and LED drivers. Nearly 80 percent of the components and raw materials in the luminaire can be recycled, and continuous efforts are underway to further optimize its environmental footprint. Moreover, additional measures, such as an innovative packaging concept, reduce packaging materials by more than 80 percent per luminaire, eliminating the use of Styrofoam entirely. Overall, the E-Line Next LED emerges as the perfect lighting solution for industrial and logistics applications, catering to high demands for quality and sustainability.