IN 5 STEPS TO NETWORKED LIGHTING
THIS IS HOW EASY IT IS...

STEP 1
INSTALLATION OF THE LUMINAIRES
The basis is the installation of TRILUX industrial luminaires and the LiveLink light management system.
Good to know: Almost all TRILUX industrial products you are familiar with are now "monitoring-ready (MOR)" and are therefore prepared for monitoring services. Look for the "MOR symbol"!

MOR LUMINAIRE PORTFOLIO

STEP 2
COMMISSIONING OF LIVELINK
Commissioning of the LiveLink light management system is simple and user-friendly with the LiveLink Install commissioning app. You can find out how easy this is in our tutorial.
LiveLink Demo
Various options are available for connecting the LiveLink light management system to the LiveLink cloud:
Via the mobile network
Simply use the preconfigured LiveLink router LiveLink Cloud Connect from our cooperation partner Deutsche Telekom with integrated SIM card (TOC 71 771 00)
Good to know: With this solution, connection to the LiveLink cloud is established independently via preconfigured components - our recommendation!
Via the customer's own company network
Integration into the existing data infrastructure on location
Via a separate telephone line with own router
The customer organises providing the connection option
STEP 3
CONNECTION TO THE LIVELINK CLOUD
At the end of the commissioning process, select the"Connect to Cloud" option, which takes you to the start screen of the TRILUX Portal.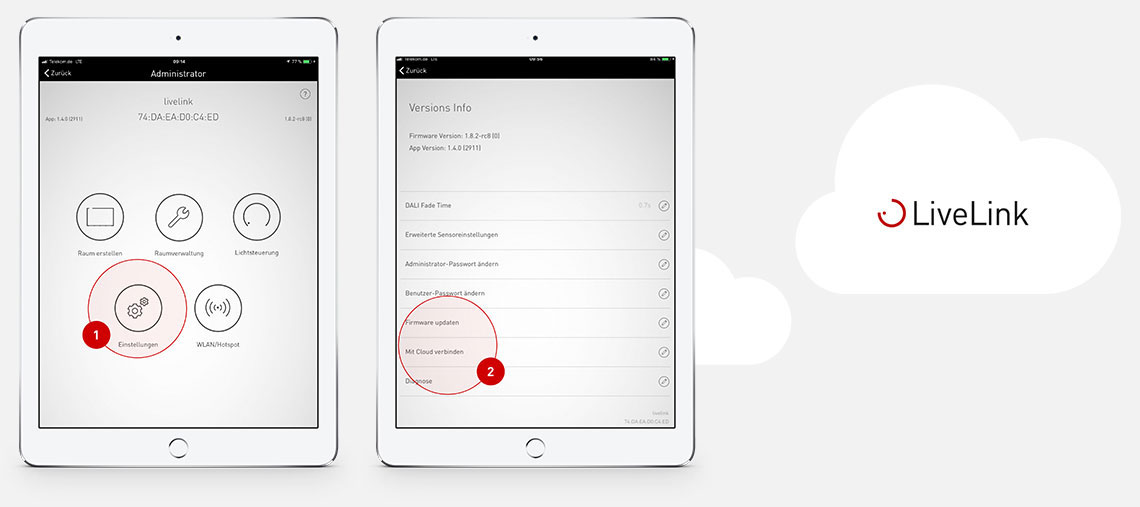 STEP 4
REGISTRATION IN THE LIVELINK CLOUD
Registration in the LiveLink cloud is done by simply registering in the TRILUX Portal. You first set up your personal account under the menu item "Energy and Light Monitoring". Then simply let yourself be guided through the menu and create the building structure.
STEP 5
BOOKING OF
THE DESIRED SERVICE
Once this has been done, the system automatically detects the connected luminaires and displays their current energy consumption in the cloud. You can now book the desired Light Monitoring or Energy Monitoring service.

HAVE WE AROUSED YOUR INTEREST?
SIMPLY CONTACT US - YOUR CONTACT PERSON WILL BE HAPPY TO ANSWER ANY FURTHER QUESTIONS.