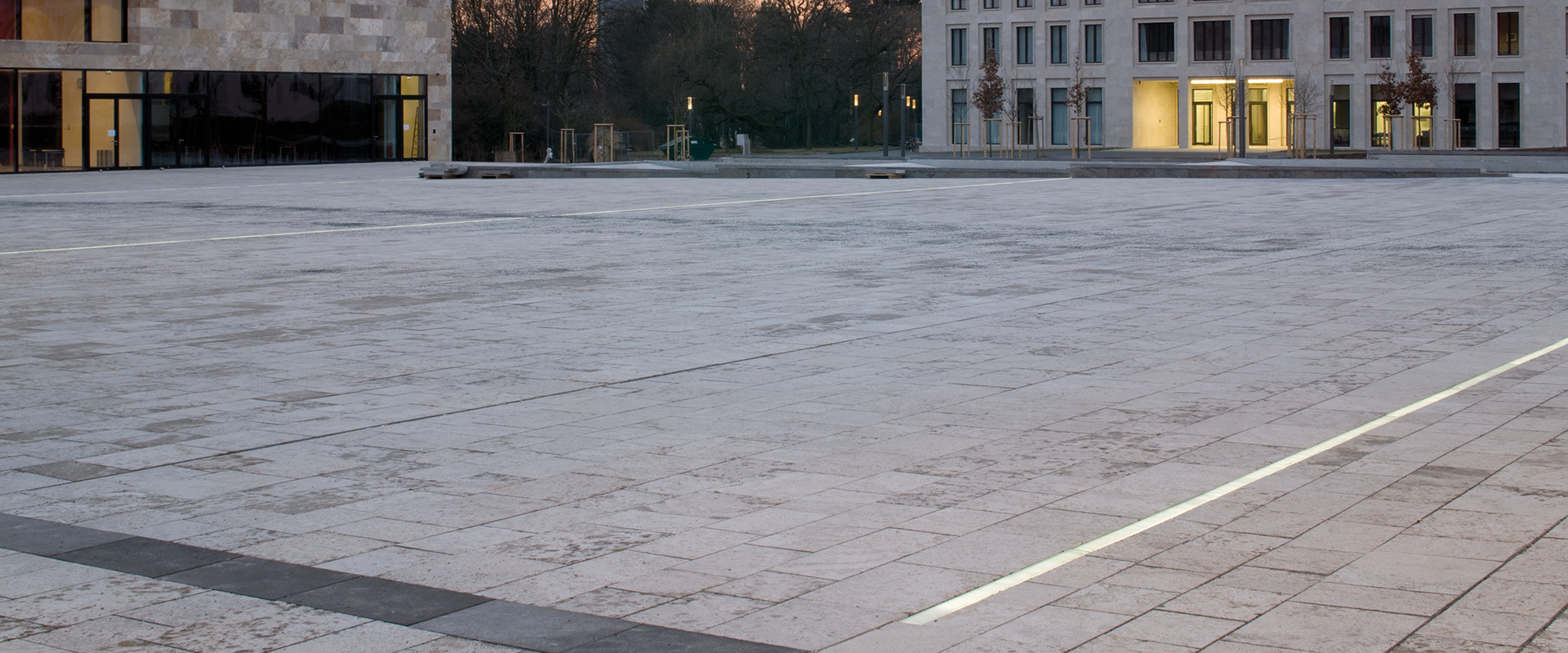 Altigo G2 LED
Light line for illuminating paths and facades
Challenge
Whether company headquarters, factory premises or hotel complexes – opportunities are often missed when it comes to outdoor lighting. In addition to safe guidance along routes, there are many design possibilities for light around entrances, driveways, terraces and walls.
Solution
Whether it's the safe, reliable lighting of paths or the accenting of facades, Altigo G2 masters both tasks with confidence. The slender, efficient luminaire flexibly provides light accents on walls, ceilings or the ground.
Result
Altigo G2 is an efficient, reliable and diverse all-rounder for illuminating prestigious entrances in the industry, shop & retail and office sectors. Thanks to flexible configurations and a range of versions, it is ideal for almost any lighting task and features a long lifespan.
One contact for the complete project
TRILUX is specifically supplementing its portfolio of outdoor luminaires with the Altigo G2 luminaire family. For customers this means simplification, because they can now select from a wide range of indoor and outdoor luminaires and have one single partner for all their projects.
Wide design flexibility thanks to version variety
Altigo G2 is available in five different lengths, two selectable optics, two light colours as well as a colour-definable RGB version. The luminaire is also available as a wall, ceiling or ground-recessed luminaire, with the light line being suitable for many indoor and outdoor applications in a uniform design as well as for display-oriented effect lighting.
Stability for safety
The light line ensures reliable lighting in the floor or ground, walls or ceilings thanks to its robust, compact construction design, thereby increasing safety in pedestrian and circulation zones around buildings.
A slender luminaire with a high design appeal
Thanks to its purist, flat design, Altigo G2 harmonises both visually and physically with the architectural surroundings. This way, the luminaire not only provides attractive facade and building lighting but also guidance along paths and is an aid for orientation, without pushing itself into the foreground.
Many mounting options due to flat luminaire body
Altigo G2 features a slender, flat luminaire body. This means the light line is suitable for mounting in difficult-to-access locations with little installation space.
Diverse configurations
Altigo G2 is available in five lengths (100 mm, 300 mm, 600 mm, 900 mm and 1,200 mm), two selectable optics, warm white or neutral white LEDs as well as a colour-definable RGB version.
Universal mounting
The slender luminaire body can be installed equally well as a wall, ceiling or ground-recessed luminaire. The slimline design means the luminaire is easily installed even in tight mounting spaces.
Safe lighting
Altigo G2's reliable illumination increases the level of safety on paths and roads around buildings.
High-quality product workmanship
High manufacturing quality and selected materials make Altigo G2 a robust, long-life outdoor luminaire. The luminaire body has walkover capacity of up to 500 kg.
A purist design
The slender, minimalist luminaire profile with flush mounting blends in harmoniously with its surroundings.