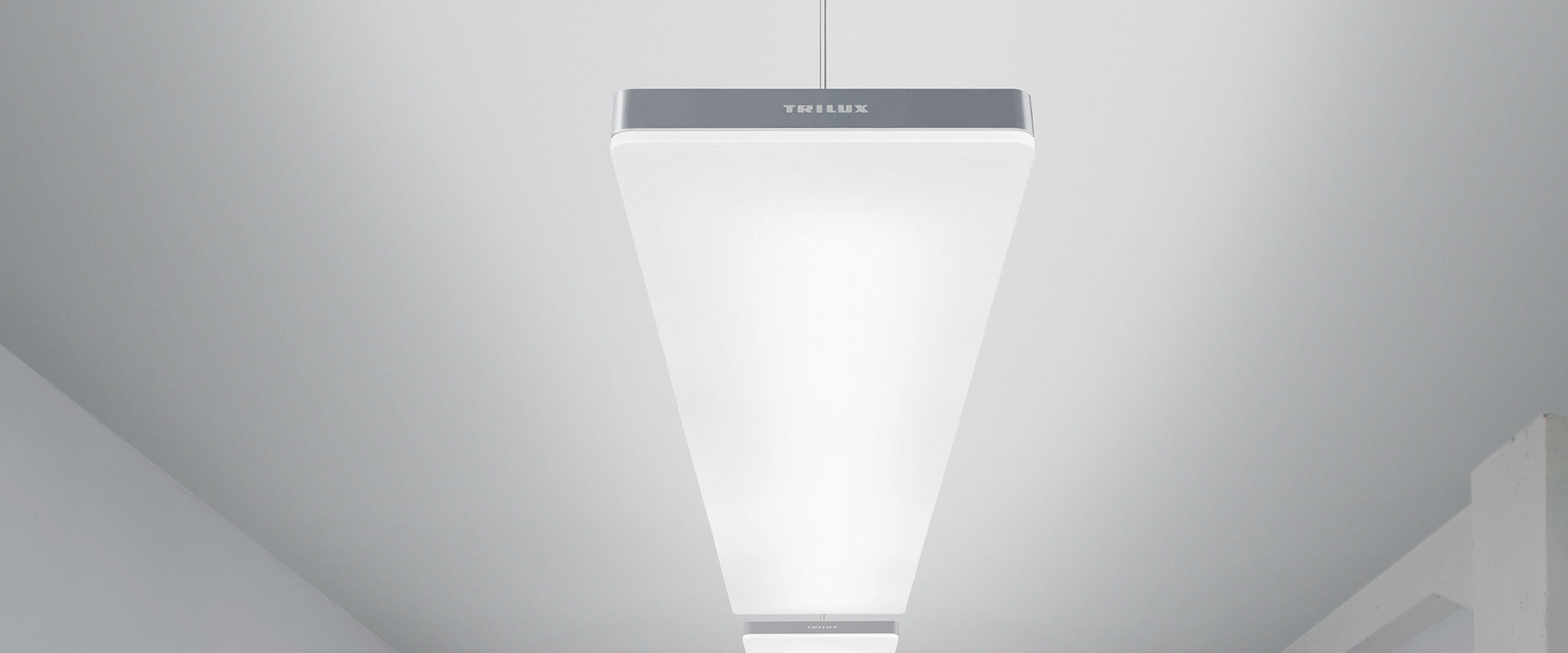 Lunexo LED
Smarter light for increased comfort
Challenge
Light is a fundamental necessity of life and influences our long term well-being. Modern office environments that are used diversely require adaptable, dynamic and prestigious lighting. Employees, have different lighting requirements, based on their age and individual needs in order to work productively and with a high level of concentration.
Solution
As an intelligent surface-mounted and suspended luminaire, the Lunexo LED meets all individual lighting requirements. The luminaire emits glare-free light with maximum quality, is able to optimally illuminate very different situations and can be modified to a wide variety of lighting needs. In addition to simple, intuitive control, automatic mode controlled via sensors is also possible to keep energy costs to a minimum.
Result
The TRILUX Lunexo LED writes a new chapter in office lighting. Maximum light comfort and individual setting options make the luminaire ideal for highly different needs and situations. Light that can be flexibly adapted, maximum user convenience due to simple operation and first-class looks set standards for office lighting of the future.
Browser information
The model cannot be displayed. Unfortunately your browser does not completely support this web technology.
Use Google Chrome for example to gain complete user experience.
Zoom
Scroll to zoom towards the model
Drag and Drop
Rotate the model by clicking and dragging
Change the background
Change the background colour with this icon
Close
Close the application with this icon
Product and application images
Top quality of light in a discreet shell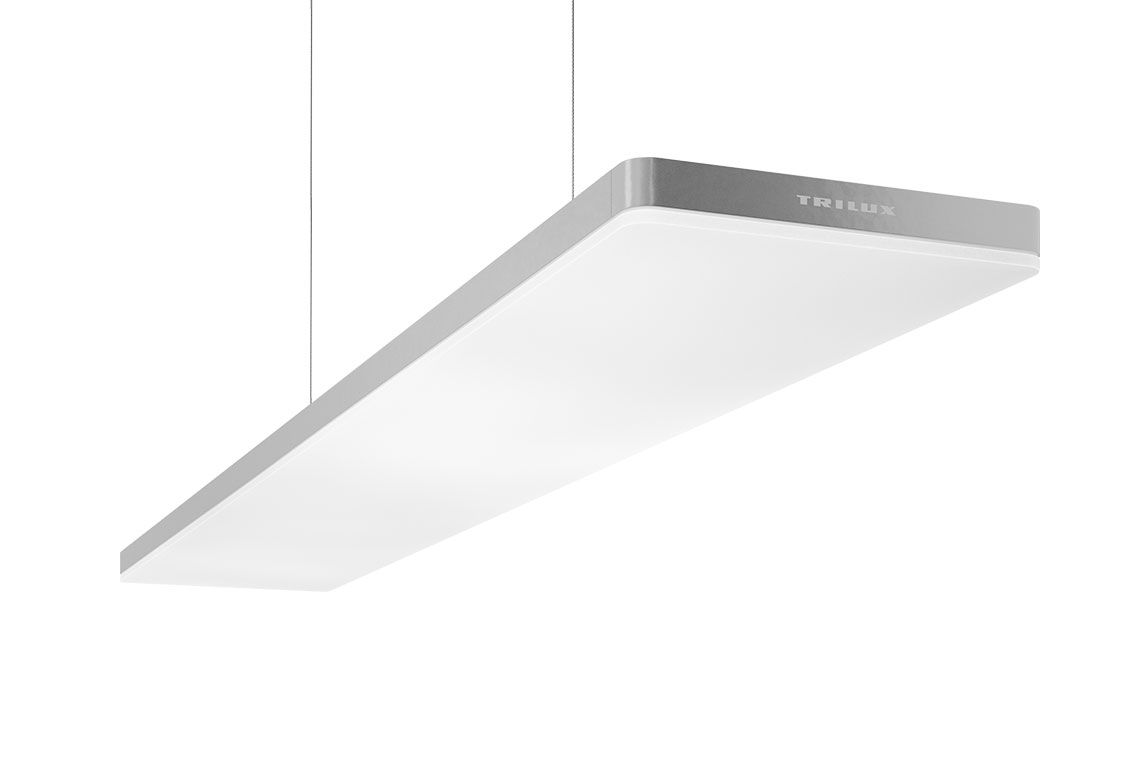 The Lunexo LED clearly focuses on light and effect. The smooth light emission surface creates especially pleasant and glare-free light in accordance with UGR19, for the standard-compliant illumination of workstations. With the suspended version, the pleasant appearance of the light is further improved. This is achieved by the uniform indirect light component supplying approximately 50 % of the light. At the same time the luminaire sets attractive accents with its all-round light edge that highlights the interior design.
The right light for any application
The Lunexo LED creates new possibilities in office lighting and is the ideal solution for highly different needs: light colour and light intensity as well as the direct and indirect light component with the suspended version can be individually controlled. Pre-set light scenes with the integrated LiveLink system support adaptation to differing lighting tasks. As a result, the light can be optimally set according to activity or time of the day.
Perfectly controllable lighting design – for all users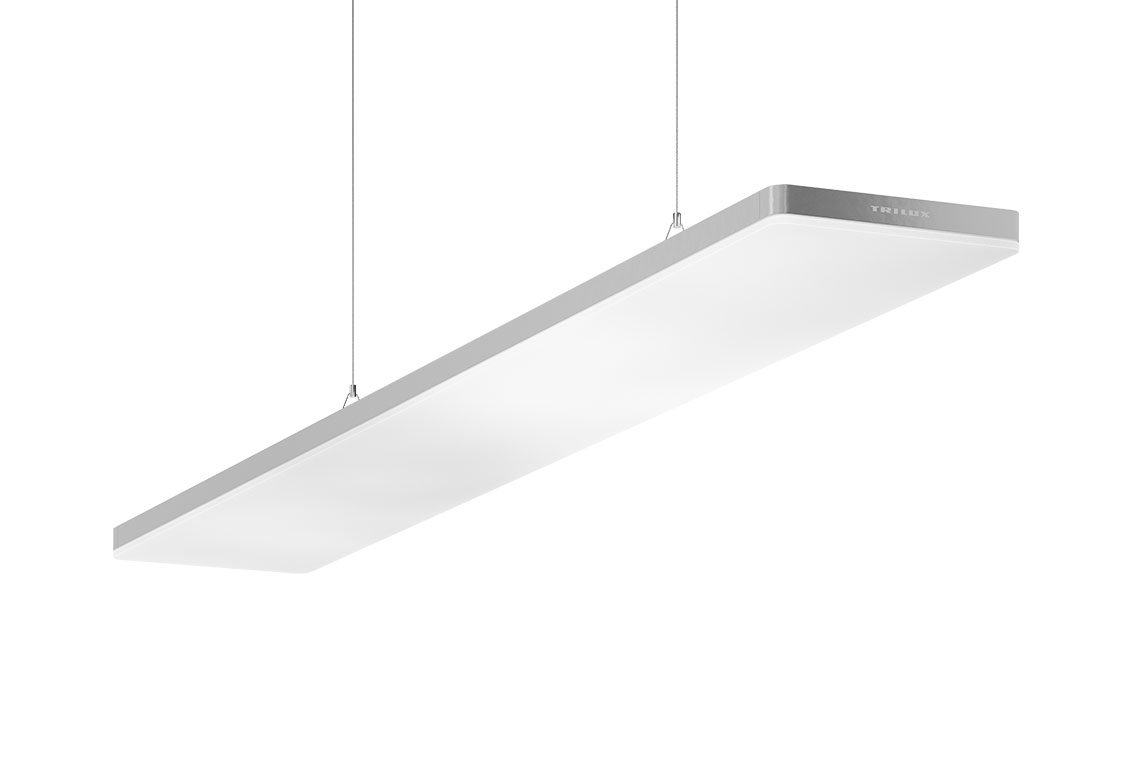 More individuality and convenience is hardly possible! The degree of automated control can be freely specified, ranging from completely automatic daylight control, presence detection and smart device connections to completely manual settings. The method of operation can also be selected according to personal preferences – using standard push-buttons on the wall or with the LiveLink app on a smart device.
Diverse variants for any application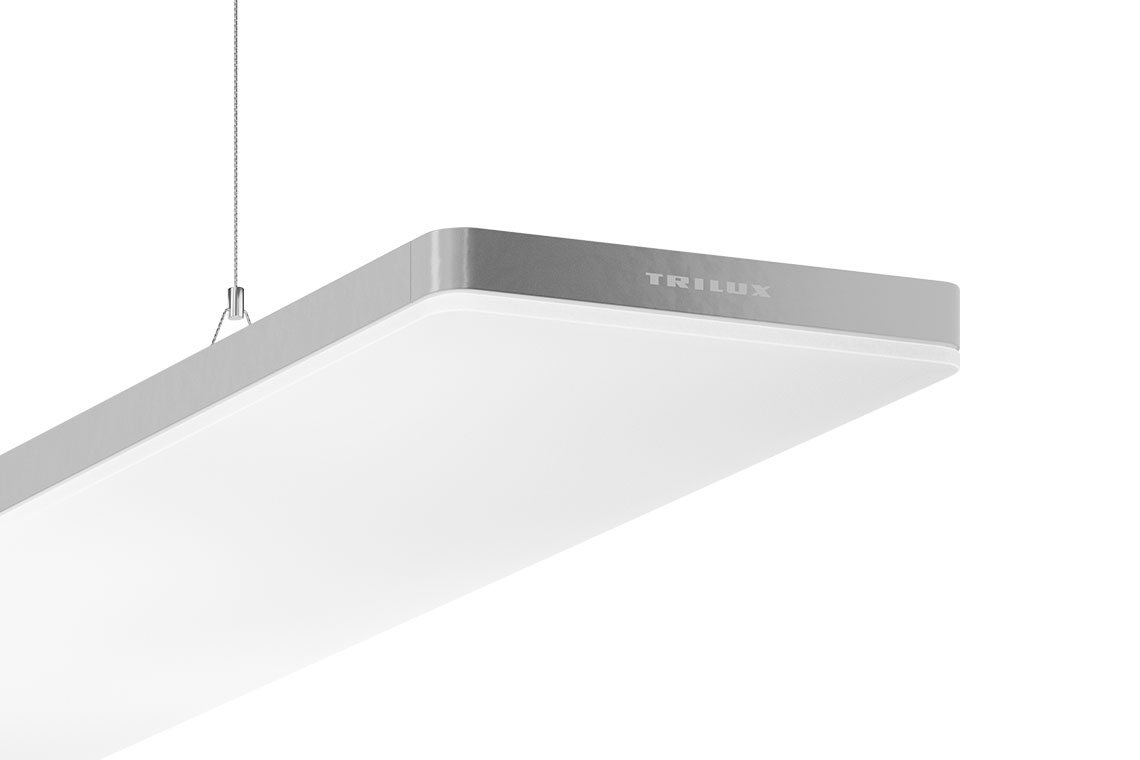 The Lunexo LED is optionally available as a surface-mounted or suspended version and with various lengths, lumen output levels and light colours – including active variants with adaptable light colour. In addition to the comfort luminaire offering absolutely individual setting of light, the Lunexo LED is also available as an energy-saving eco-variant. The wide product spectrum provides exactly the right solution for all individual needs.
Connectivity
The luminaire can connect with a mobile end device via WLAN. It can then be controlled via the TRILUX LiveLink operator app.
Light management
The Lunexo LED, together with the LiveLink light management system, offers extensive control options (e.g. daylight control and presence detection), achieving maximum lighting comfort and a reduction in operating costs.
Light colours
The Lunexo LED is available in 3,000 K or 4,000 K light colour versions. Active solutions are also available, enabling the light colour to be flexibly varied between 2,700 K and 6,500 K.
Luminous flux levels
As a suspended luminaire, the Lunexo LED is available with luminaire luminous flux levels of 6,500 lm or 8,800 lm and with direct/indirect luminous flux distribution. The surface-mounted version has a direct light component with either 4,400 lm or 5,500 lm.
Energy efficiency
With luminous efficiency of up to 111 lm/W and a service life of 50,000 h (L85), the Lunexo LED is especially attractive economically. Further energy can be saved with presence detection and daylight control.


Design
With its discreet design and attractive lateral light edge, the Lunexo LED blends unobtrusively into all interiors while setting stylish accents at the same time.
Technical features
Reference
Values
Luminaire luminous flux:
Surface-mounted: 4,400 lm / 5,500 lm
Suspended: 6,500 lm / 8,800 lm
Connected load/efficiency:
Up to 111 lm/W
Service life:
50,000 h L85
Colour rendering/-temperature:
830, 840, active versions
Electrical version:
ETDD
Dimensions (L x W x H):
1,200 x 200 x 45 mm
1,500 x 200 x 45 mm
Protection rating/safety class/impact resistance:
IP20 / safety class I
Light distribution:
Wide distribution
Additional information:
Absolutely individual light settings possible with LiveLink
(separate control of light colour and light intensity of direct and indirect components)