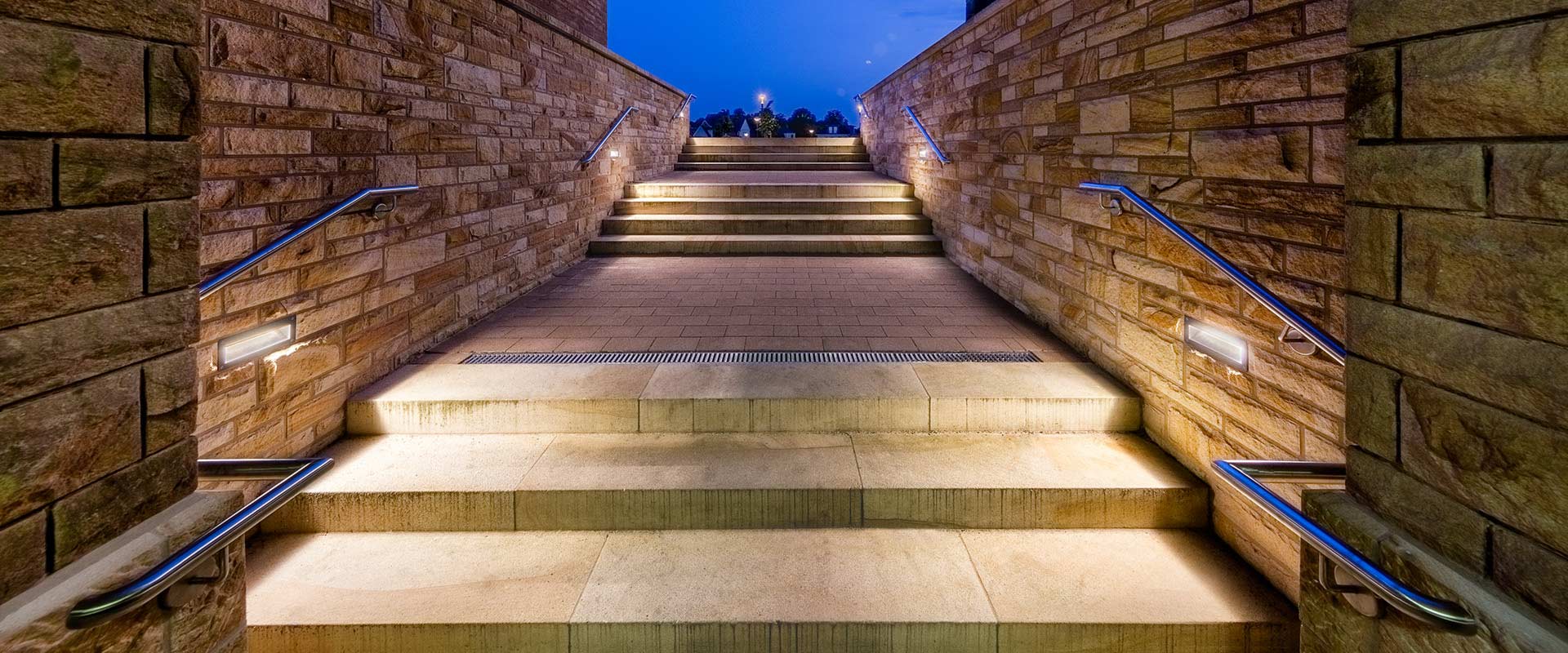 Pareda Slim LED
a filigree recessed luminaire for large light accents
The challenge
You don't get a second chance with first impressions. Especially prestigious entrance areas should be designed attractively and invitingly for visitors, guests and customers. Steps, ramps and platforms should be showcased appropriately despite any lack of space. The light can certainly catch attention but the luminaire itself should blend into the overall architectural surroundings.
The solution
Pareda Slim LED by TRILUX with asymmetric beam characteristic creates accentuating light on steps, ramps, platforms and walls outside and around buildings. At the same time it can be installed flush to the wall thanks to its low recess depth and extremely flat design. This way, the filigree luminaire blends optimally into the architecture.
Product and application images
High-quality, durable materials
The Pareda Slim LED brings together timeless design and carefully selected materials. The housing and cover frame are made of high quality die-cast aluminium and are especially corrosion-resistant thanks to an epoxy powder primer and polyester powder coating. In addition to this, a 6 mm-thick cover panel of hardened highly transparent glass protects the LEDs from rough weather.
An intelligent, attractive design
The Pareda Slim LED has a classic and timeless design. The rectangular, anthracite-coloured luminaire housing has no disturbing screws and gives the filigree recessed wall luminaire a harmonious look. The special feature: the recessed housing has a support bracket for spirit levels. This makes it easier to install the luminaire horizontally to the wall.
Accentuating light
The luminaire is available in two different colour temperature versions. Together with the asymmetric beam characteristic, the luminaire provides high-quality accent lighting for areas surrounding buildings areas such as entrance zones, stairways, ramps or access ways.
Compact construction for major tasks
With the Pareda Slim LED, TRILUX expands the dependable Pareda LED range, adding a smaller, highly efficient recessed wall luminaire. With a recessed depth of just 72 mm, the luminaire is ideally suited for areas which require flush mounting to the wall due to building conditions or design aspects.
High product quality
The cover frame and housing of the Pareda Slim LED are made from highly robust die-cast aluminium. A cover panel of hardened glass with IP65 protection and IK07 impact resistance permanently protect the LEDs from adverse weather.
Design with a certain extra
The rectangular, flat luminaire body is reduced to the essentials and is not disrupted by visible screws. The housing also has a support angle for spirit levels to simplify correct recessing.
Variable light
The recessed luminaire has an asymmetric light distribution. Two different colour temperature versions (3,000K and 4,000K) are also available.
Reduced construction
The Pareda Slim LED is an eye catcher with its compact, especially flat design and a recessed depth of just 72 mm. This makes it perfect for stairways, ramps or access ways.
Technical features
| Reference | Value |
| --- | --- |
| Luminaire luminous flux: | 110 lm |
| Connected load/efficiency: | 5 W / 22 lm/W |
| Service life: | 50,000 h |
| Colour rendering/-temperature: | 830 / 840 |
| Electrical version: | ET |
| Protection rating/safety class: | IP65 / safety class I |
| Light distribution: | asymmetric medium wide light distribution |