The TRILUX Akademie is the central training facility of the company. Its offering includes seminars, talks, conferences and on-site visits for partners and customers of the company, and also qualification and further education measures for employees.The Academy sees itself as a service-oriented knowledge centre for all those who want to know more about the topic of light.
In a market environment characterised by rapid technological changes, the Academy emphasises the claim of the TRILUX brand to be a driving force in creating the future of light – a goal focussing mainly on humans in its efforts. In the end, knowledge is the fertile ground on which new ideas can grow, no matter in which business area. The Academy's equipment and the know-how of its speakers and trainers therefore fulfil the highest standards.
Lighting knowledge made to measure
BENEFITS FOR LIGHT EXPERTS
The TRILUX Akademie strengthens the qualification of all people working professionally with light. Qualified information about future topics and technologies support future capability, and become a competitive advantage, just as specific qualification offers.
BENEFITS FOR EMPLOYERS
The TRILUX Akademie offers companies attractive trainings for employees to make them fit with regard to the topic of light and to find their way in business. Specific knowledge support increases the quality of planning and implementation, and also efficiency when carrying out work tasks. Individual offers supplement the program.
BENEFITS FOR SALES PROFESSIONALS
Fundamental, state-of-the-art lighting expertise and discussing with sector insiders strengthens the level of competence and existing customer relations. The network character helps to establish new customer relationships and identify customer needs.
Akademie programme
Overview of all TRILUX Akademie seminars, theme days and webinars for the first half of 2017.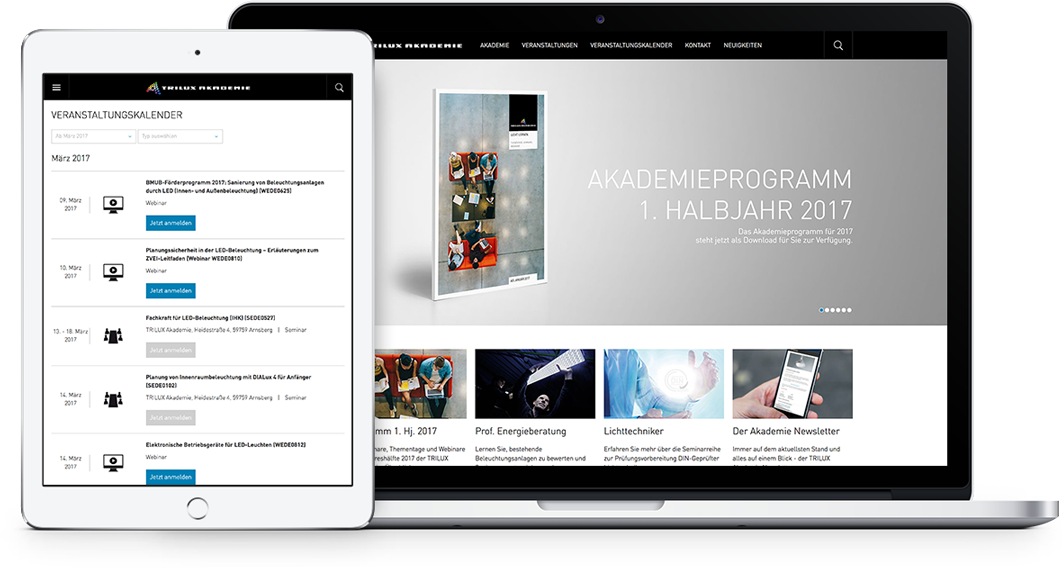 Further information
Discover the many innovative and practical consultation, qualification and information services of the TRILUX Akademie.