Skyframe Frauenfeld, Switzerland
The world of Sky-Frame
Date

Category

Trilux Visions

Comments
Sky-Frame places its trust in TRILUX luminaires for their new headquarters
Whether it is a modern villa in Vienna's city park or a luxurious residence on the Dubai coast – as a specialist for frameless windows, Sky-Frame is at home around the world. The Swiss company's products create seamless transitions from the interior to the exterior and ensure spectacular views. The company's new industrial building, in which daylight and artificial light blend together perfectly, is equally outstanding.
The elegant spots complement the design of the shell construction, provide pleasantly glare-free visual conditions and can be expanded at any time. The distribution characteristic of the luminaires creates accented workstation lighting with each work area being wrapped in a cocoon of light. The contours of exposed steel supports are emphasised by LED strips installed away from view.
Similar conditions exist on both production levels with identical lighting conditions according to a principle of "as much daylight as possible and as little artificial light as needed". The specification was for uniform illuminance in each area and this was achieved thanks to TRILUX's E-Line LED and very careful lighting design. The flexible all-rounder with glare-reduced optic emits light with a natural appearance from the centre of the room into the very furthest corners.
A view of the headquarters in itself is fascinating. The architect Peter Kunz designed a glass, concrete and steel structure which blends in perfectly with the surrounding Frauenfeld landscape. The long windowed sides provide maximum transparency and high levels of daylight which in turn benefits the workstations in the offices, warehouse and production spaces on the upper levels. For sophisticated lighting the architect placed his trust in lighting solutions from TRILUX.
The office level is a particularly noticeable component in the design. An inner courtyard was created in the central zone which is used as a working area, meeting place and showroom. Sky-Frame sliding windows ensure conditions identical to daylight in the building's interior and work is characterised by natural brightness. LED spotlights create workstation lighting and can be rapidly installed elsewhere without tools thanks to special magnetic brackets.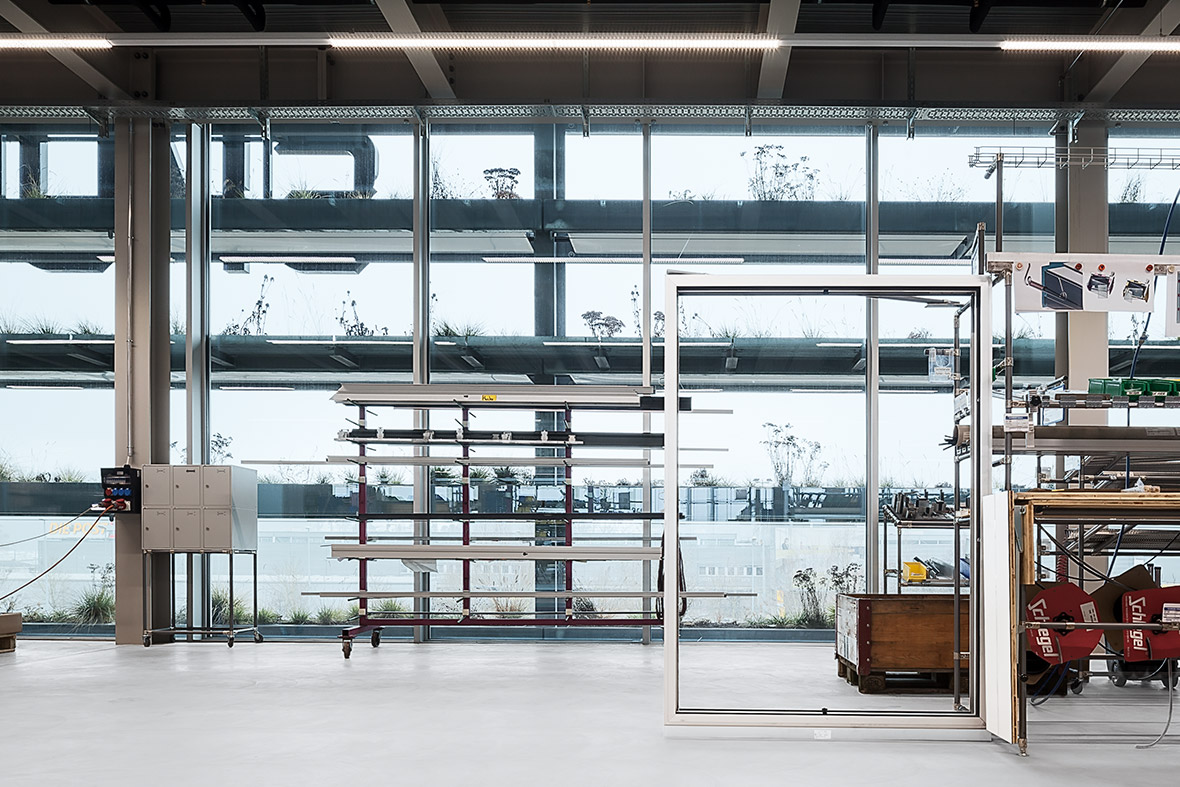 Glare-free: the E-Line LED provides optimal visual comfort for the warehouse and production spaces.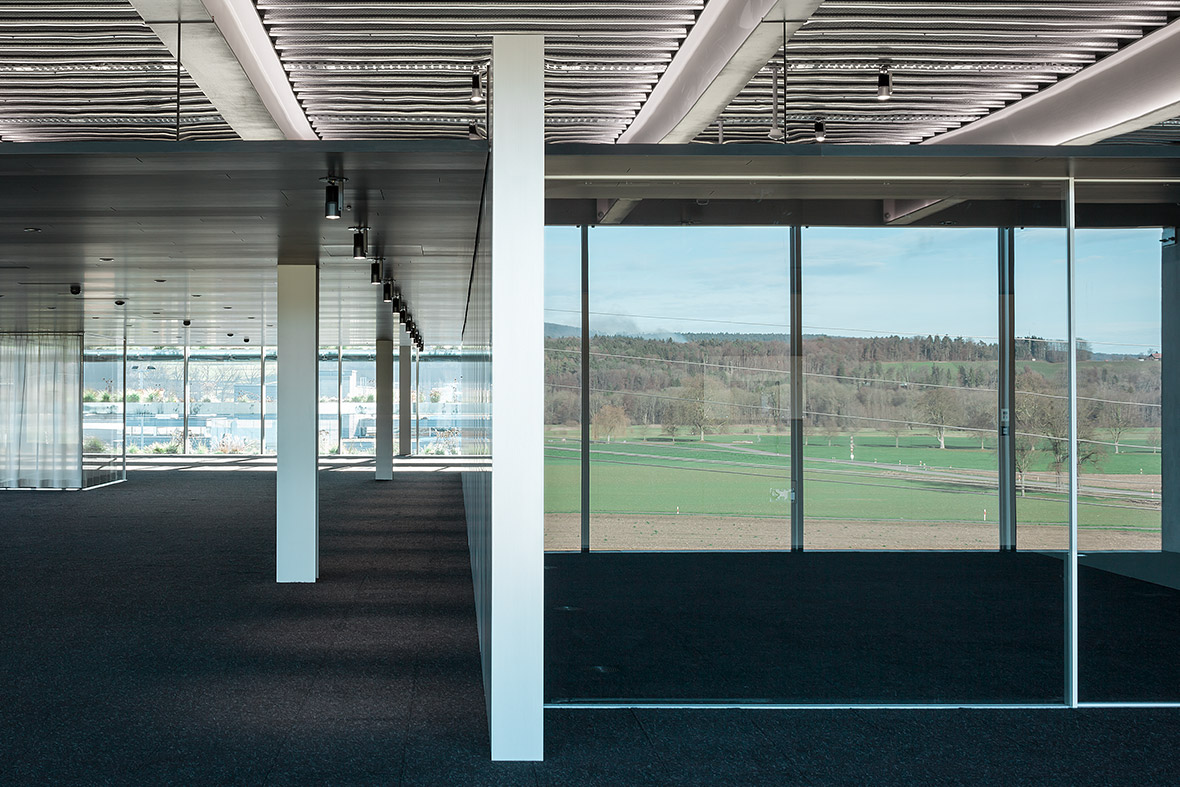 Full-length windows: the Sky-Frame architecture offers impressive interior and exterior views.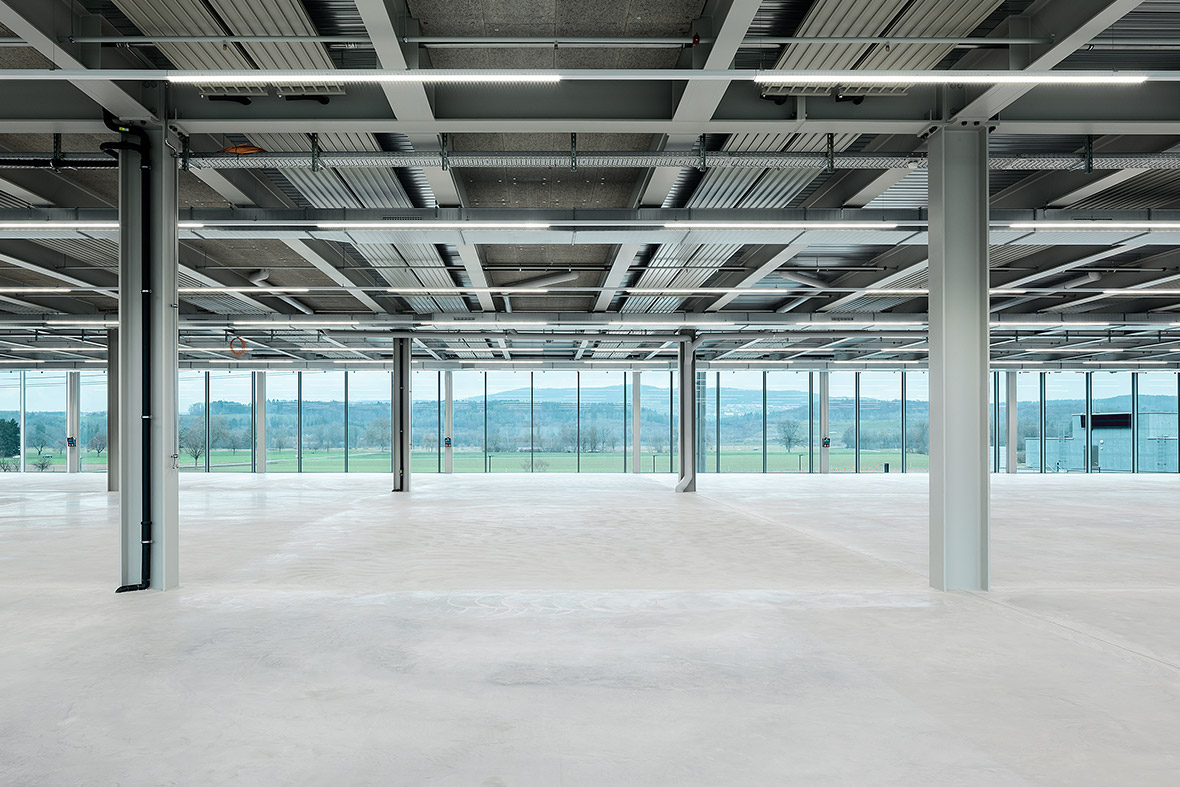 TRILUX product series
Nextrema LED
E-Line LED
Custom solution: LED spotlights 2200 lm