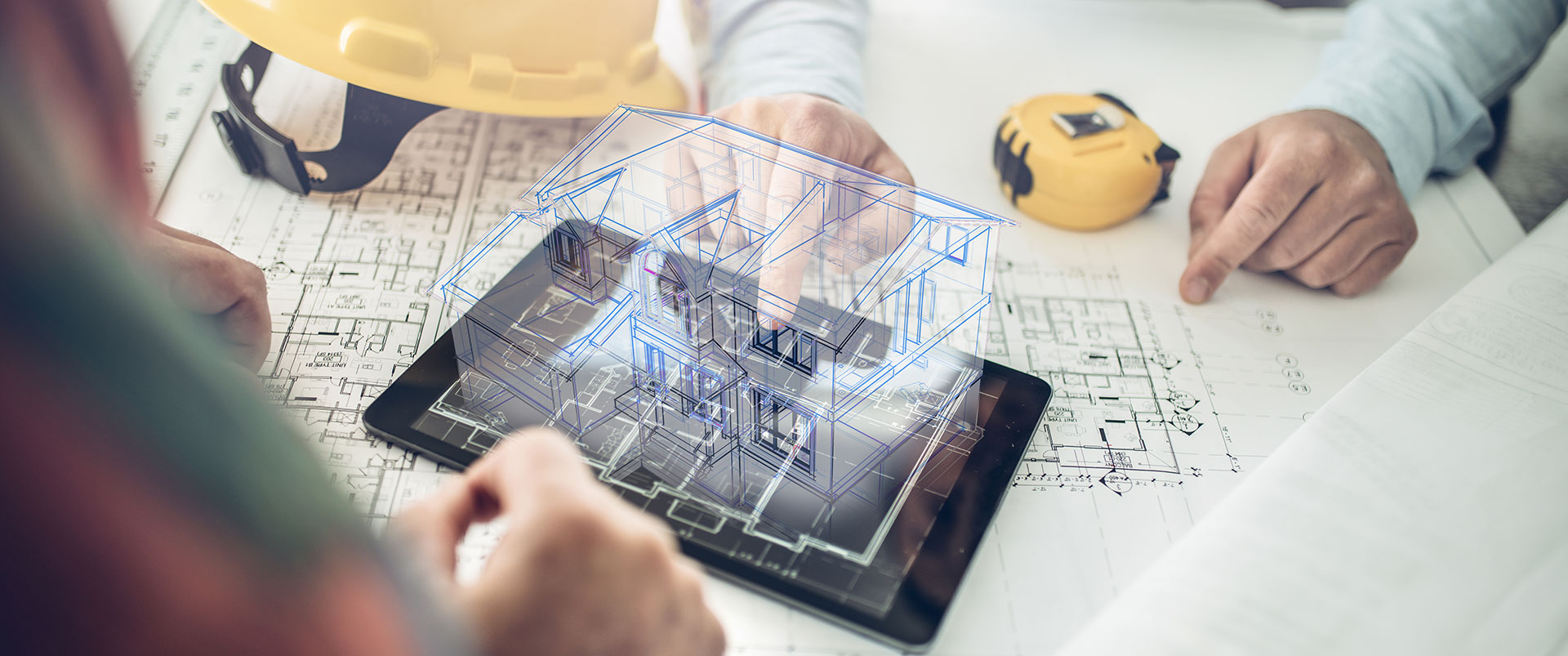 Building Information Modeling (BIM)
BIM - is currently revolutionizing building design.
Building design, construction, management: thanks to Building Information Modelling (BIM), all relevant data can now be centrally recorded, visualized and correlated. The software-supported method goes beyond the basic data of the building. It also processes the building components, materials and built-in components used - such as luminaires. This allows precise planning of even complex projects and has already made BIM the standard in many countries. In Germany, the use of BIM in public tenders will become mandatory from 2020.
The detailed building coordination model is enriched with information throughout the planning process by all project participants and thus supports better planning, execution and building operation. In this way, it can be determined at an early stage whether the project can be implemented realistically and efficiently in terms of construction, time, material and cost planning. The focus is always on one central objective: to make construction projects economical, resource-efficient and sustainable through integral planning processes.
Advantages for the customer
The BIM planning method enables all those involved in construction to work together cooperatively on the basis of digital 3D specialist models that contain all building information in the form of data for all purposes. Planning, simulation, visualization, calculation and tendering, are digitally processed for the construction and operation of the property and thus transparent for all parties involved.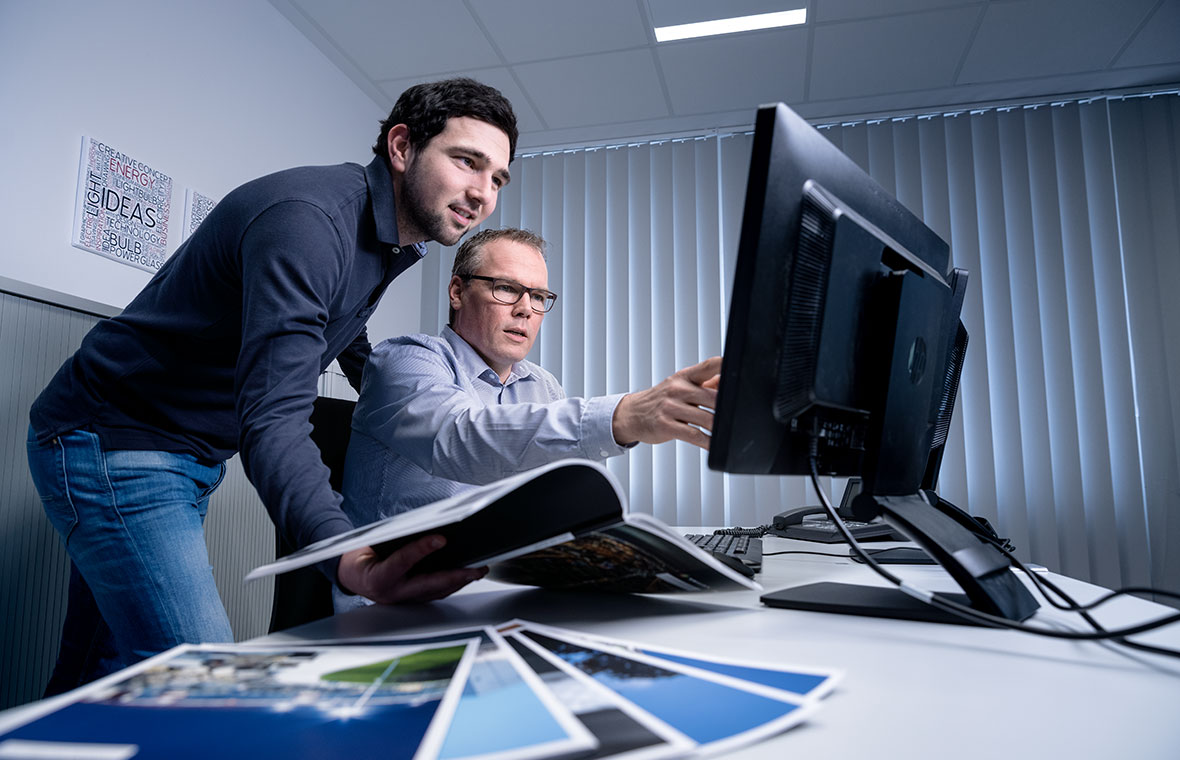 Committee work and definition of BIM standards
TRILUX has been actively involved with BIM since 2011 and is involved in the standardization work of national and international committees.
Wide range
TRILUX provides luminaire models for download in REVIT format for the BIM method.
Highest depth of information on the market
TRILUX data sets include the luminous intensity distribution curve (LVK) and approx.30 product characteristics. Movable, adjustable models such as track spotlights are also mapped.
Best quality
TRILUX makes full use of the possibilities of Revit data sets. This provides the planner with optimum quality and dimension for the BIM application.
Building Information Modelling (BIM) Data Sets - The Portfolio
FAQ
Building Information Modeling (BIM)
Where can I find the TRILUX BIM luminaire design models as a download on the website?
Is BIM a software?
No, BIM is not software, BIM is a software-supported planning method in the building process. For different BIM use cases, such as planning, simulation, visualization, calculation and tendering, a software application is required. Very important, at the beginning of the BIM process, the software and IT structure to be used must be determined in the client information requirements (AIA).
What is the difference between "Open BIM" and "Closed BIM"?
An important question, and one that must be clarified at the beginning of any BIM project, because the selection and use of the "BIM" software and ultimately the data exchange format between the project participants is based on this.
"Closed" BIM:
Software products from a single manufacturer
Native formats* for data exchange
Open formats for documentation
No loss of information
Direct derivation of the plans from the overall model
(*e.g. *.rfa, *.rvt, *.gsm)
"Open" BIM
Software products from different manufacturer
Open formats* for data exchange
Open formats for documentation
No loss of information
Direct derivation of the plans from the overall model
(*e.g. *.rfa, *.rvt, *.gsm)
What is a digital twin?
A digital twin represents the digital image of a physical object and is thus made accessible to the digital world, including geometry and alphanumeric features (attributes) via software application for further usage purposes. In the construction project, a building is managed and updated as a digital twin from planning to the end of its life cycle. For this purpose, this provides complete and accurate information to enable better decisions and interventions in the physical building project.
What is the difference between "Face based" and "Level based"?
How an object or component is positioned in the building model depends on how it is initially defined and on which surface orientation is referred to in the building.

TRILUX provides "Face-based Revit files"" as standard. This means that a luminaire planning model based on this can be directly assigned to this selected face in a building (independent of the floor) with the help of a direct face selection (wall, floor, ceiling, ...).

Luminaire planning models as "Level-based Revit files" are positioned in a building when used at level "0", regardless of the floor in which the luminaire planning model is inserted. The final position of the luminaire in the building must then be assigned to the selected surfaces in an additional step in Revit.
What is a BIM use case?
A BIM use case includes all possible scenarios that can occur when a stakeholder, e.g. the investor, tries to achieve a certain technical goal.
Two examples:
Model based collision check
Goal: Reduce cost risks in the project, save time, and speed up decision-making processes. By regularly merging the specialist models, collisions are detected at an early stage and cross-trade building breakthroughs are plausibly checked.


Construction controlling Laser scanning
Goal: Increase transparency and traceability, interpretation of the planned and built "target/actual" situation. Control and documentation of the construction progress, comparison of the planning with the construction site "as built", localization of obstructed objects.
What is CDE?
The abbreviation CDE stands for Common Date Environment and creates a common, virtual data environment (DIN EN ISO 19650, VDI 2552 Sheet 5) as a workspace for storing and organizing data and specialist models in the BIM process. For collaborative & interdisciplinary work, a cloud-based CDE platform offers all participants project access through communication options, document storage, traceability of activities, overview of the planning status and thus maximum transparency. With the future transition to the BIM maturity level in Level 3, the CDE (iBIM) is to be used as a real-time application related to a single building model.
CDE Applications:
BIM360 (Autodesk)
BIM+ (Allplan)
Trimble Connect (Trimble)
ConjectPM (Oracle Aconex AG)
Thinkproject
What does LoD mean?
LoD stands for "Level of Detail", "Level of Development" or also "Level of Definition".
The level of detail or degree of completion provides information about the required geometric modelling accuracy of components. In English-speaking countries, the acronym LoD is usually used. The requirement for the LoD can change depending on the project phases (from coarse to fine). A scaling can be represented in these characteristics from LoD 100, LoD 200, LoD 300, LoD 400, to LoD 500.
What is Lol / LoG?
LoI stands for "Level of Information"
LoG stands for "Level of Geometry"
To describe the information content separately according to geometric and alphanumeric model information, the acronyms LoG and LoI are also used in this context. The LOI describes the degree of information of an object that is recorded in the building model or in a BIM database. As the project progresses, this accuracy will typically continue to increase. The LoI describes the information density of an object, which can consist of alphanumeric or supplementary documents (such as user instructions). The assignment of which LoI is used when should be regulated in the specifications; if necessary, this can be done down to attribute level. A scaling can be represented in these characteristics from LoI/LoG 100, LoI/LoG 200, LoI/LoG 300, LoI/LoG 400, to LoI/LoG 500.
What is LoIN?
LoIN stands for "Level of information needed"
The concept of LoIN or information requirements depth replaces the previous concept of LoD and LoI (DIN EN 17412-1: 2021-06 and ISO 19650-1:2019-08). It is divided into geometric and alphanumeric information requirements including additionally required attached documentation. LoIN considers the holistic information management, which takes into account the entire building life cycle and is limited to the basic required information.
DIN EN 17412-1: 2021-06 - Building information modelling - Depth of information requirements - Part 1: Concepts and principles
ISO 19650-1:2019-08 - Organization and digitization of information on structures and engineering services, including building information modelling (BIM) - Information management with BIM - Part 1: Terms and principles.
What is IFC?
IFC stands for "Industry Foundation Classes" and is an open standard format that, like PDF or HTML, can be freely used by everyone. IFC files contain geometry data that define the appearance of objects, but also important component information data, such as energy values, fire protection, usage, manufacturer data, and the like.
IFC is developed and further developed under the leadership of buildingSMART. The most widely used version is IFC2x3, and since the current version IFC4 is an official ISO standard.
IFC is an important building block in openBIM.
The project participants can exchange data with it if their software application supports the import and export of IFC. IFC luminaire models currently still require a rebuilt space for transport / exchange, which is why no luminaire models are provided in IFC format.
Advantages of BIM (Building Information Modeling)
Instead of accumulating information anew each time during the planning of different trades, as in conventional planning methods, the data is continuously built up over the entire project period. Extremely high data quality is achieved because they all go back to a common database and are constantly synchronized.
BIM is three-dimensional and object-oriented
BIM is cross-divisional for all construction trades
BIM documents the entire building cycle
BIM saves costs through efficient planning and documentation
High data depth
TRILUX BIM luminaire models are multidimensional and contain relevant data and information on product properties:
Geometry: dimensions
Lighting technology: light source, control gear, luminous flux [lm], colour temperature [K], colour rendering index [CRI], light distribution (CENFlux Code)
Electrical engineering: supply points, connected load [W], protection class
Materials: colors, luminaire weight
Ordering information: (TOC, TK) e.g. for derivation into a component list, URL to data sheets, assembly instructions, product images
REVIT files BIM are available in two versions:
Revit Family File: Information of an entire series in one file
Revit Single File: single luminaire type (import and use in other BIM software is possible)
Lighting visualizations are possible by means of high detail, light distribution curve and light color
BIM - The planning method of the future has begun
In the highly informative building models, not only all parts of the building structure, but also all other objects (lights, furniture, electrical accessories, special equipment, etc.) are recorded with their properties and networked with each other. The particular benefit of BIM is the constant availability of all relevant information on the status of the building project. For example, bills of materials can be output at any time and automatically updated when components are replaced or changed. Likewise, the current status of actual and planned costs as well as the updated schedule can be called up at any time.