St. Vinzenz-Hospital - Rheda-Wiedenbrück, Germany
Illuminated greenery
Date

Category

Trilux Inspirations

Comments
Those who are ill not only desire medical expertise during treatment but also the right amount of wellbeing as an important contribution to recovery. As a consequence it is no wonder that hospitals search for ways of making periods of stay for patients more pleasant. This was achieved at Rheda-Wiedenbrück in Germany by creating parkland at the Sankt Vinzenz Hospital that is not only pleasing to walk through, but that is also a welcome sight when viewing the illuminated landscape from the patient rooms at night.
The park equipped with TRILUX luminaires is a place that contributes to improved wellbeing – curved paths, carefully positioned granite linings and an aviary full of feathered life are surrounded by verdant greenery. Together with the atmospheric lighting a landscaping composition has been created that captures the attention of strollers, and the area is a continuous trip of visual discovery.
TRILUX lighting provides not only safety and orientation but also a suitable light ambience that follows the flowing lines of the paths. During the day the bollard luminaires set decorative accents and when in operation during nocturnal hours they become an emotional element of design. The scenery is particularly pleasant when observed from the balconies of patient rooms on the upper storeys.
"The accentuating light points create natural-appearance light within natural surroundings," explained Stefan Metzner, Head of the outdoor luminaires division at TRILUX.
Light as an aspect contributing to safety is not neglected, and well-illuminated paths during twilight in particular are mandatory for good orientation and safety. "The bollards and wall luminaires with asymmetric light distribution characteristics emit light precisely onto those surfaces needing to be navigable during darkness," continued Stefan Metzner. This means that employees of the Sankt Vinzenz Hospital can also walk safely and without queasy feelings from their reserved parking lots through the parkland to their place of work, independent of the time of day.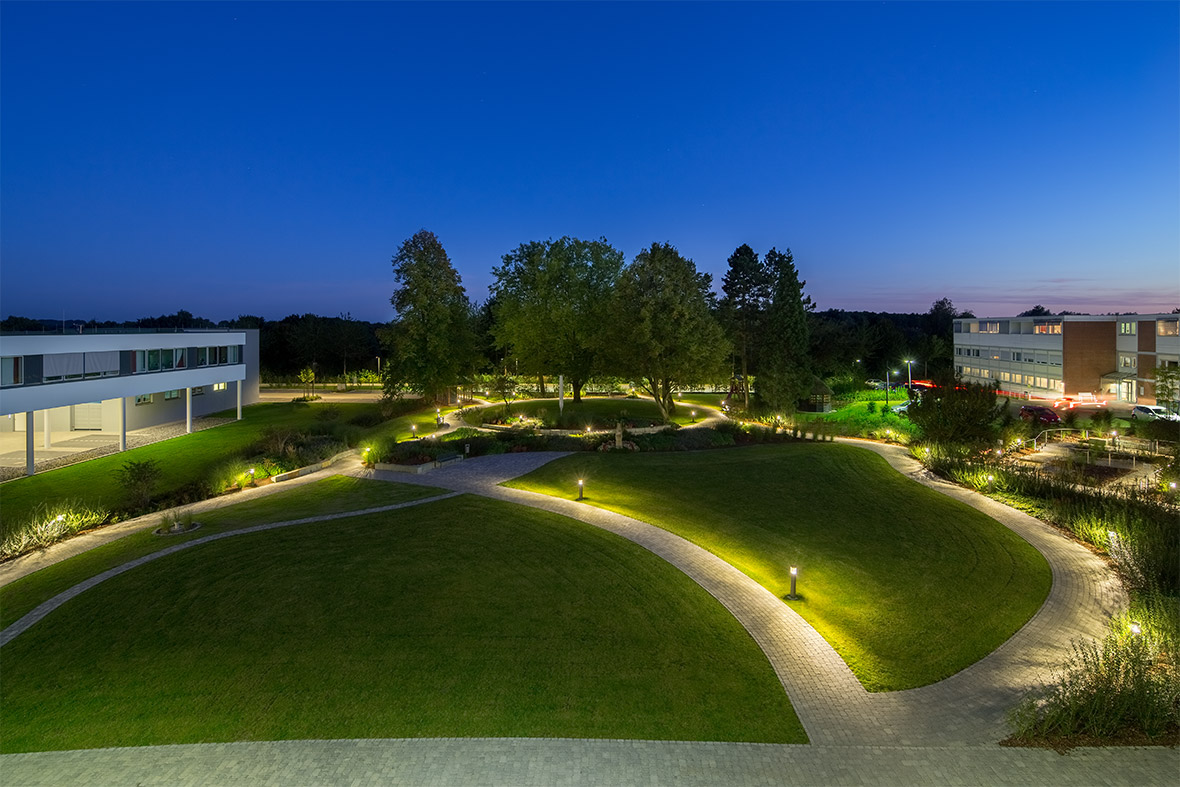 Fits like a glove: light is emitted directly to where needed thanks to the asymmetric distribution characteristic.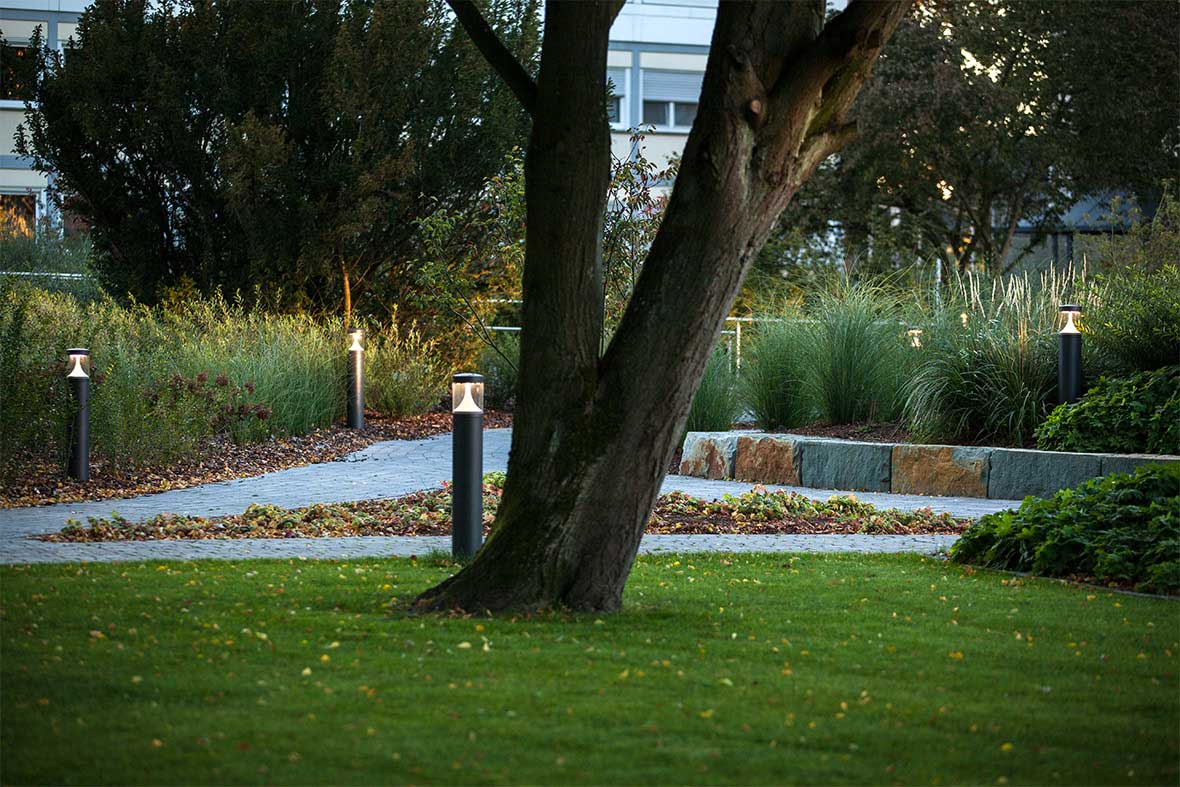 An eye-catcher: the bollard luminaires are an appealingly decorative element of design during the day as well.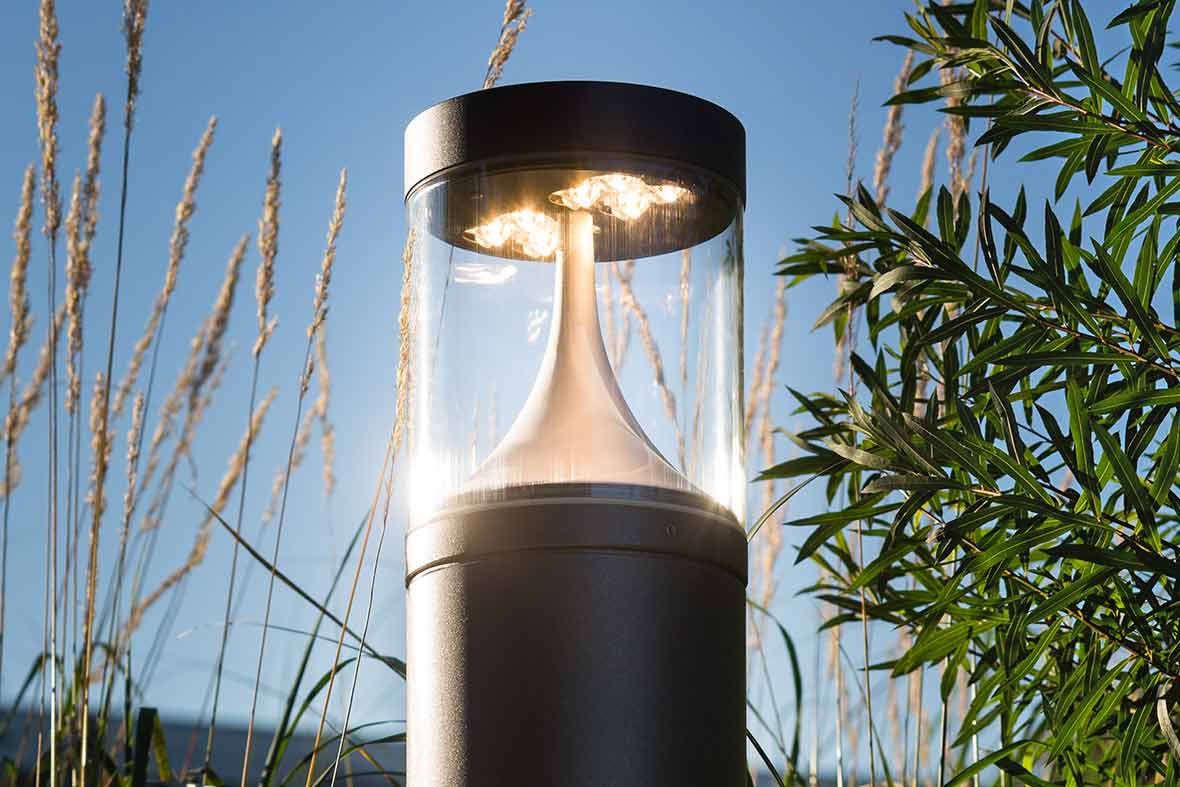 Elegant: the timeless design forms a pleasant contrast to the green surroundings.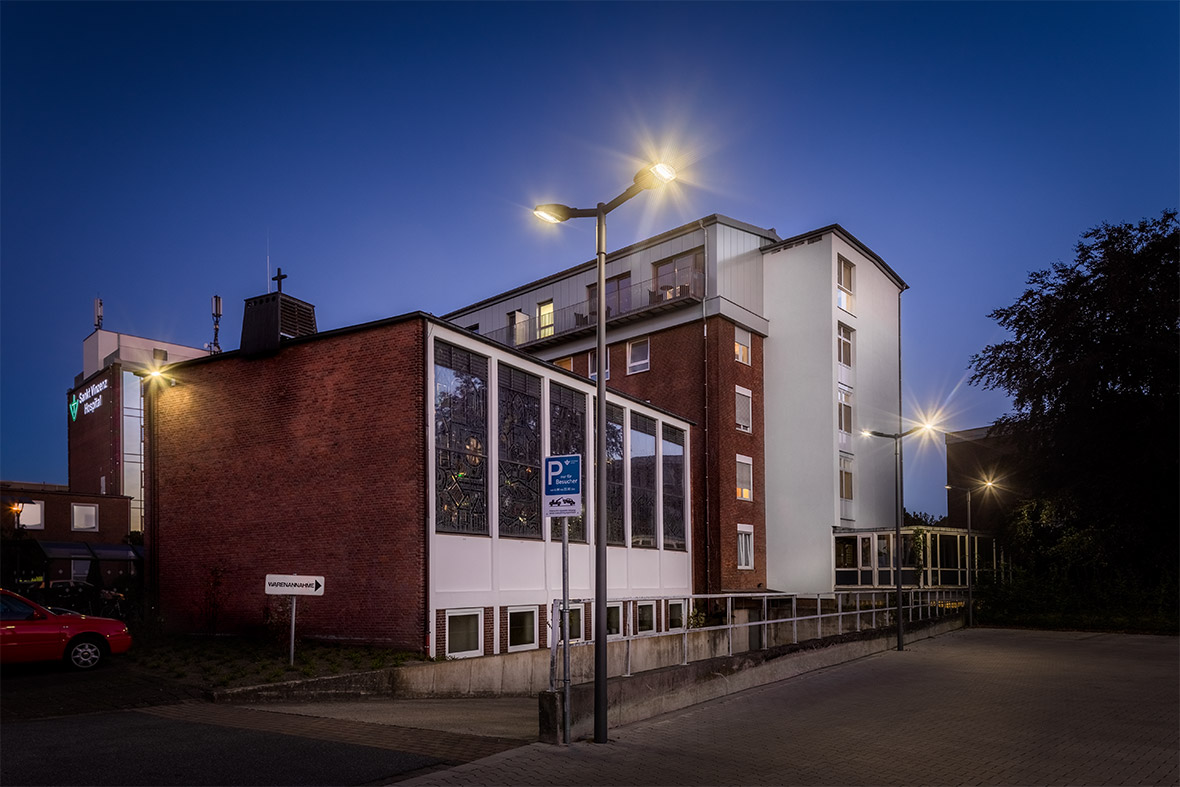 Construction authority
Franziskus-Hospital gem. GmbH
Rheda-Wiedenbrück, Germany
Building
Outdoor lighting for a park and car park
TRILUX product series
Cuvia 40 LED, post-top and bracket-mounted luminaires
8841, LED bollard and wall luminaires