Shopping in a new dimension
EDEKA PASCHMANN – Shopping as a delicatessen experience tour
Date

Category

Trilux Insights

Comments
EDEKA Paschmann has stood for good shopping for over 50 years. What began with 45 square meters of shopping space is now a successful company with eleven stores and over 1,000 employees. The latest new building in Mülheim an der Ruhr presents itself on 6000 square meters as a Future-E-Center with its own "Essthetics" and light architecture.
Freshness, quality and plenty of individual service - that's how the Paschmann family has described its basic concept since 1973. Half a century of shopping culture has been shaped by the retailer of the EDEKA Group. In the process, two aspects have determined progress: the will to grow and absolute customer orientation. Both are also found in the new E-Center in an appealing and unusual way. Above the spacious world of goods, customers are addressed with displays and creative lighting on an unusual spatial level on products and seasonal themes.
EDEKA Paschmann immerses visitors in an extraordinary delicatessen world for everyday life: The furnishings by "Upel" from Essen, Design by "Shop Zwo" from Düsseldorf and the corresponding lighting concept by Oktalite, the retail lighting specialist of the TRILUX Group, use the entire dimension of the room- and thus also its height of around 5 meters. An expansive architecture that is enlivened with light.
Store concept and lighting merge to create a holistic overall experience:
EDEKA Paschmann presents classic assortments in high-quality store design as a "fruit house," "noodle factory" or "cheese island. Customers discover something special in the "Gourmeteck", the "Fischbude" or browse for decorative items in the "Depot" offshoot as a shop-in-shop. Counters and areas have superstructures made of perforated sheeting, for example, or curved wooden beams lend additional atmosphere to the shopping world. But it is the design lighting of this shopping architecture that makes the customer appeal perfect.
"We were able to make optimal use of the extreme room height to enhance the shopping experience," explains Till Meckenstock, responsible project manager at Oktalite, the retail lighting specialist of the TRILUX Group. "Large-format displays and fancy ceiling elements attract the customers' attention. Instead of the usual light point height of around three meters, we have almost five meters here - light at this installation level brings width and additional attention."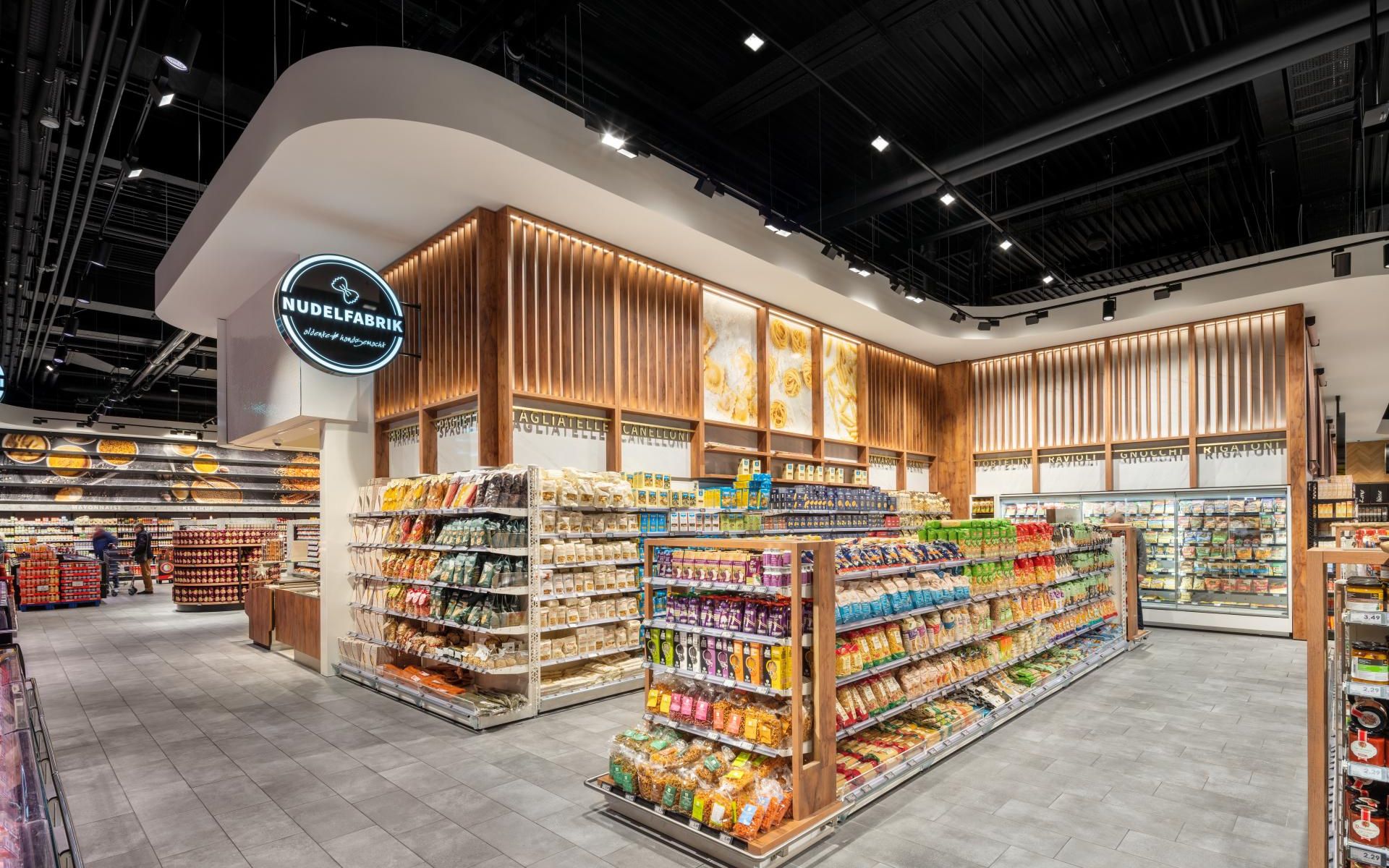 Brilliant, accentuating light from this height, Oktalite achieves this mainly through the area-wide use and interaction of the two luminaires QUIRA PLUS and CANILO PLUS. Both products have flexible beam characteristics from narrow to wide. The QUIRA PLUS power package is ideally suited for the precise illumination of high decoration such as the goods themselves. The LED recessed luminaire can be tilted up to 15 degrees and still remain flush with the ceiling. In vertical illumination, it can be swiveled out up to 70 degrees for targeted accents. CANILO PLUS, on the other hand, is the ideal choice for ambient lighting, gondola heads, and promotion areas.
The best quality of light with maximum efficiency
Staging goods at a high level is one thing - energy efficiency as the order of the day in the implementation of modern lighting systems is another. "We have a very high installation level of lighting here - and were still able to realize attractive as well as efficient light," says Till Meckenstock. "Thanks to the combination of the right beam characteristics as well as the use of the LiveLink Retail lighting management system, all luminaires can be conveniently networked and controlled via Bluetooth Low Energy technology. The result: a differentiated, individual lighting concept with minimal energy costs."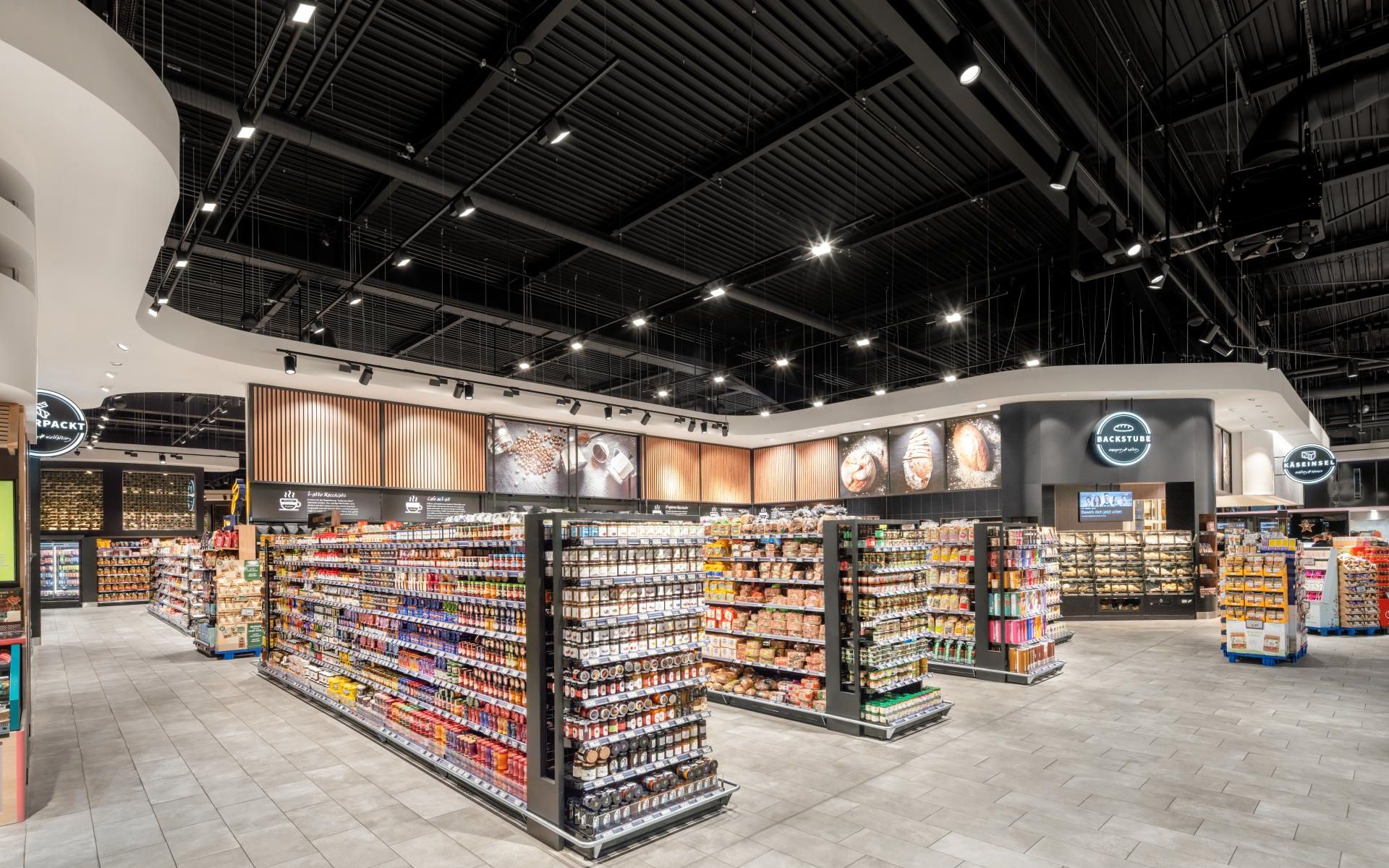 The retail illumination with special aesthetics, lighting quality and efficiency at EDEKA Paschmann is complemented by the E-LINE-NEXT continuous-row lighting system, GRADO as a pivoting track spotlight and as a recessed version.