Lighting project Macron sportswear
Work hard - Play harder
Date

Category

Trilux Inspirations

Comments
WORK HARD, PLAY HARDER - We couldn't have started this article in any other way than with this quote. We are in Bologna (Italy), in the heart of the motor valley, just a few kilometers from the headquarters of one of the most iconic motorcycle manufacturers, and a location, which represents "Le Corse". Around here, the spirit of competition exudes everywhere, and it was here, in the early 1970s, where MACRON's story began. In his case, it did not start with drafting machines and assembly lines. The company began with the distribution of baseball equipment. But soon, thanks to the acquisition of a small textile workshop, they began with the production of clothing for basketball, baseball and football. This worked out very well, and some brands, including Adidas, Spalding and Champion, decided to entrust the production of their sportswear to MACRON.
Their extensive know-how regarding basketball equipment, enabled MACRON to obtain a license to produce replicas of the NBA franchise throughout Europe in the early nineties. Later, in 2000, it was time to take another step forward. MACRON decided to enter the world of professional soccer through the front door by sponsoring the first 'Serie A club', and of course, this was destined to be Bologna FC 1909. Thanks to its tenacity and spirit of adaptation, MACRON has expanded its presence throughout Europe by starting to produce clothing for other varieties of sports, such as soccer, rugby and running. Today, MACRON is the number one brand for many clubs, which are being sponsored in the Serie A TIM soccer, and one of the largest players on the European market, next to Nike, Adidas and Puma. With a focus on growth, MACRON decided to invest in a new headquarters in the outskirts of Bologna (Italy). Mid 2020, the new headquarters for their offices and distribution center has been finalized. TRILUX will tell you all about it, from our point of view as a lighting partner.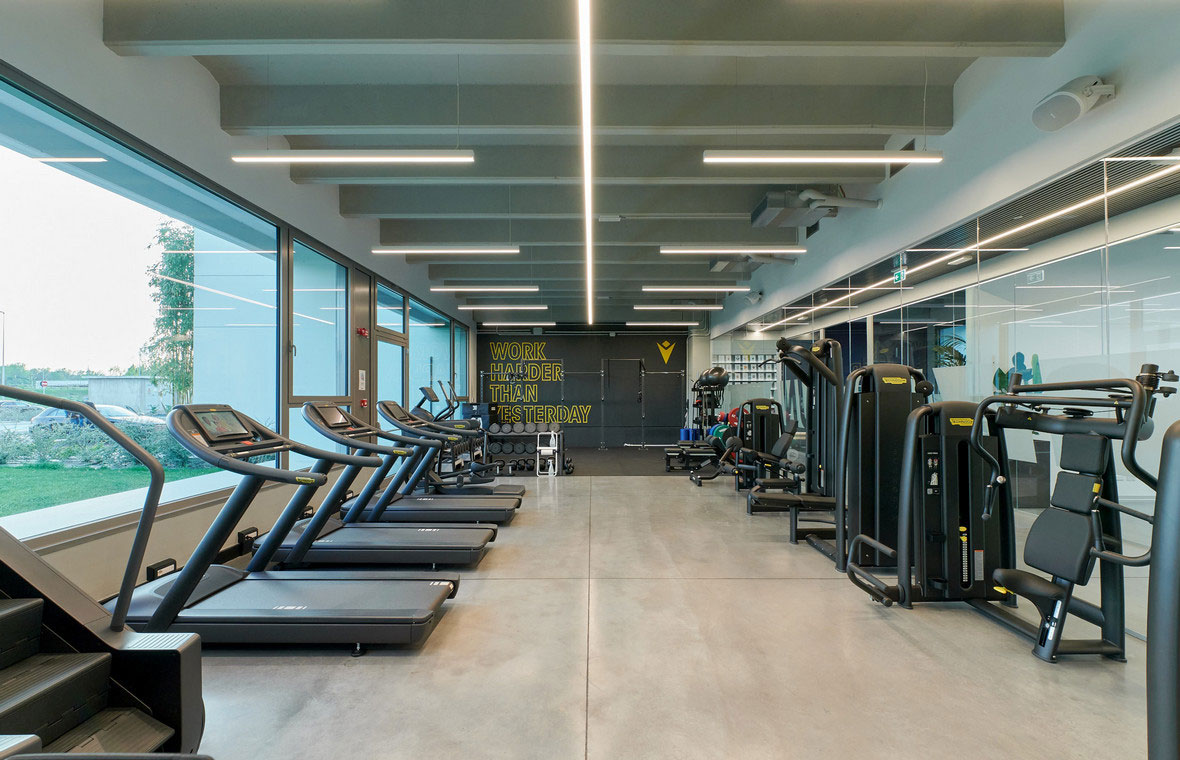 The project
The new headquarters, owned by VGP (a pan-European company, which owns, develops and manages high-quality logistics and semi-industrial parks) and inaugurated in July 2020, is located in Valsamoggia, a few kilometers from the Milan-Bologna freeway in Italy. It was developed in an area of 55,000 sqm, of which 22,000 sqm are hosting the distribution center (16,000 sqm) and the offices (6,000 sqm). In addition to green spaces, the external area provides a parking lot with space for almost three hundred cars, including spaces dedicated to electric vehicles and car sharing. "VGP Park Valsamoggia represents a milestone in the history of VGP and symbolizes our growth in Italy. The MACRON project is a source of pride, and the realization of a new, efficient, and innovative location, which above all, is also sustainable and environmentally friendly for the customer."
The structure of the building is quite minimalistic. Fausto Savoretti (Partner of Studio Lenzi & Associati) explains: "The construction concept was to have a structure free of beams and pillars on the inside, for the benefit of the usability of the spaces. All working spaces have been created with a "Human Centric" approach in mind, in order to guarantee the well-being of the people. The office area is located in a building, which is three floors above the ground, in an alternation of open space environments, meeting rooms and large showrooms. The shape of the building and the use of glass walls ensure a constant influx of natural light, which is intelligently balanced by the light of the high energy-efficiency LED lighting system.
The logistics building is equipped with the latest lighting and handling technologies, and complies with all anti-seismic regulations, as well as with the rainwater recovery system for irrigation. Valentina Barbolini (Events and Communication Specialist at MACRON) underlines how much attention has been paid to corporate welfare, with a series of exclusive services dedicated to employees: "There is a gym, restaurant, coffee area and a large outdoor courtyard, which can also be used as a location for corporate events." Guido Lenzi (Partner of Studio Lenzi & Associati) continues: "This is a highly sustainable working environment, and we have paid attention to the smallest detail. Thanks to the high quality of the used materials, we have been awarded with an EXCELLENT rating by the BREEAM certification system for building sustainability."
Key points of the project: satisfying all requirements with a single supplier
Providing lighting solutions, which meet all the requirements of the building's high-quality standards was our greatest challenge. TRILUX acted as the sole supplier, developing a customized proposal and offering a mix of standard and custom-made solutions. These solutions were supported by a design office, which was able to modify several requirements during the project, thanks to its proximity of its production sites, which are located in Germany and Spain.
Installed smart solutions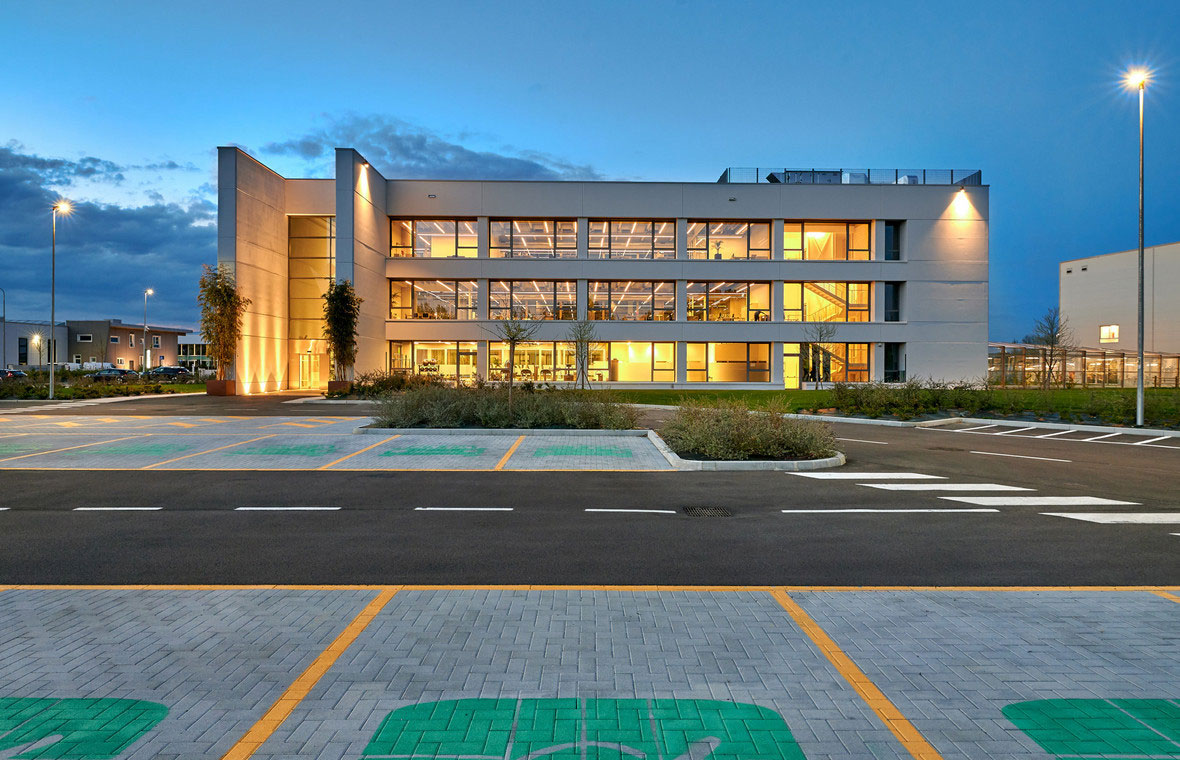 In the outdoor areas and parking lots, we installed the 4.200 lumens ETDD version of the Jovie LED solution. Thanks to Multi Lens (MLTIQ) and Constant Light Output (CLO) technologies, it was possible to adapt Jovie LED to the project specifications, providing a luminaire in the Smart Lighting Ready variant with Zhaga interfaces, ready to be integrated into the lighting management system. The facades were entrusted to Faciella LED with 3.800 lumens, which have been combined with a 7.500 lumens version of the Combial LED. These luminaires are both ideal solutions for staging surfaces and buildings. The Lutera LED ground-recessed solution has been used to illuminate the building from below.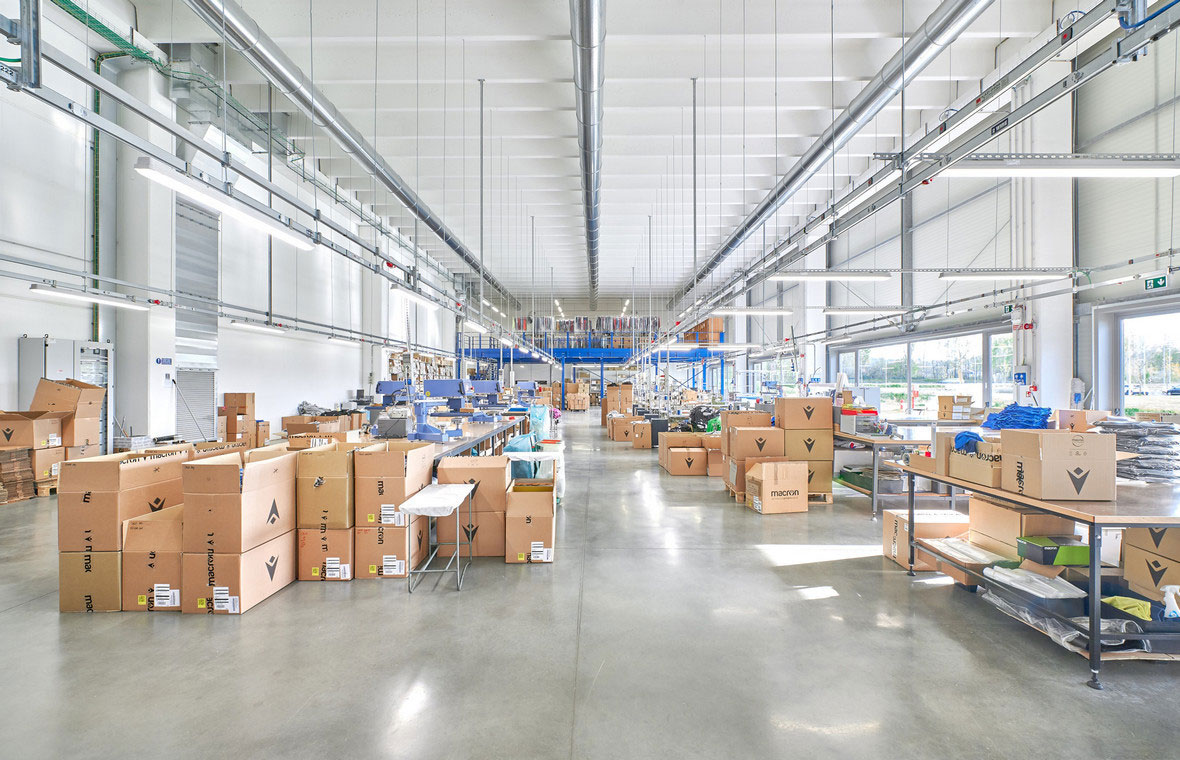 Almost all interior areas (open space offices, showroom, gym, restaurant and coffee area) have been equipped with pendant lighting, relying on the brand new Finea LED solution. Thanks to its modular structure and the great variety of versions, it was possible to rely on a single solution while maintaining a unique design. In the laboratories and in some corridors, we have chosen the 4.000 lumens version of the Oleveon Fit LED, which is an extremely versatile product within the X-Range series. In the Distribution Center, Mirona Fit LED with 13.000 lumens in the ETDD version was used, as this is the optimal solution for logistics and production sites. Its features make it extremely reliable, guaranteeing high-quality light in all areas and therefore more safety at work.
Paolo Guizzardi (Production Director at MACRON): "Lighting is an important part of a building, even more so if it has to meet certain requirements in terms of sustainability and environmental impact. The new system is perfectly integrated into the overall design of our buildings and contributes significantly to the well-being of our employees."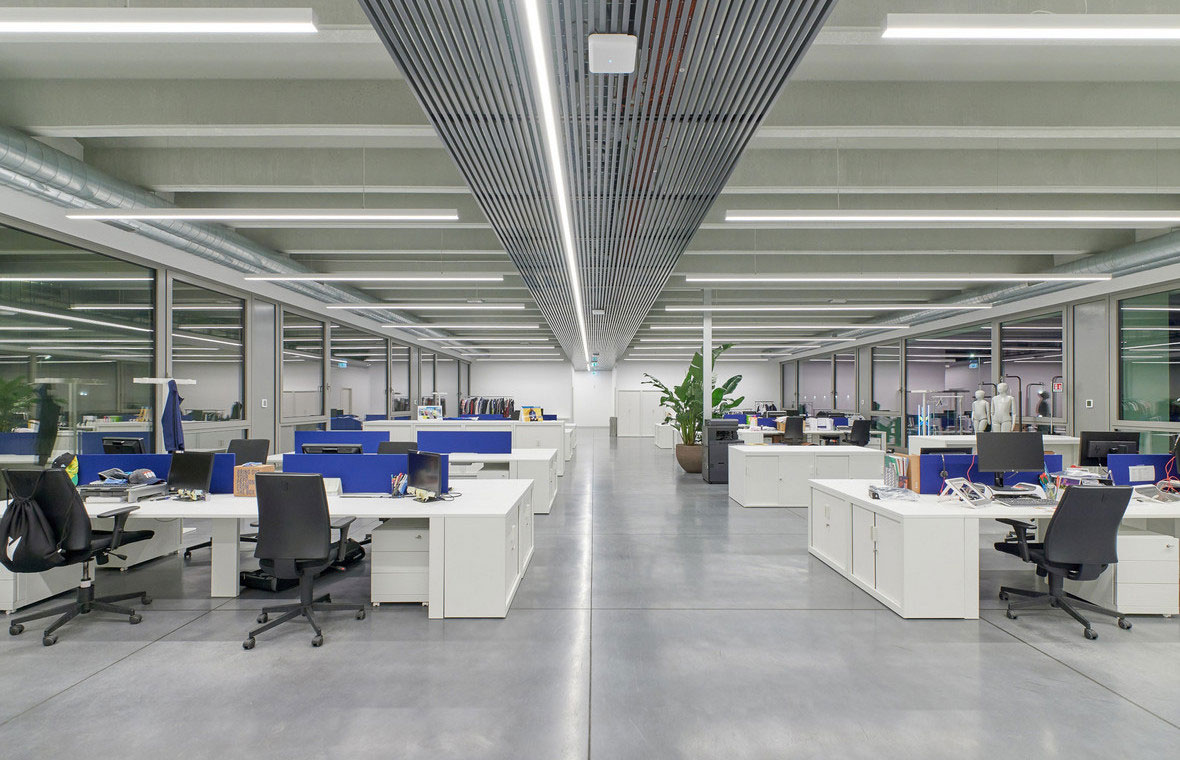 Luciano Cinquemani (Marketing Manager TRILUX): "For TRILUX, MACRON represents more than an a simple project. We had the opportunity to collaborate with a great company, whose philosophy is to work with tenacity to achieve what you aspire. This challenge has come at a particularly difficult time for everyone, and therefore we are more than proud to have met the expectations, and to have contributed with our solutions in achieving a sustainable building and an environment designed and built around the needs of users."
Project data
Project - MACRON Headquarter, Valsamoggia, Italy
Tenant - MACRON Spa
Developer - VGP Parks
Design - Studio Lenzi & Associati (Guido Lenzi, Stefano Quarenghi, Fausto Savoretti)
Lighting - TRILUX
Photo Credits Piero Annoni
3D Tour