The Smart City turbo
How lighting is driving digitalisation
Date

Category

Trilux Visions

Comments
Smart City is coming – faster and simpler than ever. The prerequisite: a future-proof communal outdoor lighting system. We will demonstrate seven starting points through which lighting is driving digitalisation and Smart City.
1. Efficiency is a good start – but things don't end there
There is no way around LED technology in the long term – after all, LED refurbishment reduces energy costs by up to 74 per cent compared to a conventional solution. The potential is even greater when the luminaires are networked into a smart system. The use of sensors and dimming profiles even reduces the overall energy consumption by up to 80 percent. At the same time, the lighting is only activated when it is really needed. This limits light pollution to a minimum. A good example of a smart lighting solution is so-called "running light", which accompanies passers-by with a light corridor on their way through the night.
2. Full transparency and control – definitely preferable for lighting
Integrating the lighting network into the cloud is not only logical, but also advisable. After all, this is achieved quickly and simply with just a few clicks and opens up a multitude of further options. Our TRILUX ONE cloud platform maps every single light point in a digital street plan, for example. This enables convenient control and monitoring of the light points. They can be easily grouped, selected and controlled, for example to change the light colour or dimming level. In addition, the operating parameters of each individual light point in the network are monitored in real time. The system automatically reports a failure or need for maintenance, which increases safety and makes it possible to adapt maintenance intervals to real needs (predictive maintenance).
3. The omnipresent infrastructure – everything in place, what's next?
The greatest potential of networked lighting actually lies beyond the lighting tasks, i.e. "beyond lighting". With its almost ubiquitous presence in public spaces, the lighting network creates the perfect infrastructure for smart IoT applications. The luminaires serve as carriers and provide the power supply for the components. Smart City components are simply integrated into the luminaires via IoT interfaces (e.g. Zhaga) and can exchange their data via the lighting network. Our Lumega IQ features up to two open Zhaga interfaces that can be equipped with a light management system and a sensor system, for example. ConStela 19 takes things one step further. TRILUX has developed a wide portfolio of "turnkey" IoT modules for the luminaire, which is also constantly growing. The Smart City modules can be integrated into the column according to the modular principle, not only extremely flexibly, but also with unique aesthetic value.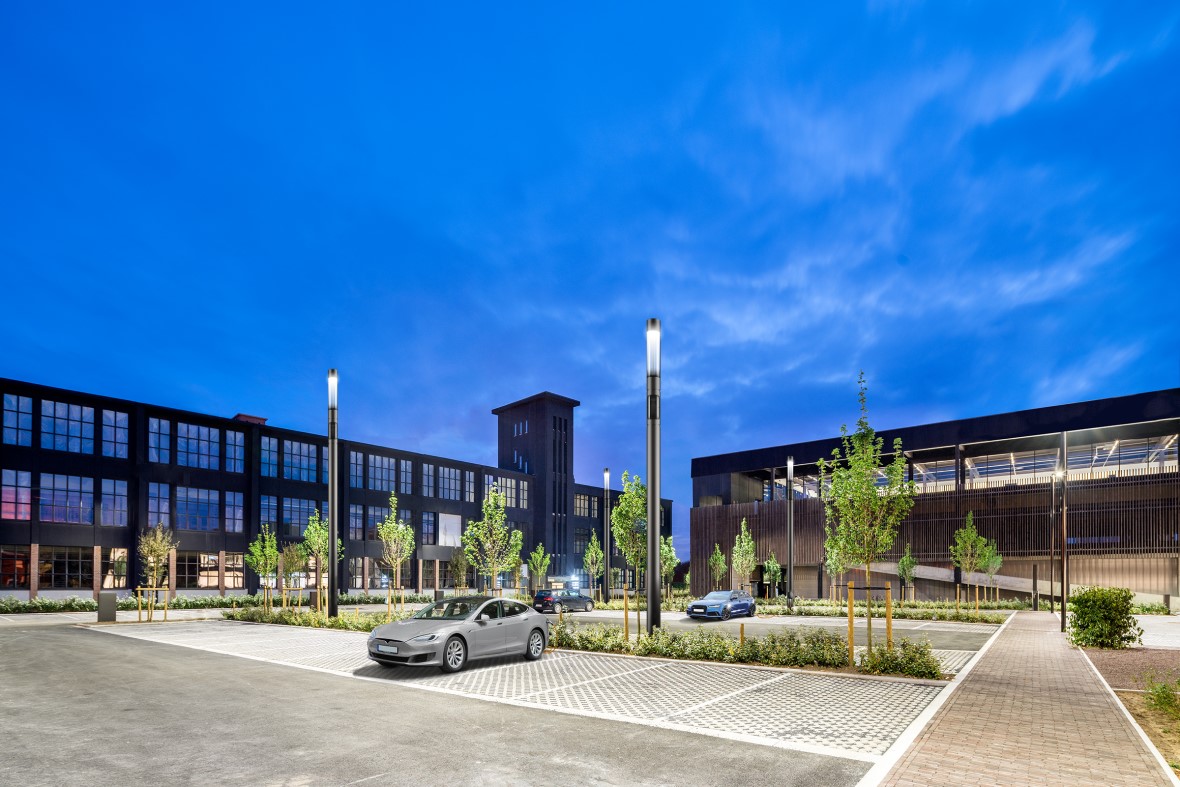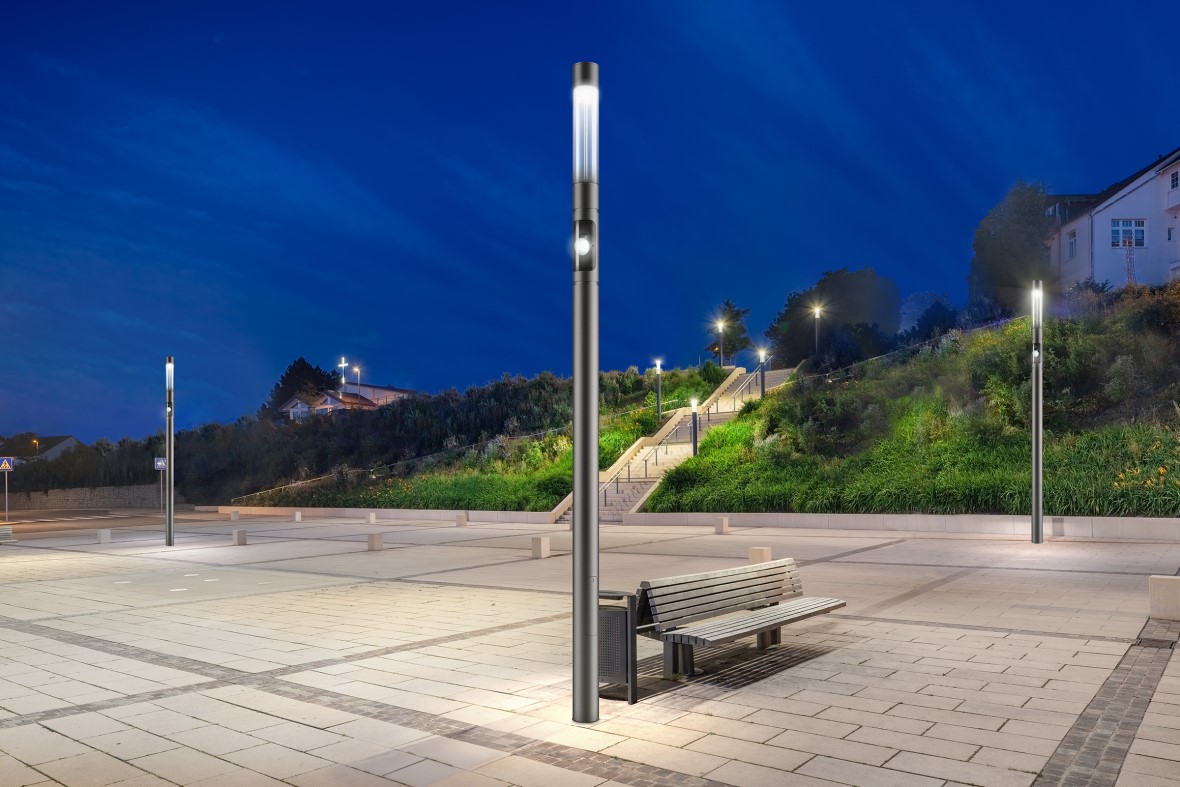 4. Luminaires against gridlock – charging infrastructure and parking space management
An urgent concern in the city of the future is environmentally friendly individual transport, ideally via e-mobility. This is where lighting can make a valuable contribution. ConStela 19 is already available with an integrated charging station for e-mobiles, which significantly accelerates the expansion of the charging infrastructure. And in the future, smart luminaires can also revolutionise parking space management: Sensors in the luminaires detect free parking spaces and guide those looking for a parking space to the next free parking space simply via an app. This means that annoying circling around the block is finally a thing of the past.
5. One interface, infinite possibilities – welcome to the world of IoT modules
specially convenient: An almost unlimited variety of IoT modules can be integrated into the luminaires via the Zhaga interfaces. Classics include cameras or 3-D scanners for monitoring critical areas and measuring traffic or pedestrian flows. WiFi routers in the luminaires create a free public network, loudspeakers can be used for atmospheric background music as well as for important announcements. And the lighting network is also open for environmental sensor systems, for example to measure nitrogen oxides, noise or ozone. Sounds like a dream of the future – but our ConStela 19 LED already has it all.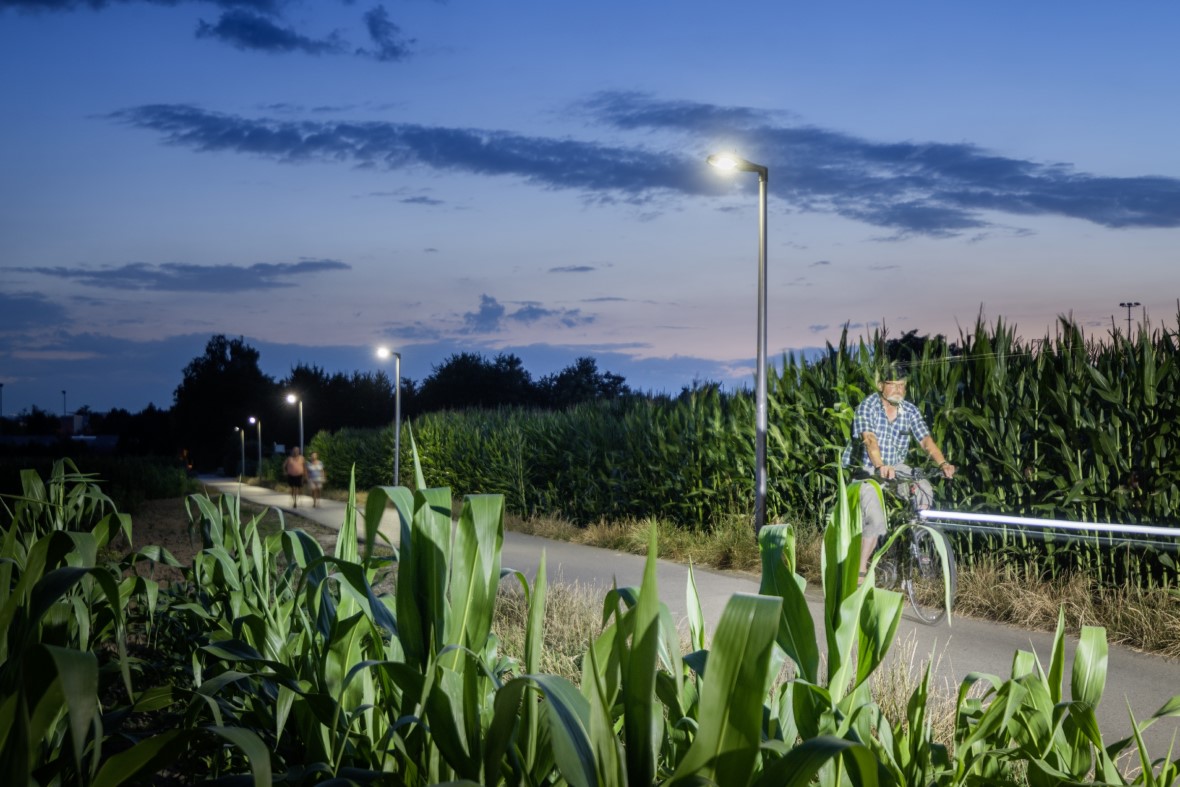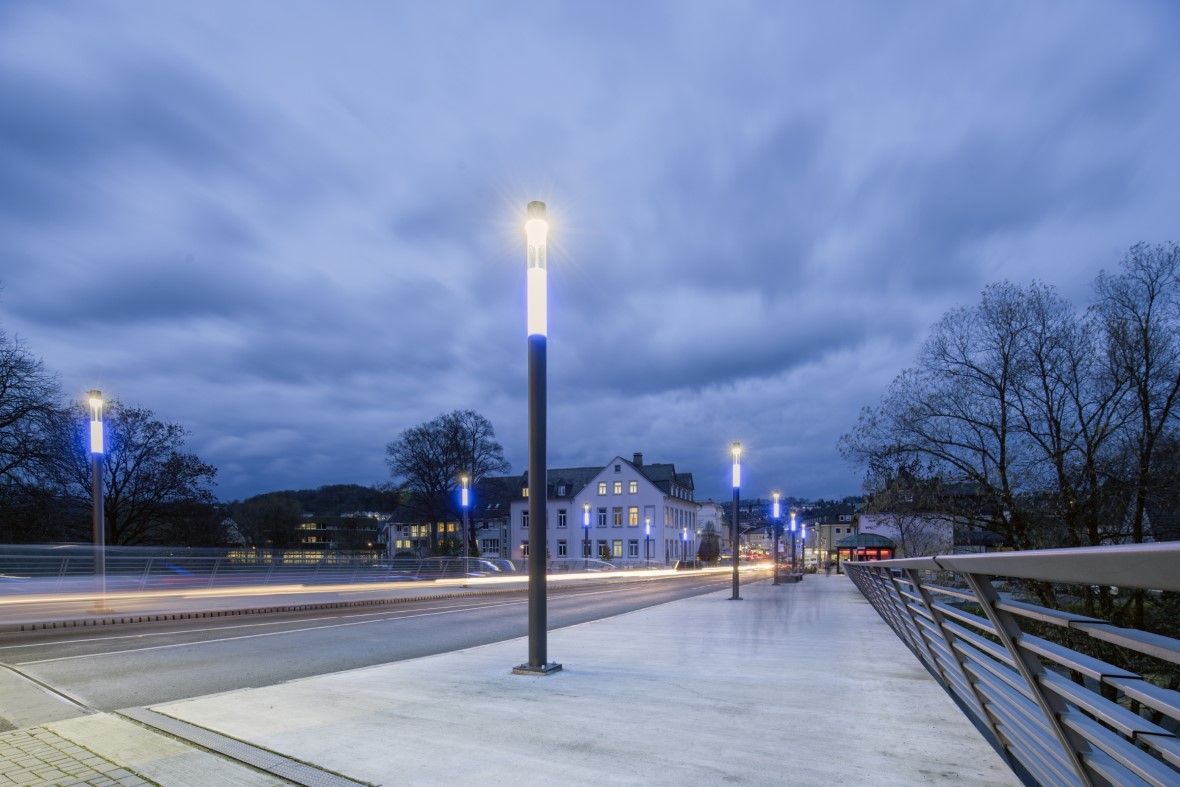 6. Special case location-based services – time for direct interaction with users
With so-called location-based services, there is location-dependent interaction between the luminaires and passers-by: beacons in the luminaires emit a short-range Bluetooth signal that is picked up by a nearby smartphone and triggers a specific action there, provided the corresponding app is installed. Local retailers, for example, can inform passers-by about special offers via push messages (proximity marketing) and thus attract them into the shops. Location-based services are used in city marketing to display location-based tourist information, timetables, greetings or opening hours.
7. Come talk to me – communication with higher-level Smart City solutions
In a real Smart City, the data streams of the different applications flow together on a central Smart City platform, through which they can be monitored and controlled. That is why our LiveLink light management system has a standardised interface that guarantees secure data exchange with downstream systems. As part of the LED refurbishment in Dortmund, for example, the entire Dortmund street lighting cadastre was linked to the light management system, creating unique transparency and flexibility in monitoring and controlling the installation.
To learn even more precisely what the future looks like – and what lighting has to do with it – take a detailed look at the new ConStela 19 LED here. Smart City? Count us in!