TRILUX with smart solutions for efficient refurbishment
Well prepared for the new RoHS and T8 directives
Date

Category

Trilux Insights

Comments
Arnsberg, August 12, 2022 - In 2023, the T8 lamp ban takes effect. But not only that. The new additions to the RoHS Directive already ban mercury in discharge lamps from the middle of next year - and thus become an additional, strong driver of the LED transformation. TRILUX is optimally prepared for the refurbishment wave with a wide-ranging and flexible solution port-folio. What exactly do planners and operators need to consider when refurbishing or planning a new system? The Planner Updates 2022 at the TRILUX Academy provide brief, compact and free information on all new legal framework conditions, as well as important industry trends and future topics.
Outdated, inefficient lighting systems are currently under pressure because of two aspects: On the one hand, the Ecodesign Directive will prescribe certain minimum energy efficiency values for light sources from 2023 onwards and, in this context, prohibit the production and sale of T8 lamps. On On the other hand, the new amendments to the RoHS Directive (Restriction of Hazardous Substances in electrical and electronic Equipment) will successively prohibit the use of mercury in discharge lamps from 2023, because mercury-free LED solutions will be available as an alternative for all standard applications. Since the corresponding solutions have been used as standard in all applications for decades, there is an acute need for action in many cases.
LED refurbishment
many more opportunities than challenges
"Affected companies can use the inevitable refurbishment in the medium term as a huge opportunity," explains Musa Djemaili, Head of Services & Finance at TRILUX. With a customized financing concept from TRILUX, an LED retrofit can usually be implemented cost-neutrally via savings in operating costs. At the same time, light quality and comfort for users increase. And a refurbishment doesn't have to be complicated. "On request, customers can place all lighting-related tasks in our hands as a full-service provider -
and receive customized, technologically leading lighting without effort or risk," says Djemaili. Particularly practical: Many TRILUX luminaires have been specially designed for simple and fast refurbish-ment, for example with precisely fitting optics, attuned luminous flux and output or by using identical connections and drill holes as the predecessor models. Converting a conventional T5/T8 E-Line to LED technology, for example, takes just 44 seconds.
Better to refurbish properly right away
Smartness pays off
As part of a refurbishment, companies should definitely consider sensor systems and lighting man-agement. This is because precise control of the light reduces energy consumption by a further 26 percent compared to unregulated systems. In addition, a lighting management system opens up many other options such as cloud-based control and monitoring of the lighting network at the light point level. This increases transparency and reduces maintenance costs through applications such as predictive maintenance. Again, it's all effortless and risk-free.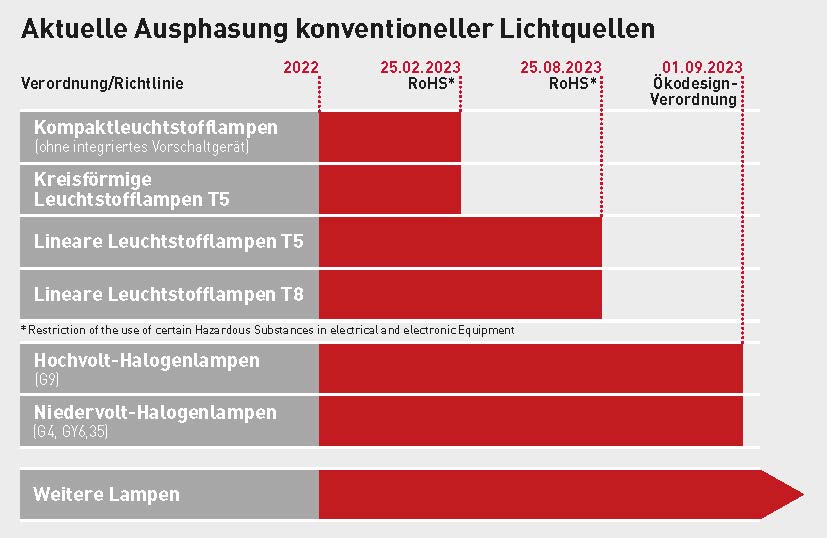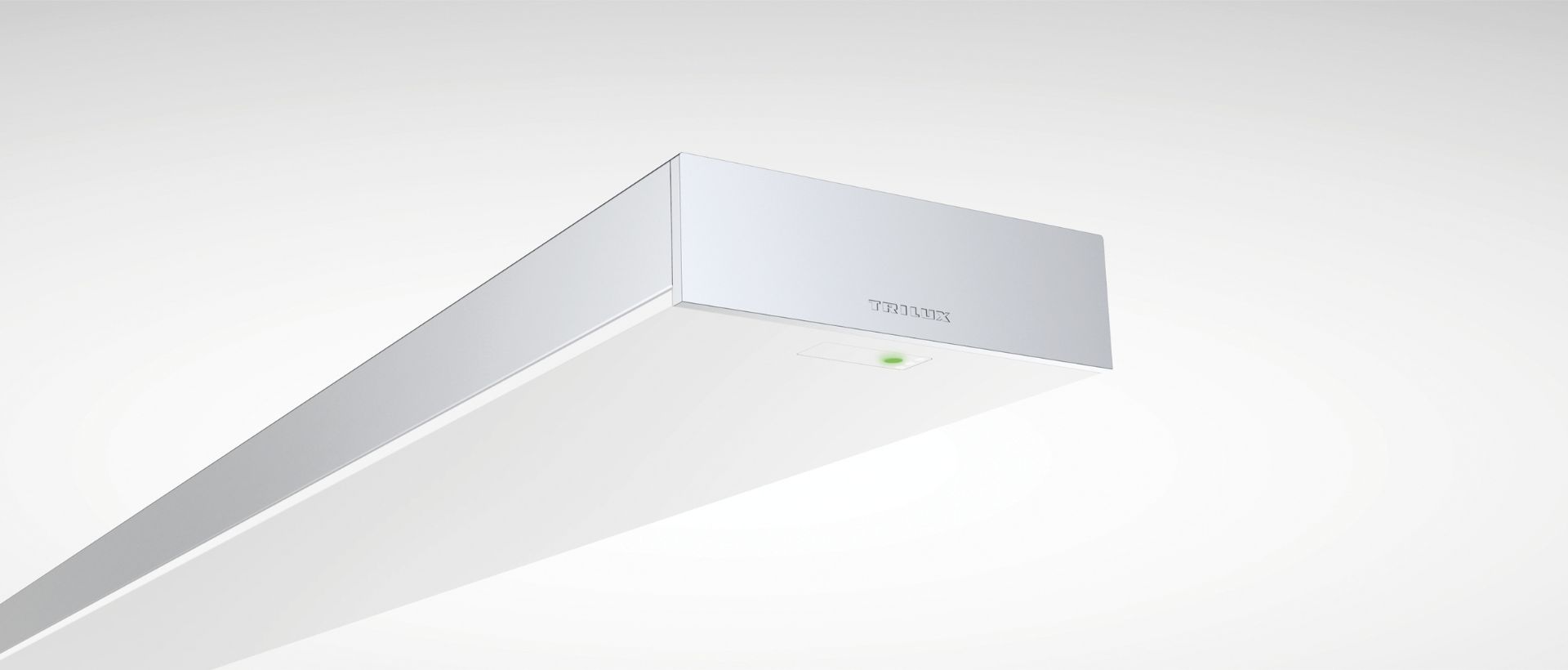 "With our turnkey LiveLink solutions, we make lighting management a simple and safe matter," ex-plains Marta Stypulkowska, Project Manager at TRILUX. In addition to application-specific solutions, LiveLink is also available as a refurbishment-friendly WiFi variant. Networking via radio enables light management even without DALI control lines, which are missing in many existing buildings.
IoT and digitization
positioned for the future
Another opportunity: Digitalization can also be rapidly accelerated as part of a lighting refurbishment. Open IoT interfaces in the luminaires provide the prerequisite for this. They can be used to flexibly integrate IoT modules into the lighting network, such as cameras, speakers or monitors. A good ex-ample is the Opendo ceiling luminaire with integrated CO2 sensor technology that measures the air quality in the room. Particularly practical: Companies can lay the foundation for digital applications with smart luminaires - and also subsequently equip the network with IoT components via the open interfaces. This flexibility opens up a great deal of scope and offers a high degree of future security.
How to know
legal and technical know-how at the TRILUX Academy
What do the new legal framework conditions mean in concrete terms for existing lighting? The Plan-ner Updates 2022 at the TRILUX Academy provide the necessary expertise for efficient and legally compliant lighting planning as well as tips for implementation in practice. The free event of around two hours will take place for one week at the end of September as a presence event in various Ger-man TRILUX competence centers. Towards the end of the year, the TRILUX Academy will also offer a recording of the event on the Internet for streaming. More information on the current dates as well as many other further training offers can be foundhere.