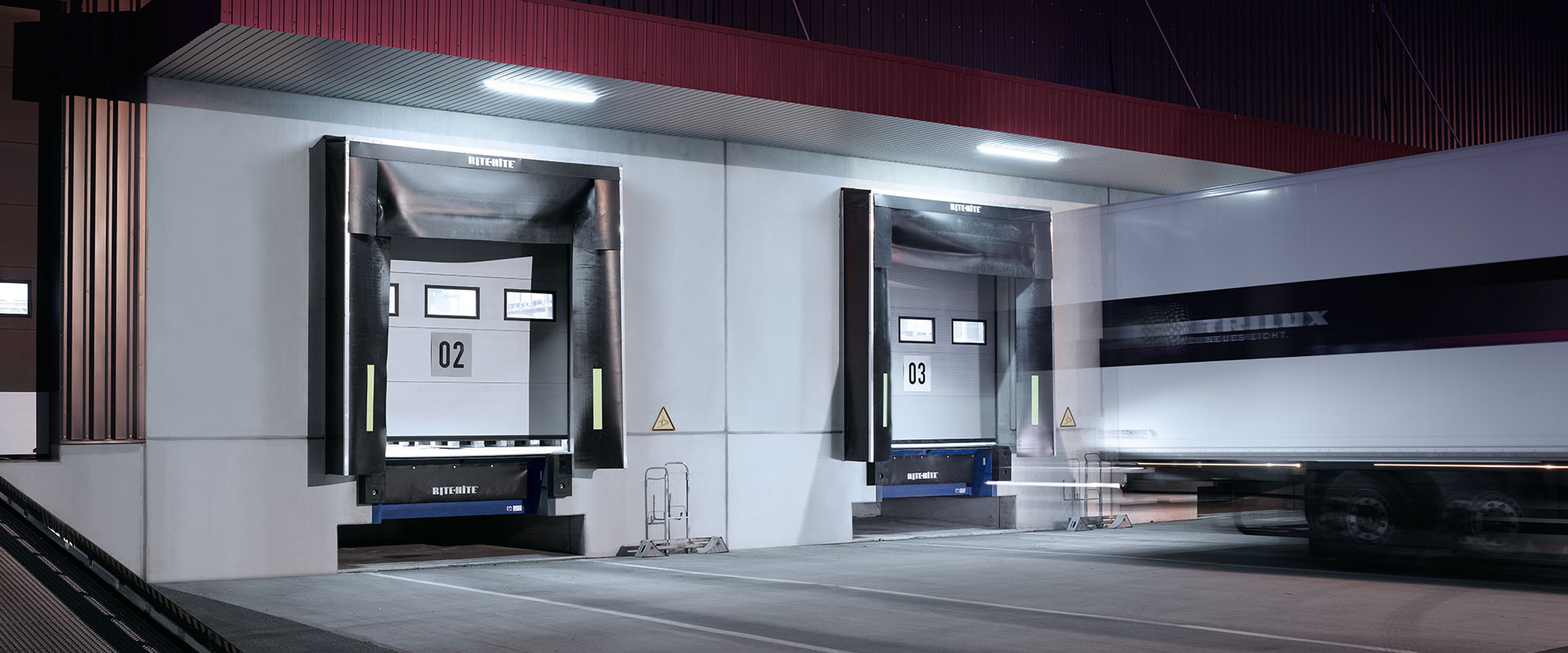 Nextrema G3 LED
the robust weather-proof luminaire for extreme situations

The challenge
Making more from less – the efficient use of resources is a matter of course in the industrial sector. The starting point for around two thirds of companies surveyed is energy consumption. Lighting is therefore highly important in this regard. In factories, lighting takes up around 15 % of electricity requirements - in warehouses it can even be up to 80 %. Furthermore, high-maintenance obsolete systems frequently cause disruptions to operations and production runs, and in worst cases even idle times. Another factor is that the targeted illumination of different applications cannot be achieved with a single standard solution.
The solution
The Nextrema G3 LED as the third generation of the tried and tested TRILUX weather-proof luminaire is a specialised, high-efficiency lighting solution for industrial environments. It's extremely robust die-cast aluminium body makes the luminaire extremely resistant to low and high temperatures, humidity, dust, knocks and impacts. The LED luminaire also provides a significantly higher lifespan than average with almost no maintenance. The Nextrema G3 LED is also very quickly installed thanks to the supplied mounting template, mounting clips and Wieland rapid connection system. Selection between three specific light distributions means that optimally adapted solutions are available for the various applications.
The result
Whether for cold stores, food production, logistics halls or car parks – the Nextrema G3 LED emits pleasantly uniform, glare-free light, and in operation not only saves costs but keeps operations going in the long run thanks to high levels of reliability. Optimum illumination is always ensured thanks to the three special light distribution characteristics – pleasantly uniform light in parking garages as well as minimum light points in distribution halls with suitable lighting conditions in deep shelving aisles.
Long service life. Low costs.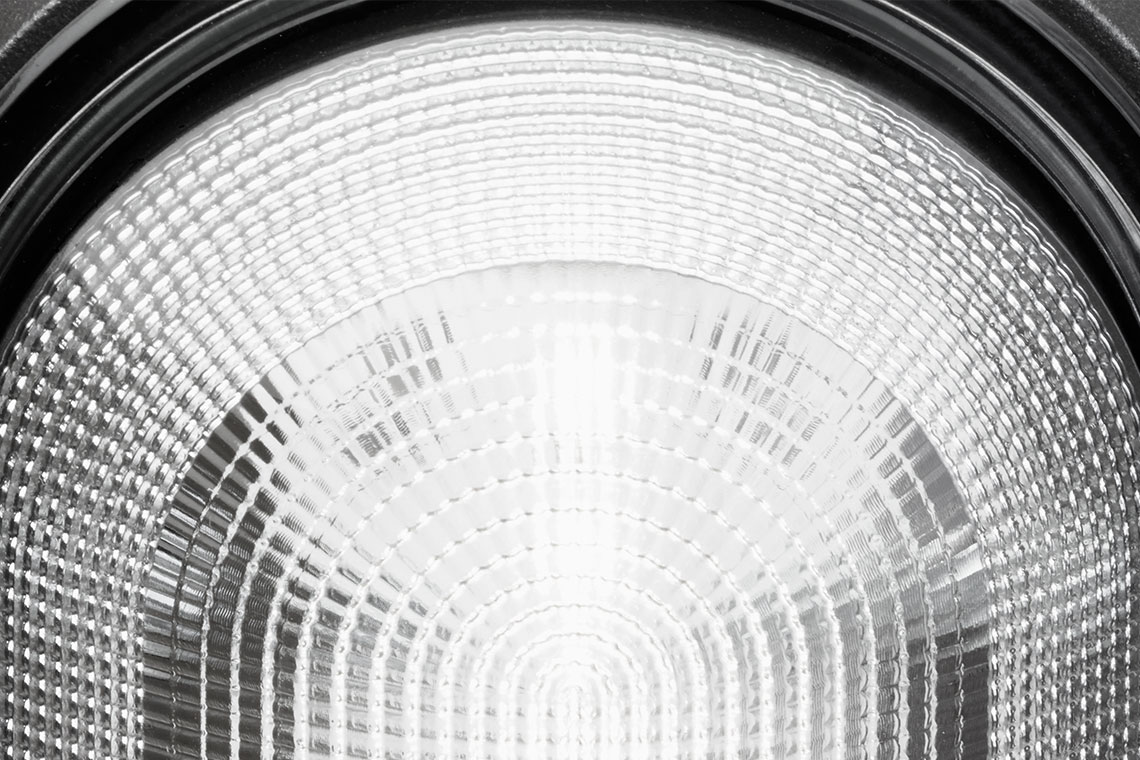 The average lifespan of the Nextrema G3 LED is 85,000 hours, meaning that, once installed, maintenance time is minimal, this makes costly idle times during running operation in production halls a thing of the past. In combination with energy efficiency of up to 170 lm/W, the luminaire guarantees low total operating costs.
100,000 h version – longer refurbishment cycles, reduced downtime
Optionally, Nextrema LED G3 is available as a high-efficiency version with a service life of 100,000 h – corresponding to more than 11 years of continuous operation (24/7). The associated extended refurbishment cycles also reduce the lighting system's downtime over the entire operating duration.
Special light distributions. Ideal in terms of application.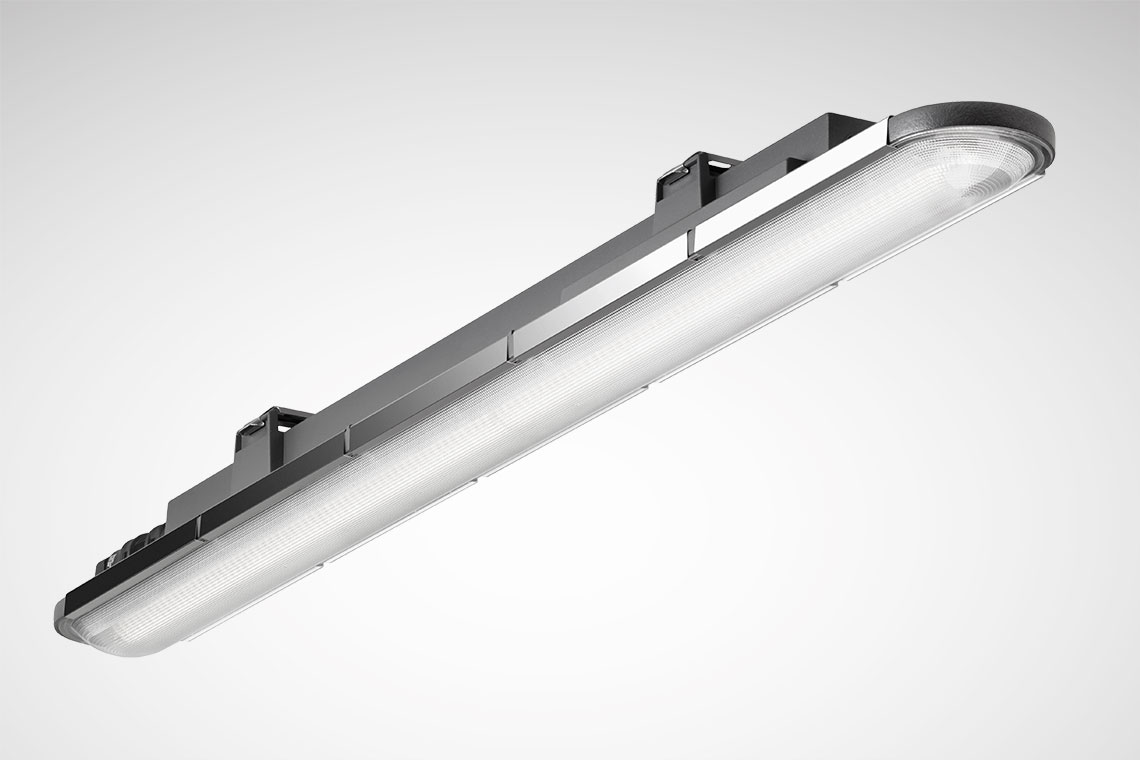 Be it wide (B), narrow-wide (TB), extremely wide (XB) or even asymmetric (PAW): a wide range of light distribution options makes Nextrema LED G3 ideally equipped for any area of application. With extremely wide symmetric distribution (XB), it illuminates e.g. parking garages with low ceiling heights in a safe and convenient way. With narrow-wide distribution (TB), its low level of glare generates ideal visual conditions in high storage rooms and cold stores, enhancing occupational safety e.g. for forklift truck drivers.
Extremely reliable – even with extreme temperatures.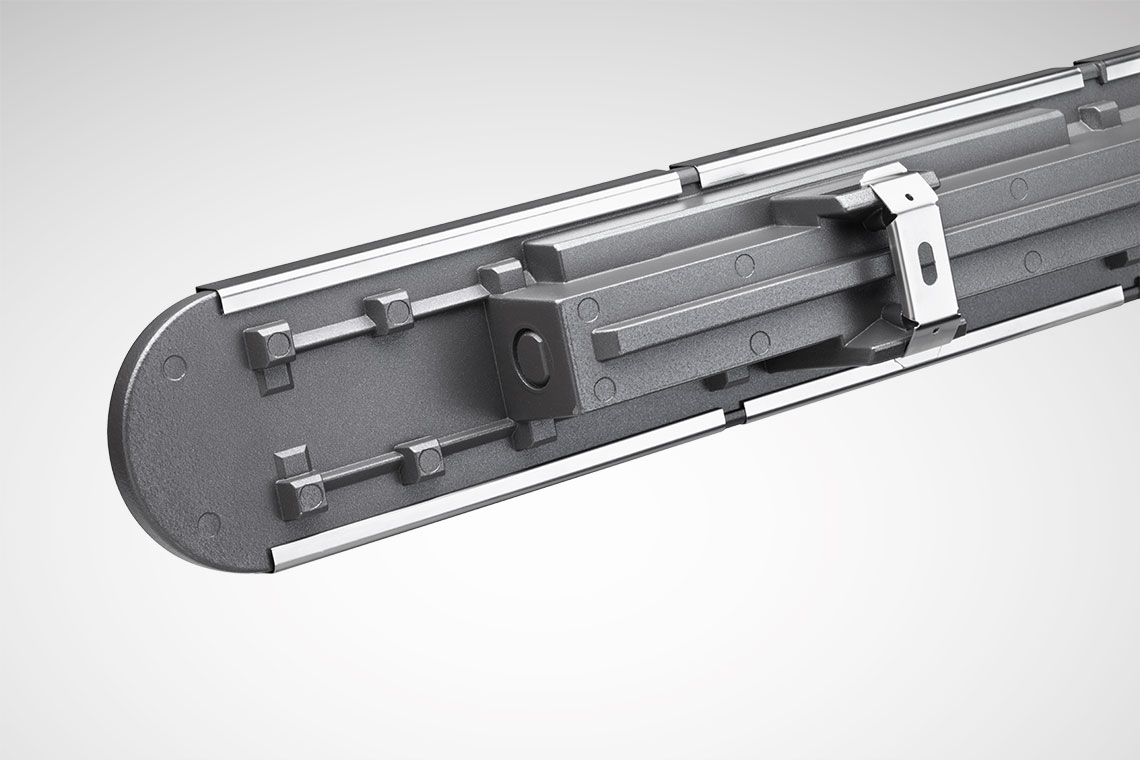 Thanks to high-quality workmanship, a robust die-cast aluminium body and an impact-resistant concept, Nextrema LED G3 enduringly withstands humidity, soiling, vibration and more. The improved LT/HT version (low-temperature/high-temperature) ensures reliable operation even in extreme temperature conditions. The application spectrum ranges from -40 °C – e.g. in cold stores near cooling units – to up to +50 °C, e.g. below hall roofs or parking garages in hot regions.
Small construction size. Big performance.
Sophisticated sensor technology. Intelligent light management system.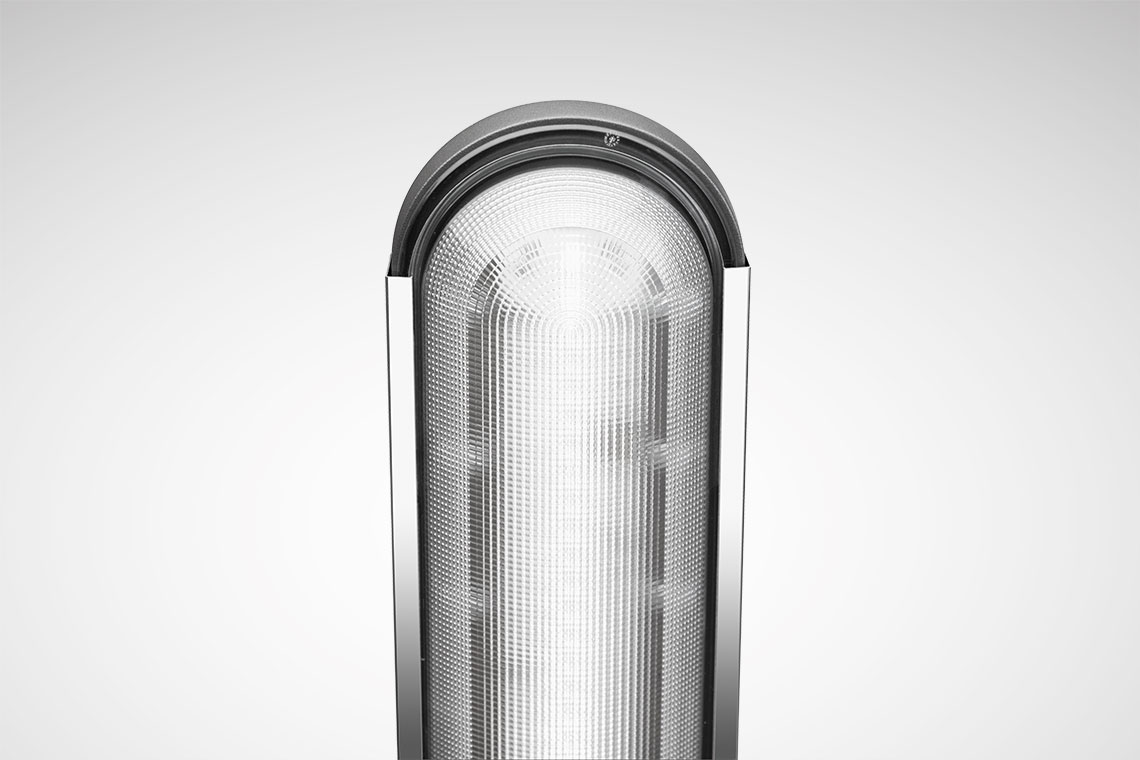 Optional presence and daylight sensors enable configuration according to individual requirements and offer reliable light management. E.g. in car parks, "running" light can be implemented that accompanies pedestrians and car drivers through the building and communicates a feeling of safety. The integrated LiveLink light management system enables the quick, intuitive use of Use Cases, e.g. for production halls.
Flash installation with rapid connection – simple and safe.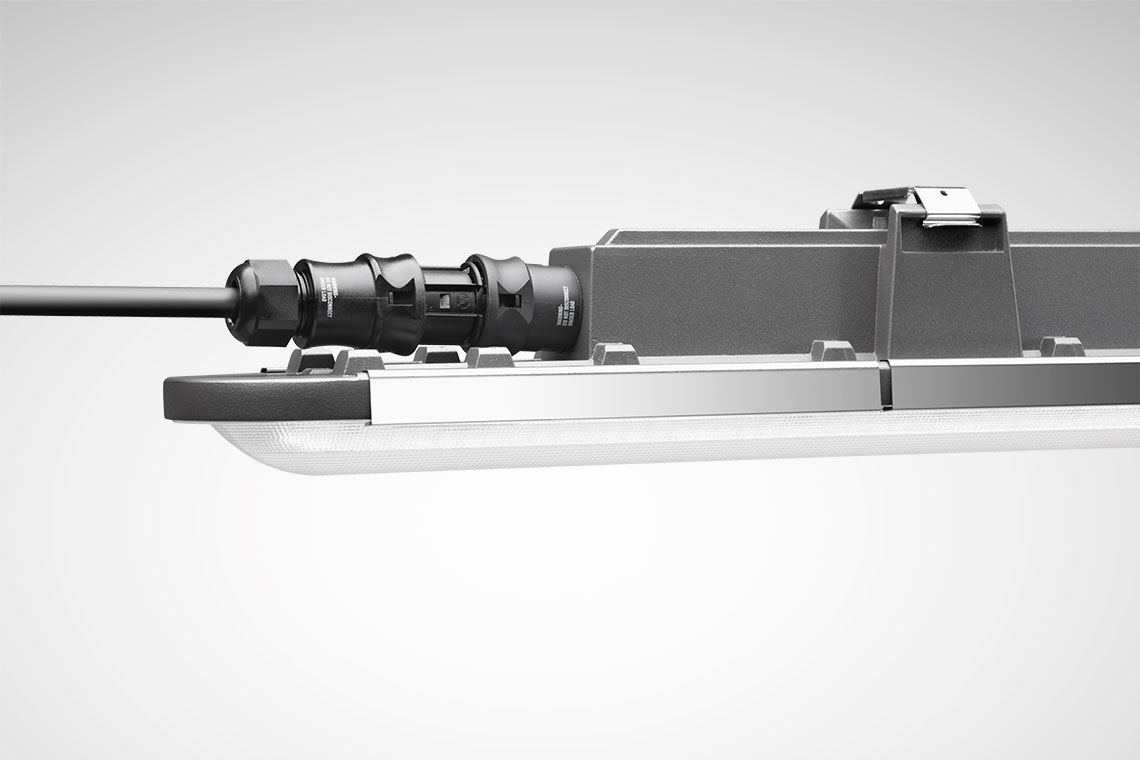 At any desired speed: Nextrema LED G3 is available either with Wieland or Phoenix rapid connection system. Both systems can be connected rapidly and safely with minimum effort – and the Phoenix system does not even require any tools. The luminaire's compact dimensions of only one metre, convenient mounting clips and a mounting template facilitate installation even further.
Safe operation. Even with impure supply networks.
In supply networks with many high-power consumers – e.g. assembly lines in manufacturing – there are regular overvoltage peaks which can damage LED luminaires. Nextrema LED G3 is ideally prepared for this: with increased voltage surge resistance (4 kV), it ensures maximum reliability even in impure networks and thus reduces cost-intensive interruptions in operation.
No roof, no problem: A robust construction for almost all applications
Nextrema G3 LED resists even extremely adverse weather conditions, and its PMMA version with higher UV resistance can also be used in non-canopied outdoor areas around buildings. Using suitable accessories, horizontal and vertical wall mounting is possible in many areas where previously only outdoor luminaires were used. Loading zones or the outdoor areas of car parks therefore benefit from uniform lighting design with uniformly high light quality and product quality.
Long service life and high energy efficiency
With its extremely long 85,000 hour service life, with low maintenance and high energy efficiency of up to 170 lm/W, the Nextrema G3 LED offers rapid pay-back of investment costs and therefore low total operating overheads. With the HE version, the service life is even extended to 100,000 h.
Strong performance even with elevated mounting points
In combination with the narrow-wide distribution optic and a luminaire luminous flux of up to 13,000 lm, Nextrema LED G3 is ideal for use with high mounting points e.g. in manufacturing or storage halls in the food industry.
High quality manufacturing
The premium die-cast aluminium body contributes to the Nextrema G3 LED's long service life, making the luminaire especially resistant to a wide range of elements, including dirt, dust, humidity as well as high and low ambient temperatures.
Smart light management
The Nextrema G3 LED can also be optionally controlled by a light management system, e.g. to implement running light in parking garages.
Technical features
| Reference | Values |
| --- | --- |
| Energy efficiency: | Up to 170 lm/W |
| Values: | 2,300-13,000 lm |
| Service life: | L80 85,000 h tq 35°C ta-30° - +35°, Version HE: L80 100,000 h tq 50°C ta-40° - +50° (system service life) |
| Colour rendering/-temperature: | Ra > 80 / 4,000 K |
| Light distribution: | B (wide), TB (deep wide), XB (extreme-wide), PAW (asymmetric) |
| Electrical version: | ET, ETDD, CLO optional |
| Protection rating/safety class/impact resistance: | IP66 / PMMA: IK03 - CR: IK07 - PC: IK08 |
| Sensors: | HFS, HFSB / HFSX |
| Additional functions: | Swarm intelligence, LiveLink: Control, Monitoring |
| Dimensions: | B / XB/ PAW : 1.042 x 96 x 98 mm - TB: 1.042 x 96 x 112 mm |