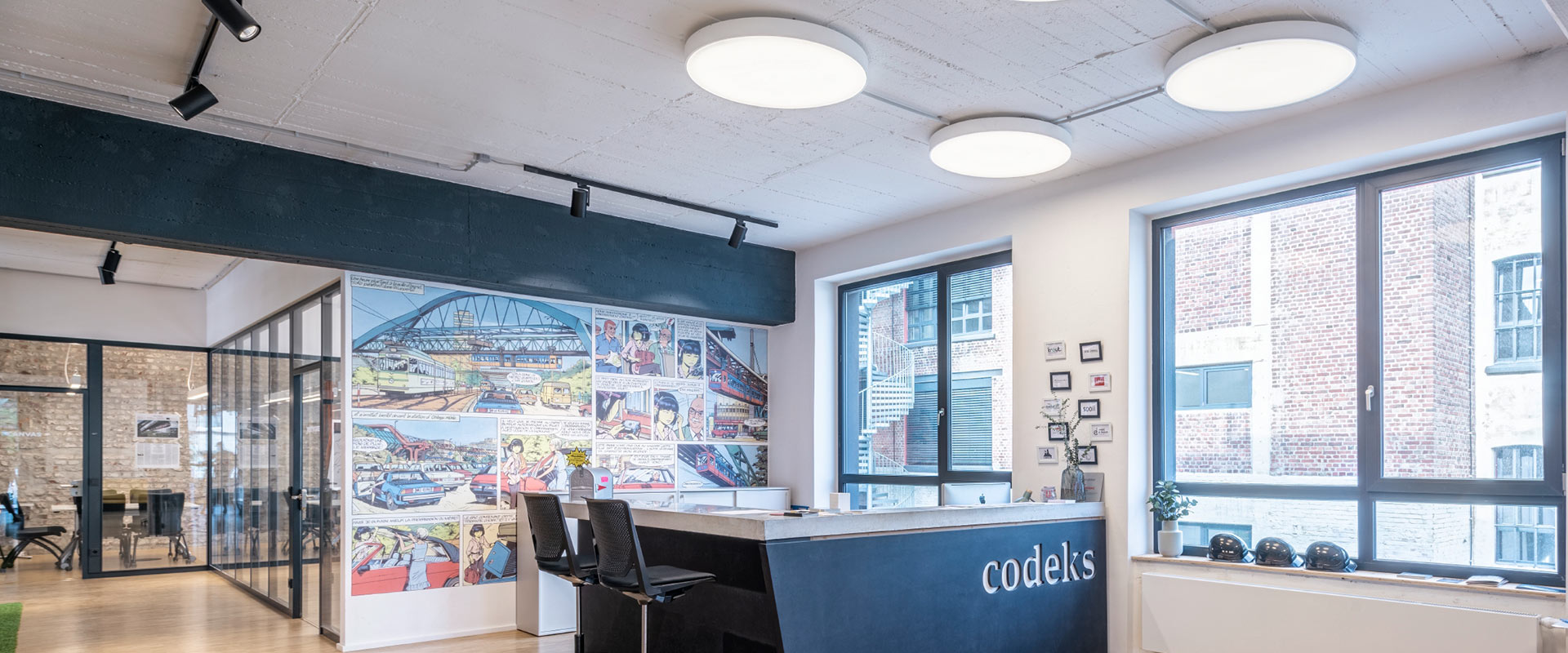 Solegra LED
Strong appearance for light and luminaire
The challenge
The perfect lighting solution in modern worlds of work that feature creative, relaxation and work zones must not only be technically functional and visually attractive, but must also meet the individual needs of the employees. Currently trending are work surroundings with a pronounced atmosphere of well-being and a homely design in which each worker can fully utilise his or her potential.
The solution
Similar to a large sun, Solegra LED floats beneath the ceiling and emits soft, uniform and glare-free light with balanced shadowing. The series of round luminaires immediately gives any room a special look. Thanks to various sizes, surface-mounted variants, optics and lighting technologies, creative zones can be attractively illuminated, as can VDU workstations, classrooms and prestigious sales spaces.
Advantages with lighting design
Diversity for high flexibility with lighting design
Solegra LED blends perfectly into any interior thanks to various construction sizes and mounting methods. The lighting technology and optic can be custom-adapted to the specific room utilisation – e.g. the version with micro-prismatic optic for the glare-free lighting of VDU workstations. The Solegra LED offers additional individual design options in the version with a closed, light-impermeable edge. The powder-coated aluminium ring accessory for this is available in the colours black, white and silver-grey by default.
A design highlight for walls or ceilings
By its presence in the room alone, Solegra LED upgrades the atmosphere and creates a homely feel. Thanks to its purist design, the luminaire blends discreetly into the background and harmonises with almost any architectural surroundings thanks to four different construction sizes with diameters of 400 to 1200 mm. The luminaire can also be flexibly mounted in the room and thanks to its round, minimalist design has a very stylish appearance. Due to the different luminous flux packages, all sizes appear to be equally bright. As such, even swarm placements of the Solegra LED in different sizes are possible with a uniform light effect.
Individual light for all work tasks and well-being
Solegra LED is not only light management-capable but also has an Active version that optionally enables the lighting to be oriented to the natural course of the day. This light is capable of supporting the individual biological rhythm and offers maximum visual comfort for highly different work tasks, matched to the individual needs of the workers.
Applications everywhere where quality of light and design are important
Because of its many variants, Solegra LED can be used to illuminate highly different areas of a building with a uniform design. The design fits perfectly with modern office structures featuring open space areas and communication zones. The optional aluminium ring of the Solegra LED is available in the colours black, white and silver-grey as well as, upon request, in other RAL tones. It blends harmoniously into the existing interior design. In combination with an insertable CDP cover, variants with UGR<19 can be implemented in a breeze. These provide for the right light at VDU workspace and can also be utilised in auditoriums or classrooms. The basic version with opal diffuser is perfectly suitable for the illumination of entrance areas or foyers as well as in the Shop & Retail sector.
Advantages with installation
A clever principle makes mounting easy and safe
Installation work above the head is often tiring in the long run. Solegra LED offers a clever solution for this: in the first step the mounting body is attached to the wall or ceiling and the luminaire body is fixed with a steel wire which prevents it from falling. The wire bears the weight during wiring – it couldn't be more convenient. The luminaire body is then rotated via a rotating mechanism into the mounting plate until it clicks in. A locking screw provides for additional support.
Mounting methods: everything's possible
Solegra LED can be optionally installed as a wall, ceiling, suspended or recessed luminaire. With suspended luminaire installation a selection is made between two different pendant accessories: in addition to a version with three parallel wires and a ceiling rose, Solegra LED is also available with three conically tapering steel wires that come together in an installation-friendly ceiling canopy. The recessed luminaire is mounted in suspended ceilings using a mounting frame. The visible part of the luminaire is therefore freely selectable, and Solegra can be installed as a complete or partial installation.
The interior design – round and flexible instead of rigid geometry
Thanks to its circular shape, Solegra LED can also be positioned decentrally in the room without disrupting the harmony, e.g. in creative zones. Installation needs no complex lighting design because the round luminaire can be flexibly mounted in the room while featuring the same quality of light. Solegra LED shows its flexible side in terms of colour. The opaque-coated, translucent frame is available in the standard colours black, white and silver and also on request in other RAL colours.
Advantages in operation
Well-being and concentration are increased due to excellent quality of light
Light emitted by Solegra LED is high-quality, uniform and without glare. A special room impact can be achieved thanks to the large, round light surface. The Active version of Solegra LED is able to simulate the daytime sequence among other factors. Individual control of various lighting parameters such as light intensity and light colour means that the well-being and ability to concentrate can be positively influenced. This applies particularly to planar luminaires such as Solegra LED because the light from such luminaires reaches the eye via a wider surface.
A design element for feeling good: working as if in your own living room
With its simple, cylindrical shape, Solegra LED blends harmoniously and flexibly into any interior. The large round luminaire and pleasant light give the room a special style and homely ambience. This increases the attraction of the workplace.
Fit for New Work and Co.
The combination of purist design and innovative technology means the luminaire is ideal for modern offices having high demands on quality of light and room atmosphere. It blends into minimalist room concepts with clear structures or else sets specific contrasts in open space areas, for example with industrial design styles. The light management-capable Active luminaire also enables flexible utilisation of the room by custom-adapting the light to the specific work situation. Typical further applications where the luminaire scores points via perfect light and its prestigious, modern design are auditoriums, open workplaces, communication zones, corridors, foyers and sales spaces.
Multifaceted
A round luminaire with purist design and innovative technology that blends stylishly into any interior design
HUMAN CENTRIC LIGHTING
The large light emission surface means it is especially suitable as an Active version
New Work
CDP versions provide ideal lighting for VDU workstations
reduced design
Wide range of versions and individuality via various coatings and mounting methods
Flexible uses
Installation as a wall, ceiling, suspended or recessed luminaire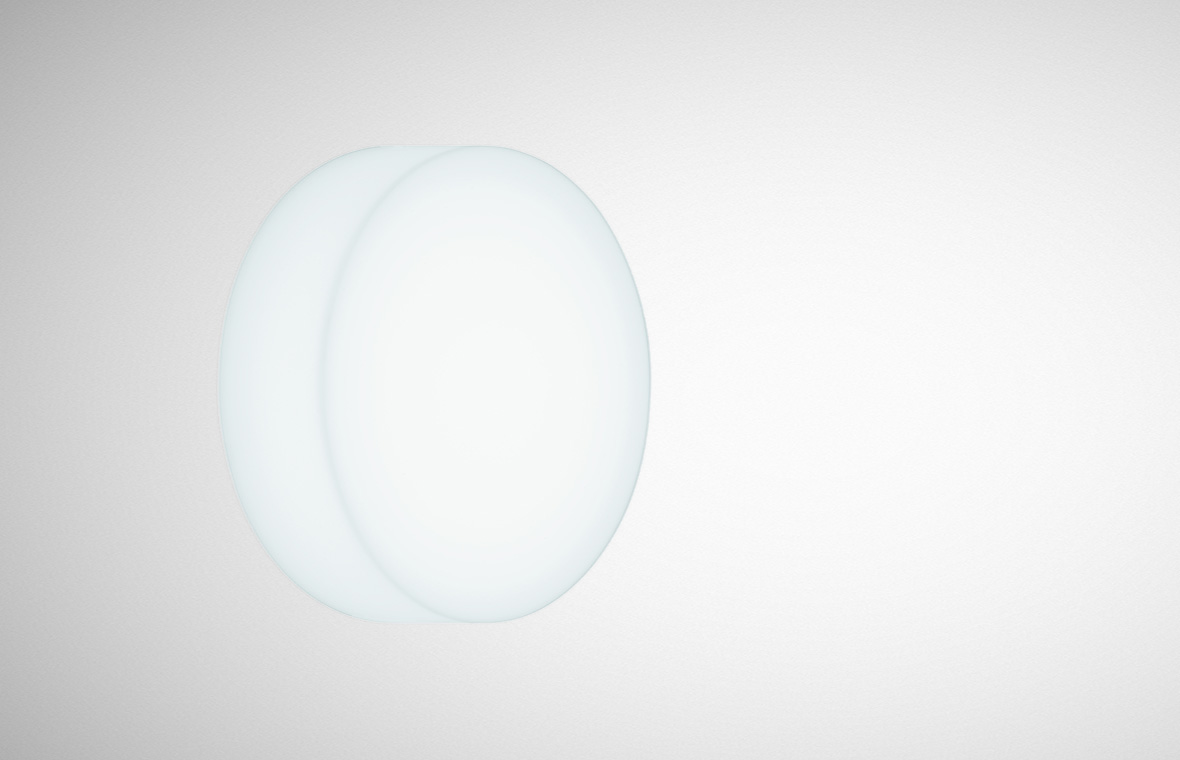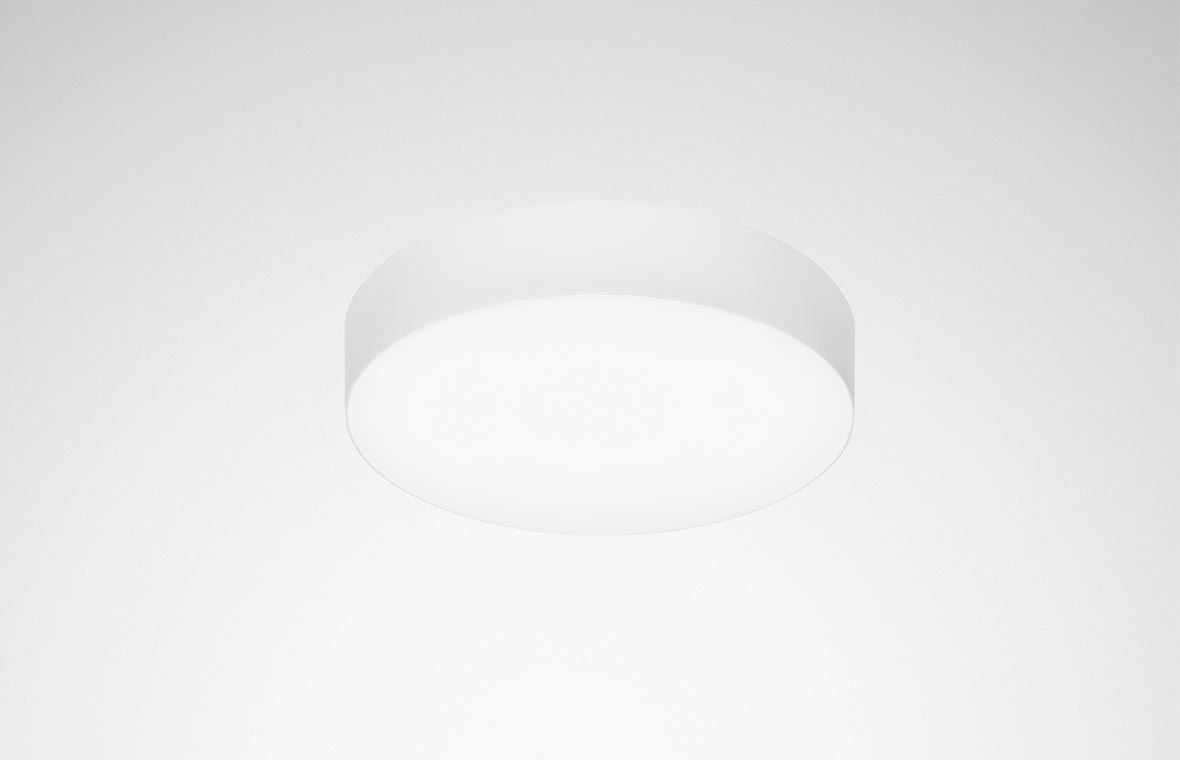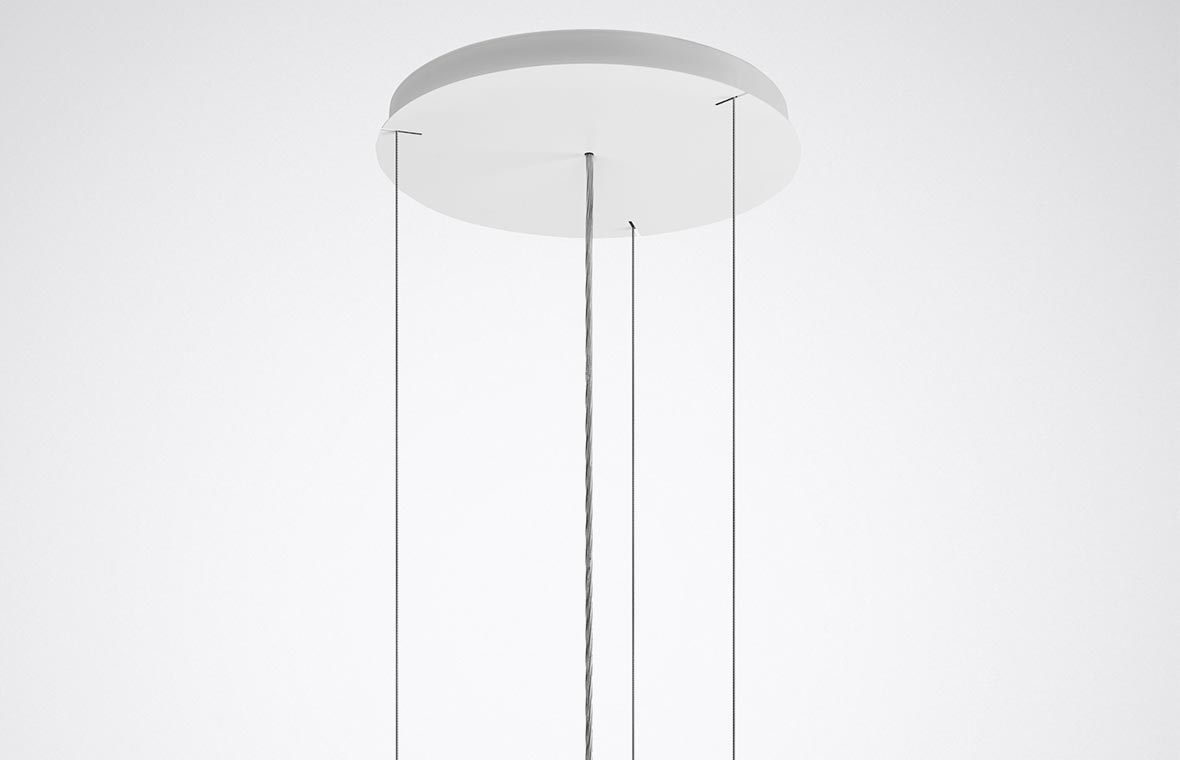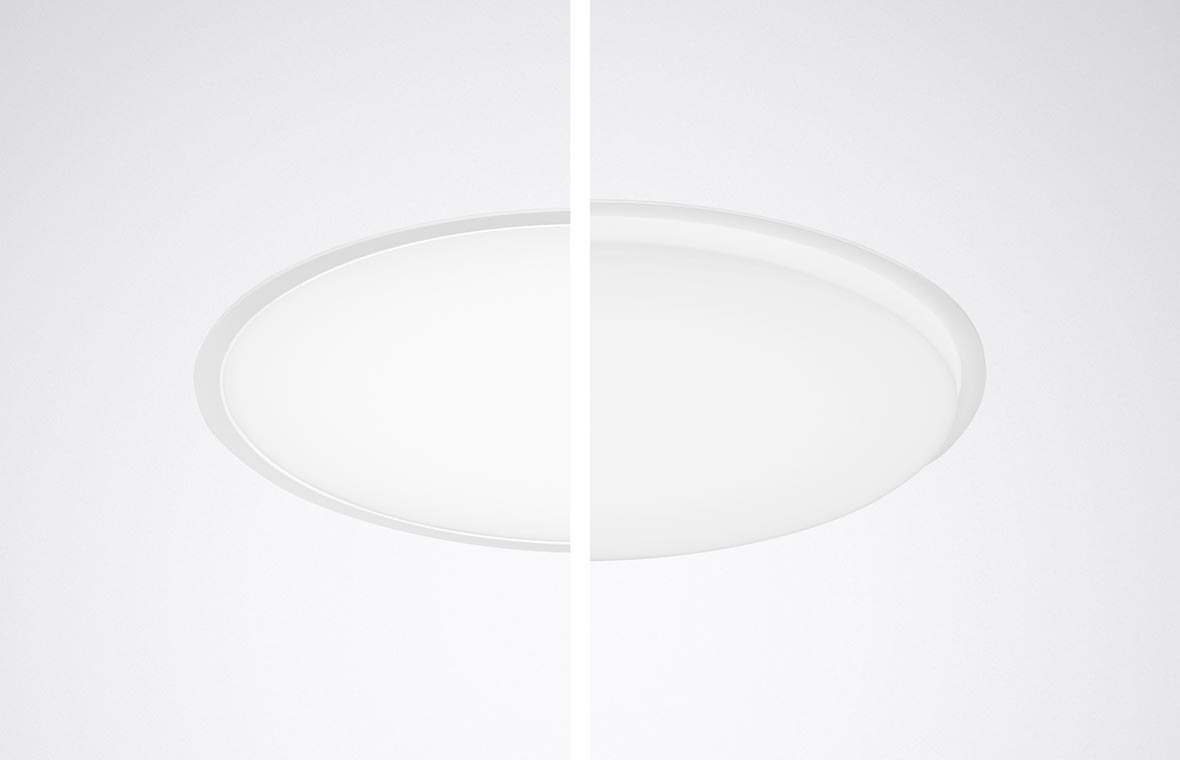 | Technical details | |
| --- | --- |
| A flexible series of round luminaires | yes |
| Available as | a surface-mounted or pendant luminaire, suitable for ceiling or wall mounting |
| Construction sizes: | ø 400 I 600 I 900 I 1,200 mm |
| 4 luminous flux packages: | 3,000 I 6,000 I 10,000, 20,000 |
| Optics: | opal, homogeneously illuminated cover (UGR<22), optionally available with accessory ZP CDP with highly efficient micro prismatics (UGR<19) |
| Illumination effect: | completely harmonious illumination effect due to uniform light emission, primarily direct light distribution, high level of lighting comfort due to decorative brightening of the ceiling. |
| Efficiency: | up to 140 lm/W |
| Service life: | 50,000 h, L80/B50, ta -20 to +25°C |
| Colour temperature: | 3,000 K, 4,000 K or the HCL version with 2,700 – 6,500 K |
| Edge: | available with opal, light-permeable edge or with accessory ZP or ZP CDP with closed, light-impermeable edge in multiple colours, height: 80 mm |