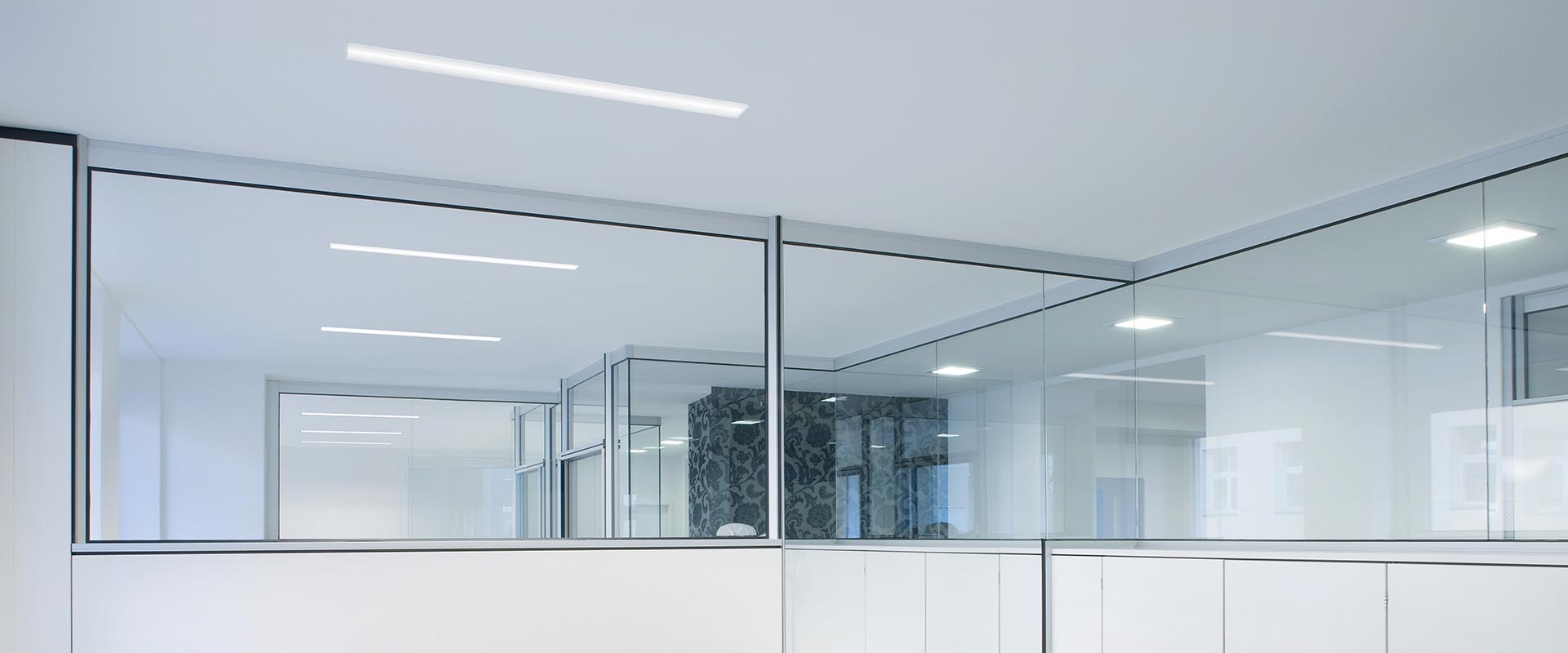 Solvan Flow LED
the all-round talent for more planning flexibility

Challenge
An increasing number of office buildings, school buildings, care homes and shops are upgrading to LED lighting solutions. The focus here is not only on energy efficiency. Solutions are required that can be flexibly adapted to the conditions on location – and that score points with their high quality of light.
Solution
The Solvan Flow modular system is the all-round talent for high-quality, energy-efficient light in the education, care, office and retail sectors. As a single luminaire, Solvan Flow sets effective accents and offers flexibility in lighting design with three methods of installation (recessed, surface-mounted and suspended). For larger lighting tasks, Solvan Flow simply becomes a seamless continuous line. A wide selection of optics – such as the standard-compliant LED micro-reflector optic for VDU workstations or the CDP-I optic for high quality planar light – ensure optimum visual conditions everywhere.
Browser information
The model cannot be displayed. Unfortunately your browser does not completely support this web technology.
Use Google Chrome for example to gain complete user experience.
Zoom
Scroll to zoom towards the model
Drag and Drop
Rotate the model by clicking and dragging
Change the background
Change the background colour with this icon
Close
Close the application with this icon
Product and application images
Advantages in lighting design
Adaptable – modular system for maximum versatility with lighting design
Every room has different lighting requirements. This is what Solvan Flow is made for: thanks to its broad modular system a wide variety of areas in education, care and offices can be equipped with customised lighting. With only one luminaire family and a consistent design throughout.
Strong performance – both solo and as a continuous line
Solvan Flow can be used either as a recessed, surface-mounted or suspended luminaire. Exactly the right accessories enable installation in various ceiling systems. For larger rooms, Solvan Flow simply becomes an uninterrupted continuous line. This offers lighting designers maximum flexibility.
Precision – the ideal optic for every visual task
Solvan Flow provides the right optical system for every application. With the directionally symmetric optics the focus is on energy efficiency. If, however, planar diffuse light is required, Solvan Flow proves its qualities with a uniformly illuminated CDP-I solution. As a UGR19 version, the luminaire is suitable for VDU workstations.
Fit for the future – light management as an option
The Solvan Flow modular kit also includes versions with integrated LiveLink light management system. This enables presence- and daylight-dependent control of the lighting system and further reduces energy costs.
Benefits during installation
A few simple steps – quick and easy mounting
With its modular construction concept, Solvan Flow LED is simply mounted in a few simple steps and largely without tools.
Clever accessories – a well thought-out installation concept
Installation accessories for plasterboard cut-out openings and panel ceiling systems facilitate installation.
Advantages in operation
Intelligent light – networking as an advantage
Solvan Flow is light management-capable and can be quickly and easily combined with the LiveLink light management system to form an intelligent network. This offers enormous possibilities, such as controlling the system via sensors for maximum energy efficiency or monitoring via the cloud for maximum transparency as well as innovative services such as predictive maintenance.
Blank modules – for tailor-made light and maximum efficiency
Ideal for non-dimmable versions of continuous lines, e.g. in renovation projects: blank modules enable continuous wiring of the continuous line. At the same time, the individual light points can be precisely aligned.
Attractive rooms – uniform design and a high-quality ambience
Everything fits: with Solvan Flow, even large areas and entire buildings with different lighting requirements can be illuminated in a uniform, range-typical style. The result: a particularly harmonious spatial effect.
Maximum flexibility
Everything is possible, from single luminaires as recessed, surface-mounted and suspended versions to continuous lines with integrated emergency light function.
Wide choice of light distribution characteristics
Solvan Flow is optionally available with a directionally symmetric, directionally asymmetric, diffuse or planar optic.
Tailor-made luminous flux packages
Right for any application: A wide selection of luminous flux packages from 3,000 lm to 6,400 lm enables targeted, efficient illumination of rooms.
Intelligent light
Fit for the future: Solvan Flow can be quickly and simply integrated into the LiveLink light management system, e.g. for presence detection and daylight-dependent control.
Simple mounting
Even complex configurations can be installed quickly, easily and largely without tools thanks to the modular construction principle.
High energy efficiency
Thanks to energy efficiency of up to 143 lm/W, the Solvan Flow system contributes to sustainably low operating costs and short payback periods.
Technical features
Reference
Value
Luminaire luminous flux:
3,000 to 6,400 lm
Connected load/efficiency:
Up to 143 lm/W
Service life:
50,000 h L80 at 25°C
Colour rendering/ - temperature:
830, 840, Active
Electrical version:
ET, ETDD, LLWM, LLWS, LLWC, LLWRM, LLWRR EB3, UR
Dimensions (L x W x H):
1,132/1,410 x 84/100 x 45 mm,
Continuous line-capable
Protection rating/safety class:
IP20
Glare:
UGR19/VDU for standard-compliant illumination of VDU workstations
Light distribution:
CDP-I, MRX, MRW, MRWD, MLA