Lumega IQ LED
FLEXIBLE OUTDOOR LIGHTING WITH INTELLIGENT FEATURES
Challenge
If access ways, paths, squares or streets need to be illuminated, the quality of light must be right and also provide safety and orientation. This also applies to areas and road sections where conditions for designing lighting are not optimal for designers and architects. If for example tight areas, buildings or walls limit the available scope, an especially adaptable lighting solution is needed.
Solution
The Lumega IQ LED post luminaire is modified with just a few flicks of the wrist from a bracket-mounted to a post-top luminaire. This is possible thanks to a single screw accessible from outside: the screw enables the inclination angle of the post luminaire to be quickly and simply adjusted. The wide selection of optics and LED systems provides even further flexibility. As a result, with the Lumega IQ LED almost all outdoor areas can be illuminated with high energy efficiency and according to standards. The post luminaire becomes especially efficient with high-performance light management systems and intelligent switching concepts.
Result
With the Lumega IQ LED TRILUX provides designers and architects with an extremely adaptable, high-performance outdoor lighting solution in the portfolio that can be flexibly used in almost any surroundings.
Product and application images
Mounting. Simple and quick.
Many practical and intelligent details such as tool-free replacement of components (E-block) simplify mounting and maintenance considerably.
Adjusting and converting. The patent for simplicity.
Flexible, practical and patented: With only a single externally accessible screw the inclination angle of the Lumega IQ LED is adjusted and the luminaire is converted from a post-top to a bracket-mounted luminaire.
Maximum safety. Reliable lighting.
Newly developed optical systems guarantee outstanding light distribution. The innovative optics ensure outstanding illumination and maximum safety, disturbance-free and continuously.
Efficiency. A matter of technology.
The energy efficiency of the Lumega IQ LED can be further increased via high-performance light management systems and application oriented, intelligent switching concepts.
TRILUX Outdoor light management
The TRILUX outdoor light management is a high-performance and user-friendly light management system with high levels of flexibility and transparency. The system enables outdoor luminaires to be simply and conveniently networked, controlled and monitored – this enables municipalities to drastically reduce their operating overheads.
Technical Features
"REFERENCE"
"VALUES"
"Luminaire luminous flux:"
"Lumega IQ50: 1,000 lm - 5,600 lm
Lumega IQ70: 3,200 lm - 12,000 lm
Lumega IQ90: 13.500 lm - 22.000 lm"
"Connected load/efficiency:"
"Lumega IQ50: 10 W - 31 W / bis zu 120 lm/W
Lumega IQ70: 29 W - 104 W / bis zu 132 lm/W
Lumega IQ90: 108 W - 197 W / bis zu bis 128 lm/W"
"Service life: "
"> 100.000 h L80"
"Colour rendering/colour temperature:"
"730, 740"
"Electrical version: "
"LR, LRA, ETDD, optional: LMS"
"Dimensions (L x W x H):"
"Lumega IQ50: 555 x 290 x 98 mm
Lumega IQ70: 760 x 325 x 98 mm
Lumega IQ90: 960 x 325 x 98 mm"
"Protection rating/safety class/impact resistance: "
"IP66 / safety class II / IK08"
"Light distribution:"
"MLTIQ / asymmetric wide distribution (AB.L) / pedestrian crossing, left and right distribution (F.1L) /
symmetric wide distribution (SB3L) for cycle and foot paths (LIQ50)"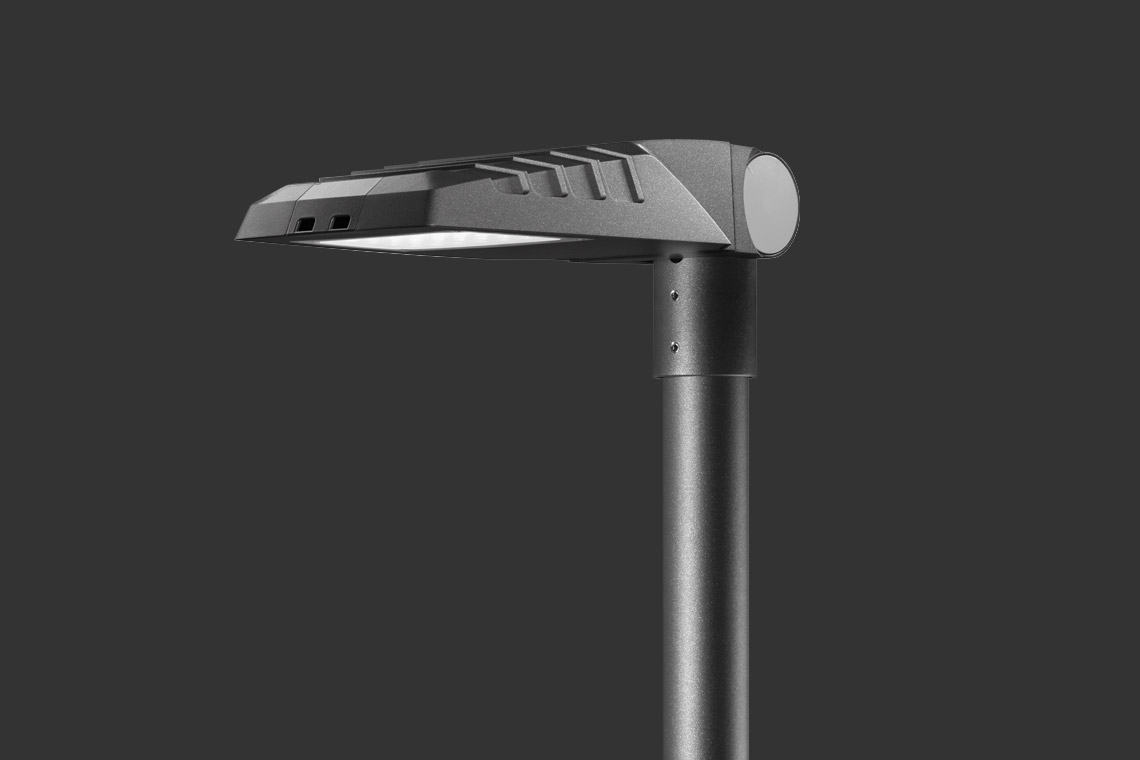 Lumega IQ LED
view in the online catalogue