The Bicult LED Update is here!
Perfect light from the executive office to the Home Office
Date

Category

Trilux Visions

Comments
No one else can do that: our award-winning Bicult LED desk luminaire provides perfect lighting conditions both inside a room at home and at the workplace. And all this from the desk, without dazzling nearby people with its indirect light component. Now we have made this clever desk luminaire even more user-friendly.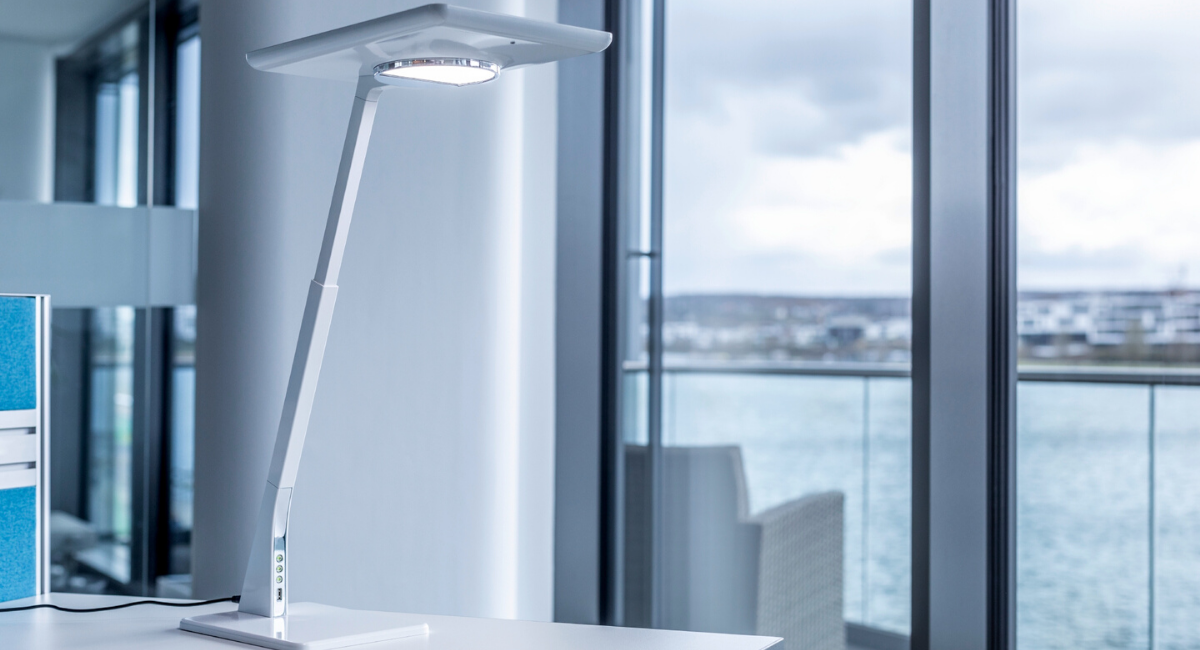 With the Bicult LED, an individualised, complete lighting scheme is always just a plug-in away. Through its individually adjustable direct and indirect light components, the innovative desk luminaire creates tailor-made visual conditions for every situation and work task. Thanks to a special glare-free optic for the indirect light component, it is possible to brighten up the ceiling from the desk without dazzling people stood close by. The luminaire is also clever; as an Human Centric Lighting version, it brings natural sunlight into the office. Via an app., light colours and intensity can be adjusted, and light scenes can be configured, saved and retrieved. The response of the market has been overwhelmingly positive; the Bicult LED has received, amongst others, the design plus award and the German design award for its innovative design.
Creating space on the desk!-Update with new screw base and USB connection.
With an update we have adapted the Bicult LED to consider the individual user needs and general conditions of the office. Space, for example, is a scarce commodity on some desks. For this reason, the new Bicult LED, is now also available with a practical screw base that matches the design concept. A further practical detail is the USB port integrated into the base for charging smart phones et cetera. Just like its predecessor, the Bicult LED can be controlled either via buttons or a smart phone app. Users can also store their personal settings on the intuitively operated app – and access them automatically or manually as desired.
Bicult LED - The perfect equipment for the home office.
Although lighting standards apply for the Home Office just as they do in a regular office, the lighting conditions on the home desk are often significantly worse than at the office. One of the reasons is that the ceiling lighting is only rarely matched to the workplace in domestic designs. The Bicult LED Can quickly solve the situation: simply place it on the desk, plug it in and set the direct and indirect components to suit your personal choice either via the app or manually. Save it as a home office configuration, and a desk is transformed into a professionally and stylishly illuminated Home Office workstation in line with the motto: best light for best performance.