Have a great Comeback
JLL impresses with its newly built New Work Office
Date

Category

Trilux Inspirations

Comments
What can be done to ensure that employees in post-pandemic London are happy to switch from working from home to the office again? The international real estate group JLL (Jones Lang LaSalle) shows how it's done. They have converted the second and third floors of the office building at 20 Water Street (Wood Wharf), London (UK) into a future-oriented New Work working environment for its employees. The property is part of London's Wood Wharf project, an up-and-coming office hotspot with a total of around 170,000 square meters of innovative workspace including outdoor areas.
Extremely demanding requirements? No problem!
The redesign goals of the 6.300 sqm large office space were extraordinarily ambitious: a collaborative, sustainable, integrative, health-oriented, technically intelligent, energy-efficient and flexible workplace. In short: a place where everyone really enjoys working. In addition, the office space should meet the sustainability criteria of WELL Platinum, SKA Gold and BREEAM Excellent. This is not only associated with high standards of energy efficiency and environmental friendliness, but also with the individual well-being of employees. Accordingly, there are - in addition to flexible desk workstations - a large number of collaboration and meeting rooms, each with individual requirements in terms of lighting technology, installation type and design. These are perfect framework conditions for our high-quality and wide-ranging solution portfolio.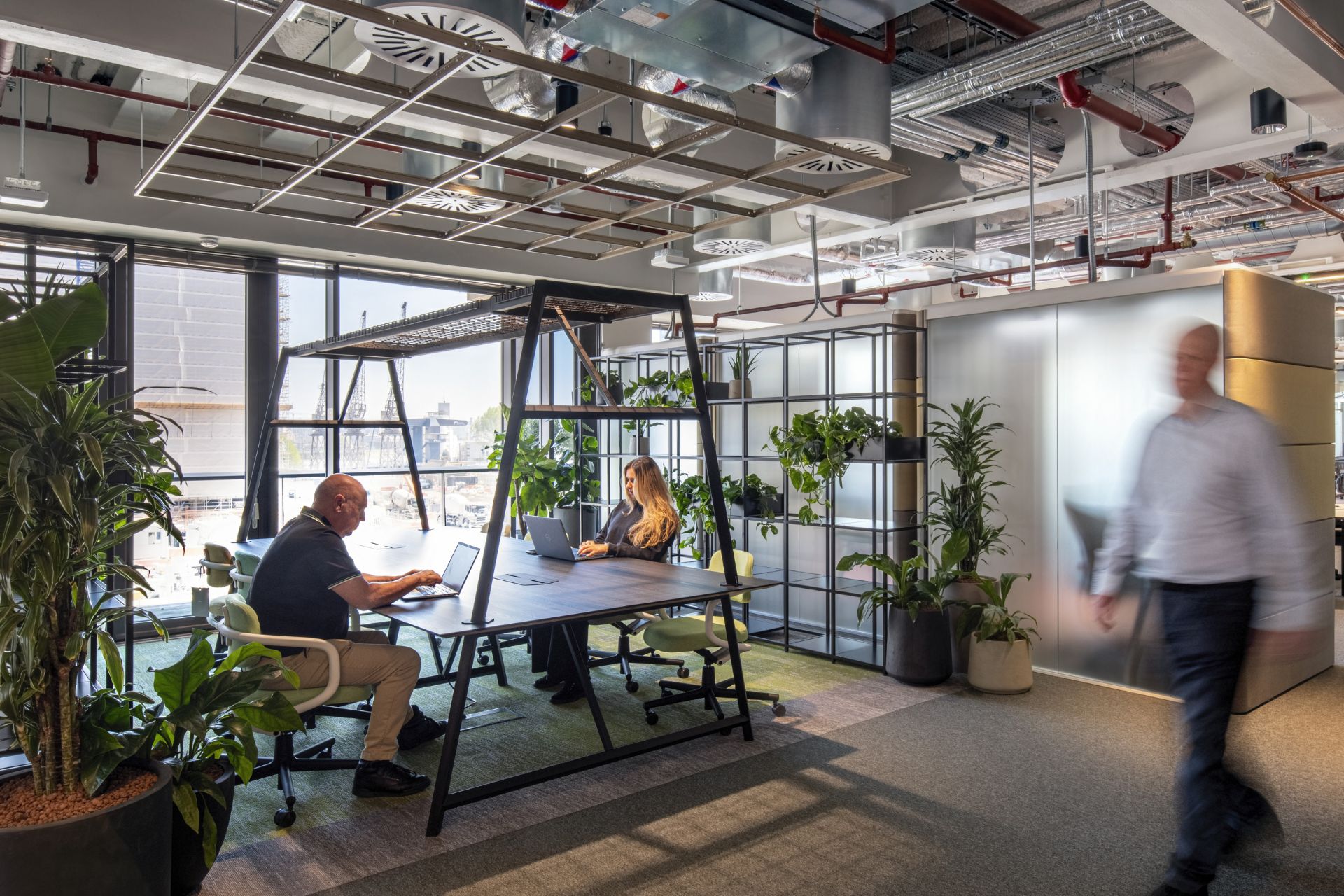 Holistic lighting concept for all areas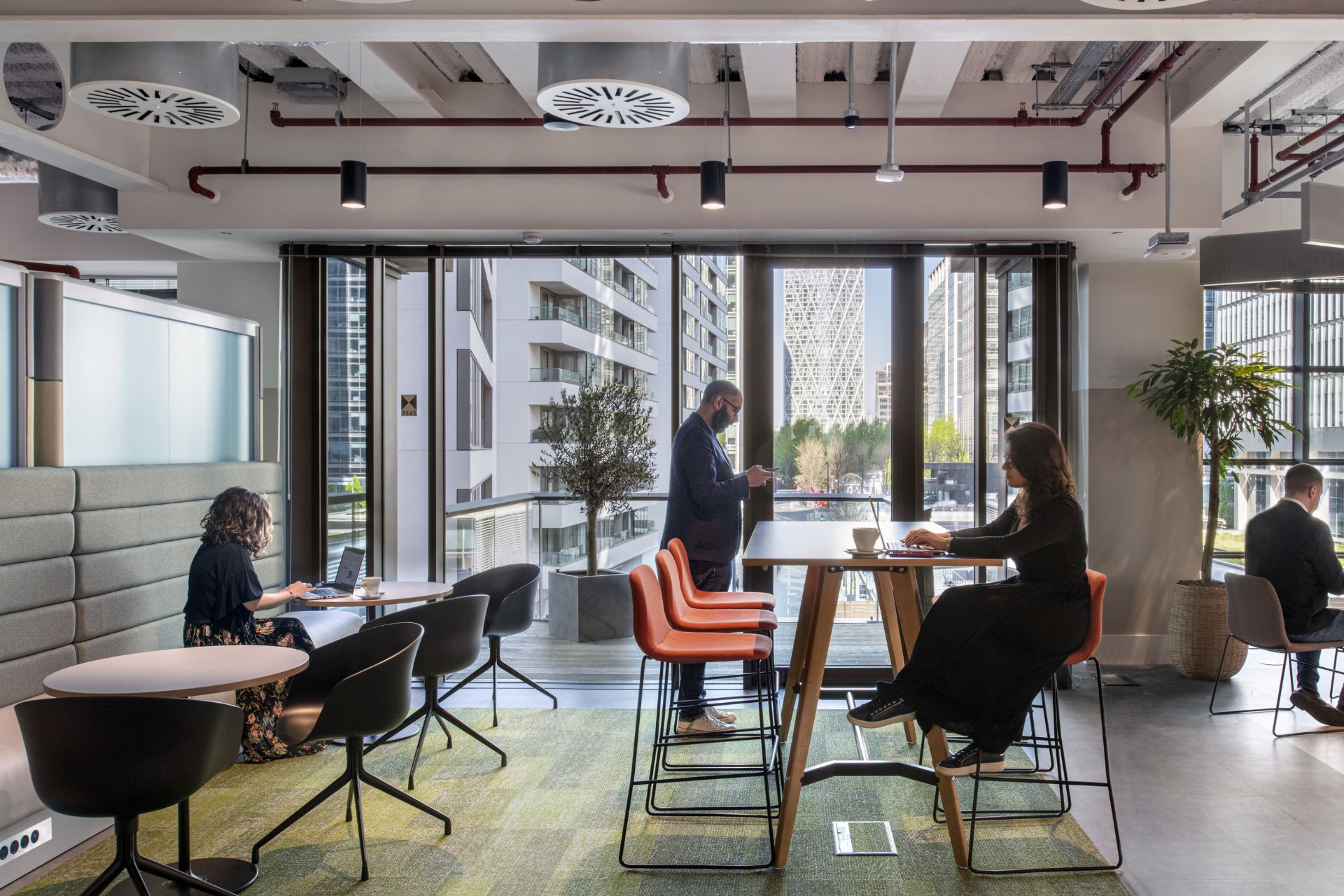 The extremely flexible Sonnos LED downlights, applied in different varieties, are the most important solutions of the lighting concept. On the one hand, these luminaires meet the high requirements for light quality such as Ra 90, and on the other hand, thanks to the enormous selection of sizes, colors, lighting technologies and types of installation, they can be perfectly adapted to individual architecture and room use. We installed a mixture of Sonnos LED surface-mounted, pendant and recessed downlights in different sizes, which are all equipped with customized lighting technology. They are supplemented by CANILO pendant lights, in a color that coordinates with the corporate CI. The FINEA light channel also has a strong presence, either as a right-angled line of light or as a ring of light with a diameter up to three meters. In addition to lighting technology, all luminaires take on design tasks and harmonize perfectly with the New Work architecture with open ceilings, visible pipes and cable ducts.
The result: attractive New Work spaces
Unlike in classic offices, the workstations are not the focus in the new JLL Office, since the New Work concept opens up new spaces for collaborative work. The desks - in the so-called hot desk areas - are used flexibly by the employees according to the desk-sharing principle. The E-Line Next LED provides the right light as a UGR-19 variant and PIR motion detectors minimize energy consumption.
All the lights are networked via a light management system and, with their DALI-2 driver data, provide extensive information for optimizing building efficiency. For us, the project is perfectly showcasing how architecture and lighting can work together in the interests of people and nature, and thus creates new enthusiasm for working in the office. We are sure that we will see more of this in the future!