Lighting the future
TRILUX lighting scheme provides young learners the setting they deserve at Jedburgh Grammar Campus
Date

Category

Trilux Inspirations

Comments
The Jedburgh Grammar Campus in Scotland, which was part of the 'Schools for the Future' programme, is a new innovative learning space that serves 2 to 18-year-olds and provides further education opportunities and community facilities. The new £32m campus completed in 2020 was a partnership project between Hub Southeast, Scottish Borders Council, and BAM Construction Scotland.
It replaces the three schools in the town and provides for nursery, primary, secondary, and additional support needs pupils. Community facilities include:
A multi-use games area (MUGA)
2 G hockey pitch
3G sports pitch
100 m synthetic running track
300 m grass track
Gym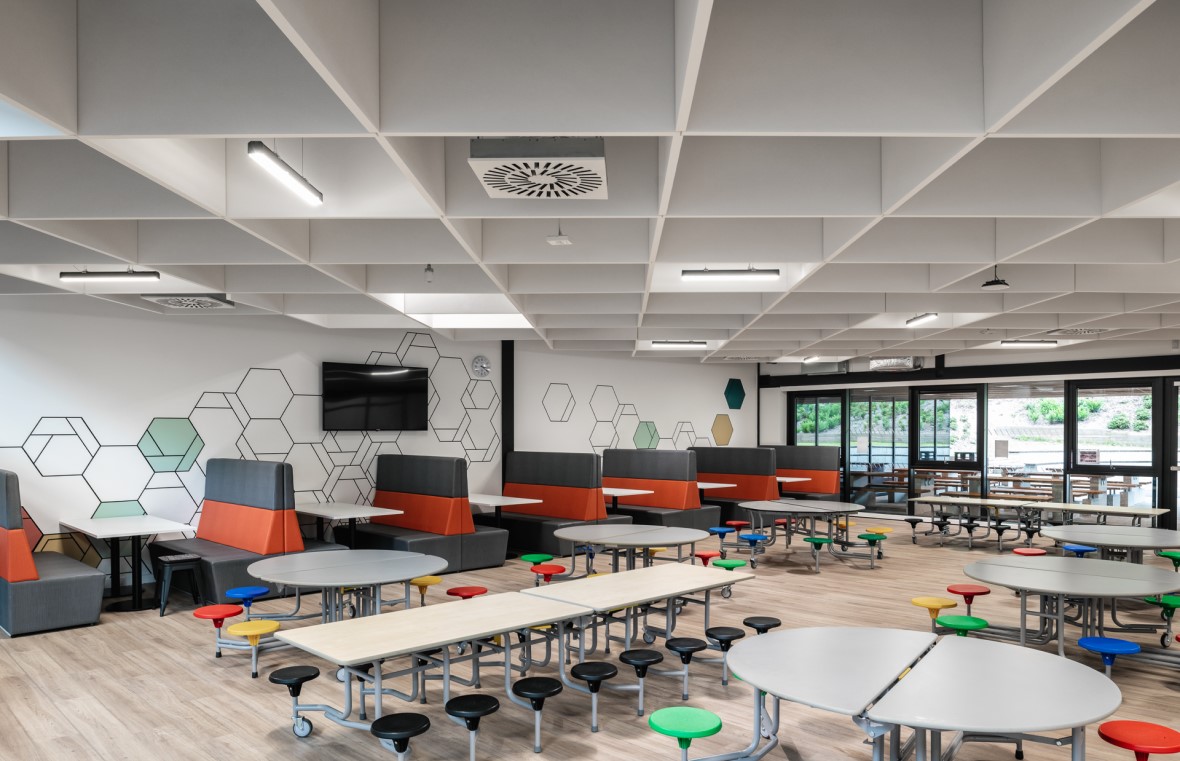 Alongside classrooms, there is a rural skills area and flexible hall space available for multiple activities such as community events, sport, dance, or drama classes, and a café. The public library and contact centre are also housed on campus, catering for all community ages in one location.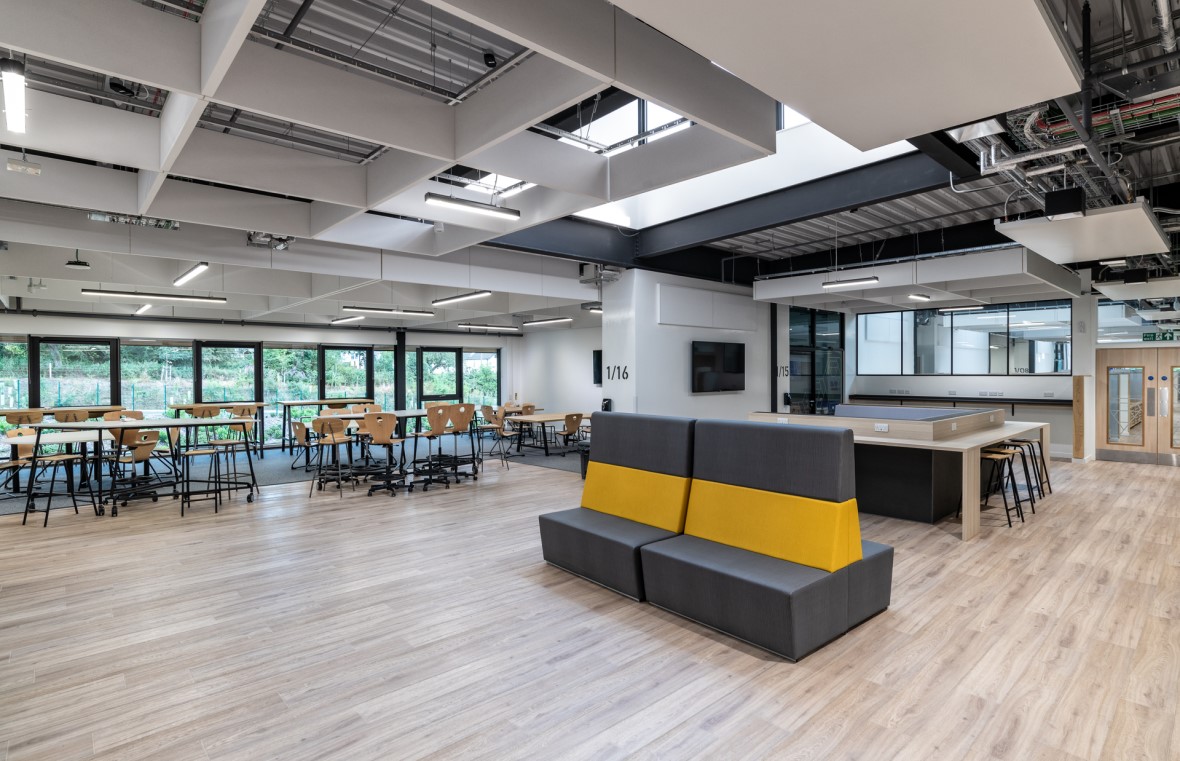 The project's consulting engineers Davie + McCulloch, carried out a full energy and sustainability enhancements assessment and report, which secured additional funding from Scottish Futures Trust for further fabric enhancements such as further solar PV panels and lighting enhancements. Detailed daylight and natural ventilation analyses were also undertaken to ensure the building provided maximum efficiency and optimum environmental conditions.
Davie + McCulloch worked with TRILUX to deliver a first-class lighting scheme that is energy efficient, aesthetic, and reflects the innovation and individuality of the new campus. Today, contemporary lighting in educational establishments focuses on the diverse needs of pupils, students, and teachers. TRILUX offers ideal solutions for the complete spectrum of educational applications. The range of education lighting luminaires is designed to enhance the learning atmosphere and perform from an operational point of view, protecting both budget and the environment with low power consumption and maintenance costs.
Form and function
As the main lighting supplier on the project, a combination of TRILUX's education range was selected to light the school's interior and exterior, including, Arimo, Deca, Lobu spots and 74Q. The statement pieces of the scheme are six feature pendants in the atrium, composed of C-line LED continuous line luminaires.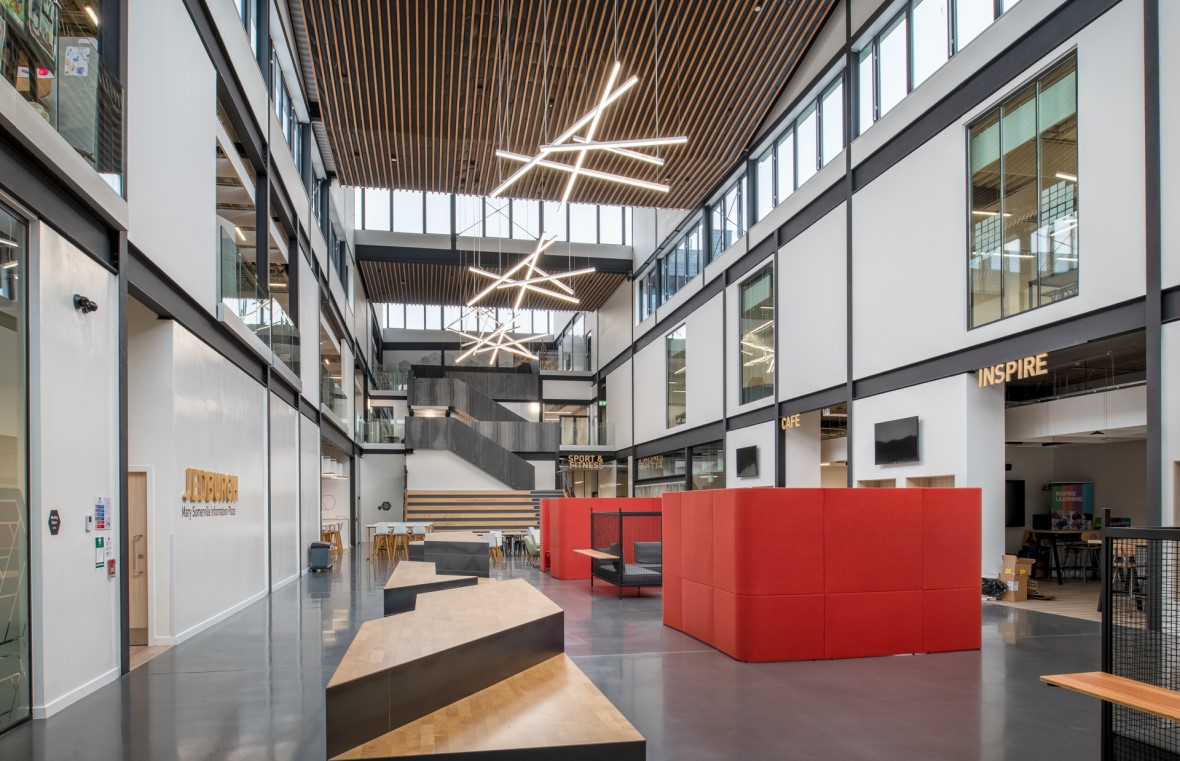 Designed for learning
The brief for the classrooms was to create an ideal learning and teaching environment. In our current well-being-focused climate, it is no longer enough for lighting to simply provide brightness. It should aid concentration. TRILUX's suspended 750 mm E-Line modular system delivers maximum quality of light and efficiency of up to 190 lm/W for the classrooms and was installed in conjunction with the acoustic baffles. The square suspended SONNOS downlight further enhanced the scheme.
Minimum dimensions with maximum power
The MUGA is lit with Mirona Fit-SPO LED. A high-power, ball-proof luminaire, it provides reliable continuous safe lighting for the town sporting activities.
Kenny Alexander, Associate Director, Davie + McCulloch • Consulting Engineers (M+E), comments, "The technical performance and extensive range of lighting available from TRILUX helped to deliver a high quality and consistent lighting solution throughout the Campus. The expertise and support provided by TRILUX locally and at head office helped greatly with the overall success of the lighting on the project."
Steven Renwick, Scottish Borders Council, adds, "Scottish Borders Council has been delighted with the way that the selection of TRILUX luminaires and feature lighting really provide a consistent and focused lighting level within Jedburgh Grammar Campus that sits well with the overall design and layout. Everything just really works well in a coordinated way to give the young learners the setting that they deserve."
The new facility has won Silver in the Best Education and Higher Education Project category of the 2020 Partnership Awards.
Project team
Consultant: Davie + McCulloch - Consulting Engineers (M+E)
Electrical Contractor: Forth Electrical Services