Lighting the way
Trends and potentials of industrial lighting
Date

Category

Trilux Visions

Comments
In the quest for future-proof industrial lighting, considerations like cost-effectiveness, the human element, sustainability, and digitization must work together. This article provides an overview of emerging trends, essential requirements, and untapped potentials.
ECONOMIC EFFICIENCY IS A MUST IN BUSINESS
---
Top Priority: Energy guzzlers
Especially in the industrial sector, outdated and inefficient luminaires like T5/T8 continuous rows remain prevalent. By replacing them with highly efficient LED luminaires, companies can save up to 114 euros per light point. But the benefits don't stop there; this switch also reduces their carbon footprint and enhances the quality of working conditions for employees with improved lighting. Tip: Consider a lighting refurbishment without any upfront investment, such as our Light as a Service offer.
Energy savings with LED light compared to conventional 2x58Watt: up to €114 per year per fixture.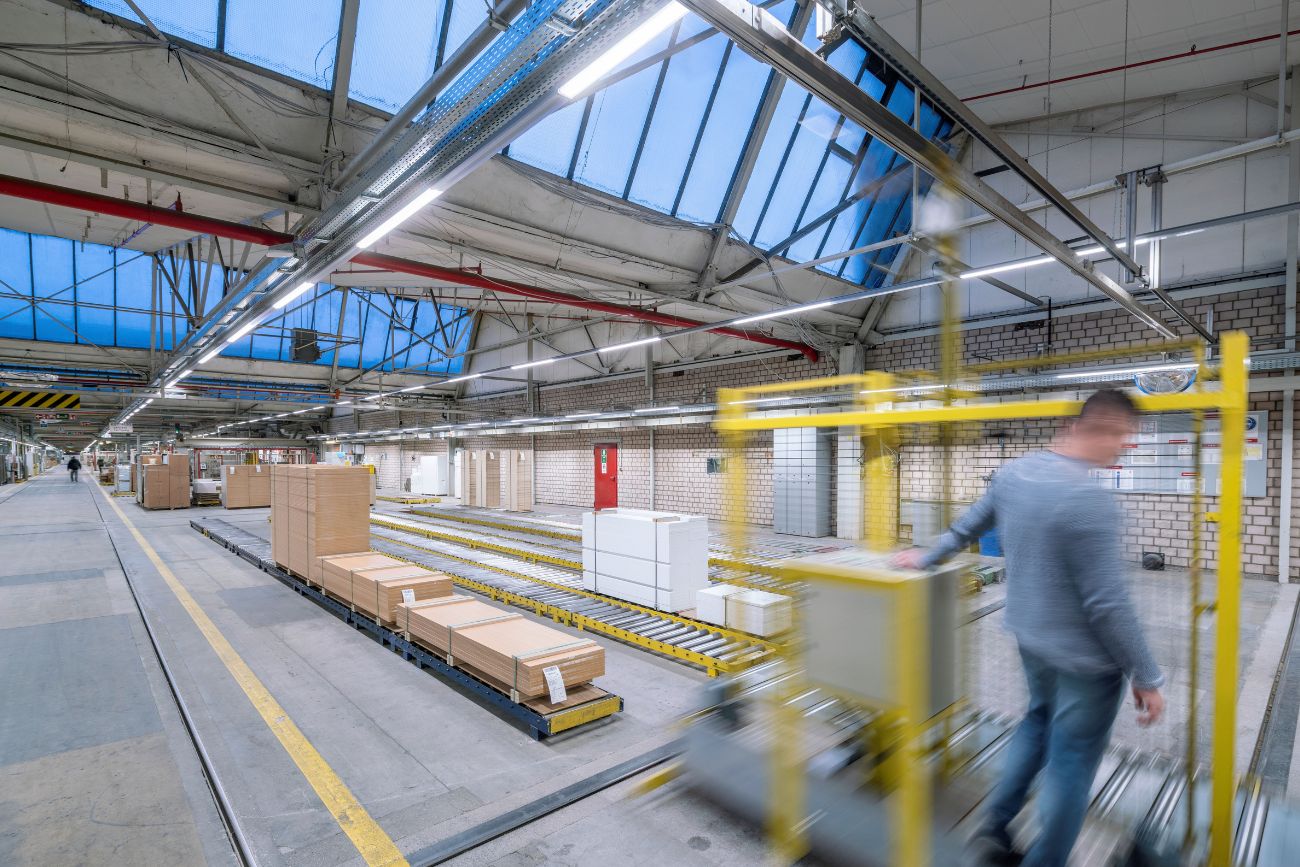 Barter deal: 85 percent less for 25 years
In the realm of forward-thinking industrial lighting, energy efficiency and service life are intertwined. Upgrading traditional lighting with LED luminaires and light management can reduce energy costs by up to 85%. Moreover, with durable TRILUX luminaires, you can enjoy these savings for the long haul. These luminaires boast a service life of up to 100,000 hours, ensuring 11 years of excellent lighitng in continuous operation or 25 years in a 2-shift setup—with minimal maintenance effort and costs.
Retrofit: little effort, but many questions
It may seem straightforward: swapping an inefficient lamp for an LED retrofit solution can indeed decrease energy consumption with minimal effort and low upfront costs. However, it's not as straightforward as it sounds. Retrofitting raises a multitude of questions, particularly concerning compliance with lighting standards, occupational safety, and warranties. Furthermore, retrofit solutions tend to introduce more complexity and less reliability in areas such as light management when compared to complete LED systems. If you're curious about what factors to keep in mind, our retrofit checklist can provide valuable insights.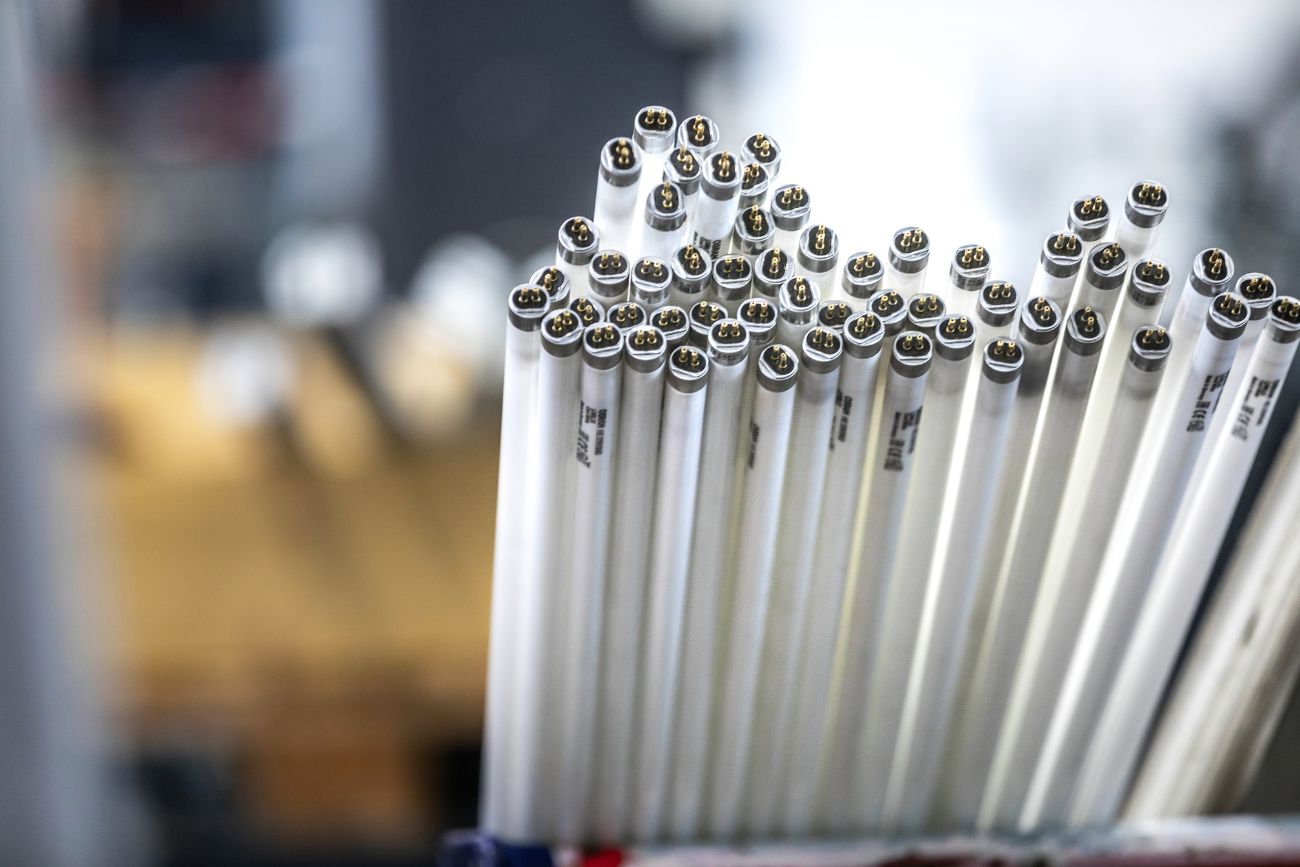 Artificial light and daylight: a sustainable dream team
Whether it's overcast or sunny, achieving the ideal balance between artificial light and natural daylight in a room can be a day-long challenge. However, it becomes much simpler with a lighting management system, dimmable luminaires and daylight control. This system consistently assesses the current room brightness, supplementing artificial light only as needed to maintain the desired ambient lighting level. The result? Optimal visual conditions around the clock with minimal energy consumption."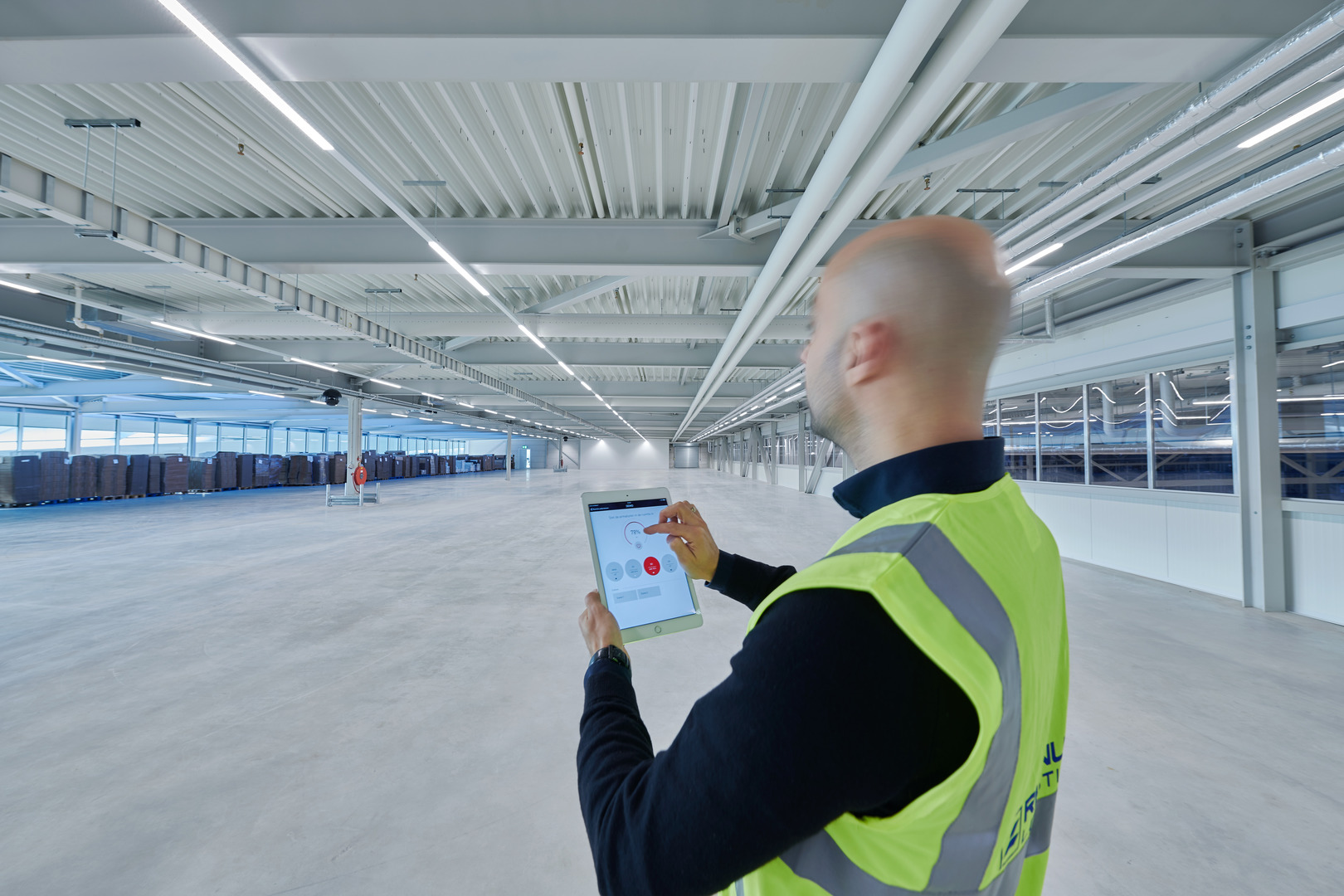 THE HUMAN FACTOR IS GAINING IN IMPORTANCE
---
Stay Alert: better light for better results
Excellent lighting quality plays a pivotal role in ensuring a pleasant, safe, and productive work environment. It increases concentration and minimizes error rates. Key elements include customized light distribution, precisely matched luminous flux packages, low glare, and high color rendering. Furthermore, adaptable systems that allow employees to adjust lighting according to their individual preferences and specific tasks provide tangible advantages. Discover more about industrial lighting trends and driving factors here.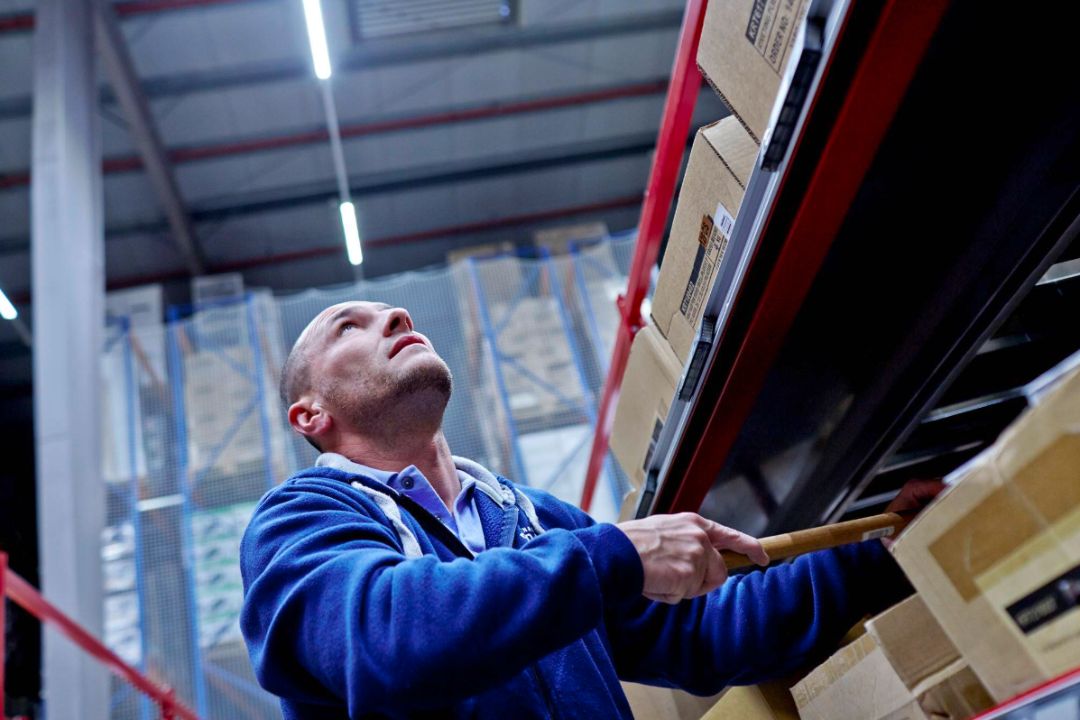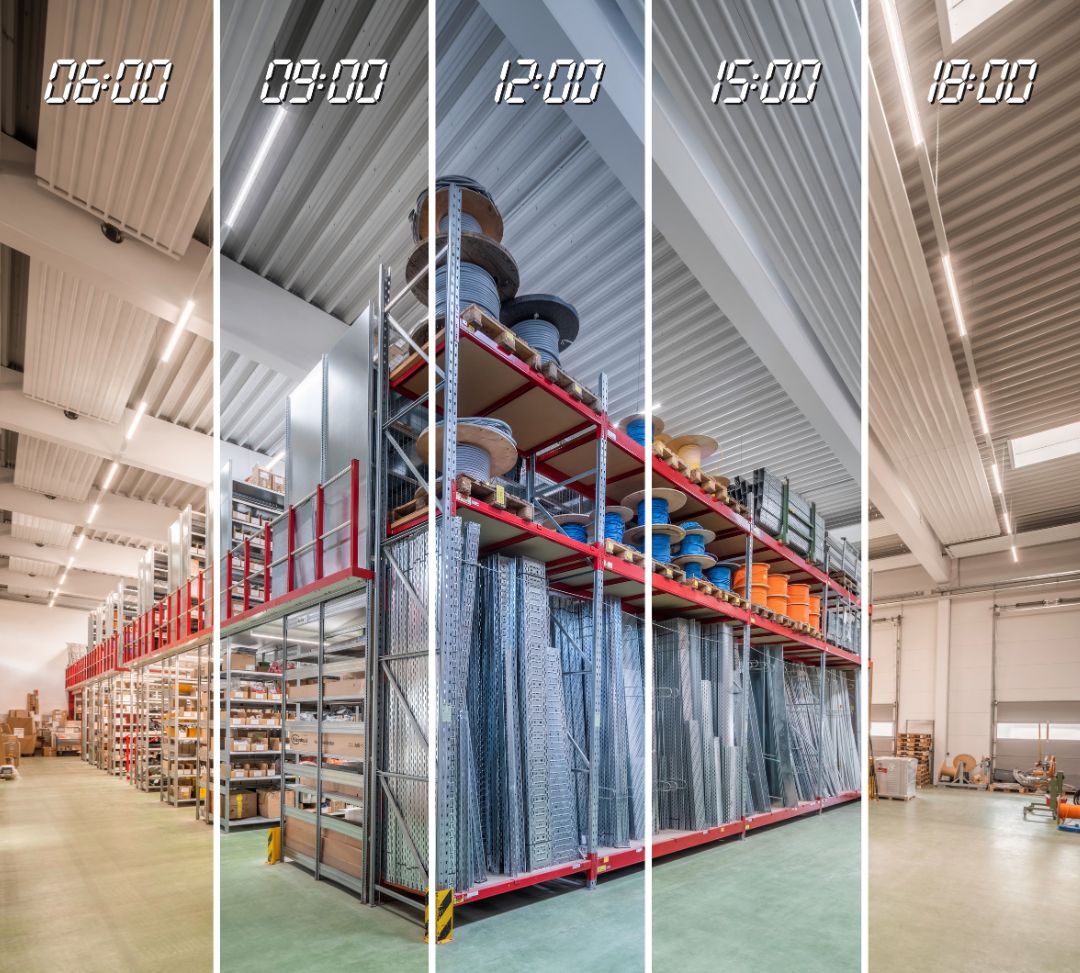 HCL: Light for people, not just machines
While automation continues to advance in the industrial sector, the importance of providing high-quality lighting that considers the well-being of workers is steadily growing as a competitive advantage in the quest for skilled labor. Human Centric Lighting (HCL) solutions change their spectral composition (i.e., the light color) to mimic daylight. This "nature-identical" light is perceived as exceptionally pleasant and enhances the sleep-wake cycle as well as overall well-being. Consequently, HCL solutions hold immense potential.
SUSTAINABILITY: A MATTER OF FUTURE SECURITY
---
Take a Deep Breath: Saving CO2 Emissions Equivalent to 7 Billion Cars
With an electricity consumption of just under 4,000 TWh in 2021, the industrial sector in the EU is responsible for emitting over 3.5 gigatons of CO2, with lighting contributing to about 10 percent of this total. The potential for reduction is correspondingly significant. Retrofitting lighting with LEDs and implementing lighting management can cut energy consumption and the associated CO2 emissions by up to 85 percent. This is equivalent to the annual CO2 sequestration capacity of 11 billion trees, the energy consumption of approximately 3.7 million four-person households, or the CO2 emissions of 7 billion cars per 100 kilometers.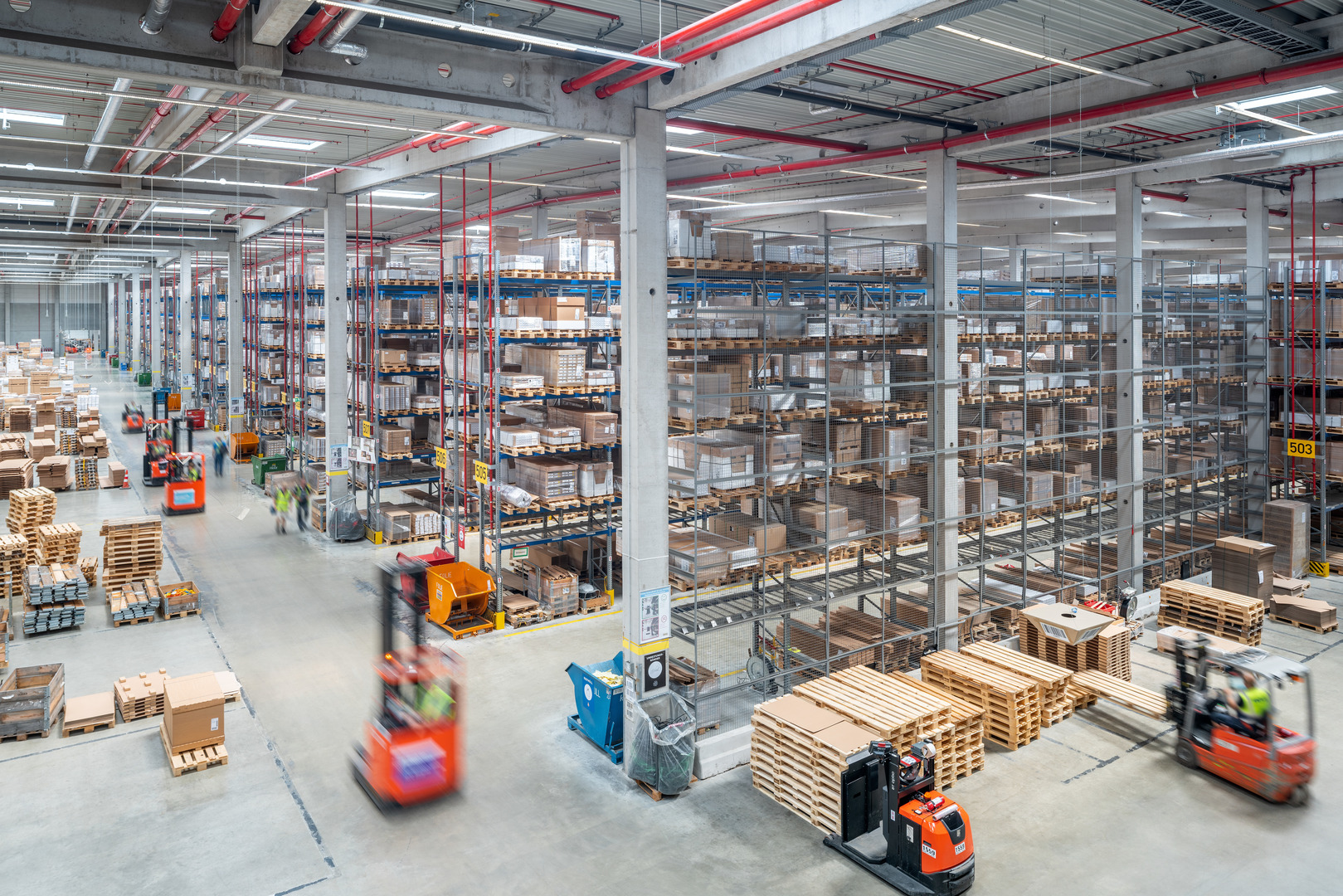 A pioneering project with Rewe illustrates what's achievable.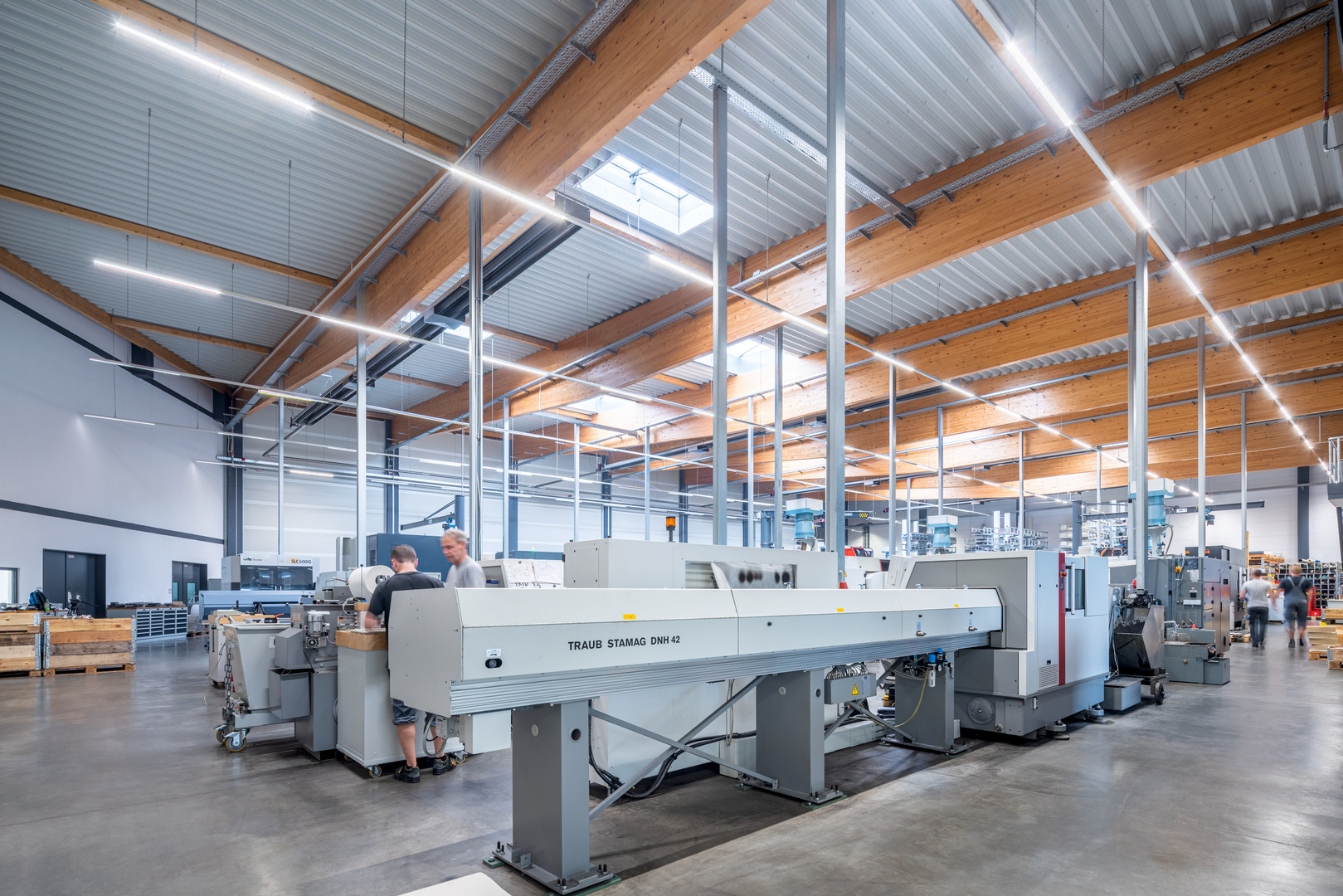 Modular: A Silent Environmental Hero
Modular LED luminaires come with numerous advantages, notably in terms of sustainability. TRILUX solutions, for instance, can be easily upgraded by replacing specific modules, with more efficient next generation technology. Maintenance is also simplified with modular luminaires: straightforward component replacement extends their lifespan, thus reducing resource consumption. Additionally, modular luminaires are very easy to recycle.
LIGHT: Pioneering Digitalization
---
Monitoring: The More, the Better
Dimmable DALI luminaires (ETDD) outperform basic switchable solutions (ET) in various aspects. DALI luminaires can be precisely controlled and monitored through lighting management, offering convenient access, via cloud-based solutions. Real-time monitoring of operational data also lays the groundwork for sustainable and cost-effective features like predictive maintenance. If the system detects any issues, such as anomalies in temperature or energy consumption, it automatically alerts the responsible service center.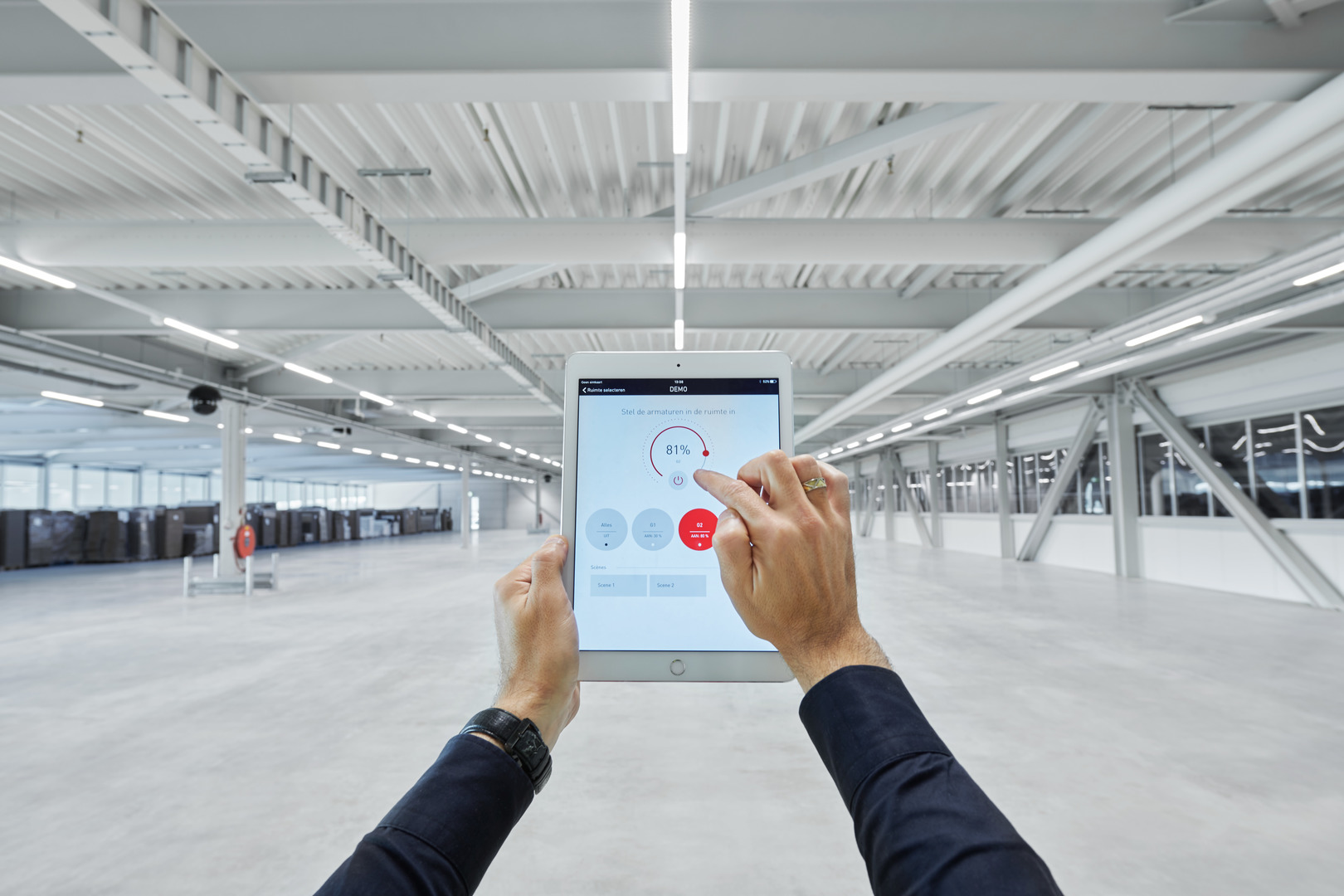 Discover the possibilities of a cloud connection in our concise overview.
IoT infrastructure: endless possibilities
Whether it's in logistics or warehouses, lighting plays a ubiquitous role in the industrial sector. When thoughtfully designed, intelligently networked lighting can undertake tasks that extend far beyond its core purpose of illumination. Open interfaces are crucial in this context, serving not only to integrate conventional sensors into the network but also to seamlessly incorporate a wide array of IoT components. These components range from WiFi routers, cameras, screens, and speakers to beacons for location-based services like heat mapping or indoor navigation. Furthermore, hassle-free integration of these modules is feasible, making smart lighting an integral and driving force behind digitalization. How about Industry 4.0?