Quality and IoT for Education and Office
Highly gifted– Opendo LED for Education and Office
Date

Category

Trilux Inspirations

Comments
Arnsberg, February 2021 – Schools are tough places, not only for the students but also in terms of lighting. After all, each of the different areas have special requirements for the lighting solution, e.g. asymmetrical blackboard lighting or glare-free UGR19 light for VDU work. Perfectly prepared: Opendo LED, specially designed for the requirements in schools and offices. The luminaire emits homogeneous, pleasant planar light and has an attractive borderless light emission surface across the entire width of the luminaire. Thanks to a large selection of optics and installation types, Opendo LED can be precisely adapted to any application.
When it comes to being smart, Opendo LED is clearly set on course for the future: The luminaires can be networked via the LiveLink light management system, combined with sensors, and conveniently monitored and controlled via the cloud. Other genuinely unique features are its "turnkey" IoT modules which simply integrate into the lighting network. For instance, CO2 sensor systems for monitoring air quality can be implemented in a flash and without extensive conversion work using Opendo LED as the infrastructure.
Schools and offices sometimes have highly specific functional and architectural lighting requirements. In addition to classrooms and specialist laboratories, stairwells, corridors and ancillary areas must be illuminated correctly. From an architectural point of view, beams in concrete ceilings often make it difficult to use continuous lines luminaires. In terms of functions, every school area requires an individual, customised light distribution. With Opendo LED, all these requirements can be met with just one luminaire range. It can be installed as a surface-mounted or suspended luminaire, as a continuous line or as an individual solution, adapting flexibly to any architecture. At the same time, a wide range of optics ensures perfect light for every application, for example asymmetric whiteboard lighting or UGR19 for working on a screen or tablet. This wealth of versions makes it possible to illuminate schools and offices in a uniform design across all areas.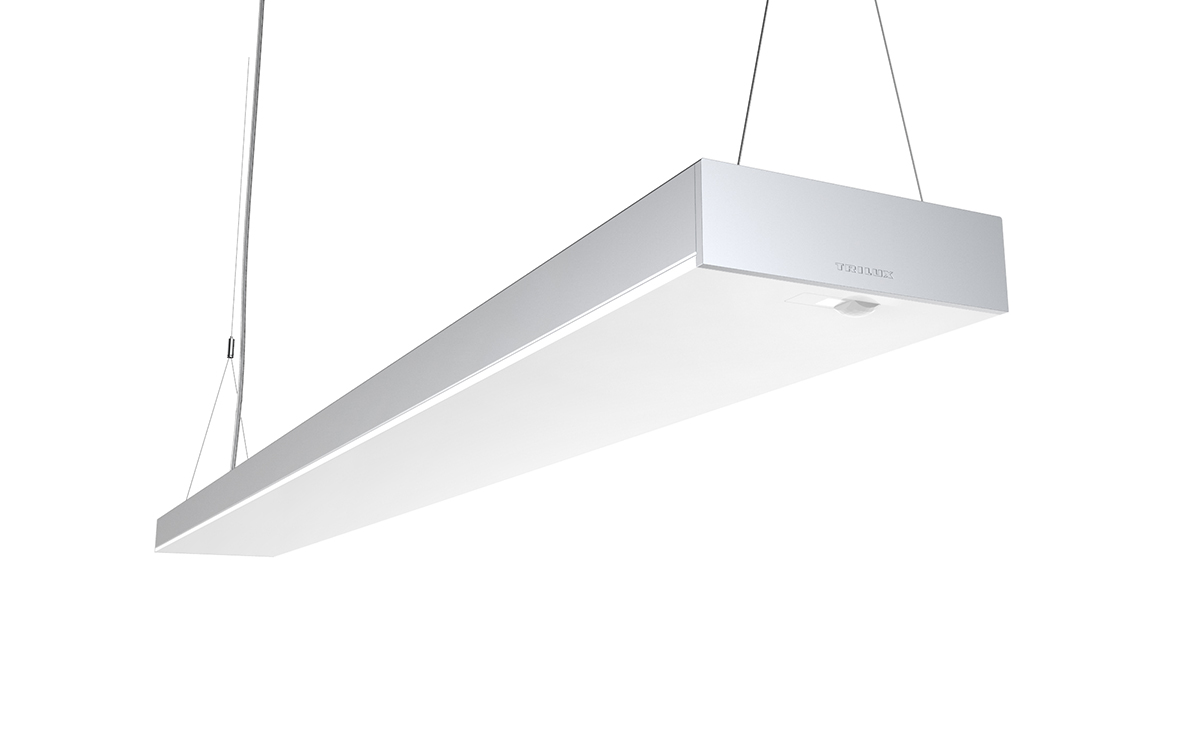 Simple installation, economical operation – everything adds up
In operation, Opendo LED keeps costs permanently low with an efficiency of 130 lm/W and a service life of L80 50,000 h Its economical and sustainable nature does not stop at maintenance: Individual components such as the control gear can be replaced separately, which simplifies maintenance and reduces costs. Installation is similarly simple – especially when it comes to renovation. Luminaire width, feed points and drill holes are all designed for a quick 1:1 refurbishment of the predecessor TRILUX 504. Installing Opendo LED as a continuous line is achieved efficiently with only one infeed thanks to through-wiring.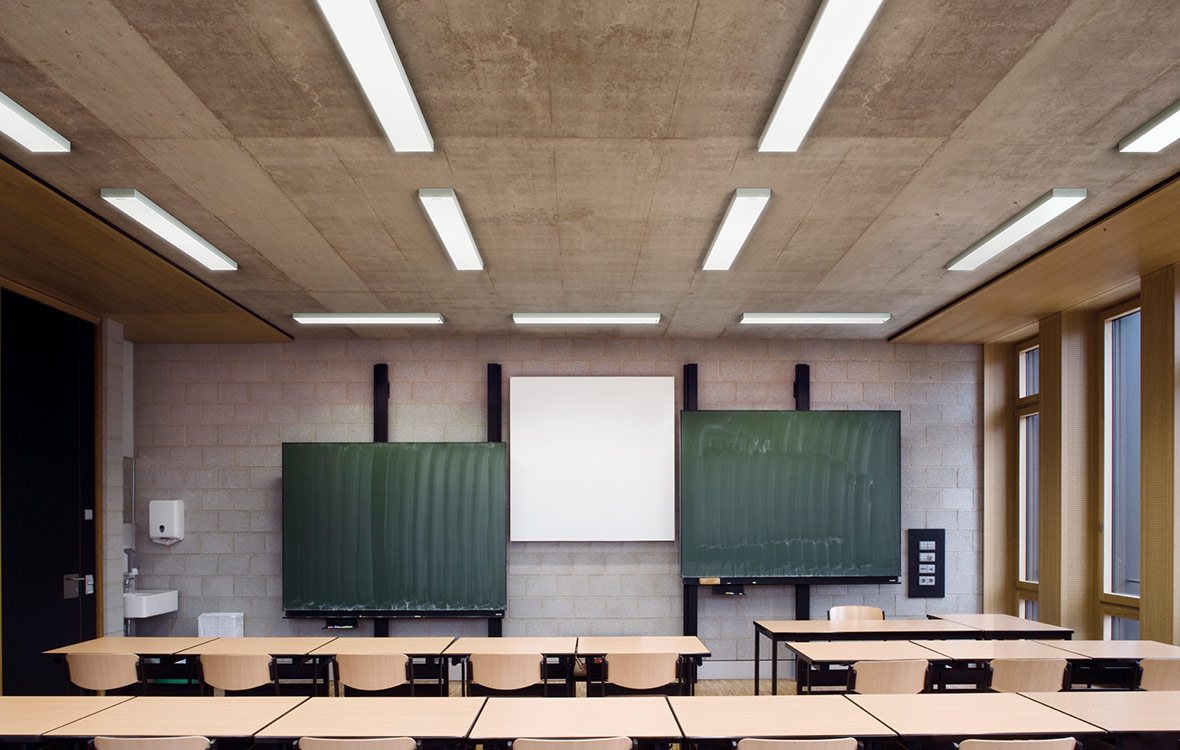 Advanced-level light – quality, networking and control
The better the light, the better the learning and working conditions. This is why Opendo LED is all about quality of light. A special feature is its borderless light emission surface across the entire luminaire width that provides homogeneous and particularly uniform light. In the future, Opendo LED will also be available as a Human Centric Lighting version, with its spectral light composition changing according to the natural progression of daylight. This strengthens the biorhythm, improves performance and increases well-being. Opendo LED + LiveLink = smart system with ease: The luminaires are simply networked via the LiveLink light management system and combined with sensors for presence detection or daylight control. This reduces energy usage, leading to a more sustainable approach. The system can be conveniently controlled and monitored via a cloud access. Digital monitoring services by TRILUX (Light Monitoring and Energy Monitoring) evaluate the operating data of each individual light point in real time. This data serves as the basis for usage-based maintenance (predictive maintenance), which is more cost-effective and safer than rigid intervals.
The first luminaire with CO2 sensor technology
A strong argument in favour of Opendo LED is its readiness for IoT – and thus the future. It can be equipped with various IoT components and take on tasks that go way beyond lighting. A "turnkey" luminaire module with integrated CO2 sensor technology is ideal for monitoring air quality in schools and offices. The system reports a need for action via a three-level traffic light system, supporting schools and companies in implementing hygiene concepts. Also included in the Opendo LED portfolio: A version with emergency light function and integrated battery as well as blank modules that allow the luminaire to be precisely adjusted to individual framework conditions.