When architectural desires come true
Some projects demand no-compromise lighting solutions. No modifications of familiar luminaires but new constructions, so-called special luminaires. These enable the implementation of planning impulses from which both architects and planners benefit to the same extent. Lighting functions here mostly as a design element and discreetly emphasises the architecture. It guides attention to the essentials and transforms architectural features into unforgettable moments. Lighting itself though can also attract attention.
Extravagant, opulent luminaire creations positioned as highlights are real eye-catchers and give observers unforgettable moments. Precise technical skill, sophisticated light creations and a combination of high quality materials are characteristic of these artworks of lighting.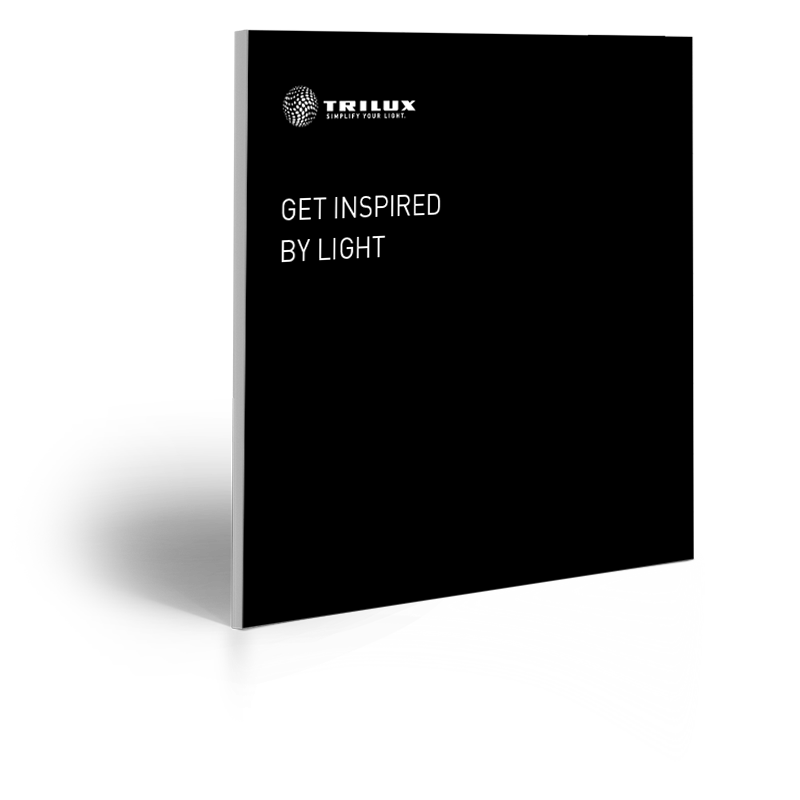 Download
"Get inspired by light" Online-Brochure incl. Product details
Lighting for unusual artistic constructions
Architecture is art – and the impressive showcasing of artistic constructions is a challenge. TRILUX – SIMPLIFY YOUR LIGHT knows this and is accepting this challenge everyday anew. To this effect, they have been developing special customised luminaires in close cooperation with architects and planners for almost half a century. Art installations and museums, churches and theatres as well as office buildings and private residences: Individually manufactured light solutions by TRILUX make it easy for planners and architects to let their imaginations run wild and to uncompromisingly implement their artistic impulses.
TRILUX provides maximum relief to its customers and makes everything possible that can be realised technically. Light for simply showcasing sophisticated constructions:
Maximum planning and design freedom for architects and planners
Comprehensive consulting and fastest possible implementation in close coordination with customers
Powerful and energy-efficient customised luminaires for exceptional architecture
Futurium Berlin, Germany
A forum has been set up in the form of Futurium in Berlin, adjacent to the government district, inviting visitors to contemplate the world of tomorrow. The range of rooms consists of exhibition halls, introverted think tanks, open communication zones, conference halls and a subterranean storey with laboratory and workshop character.
St. Jakobshalle Basel, Switzerland
In the redesigned and expanded foyer, the special luminaires developed specifically for this project serve the architecture. A regular grid of 1,127 ring-shaped ceiling luminaires provide visitors to sports competitions, concerts and major events with a radiant reception.
Rheinenergiestadion Cologne, Germany
The RheinEnergieSTADION is exemplary for a holistic solution provider. Many locations in the project were upgraded to cutting-edge LED luminaires ranging from the car park and stadium approach road to the stands, stairways, corridors and sanitary rooms.
See reference
SPECIAL LUMINAIRES FOR BRIDGE AREA IN NEUWIED, GERMANY
They first appeared in ancient Egypt and experienced their heyday in Greece – the capitals or tops of elaborately adorned columns. These elements of architectural design have now been newly interpreted in Neuwied. TRILUX Architectural developed light capitals for the supporting columns of the Raiffeisen Bridge as special luminaire solutions.
LED LUMINOUS WALL, Koblenz, Germany
In large floor areas, side windows are often insufficient to supply the complete depth of the space with daylight. In this project, the central foyer was even originally cut off completely from any daylight. In its present condition following a redesign for the boardroom, the storey not only has views from one window facade to the next but also a large LED luminous wall in the foyer. Highly diverse light scenes can be dynamically projected onto the wall with over 100 m2, and it can also be statically illuminated.
Municipal library Stuttgart, Germany
A new landmark visible from afar and located right next to Stuttgart's main train station now dominates the state capital. South Korean architect Eun Young Yi has designed a building boasting clear and pared-down formal vocabulary for this special location – where traditional and digital media join forces to create a 21st-century library.
KÖ-BOGEN IN DÜSSELDORF
An architectural icon, a constructional highlight, an urban jewel – the Kö-Bogen in Düsseldorf has been adorned with a variety of catch phrases. A project like this deserves to be shown in the best possible light, a job for which light columns by TRILUX are the most excellent match.
PRODUCTS FOR THE APPLICATION ARCHITECTURAL
QUESTIONS UPON QUESTIONS.
We have the answers.
It's always a good feeling to have a partner at your side with a deep knowledge of architectural applications. TRILUX experts always have an open ear if you have any questions.