Outsourcing assembly work and focusing on the core business
How TRILUX Eases the Burden for Electrical Specialist Companies
Date

Category

Trilux Insights

Comments
In collaboration with specialized network partners, TRILUX now manages the mechanical installation of continuous lighting systems, allowing electrical specialists to fully concentrate on their core business. Participants witnessed the seamless operation of this new service on 130,000 m2 of area of a new logistics space.
Rudolf Fritz GmbH employs over 600 people at its headquarters in Rüsselsheim and ten other locations in Germany. However, even for such a large specialist electrical installation company, assembling 16 kilometers of E-Line NEXT LED on this scale is a challenge. Electrical specialists are not always necessarily required for the mechanical assembly process. Skilled workers and their capacities are tightly scheduled. Available resources must be used as efficiently as possible,particularly by having electrical installers focus on their core competencies, such as commissioning intelligent lighting systems.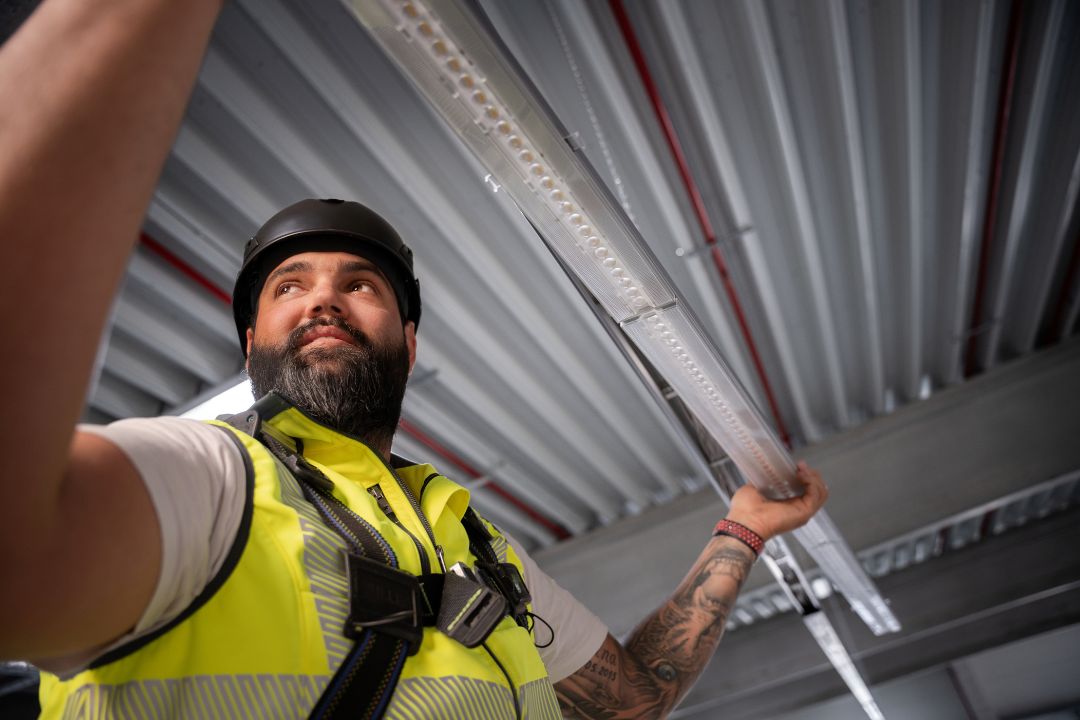 Two project managers at Rudolf Fritz were faced with this organizational task in a major project in Gießen. They partnered with TRILUX, to provide lighting for a new logistics building.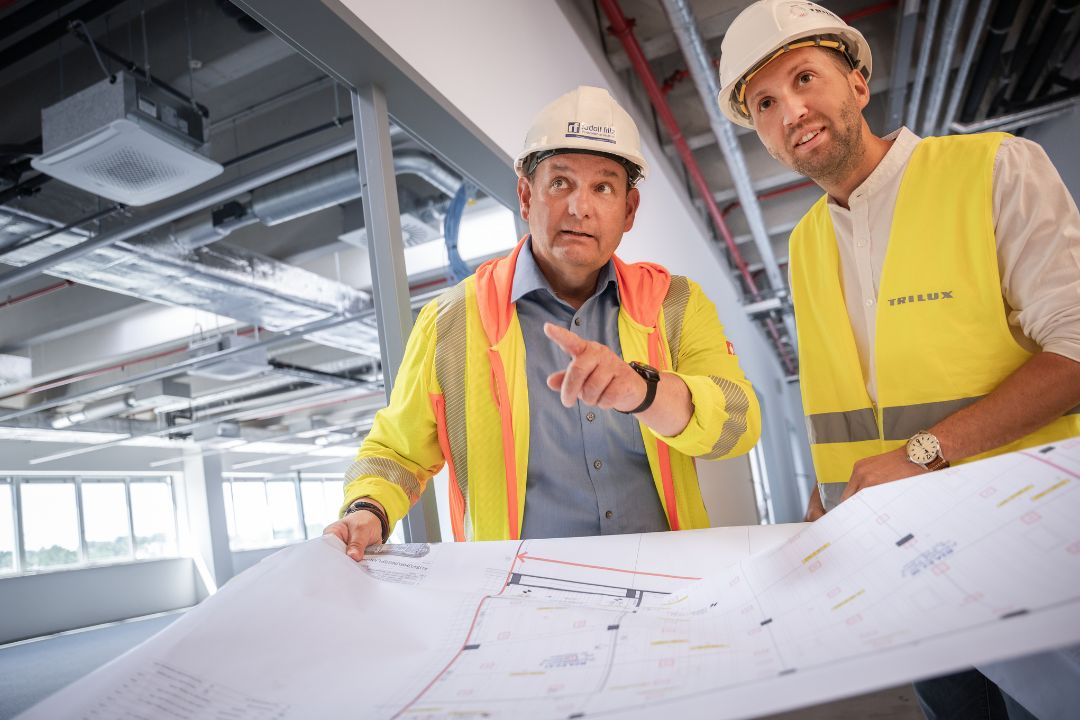 Successful Collaboration: TRILUX and Rudolf Fritz GmbH
In this project, TRILUX offered the electrical installers an innovative service:installation services, specifically forcontinuous lighitng systems. Specialized network partners trained in TRILUX products took charge of the mechanical installation. In this specific case, they installed approximately 16 km of trunking for E-Line Next LED in a very short time.
"This significantly eases the workload for our staff, enabling them to focus on their core competence, which is the electrical installation and commissioning of the plant," says a delighted Bastian Langer, Managing Director at Rudolf Fritz. His project manager, Ronny Seim adds,"The freed-up capacities provides us with more room to maneuver in current and new projects," – creating a classic win-win situation.
Specialists assemble quickly, cleanly and efficiently
"If an electrical company wishes to outsource the installation of our E-Line continuous-row lighting system, they simply approach us," explains Michael Blum, Managing Director of TRILUX Vertrieb GmbH."We connect our customers with a qualified installation team from our partner network and handle the entire management." Electrical specialists then take charge of the installation and commissioning of the lighting system. This approach allows each partner to operate with maximum efficiency within their area of expertise.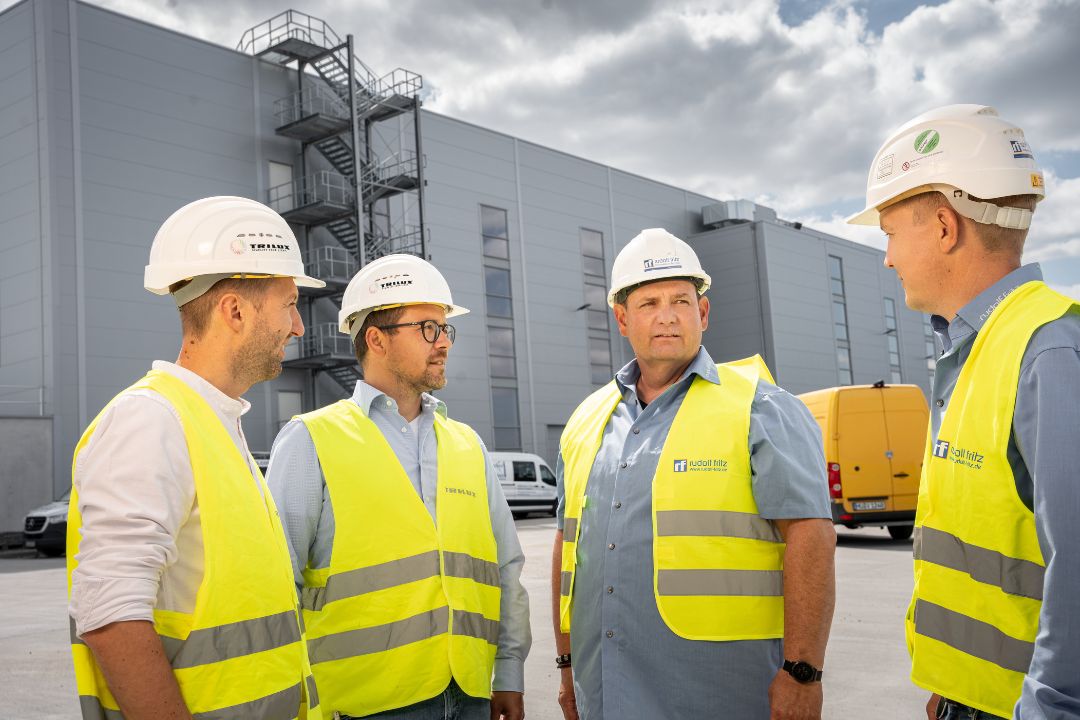 According to Blum, the result is that "The entire continuous-row lighting installation is completed quickly, smoothly and with minimal risk of errors." Such cooperation relies on mutual trust and open communication, as exemplified in the case of the new logistics building in Giessen, the first sections of which have already been occupied by the customer.
A state-of-the-art, energy-efficient new building
TRILUX's contribution to the project's success extends beyond the trunking installation. As a reliable lighting partner, TRILUX also supplied Oleveon Fit LED damp-proof luminaires, high-quality office lighting,Jovie outdoor luminaires and Lumena Star floodlights for exterior lighting, in addition to the continuous row system. "The building itself is DGNB Gold certified, and the outdoor lighting adheres to ecological criteria to protect the surrounding flora and fauna," reports TRILUX project manager René Krämer. This makes the logistics center in Gießen not only a model case for innovative services, but also for sustainable and energy-efficient lighting design.