General
For which applications is E-Line Next LED suitable?
E-Line Next LED is suitable for use in industry, retail, office and education. As a modular system, the product can be simply and rapidly adapted to the respective requirements of the application.
Examples include:
specially developed optics for logistics, automotive, office or retail
easy integration of other components such as spotlights, sensors, emergency light and much more
various protection ratings (IP20/ IP50 / IP64)
six light colours with two colour renderings
and much more
What does the designation (nomenclature) of E-Line Next mean?
Which modules are available with E-Line Next LED?
E-Line Next can be used as an infrastructure in the building, so that various modules can be integrated simply and rapidly via plug & play.
LiveLink modules
Sensors for various applications
Universal blank profiles
Lightpanel
B.Veo, Lenty Plus, Grado spotlights
3-circuit adapter
Damp-proof luminaire adapter for Nextrema and Oleveon/Aragon Fit
L, T and X connectors
Emergency light inserts
Markings for escape routes
Highbay (Mirona) modules
and much more
What accessories are available for E-Line Next LED?
E-Line Next has numerous accessories that ensure maximum design flexibility and fast and easy installation.
Trunking in six different lengths with various wiring and positioning options
Mounting accessories for ceiling mounting or cable/chain suspension, adjustable in height if required
Feed accessories for rigid and fixed cables
Cable fixings in the trunking and at the rear
Spare parts for individual components
Flex cables for flexible positioning of modules
and much more
What protection ratings does E-Line Next LED have?
E-Line Next is available in IP20, IP50 and IP64.
In classic applications such as offices, educational buildings, logistics halls, retail and some production areas, the classic IP20 protection is well suited.
The IP50 variant protects against dust and with a limited surface temperature is well suited for dusty and fire-prone production environments such as carpentry or cutting departments.
The IP64 variant is suitable in areas such as cold storage, canopied outdoor areas and industrial areas where water is used. This variant is splash water-protected on all sides and dust-protected.
Which optics are available for E-Line Next LED and for which application?
With 20 different optics, E-Line Next LED focuses on quality of light with a solution for every mounting height and every application.
Includes efficient lens technology, prismatic optics for pleasant visual comfort, diffuse optics for a completely uniform appearance and ConVision lens technology for high quality of light and contrast.
The light distributions have been specially developed for the respective applications: from glare-free versions with UGR<19 and computer screen suitability for office and education, to double asymmetric versions for retail applications at various mounting heights, and from very wide beam to extremely narrow beam optics for all industrial applications.
The optics tool makes it easy to select the right optics and distribution.
To Optics overview E-Line Next
What is E-Line Next ConVision®?
Luminaires with ConVision® technology from TRILUX – such as the E-Line Next continuous line system – generate a particularly pleasant light: it is directed, making space and objects particularly vividly perceptible. It does not cause glare, and low luminance levels and gentle contrasts at the light emission allow the origin of the light to be surmised. The luminaires have a calm and discreet appearance. It enables nuanced lighting concepts via various light distributions but with a uniform design.
E-Line Next ConVision® is thus ideally suited for the retail, education and office sectors. The innovative two-part ConVision technology achieves a very pleasant lighting effect thanks to lens and light chambers. The light chambers are available as standard in three different colours – optionally in white, silver or matt black.
Emergency light
What emergency lighting solutions are available with E-Line Next?
In addition to the general lighting of a building, safety lighting is also required in almost every construction project. This comes into operation for a defined time after the failure of artificial lighting in a building. Safety lighting is required, among other situations, in the fire protection concept, building legislation (state building regulations etc.), occupational safety law and accident prevention law in order to achieve protection goals.
E-Line Next is available both as a solution for single battery and central battery systems. A choice can be made here between emergency luminaires for single systems (EB3) and central battery systems and emergency light modules specially developed for the lighting and marking of areas and escape and rescue routes (inotec/CEAG).
How does E-Line Next LED function with a single battery (system)?

E-Line Next LED with single supply unit (single battery) is additionally connected to the unswitched outer conductor and neutral conductor. Independent of the switch-on state of the luminaire, the integrated battery is thus charged and the mains function with charge control is monitored. A separate mains for the safety power supply can be omitted. In the event of failure of the general power supply, an LEDM of the luminaire for mains operation is supplied with the energy of the single battery for emergency lighting in non-maintained operation. The charge control goes out.
How does E-Line Next function in a central battery system with changeover relay?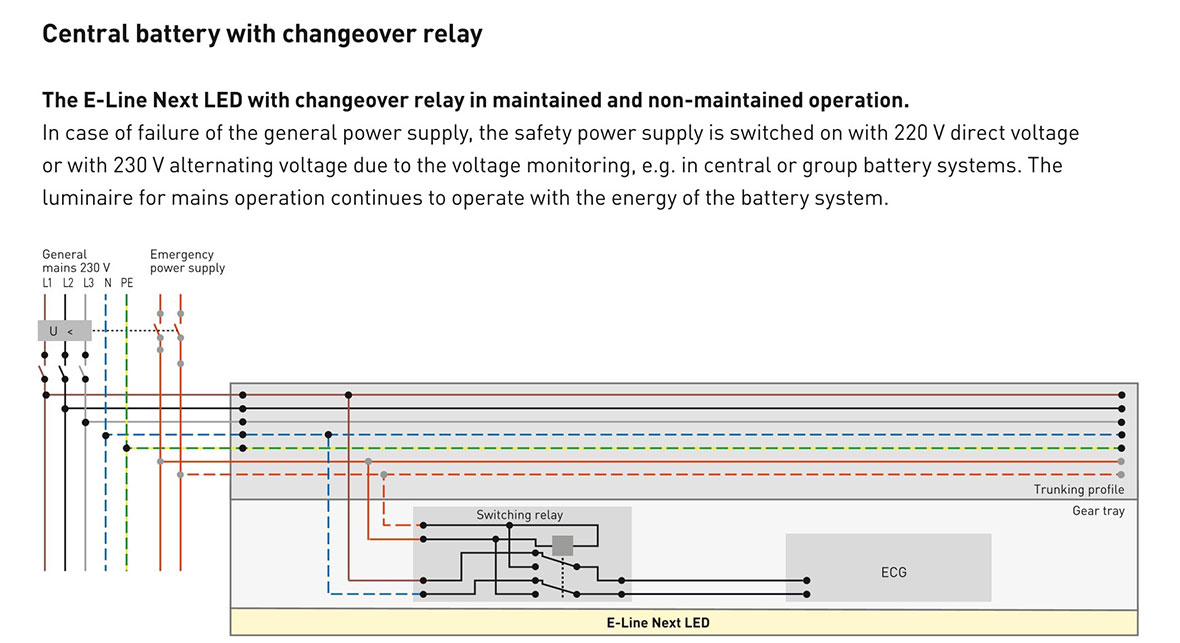 E-Line Next with changeover relay in maintained and non-maintained operation. In the event of failure of the general power supply, the safety power supply is switched on with 220 V direct voltage or with 230 V alternating voltage due to the voltage monitoring, e.g. in central or group battery systems. The luminaire for mains operation continues to operate with the energy of the battery system.
How does E-Line Next function in a central battery system with emergency light modules?

The emergency light module for E-Line Next is connected to both the general power supply and the safety power supply. If the general power supply fails, the safety power supply is switched on due to voltage monitoring, e.g. in central or group battery systems. The module with integrated ECG is supplied independently of the mains. Depending on the type of safety power supply, the luminaire is operated in maintained or non-maintained mode.
How does the E-Line Next work with emergency lighting modules from inotec or CEAG?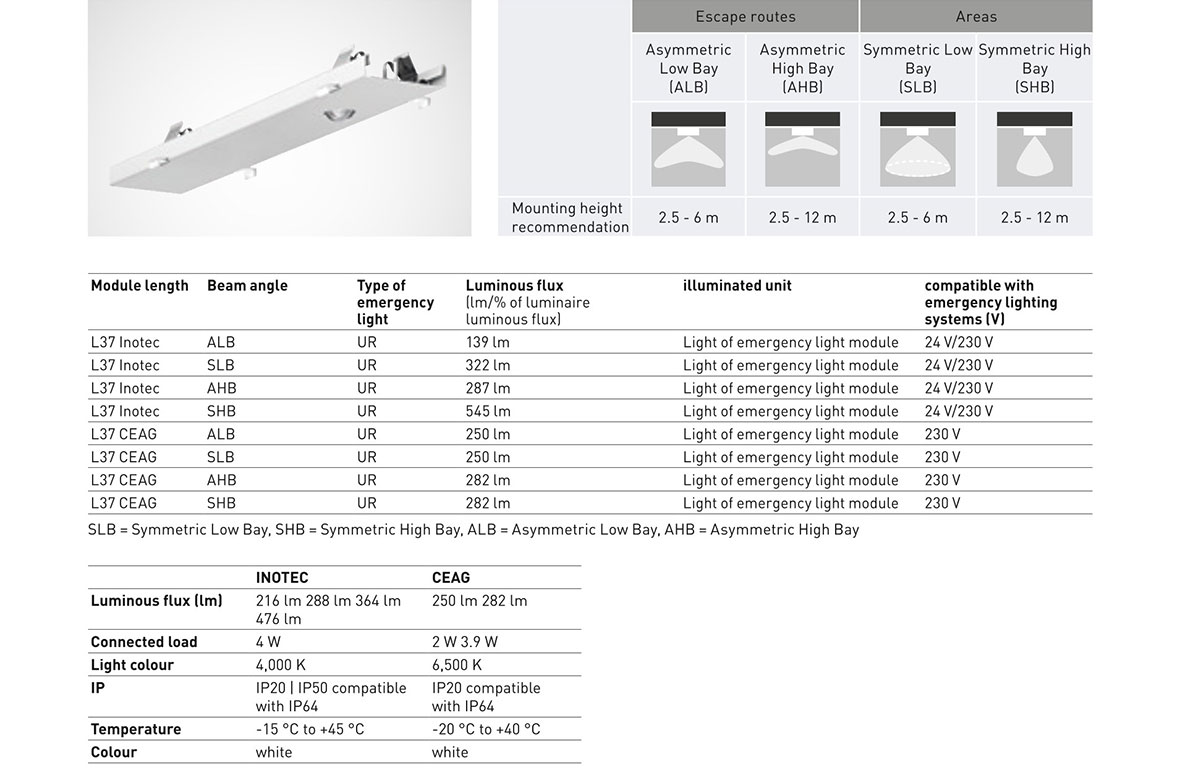 The E-Line Next emergency light module is used in a combination with Inotec 230 V or 24 V emergency lighting systems or with the 230V CEAG compatible emergency lighting systems. In general, the module can be combined with the trunking of the Fix variant (7LV + 7LV) or Flex variant (11-pole) using the familiar snap fasteners. The optimised light distribution of the optical system ensures safe illumination of escape routes at different mounting heights (from 2.5 m to 12 m).
How does E-Line Next function in a central battery system with escape sign luminaire?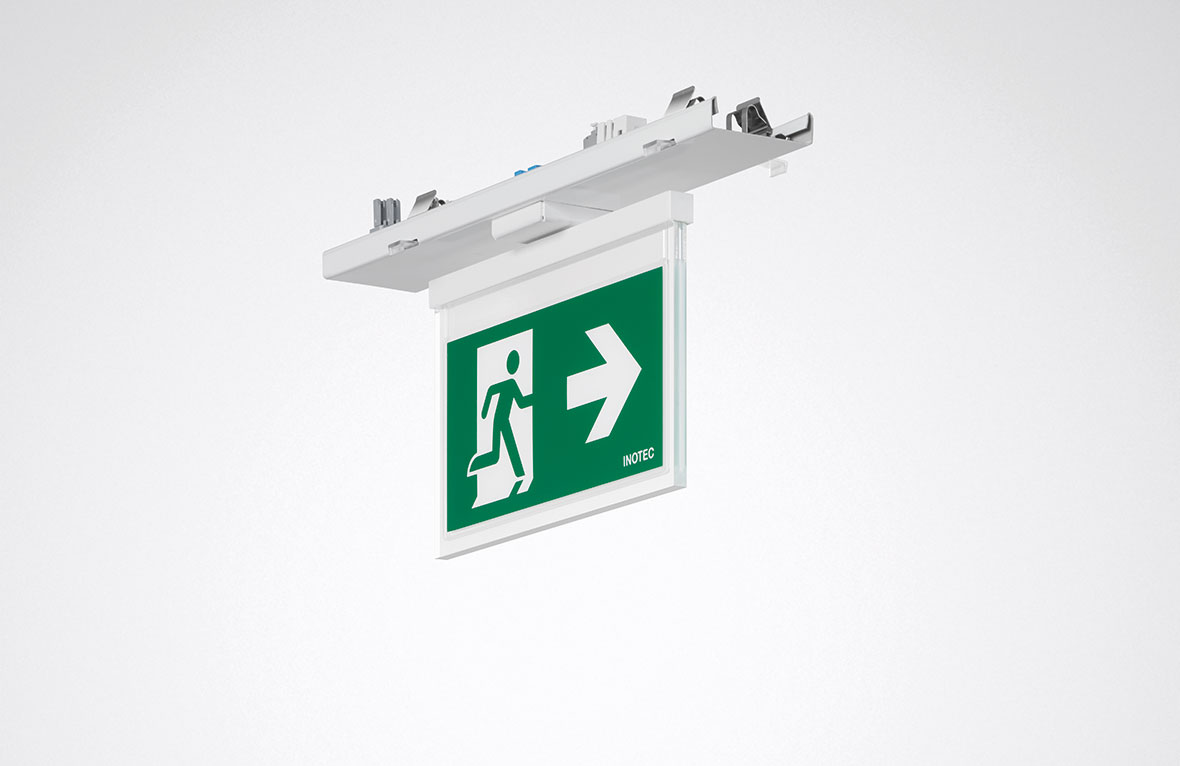 LED escape sign panel luminaire with frameless pictogram panel for diverse applications. With 20 m and 30 m range. Uniform illumination of the pictogram due to modern light guide technology. Slender housing made of white UV and glow wire resistant polycarbonate for easy integration into E-Line Next.
Control and digitisation
Which sensors are available for E-Line Next and in which application are these needed?
Intelligent lighting systems that are controlled by sensors, that minimise energy consumption and interact individually with users are the future of modern buildings – both in new constructions and refurbishments. The integration of a sensor into E-Line Next is particularly simple via plug & play. This saves not only installation time, but also the building's energy consumption.
But which sensor is the right one for which application?
Which light management system can I use with E-Line Next?
Depending on the requirements and specific application, E-Line Next can be controlled via various light management systems.
LiveLink Premium for larger projects (DALI)
LiveLink Wi-Fi for projects with up to 64 devices (DALI)
LiveLink Retail as a radio-based solution via Bluetooth Low Energy