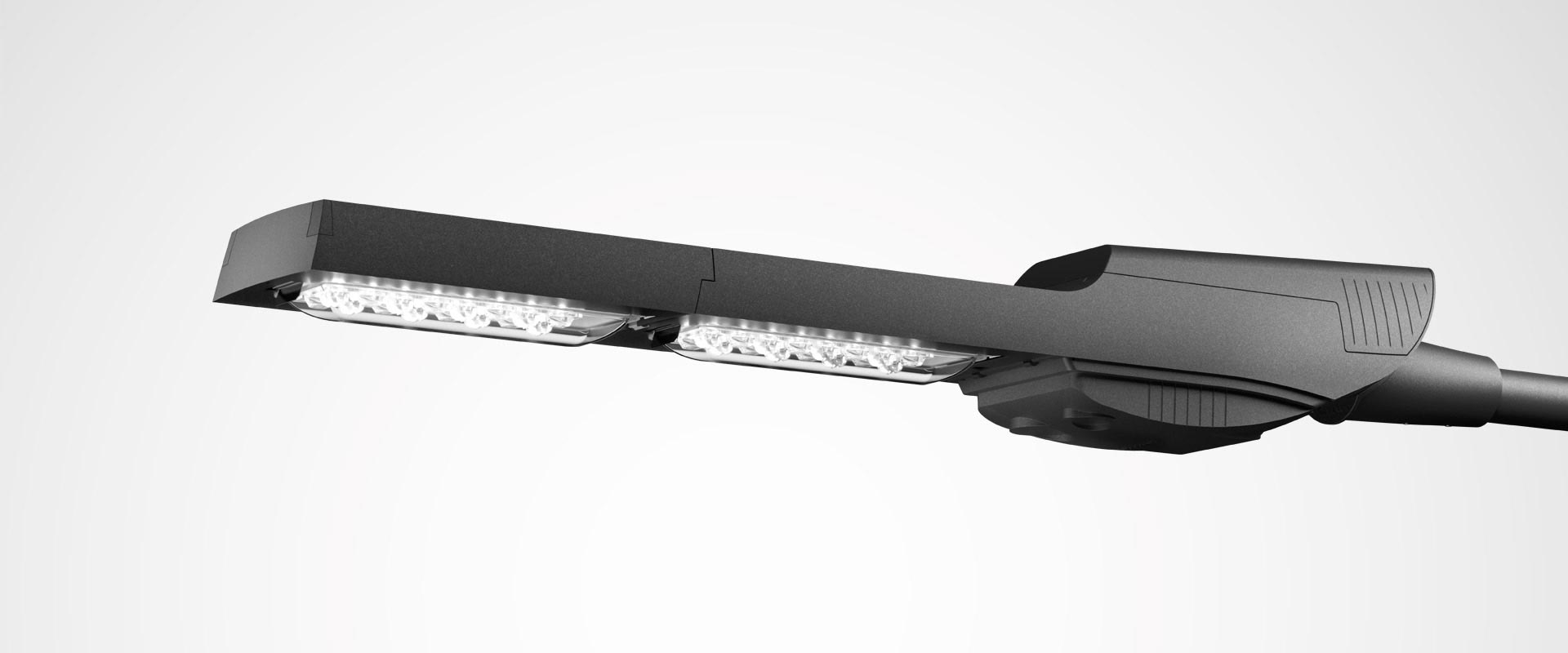 ViaCon LED
an intelligent future-proof luminaire
The challenge
Those investing in top-modern outdoor lighting today may be surprised tomorrow with the next generation of luminaires. This problem is slowing down the complete transformation of urban outdoor lighting to energy-efficient LED technology. Many conventional linear luminaires are still in operation, but upgrading to LED offers enormous technological possibilities and energy savings potential of more than 50%. Furthermore, intelligent LED light with its extensive networking options enables many Smart City applications for tomorrow's towns and cities.
The solution
TRILUX ViaCon LED is an energy-efficient outdoor lighting solution with a revolutionary simple modular concept. Numerous beam angles and diverse mounting options are available, ranging from traditional post-top brackets to catenary luminaires. The luminaire is also available with various intelligent module variants, ranging from a basic version to versions with almost limitless networking and control options. For maximum future safety, the ViaCon LED as "Smart Lighting Ready" version can be simply and quickly modified or upgraded via plug & play.
Browser information
The model cannot be displayed. Unfortunately your browser does not completely support this web technology.
Use Google Chrome for example to gain complete user experience.
Zoom
Scroll to zoom towards the model
Drag and Drop
Rotate the model by clicking and dragging
Change the background
Change the background colour with this icon
Close
Close the application with this icon
Product and application images
A modular system for maximum flexibility
The ViaCon LED can be simply combined in a modular way. E.g., the luminaire is available with more than 25 different beam angles and can be equipped with three different intelligent modules. This means the ViaCon LED can provide optimised lighting conditions everywhere.
Various mounting options
Three module versions - a thousand possibilities
The ViaCon LED is available with three intelligent modules at differing expansion levels – ranging from the basic version to the premium version with light management system. The basic version already provides extensive control options, e.g. self-regulating power reduction by 50%. The Basic-Switch version enables three luminous flux settings with a switch outside the luminaire, e.g. high lumen levels for main roads and lower luminous flux levels for minor ancillary roads. Maximum possibilities and future compatibility is provided by the Smart Lighting Ready (SLR) module which enables the integration of almost all feasible Smart City applications and functions via a plug & play, such as setting luminous flux and dimming profiles via Bluetooth and complete light management Systems.
Future-proof replacement of components
The low-cost, energy-efficient LED basic versions offer enormous potential for cost savings. The "Smart Lighting Ready" version additionally provides security for any future eventualities: if requirements or the financial budget change, the "Smart Lighting Ready" ViaCon LED can be simply adapted. Thanks to its modular design, modifying or upgrading can be carried out with minimal effort via plug & play.
High output, high efficiency and wide spacings
Extensive TRILUX service
TRILUX supports customers in an extensive way with their lighting design. E.g., customers can have the optimum lens or ideal luminous flux for their luminaires estimated free of charge. TRILUX also provides various guarantee services.
A range of mounting options
The ViaCon LED offers various mounting options. In addition to classic bracket-mounting and post-top versions, a catenary version with through-wiring is also available.
High energy efficiency
With up to 140 lm/W, the ViaCon LED is especially energy-efficient. If the ViaCon is equipped with high lumen levels, wide mounting spacings can be achieved when planning new systems – this also benefits energy efficiency.
MLTIQ – illuminating more intelligently outdoors
Special requirements demand special lighting solutions. With MLT (Multi-Lens Technology) lenses developed by TRILUX we create more flexibility and enable luminaires to be individually adapted to the customer-specific lighting task.
Technical information
| Reference | Values | |
| --- | --- | --- |
| Luminaire luminous flux: | 1.100 lm – 8.200 lm | |
| Connected load/efficiency: | Up to 135 lm/W | |
| Service life: | 100.000 h | |
| Colour rendering/colour temperature: | 740 | |
| Electrical version: | ETDD, optional light management | |
| Protection rating/safety class: | IP66 | SKII |
| Light distribution: | Asymmetric wide distribution | |