TRILUX Oktalite. Overall assessment of the Euroshop trade fair
Experience the future of retail lighting
Date

Category

Trilux Insights

Comments
With Oktalite at the Euroshop trade fair
For five days we were present at the Euroshop in Düsseldorf (Germany) with our retail subsidiary Oktalite. At a very special booth, we showed our innovative retail solutions to an international trade audience. Our conclusion: Euroshop has been an exciting trade fair where we, with our retail portfolio and the trade fair motto EFFICIENT.LIGHT.QUALITY., were in the right place at the right time.
Around 81,000 visitors took the opportunity to learn everything about new concepts and inspiring ideas at Euroshop 2023. With pride we presented our latest innovations at the 270 m2 trade fair stand of our retail subsidiary Oktalite. During a "light tour", guests could experience concrete application examples of the possibilities that light and lighting can offer retailers in order to increase competitiveness and stand out from the competition. The focus was on the core topics of energy efficiency and smartness for maximum sustainability, as well as light and design quality for uniquely attractive shopping experiences. "With many very promising new contacts and countless inspiring discussions, the trade fair was very valuable for us," says Thomas Korflür (Managing Director Sales Oktalite). "Guests from a wide variety of industries and areas visited our stand: from food to technology, from shop fitters to fashion retail, from large automotive groups to lighting and interior designers."
Sustainability 2.0
Large companies with high standards
Companies are increasingly paying attention to the sustainability of lighting, partly because of the lamp ban and the high energy costs. "Especially large corporations from the fashion or automotive sector are in the focus of a critical public and therefore keep a very close eye on their own CO2 footprint," says Korflür. They are seeking for solutions, which can simultaneously meet the highest quality and sustainability requirements and can be flexibly adapted to the individual framework conditions and projects. At our booth, trade visitors found what they were looking for at all levels.
Two of our highlights with the highest light quality and efficiency: The new Oktalite Light panel offering maximum visual comfort with ConVision lens technology and our Nimbus wallwasher, available either as a Nimbus Track for a power rail or as a Nimbus built-in variant. Both versions are characterized by a special reflector design creating a particularly homogeneously illuminated surface without trapezoidal distortion on the wall.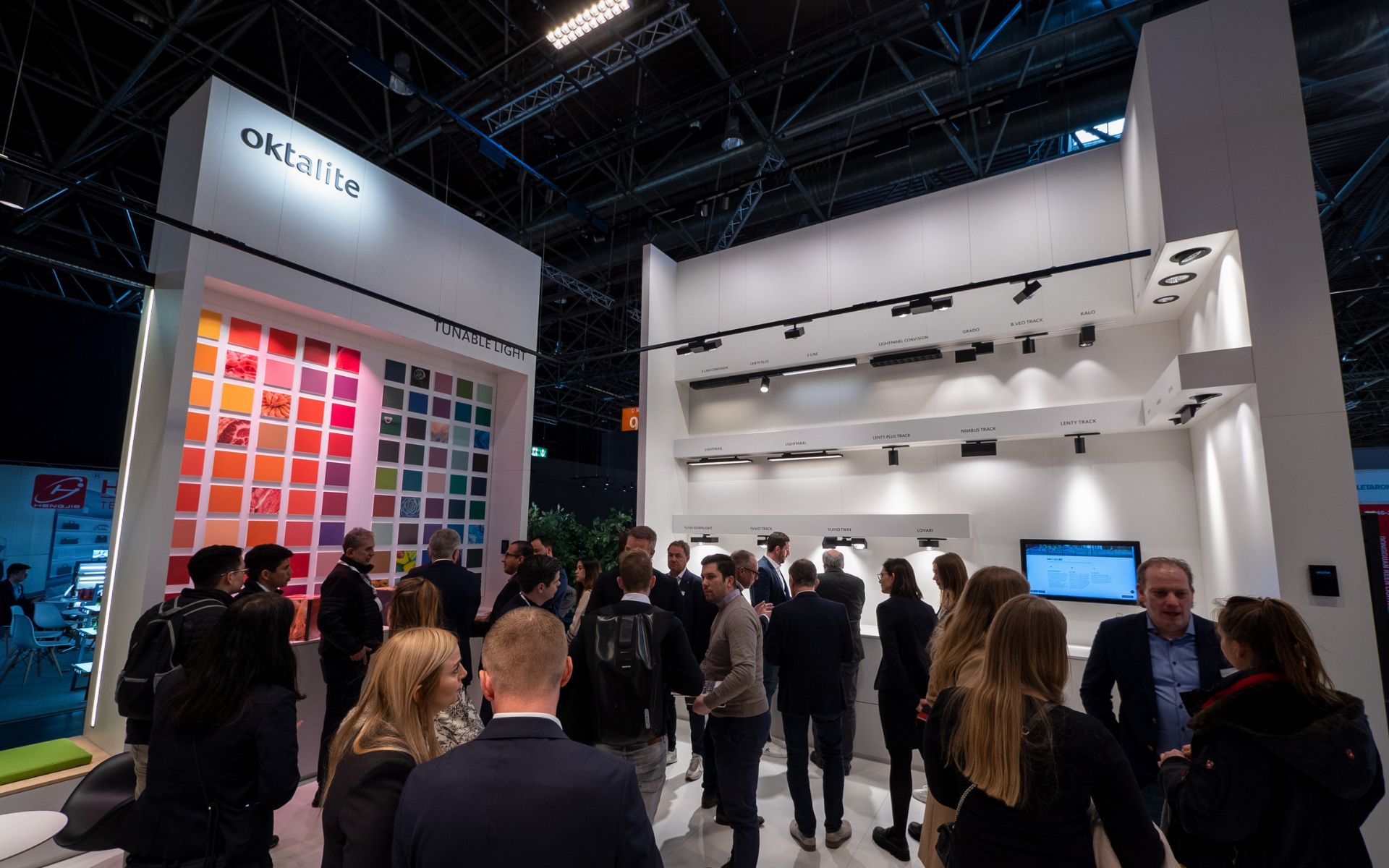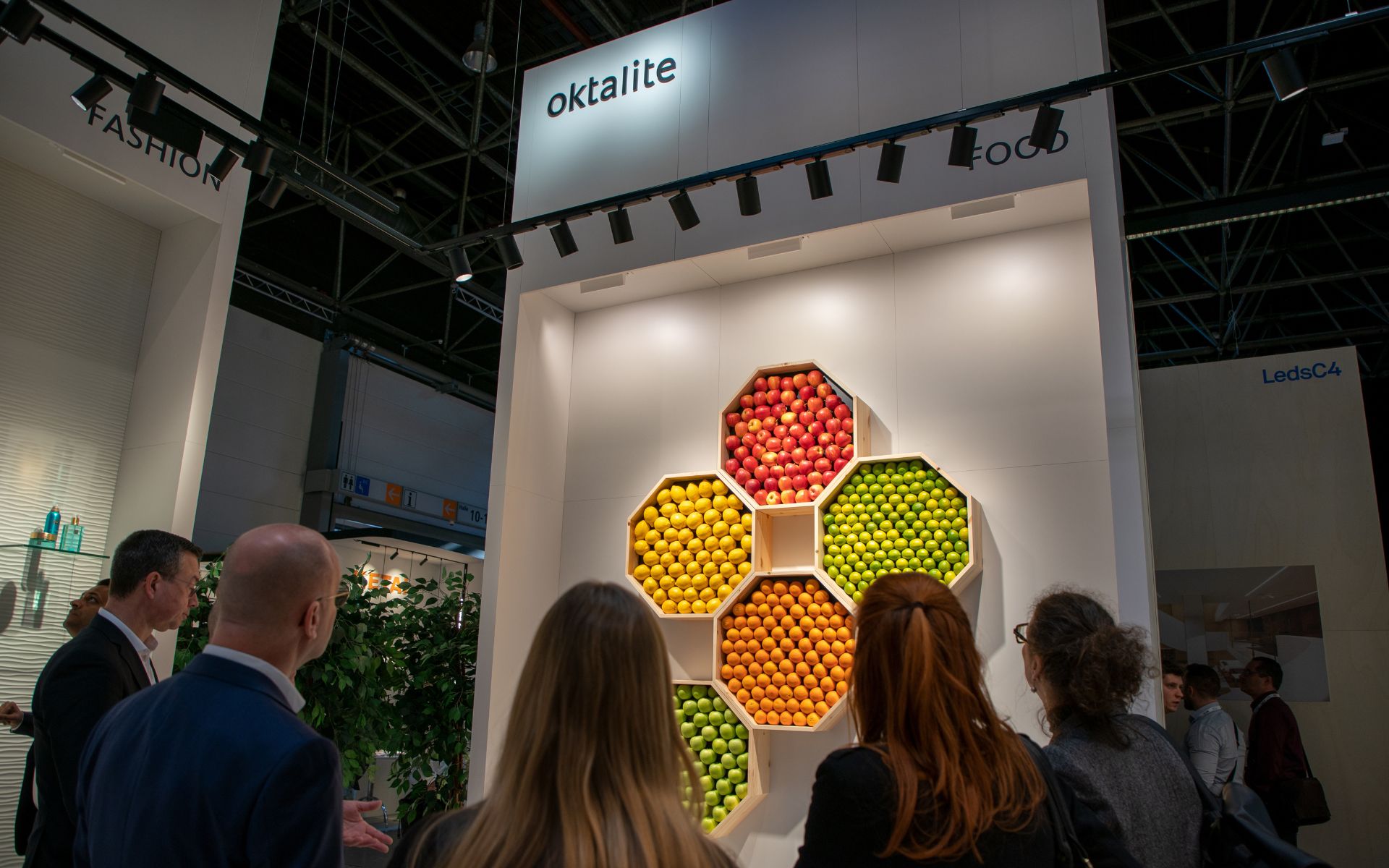 Light management with LiveLink Retail
More efficiency, more opportunities
Light management is also gaining importance in retail, because the control of the networked LED lighting via sensors reduces energy consumption by up to 26 percent. In addition, light management enables a tailor-made and flexible staging of goods. With the new LiveLink Retail light management system, all lights in the shop can be easily and conveniently networked, precisely controlled and monitored via Bluetooth Low Energy. Users can save and create individual light scenes, for example, for shop window lighting at night. If the product range or interior design changes, the lighting can be adjusted quickly and easily thanks to LiveLink Retail. Everything is conveniently controlled and monitored via an app.
Shopping experiences
Quality always make a difference
One of the most important success factors in retail – and the strongest unique selling point compared to online trading – is the atmosphere in the store, and the quality of light is a central building block for unique shopping experiences. Here, our retail solutions with the unique ConVision technology set an unprecedented quality standard. The interaction of specially developed lens optics and limiters creates a particularly low-scatter, pleasant glare-free light with a unique three-dimensional representation and a particularly calm appearance in the periphery. If you were not able to attend Euroshop yourself, then here are a few impressions from the trade fair in Düsseldorf (Germany). Don't forget to register for an upcoming exclusive event taking place in our new Oktalite showroom in Cologne (Germany), where you can get an inspirational tour and experience the advantages of intelligent LED lighting solutions in the areas of food and fashion, among other things. Discover the possibilities of modern lighting in retail by registering today.