Bridge area - Neuwied, Germany
Special luminaires for bridge area in Neuwied, Germany
Date

Category

Trilux Inspirations

Comments
TRILUX Architectural developed light capitals for the supporting columns of the Raiffeisen Bridge as special luminaire solutions. The citizens of Neuwied are highly enthusiastic.
"Many townspeople hoped that other areas in the town could be illuminated like the area below the bridge access ways," explained Anne Mohr from the municipal works department. The special luminaires are genuine highlights for Neuwied in the true sense of the word, illuminating the bridge area and even the smallest corners from high heights.

"Our ring luminaires adapt ideally to the bridge piles and are pleasantly noticeable among the backdrop of purist-style concrete," explained Karsten Müller, Head of
TRILUX Architectural and responsible for the sophisticated special design solutions and customised new constructions. The custom products, a total of 15, are highly unique and can only be seen in the Rhineland-Palatinate town of Neuwied. The Raiffeisen Bridge interconnects the towns of Neuwied and Weißenthurm and features six lanes spanning the Rhein River.
Vehicles reach the bridge via access ways supported by the massive concrete piles. Over 3,000 square metres of surface area previously used for parking purposes have now been redesigned to create an event area. Following refurbishment, active group events are held between the giant concrete pillars to which the light capitals have been mounted. It's now the location for goal walls, a climbing egg, streetball baskets and slack line.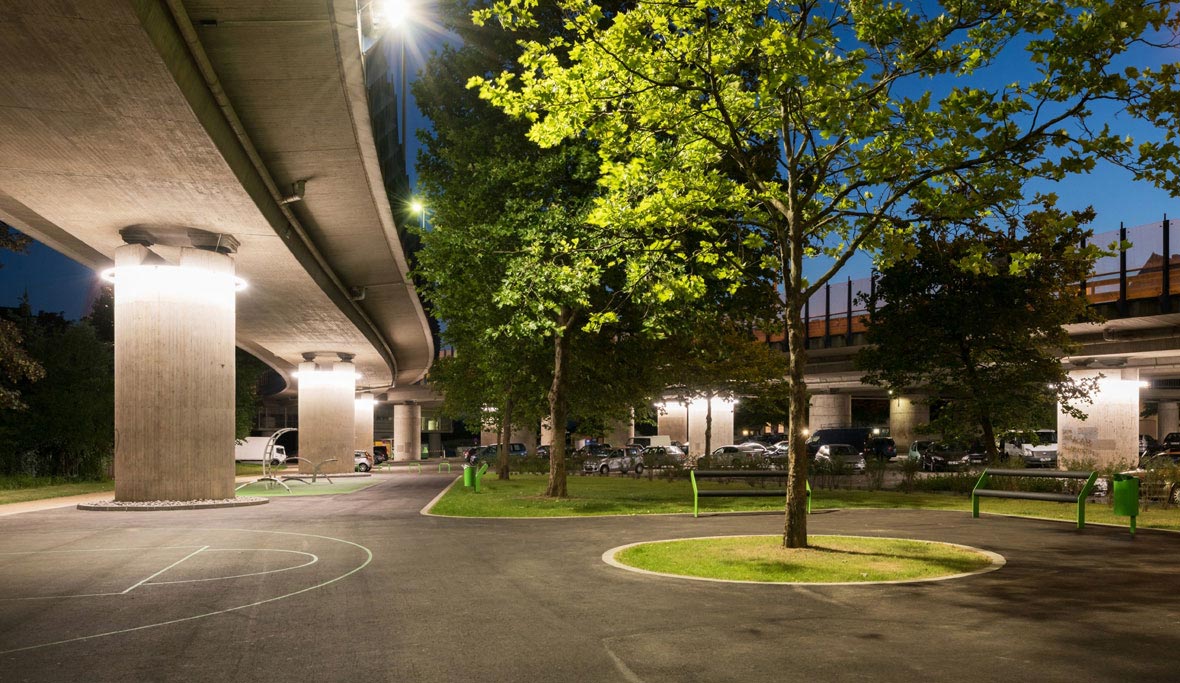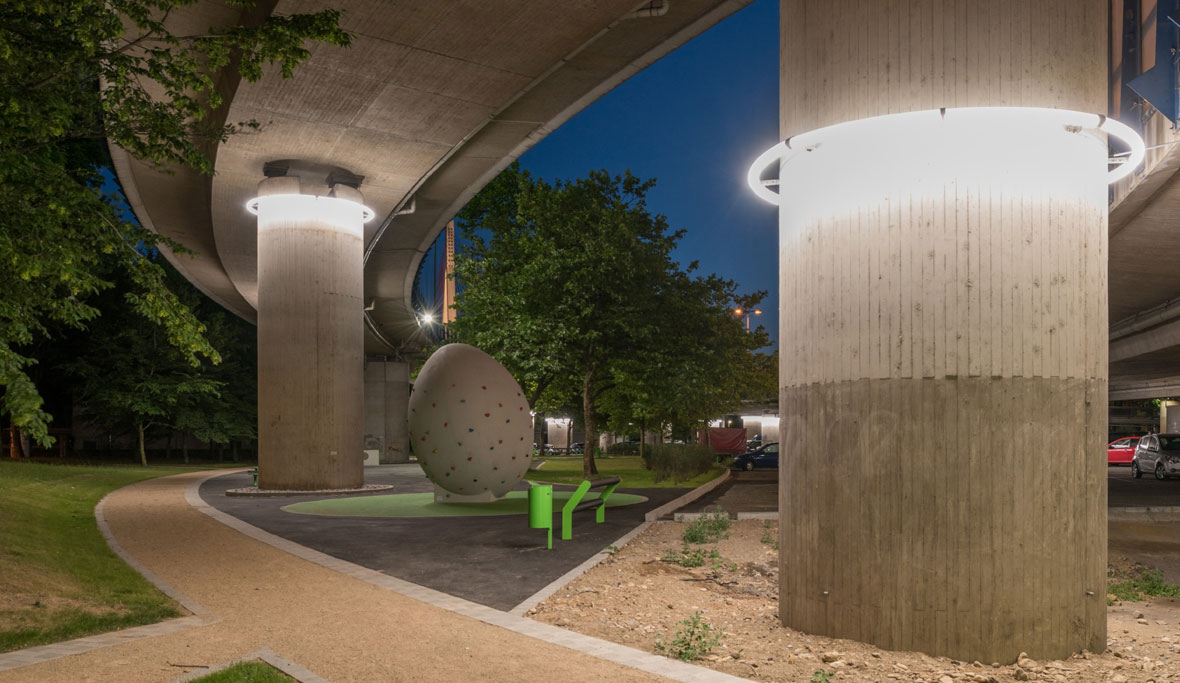 As part of the "Social City" federal state program, not only seating places and outdoor sports equipment were added to the parking lots below the Raiffeisen Bridge – the area became more of a social location where all residents could get together.
"The area always had a feeling of fear about it," explained Anne Mohr, manager of the Social City project. The parking lots below the highways separate a residential area from the inner city, and thanks to the special lighting dark areas are now a thing of the past and uncomfortable feelings have been transformed into a sense of well-being.

The unique ring luminaires from TRILUX illuminate not only the plaza but are also real eye-catchers with circumferences of over 11 metres and diameters of more than 3.5 metres. A unique lighting solution for a special architectural environment – TRILUX once again proves its wide range of lighting expertise and underlines its brand message of Simplify Your Light, representing individual planning, optimum light and simple processing steps.
Construction authority
Neuwied district authority, Germany
Project data
Bridge area
3,200 square metres
Lighting design
Kardorff Ingenieure Lichtplanung GmbH