Dachser logistics centre - Berlin, Germany
TRILUX equips logistics centres with digital light
Date

Category

Trilux Inspirations

Comments
The name of Dachser has represented "Intelligent Logistics" for more than 80 years, and the declared aim has always been to tangibly increase the competitive capability of customers with complete, innovative transport solutions. A corporate philosophy and activities oriented towards efficiency is therefore very important for Dachser.
For this reason it was merely a matter of course that the logistics professionals discovered the wide-ranging advantages of LED lighting. A pilot project in the form of the Berlin-Schönefeld logistics centre was selected and equipped by TRILUX with LED continuous lines. The systems are aligned in the hall over a length of one kilometre.

"We've been looking at LED lighting solutions for quite a while now," explained Georg Ponradl, responsible at Dachser for pan-European electrotechnical planning. A decision though was only taken for the new technology once it was capable of complying with the requirements of the company in terms of significantly reduced energy and maintenance costs, with no losses in quality of light. On the basis of this, TRILUX was commissioned to equip the chilled food depot in Schönefeld with around 520 modern LED luminaires (primarily Coriflex).

Compared to a standard 2 x 58 watt lighting system, the digital light from TRILUX operates with around 50% greater energy efficiency.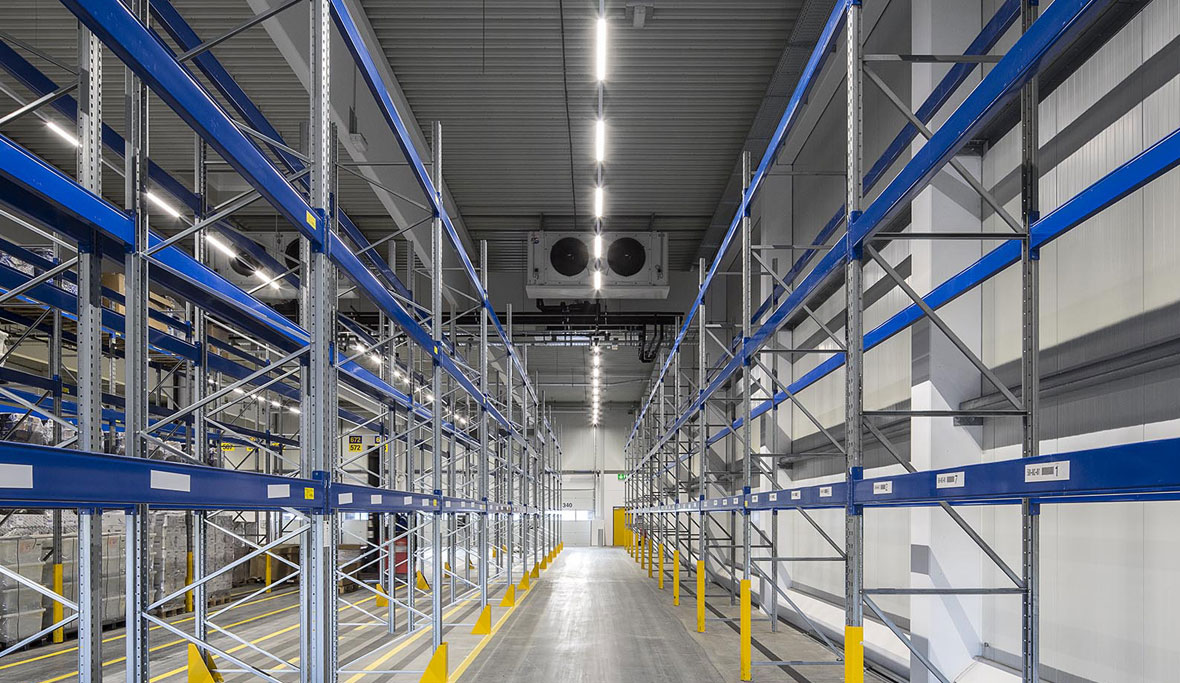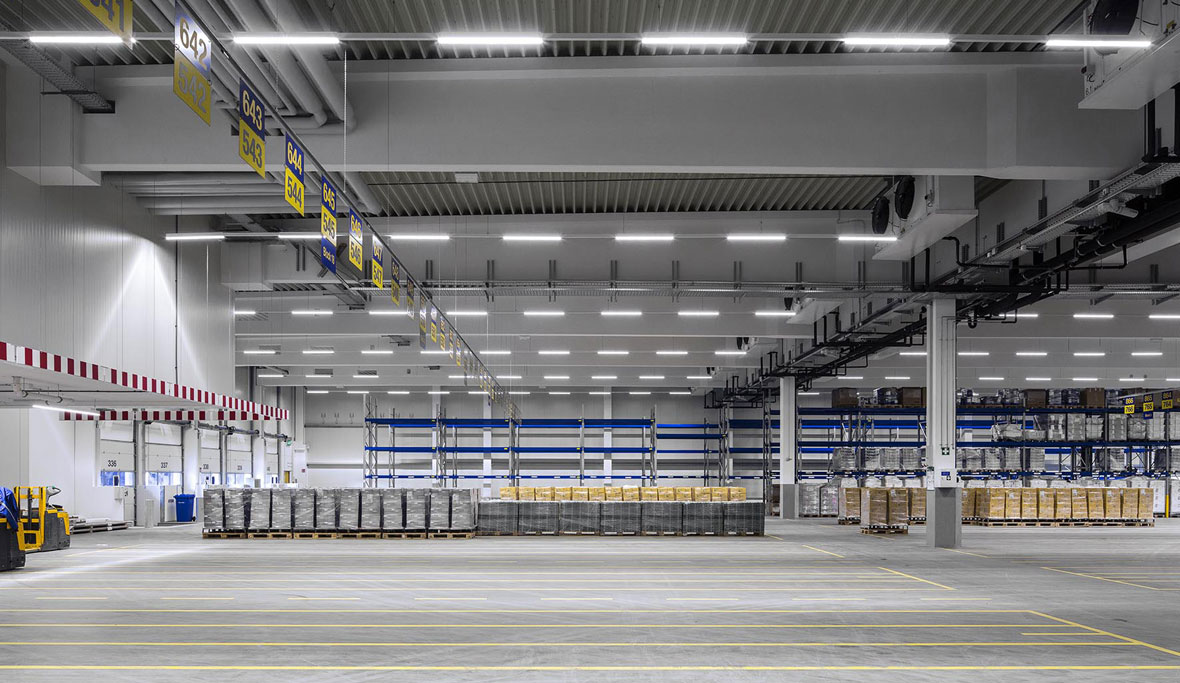 Further on-site benefits include low operating overheads thanks to low maintenance costs, and also a highly balanced quality of light. For Dachser it was particularly important that no light losses occurred due to the low ambient temperatures that possibly affect lighting levels. Put simply, low temperatures are even advantageous for LED systems, whereas conventional lighting installations have problems.

Work at the Dachser logistics centre is split across two and a half shifts, and idle time is only between 10 p.m. and 3 a.m. "All stoppages in production, no matter how small, are always a problem for logistics people," said Georg Ponradl. Everything helping to avoid disturbances is therefore highly welcome at Dachser, and this also applies to the TRILUX lighting, providing at least 50,000 problem-free hours of operation. Maintenance work that needs time and therefore causes costs can be avoided in this way – the simple formula consists of no relamping and no disruptions to depot work.

"We're assuming that over the next 10 years we don't have to take care of the light at all," stated Mr. Ponradl, and initial experiences have confirmed such assumptions. "After one year of operation, I can say that we're satisfied all round with the new system."

In one aspect though the electrical planner sees upwards potential: "Investment costs, meaning the price per light point, should be reduced." That would accelerate the march of success for LED lighting.

The Dachser people are already convinced they took the right direction with LED technology. TRILUX have already equipped two further subsidiaries in Überherrn (Saarland) and Langenau with new light, and Dachser is currently considering refurbishing further logistics facilities in other parts of Europe. At Dachser, the future of light is digital.