Dom Römer Car Park - Frankfurt/Main, Germany
State-of-the-art car park lighting in a historic city centre
Date

Category

Trilux Inspirations

Comments
Correspondingly popular is the Dom Römer indoor car park, offering visitors central parking with a total of 500 parking spaces in the very centre of the Main metropolis. Lighting plays an essential role here, as it needs to comply with current standards for the protection of people and vehicles and also communicate a feeling of safety for users.
The existing lighting solution from the 1970s no longer met these demands for modern car park lighting, and so the decision was taken by the operating company to upgrade to LED technology. A twin effect – three times the light output ensures significantly improved visibility conditions and an increased feeling of safety, but at the same time, operating overheads could be distinctly reduced with the refurbishment project. The luminaire manufacturer TRILUX was commissioned for the lighting solution.Optimally
illuminating a car park is a complex task. Low ceiling heights, tight transit areas, steep ramps and descents as well as many pillars aggravate planning and implementation. In addition, the lighting situation must be equally adapted to the needs of manoeuvring car drivers as well as pedestrians often passing between cars or navigating the traffic routes without protection. As a result, indoor car parks fundamentally require bright and glare-free lighting that also needs to be energy-efficient, durable and with low maintenance due to reasons of cost efficiency.

Following an extensive assessment, the operator decided to equip the three levels covering a total area of 6,000 square metres with Nextrema LED weather-proof luminaires from TRILUX. The engineering offices of Freudl & Ruth based in Bruchköbel near Hanau were commissioned with design and implementation of the project.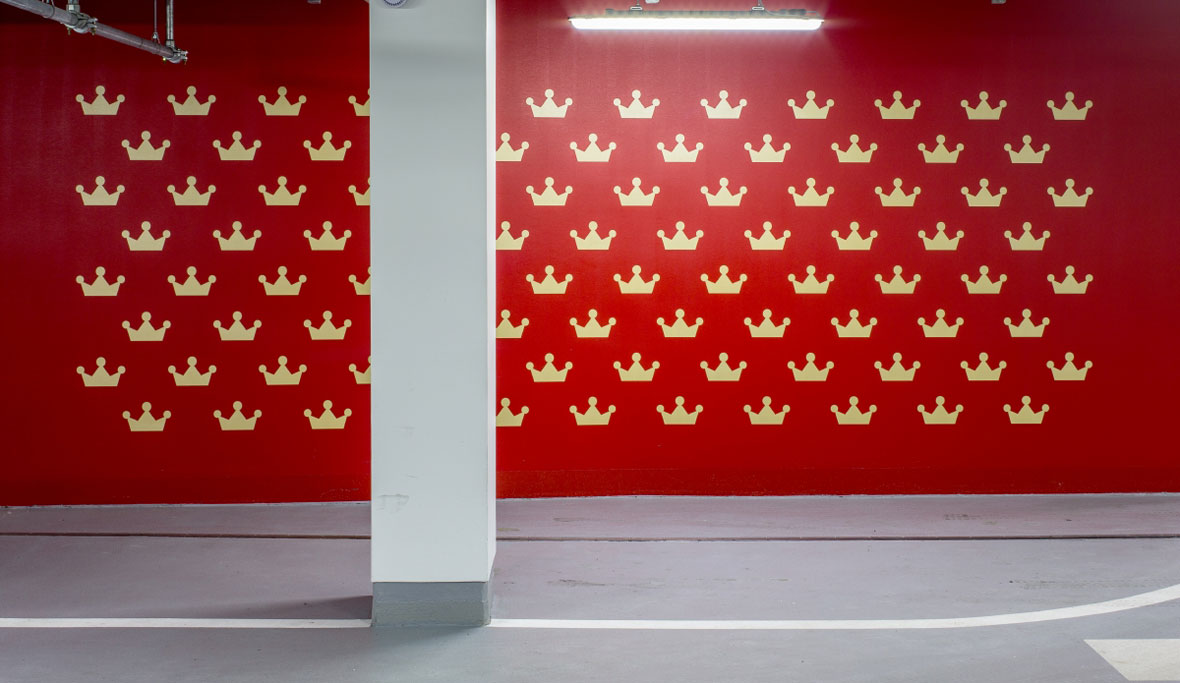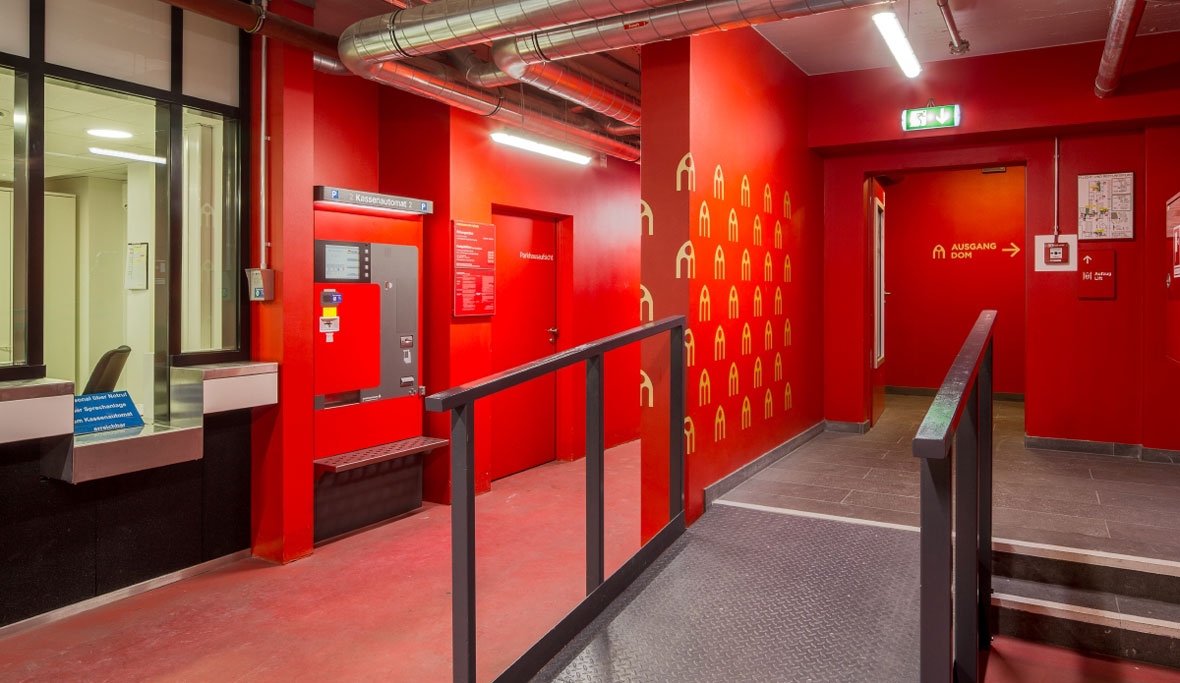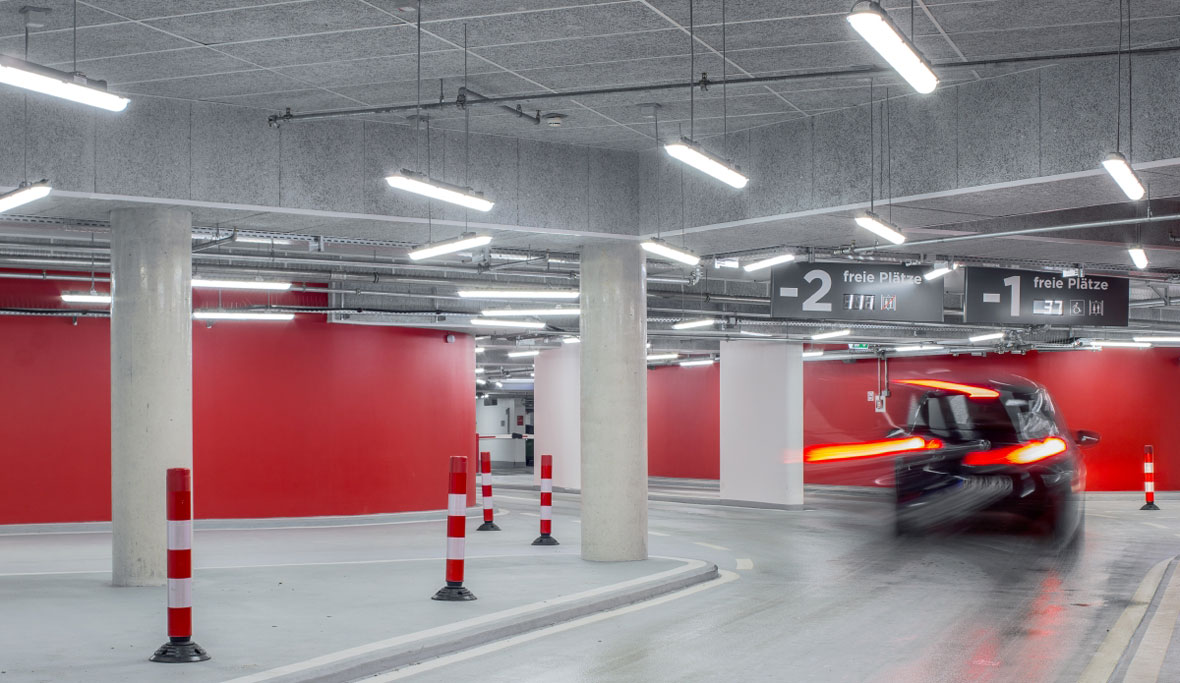 Three times the light with 11% less energy consumption
A total of 950 Nextrema LED weather-proof luminaires were installed in the Dom Römer car park. The luminaires are extremely resistant due to their tough diecast aluminium chassis, and reliably provide continuous illumination in humid, dusty and dirty ambient conditions.
Light from the Nextrema LED is pleasantly uniform, bright, glare-free and especially energy-efficient. A win-win situation for both visitors and the operator: orientation, the feeling of safety and the overall atmosphere in the car park were significantly improved thanks to upgrading from standard linear fluorescent luminaires to LED technology with illumination output that is three times higher.
The improved energy efficiency simultaneously cuts energy costs for lighting by at least 11%, meaning that investment costs are rapidly amortised with the savings. The high 50,000 hour service life of the LED luminaires and the especially large maintenance intervals also reduce overall luminaire operating costs in the long term.
Maximum safety with minimum energy consumption
The lighting concept placed a main focus on the question of how to illuminate an underground car park without the ingress of daylight, while giving visitors a feeling of maximum safety – and being as energy efficient as possible. Lighting designers based their plan on two different measures.
On the one hand, zones such as entrance and exit areas and parking spaces for women are especially brightly lit for maximum safety and orientation. In addition, the complete lighting installation is controlled by an intelligent light management system, with motion sensors integrated in the luminaires detecting the presence of persons and vehicles.
Luminaires are switched according to segments to achieve sufficient visibility in the far field, with nine luminaires being triggered simultaneously, without a start phase and up to complete illumination output. Light thus accompanies visitors on their way through the car park. If photometric requirements change – for example if the Römer needs to be seamlessly illuminated for an official reception – the light management system can be quickly and simply modified via touch screen.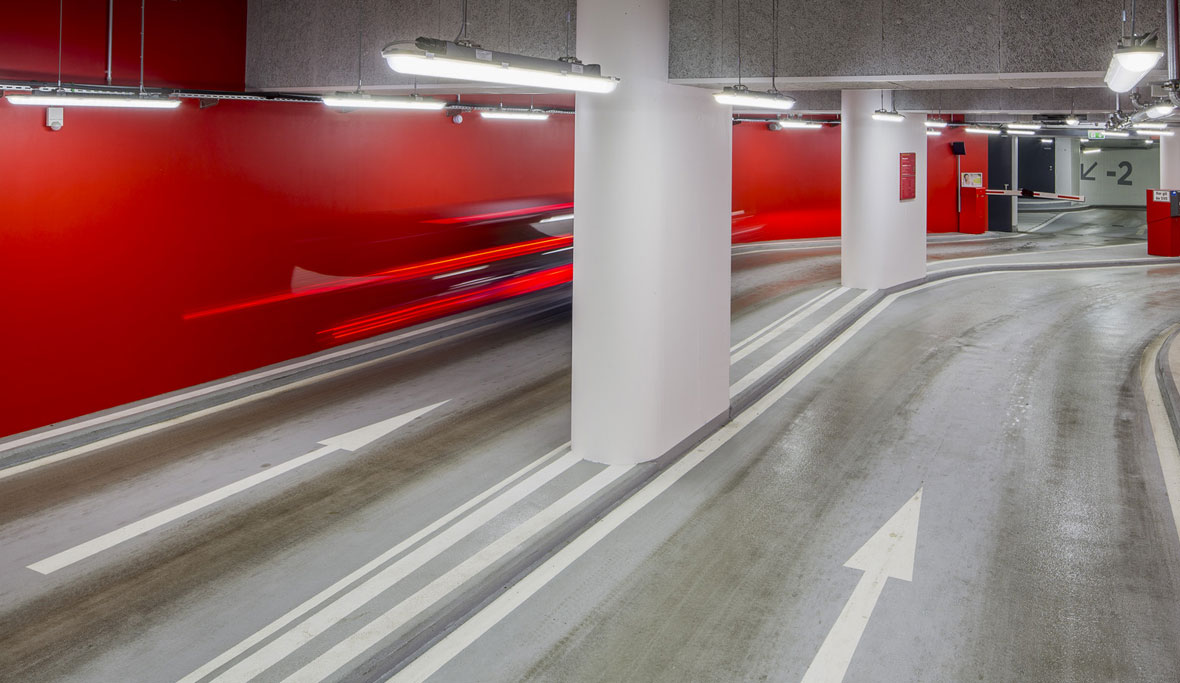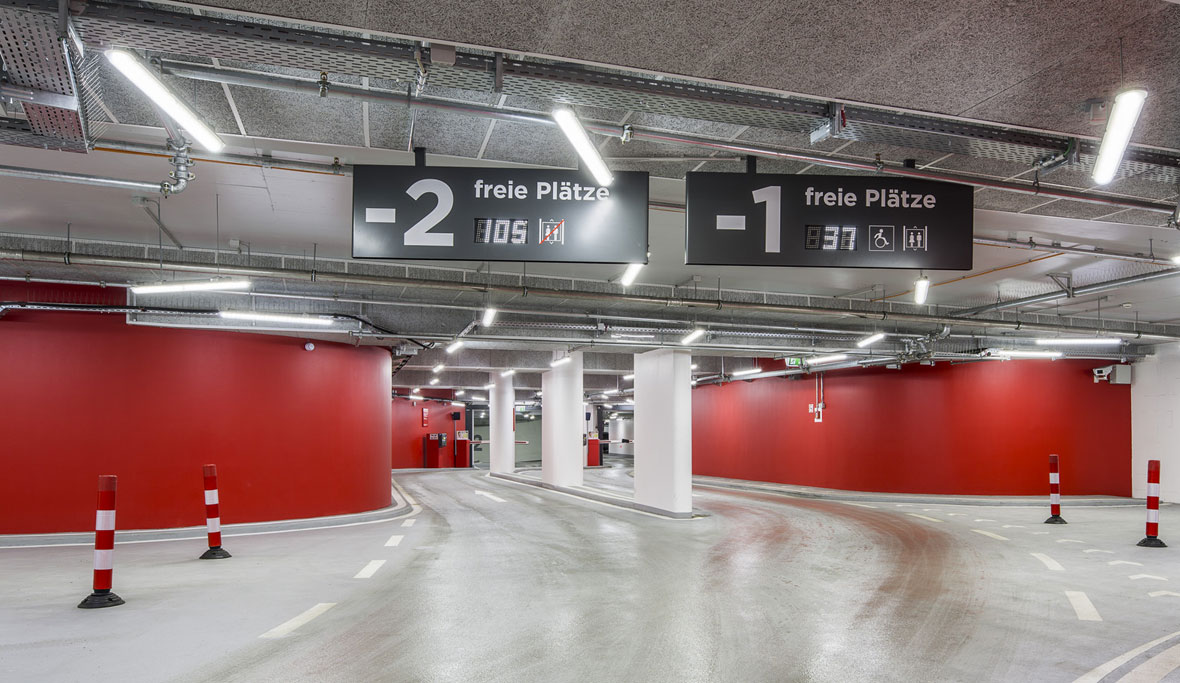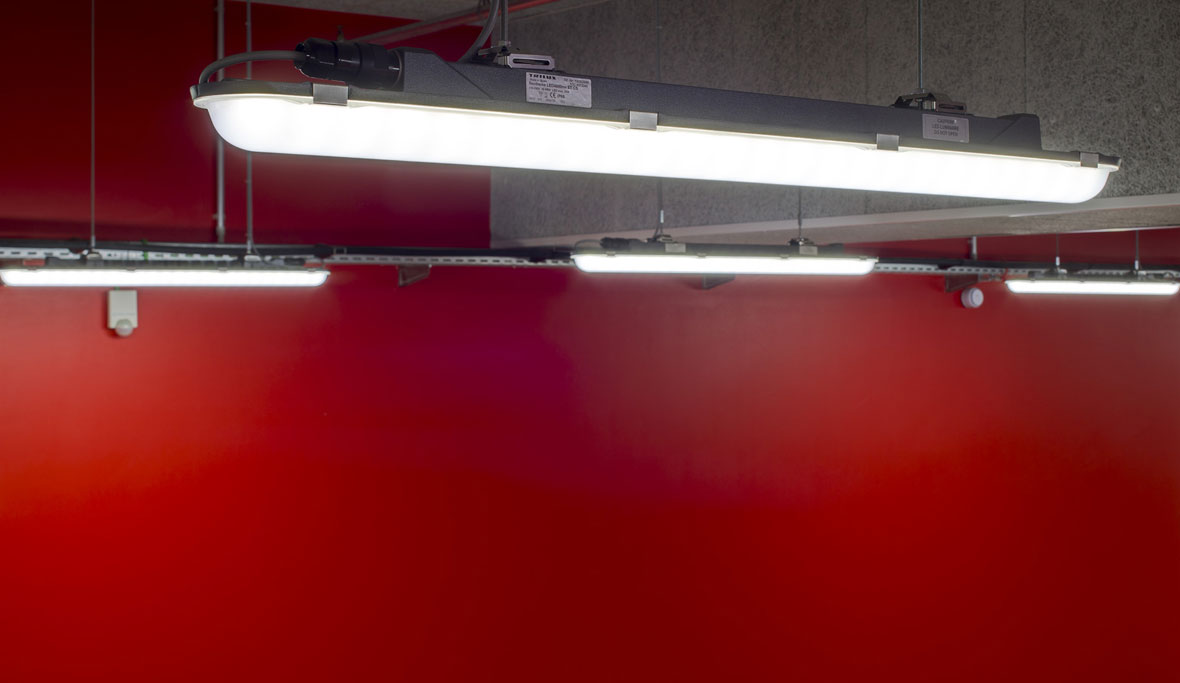 Clever, compact and rapidly installed
Thanks to their intelligent details, installing the 950 Nextrema LED luminaires was especially simple. A highly practical benefit is for example the combination of compact design with high illumination output: with a length of only one metre the Nextrema LED achieves the same lumen output as standard 1.5 metre luminaires.
This not only increases design flexibility when illuminating spaces with lots of niches and corners, but also simplifies work steps during mounting. And thanks to the intelligent mounting concept featuring mounting templates, clips and Wieland rapid connection system, the lighting refurbishment of the Dom Römer car park was carried out in a very short period of time.
White, red and gold in the right light
A car park with white walls is especially bright and friendly, but provides little in terms of orientation and has no individual character that differentiates it from other car parks. To meet this, a completely new design was carried out in the Dom Römer parallel to upgrading the lighting installation, including coloured visitor guide systems.
Because the new luminaires provide sufficient brightness, various walls were painted red and decorated with strong, golden symbols, with a stylised Römer facade, an imperial crown and a cathedral window being depicted. The symbols are understood intuitively and indicate the right directions to the town hall or cathedral for visitors. The interplay of fine colours and bright lighting lends the car park a pleasant ambience that complies with the importance of its heritage surroundings.