ETECH - Wels, Austria
Own work space as a showroom
Date

03. Jul 2015

Category

Trilux Inspirations

Comments
ETECH Wels radiates with sustainability - TRILUX supplies LED luminaires
When an electronics specialist looks for a new location, it expects high quality in terms of building technology. For ETECH Schmidt u. Pachler this was no different – a building was quickly found but the technical profile did not come up to expectations.
to the lighting installation, are now controlled via state-of-the-art bus systems. The LED lighting at ETECH is regulated according to daylight levels and occupancy, thereby increasing energy efficiency. The new system not only saves a great deal of energy and features reduced maintenance costs, but the environment benefits by reducing climate-damaging greenhouse gas emissions by around ten tons per year.
For this important contribution to climate protection ETECH Wels was awarded a certificate and an environmental subsidy from the Austrian Environment Ministry - it pays to act in an environmentally friendly way. As partner for designing and implementing the luminaire concept, TRILUX not only scored points with its wide range of services but also provided a convincing cost-benefit analysis.
"In the end the decision wasn't difficult," remembered Branch Manager Helmut Moser. ETECH insisted on installing the supplied luminaires themselves – it certainly wasn't difficult. "TRILUX products usually feature especially easy mounting," said a pleased Mr. Moser. TRILUX was thus once again able to successfully carry out its brand message of "Simplify Your Light".


For this reason the company equipped the new subsidiary in the Austrian town of Wels themselves. TRILUX were taken on board as partners for sophisticated LED lighting technology. Everyday work for the ETECH electrical professionals includes designing and implementing large-scale electrical installation projects, and the company motto is "We don't simply want to satisfy our customers but inspire them."
It is then a matter of course to demonstrate the wide spectrum of services available at the company's own location. This was the core idea for transforming their own world of work into a showroom. The lighting concept had to radiate in terms of planning, systems, installation and sustainability. "The aim was to construct proper showrooms for luminaires," explained Karoly Klinkovszky, Project Manager at TRILUX.
Optimum lighting for work should be seen and experienced everywhere, ranging from light in the workshops and warehouse to the offices. For this purpose the building was completely equipped with half a dozen TRILUX luminaire series featuring LED technology. All electronic features in the building were connected to the building management technology, and heating, heat pump and photovoltaic system, in addition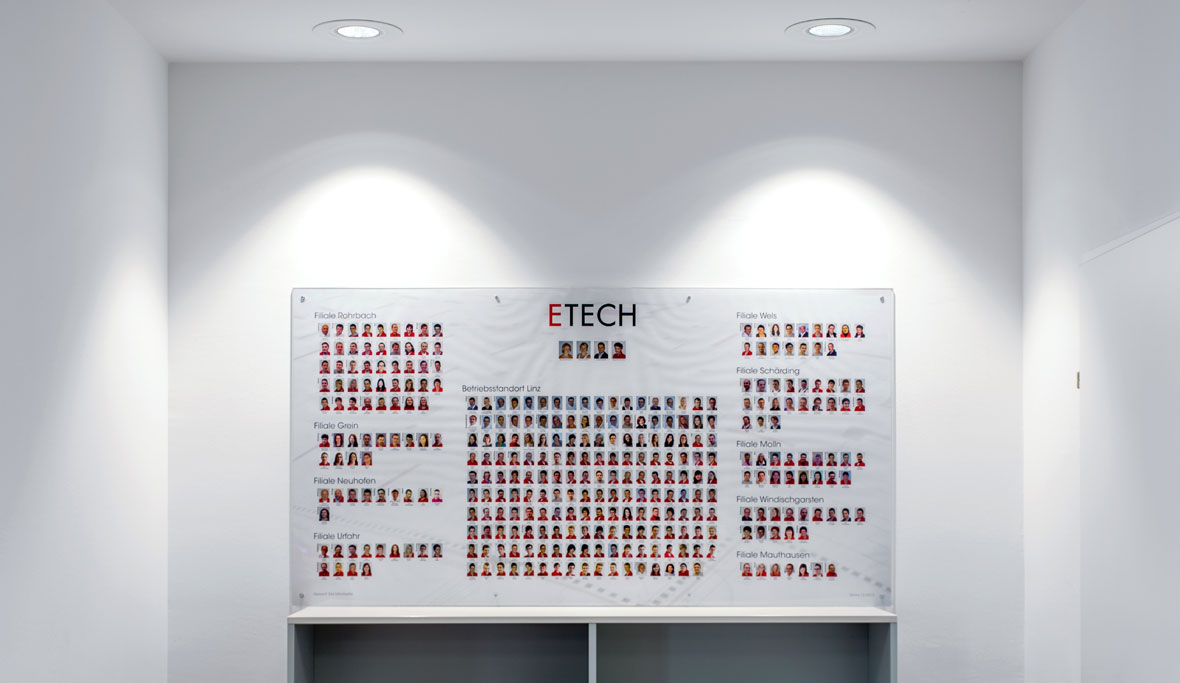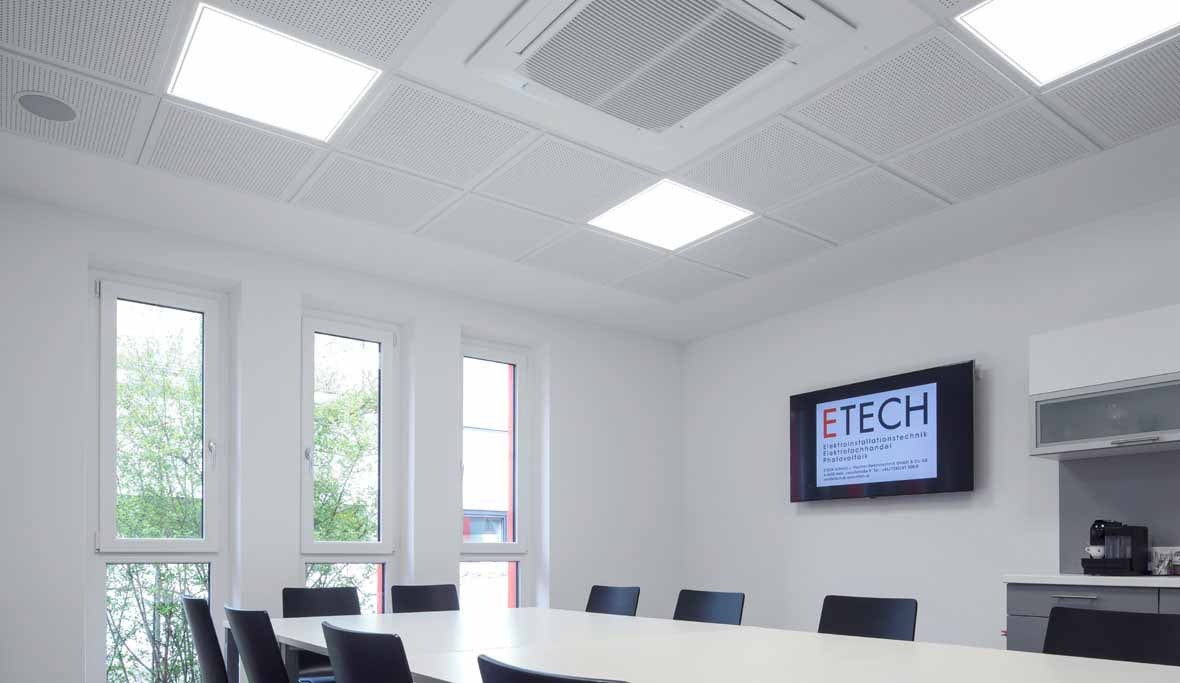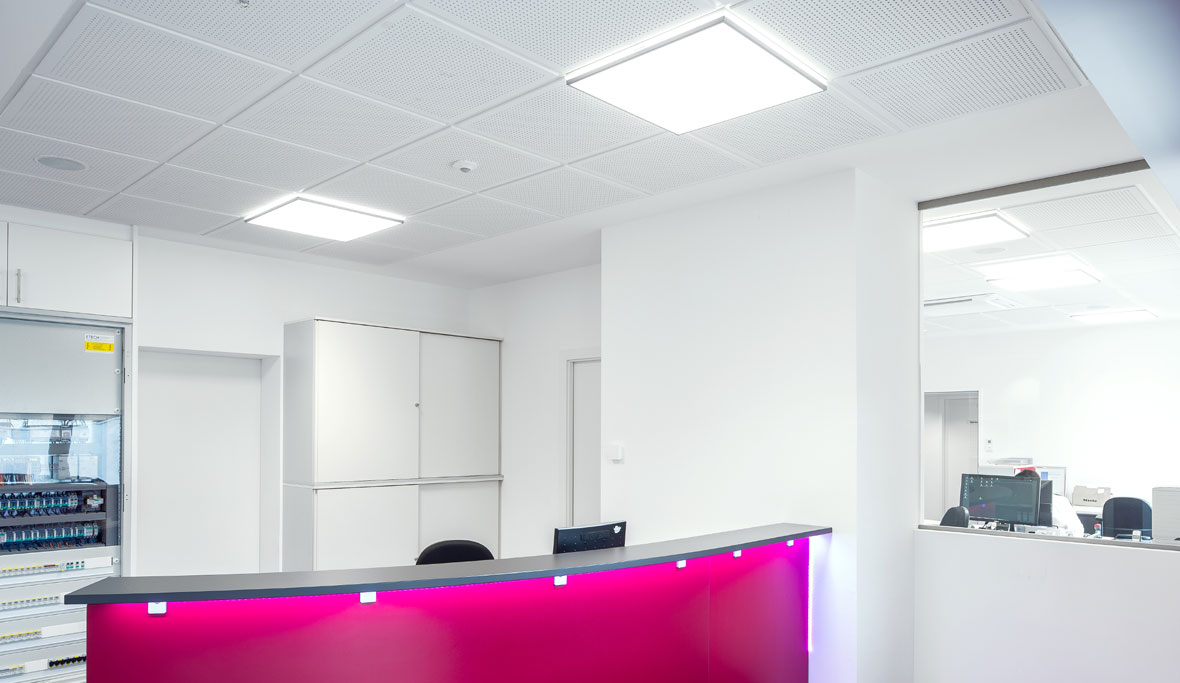 In short
Construction authority
ETECH Schmid u. Pachler
Elektrotechnik GesmbH & Co KG
4600 Wels-Dickerldorf, Austria
www.etech.at


Installed luminaires
A total of 101 LED luminaires from the Liventy, Belviso, Nextrema, Inperla, Amatris and Oleveon ranges.