Give me Five
Five questions for Detlef Iseken from the ROMBERG Group about lighting for logistics
Date

Category

Trilux Visions

Comments
The ROMBERG Group is our long-term partner for planning and installation in the field of all-encompassing electrical engineering for major projects in Germany. Detlef Iseken from the ROMBERG Group, who has 25 years of practical experience, knows everything about the special requirements for lighting for logistics and knows what the current challenges and trends in the market are. We asked him five questions.
How would you describe the current status quo regarding lighting for logistics?
Across the entire logistics industry, the LED transformation in existing properties is far from completed. But a lot has happened in the last five years, especially in terms of environmental awareness. This is why energy-efficient LED lighting is now standard in all new buildings. On the one hand, this keeps operating costs low. On the other hand, many of the big logistics players are on their way to 'green logistics' and are striving for CO2 neutrality. In the case of a new logistics building, lighting is integrated in the DGNB certification (German Sustainable Building Council). And LED lighting is currently unbeatable in terms of energy efficiency, especially when the systems are controlled in a smart way.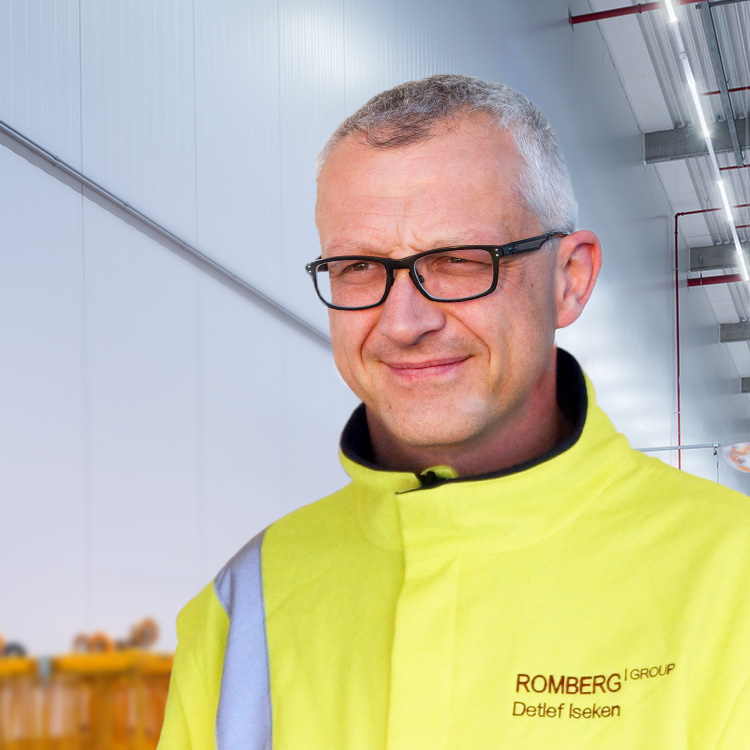 What should you pay attention to when it comes to lighting for logistics?
In addition to the classic basic requirements - standard-compliant and as energy-efficient light as possible for the various logistics areas - there are a number of special, logistics-specific factors. The complex structural infrastructure of tall buildings, for example, makes product quality and lifespan more important. The reason for this is simple. The maintenance work for ceiling heights of up to 20 meters is extremely time-consuming and cost-intensive. There is also the risk of disrupting the entire, perfectly coordinated logistics chain during maintenance, which is not only annoying, but also expensive. Practice has shown that modular lighting solutions, in which the system components can be exchanged quickly and easily, enable to speed up maintenance work and increase the flexibility of changing the way the space is used.
Where do you see the greatest potential in lighting for logistics?
I think many logistics companies are not yet aware of the possibilities and advantages of a smart, connected LED lighting solution. On the one hand, this applies to the lighting systems themselves, which are very easy to monitor and control, for example by connecting it to the Cloud. Open interfaces enable simple integration of operating systems. On the other hand, connected lighting is used more and more as an infrastructure for "non-lighting" tasks like IoT components for broadcast activities, including cameras or CO2 sensors. In logistics, Location Based Services such as Asset Tracking or Heat-Mapping can be carried out using lighting. Lighting is becoming the driver of digitization.
What is being most underestimated in practice?
Not that long ago, the quality of light was a marginal issue. Now, there is a growing awareness of how important good working conditions are for employees in logistics. High-quality lighting that creates the most natural lighting conditions as possible, for example Human Centric Lighting (HCL), is used in many companies to improve the well-being as well as the productivity and health of their employees. Especially with shift work, which is common in logistics, the regulation of light color is important in order to avoid disruptions of the workers' natural biorhythm. In addition, it is often underestimated how important fast and simple assembly processes for assemblies are in practice.
And what possibilities arise from looking outside the box and across company boundaries. A good example is the integration of general LED systems and emergency lighting systems. Both systems previously had to be installed separately. So, we brought together TRILUX (as LED specialist) and Ceag (as emergency lighting specialist). Both companies have coordinated their system components in such a way that the installation could be simplified tremendously, which resulted in great benefits for all parties involved.
Where is the journey going to in the next ten years?
Logistics is clearly on the way to fully automated logistics areas in which all work is carried out by computer-controlled systems. In Logistics 4.0, lighting becomes an IP-based system component that can be seamlessly integrated into the logistics process chain. The connectivity and control of all processes on site enables perfect management of energy use. The light from each individual light point - there are often many thousands of them at a logistics location - can be perfectly dosed, which results in minimal energy consumption. The result is tailor-made light in the right amount at the right time in the right place. In other words: light becomes a smart partner who accompanies us through the day and optimally supports us in various tasks.