Rabobank - Bocholtz, The Netherlands
"The Reinvention of an Office"
Date

Category

Trilux Inspirations

Comments
Rabobank: LED systems in historic surroundings
Where farmers once used to gather their rich harvest, a focus is now placed on the growth of customer assets. In the Dutch town of Bocholtz, Rabobank has carried out the wide-ranging renovation of a 700 year-old historic estate to transform it into a highly modern consulting centre.
The charm of bygone days was maintained and combined with the requirements of future-proof office surroundings. TRILUX's digital lighting systems contribute to the impressive atmosphere and provide a complementing contrast to the historic surroundings thanks to their purist design.

A former canal, a bridge leading over it and a spacious inner courtyard – Rabobank's new residence is set in highly picturesque surroundings. Cool steel substructures bear the weight of century-old limestone walls and luminous colours successively present themselves throughout the modern interior of the office spaces and meeting rooms.
"Due to environmental reasons, we didn't want to construct a new building for our consulting centre but reinvent an existing one," explained Theo Korn, Facility Manager at the Rabobank Advice Centre Centraal Zuid Limburg.

The managers are especially proud of the successful unison of historic farmhouse ambience and state-of-the-art LED technology. "The lighting was immensely important for us to create the right atmosphere – we can now be sure we work in offices which meet the most modern requirements and conditions," said Theo Korn. A total of 150 luminaires were installed by TRILUX in the three-storey building complex.
One of these is the Luceo LED, featuring not only glare-free light for high levels of visual comfort but also very low energy consumption to benefit the environment and climate – in accordance with the wishes of the construction authority.

The building's open reception area was the ideal installation location for the Coriflex LED family - the range has diverse applications and provides customised light. Work areas are illuminated in accordance with appropriate standards to ensure concentrated and relaxed working and the flexible track concept,
into which spotlights can be integrated wherever the client wishes, simultaneously provides high levels of adaptability should lighting requirements change.

Throughout the building, the effort to find a balance between open communication structures and requisite levels of discretion – which are indispensable for the banking business – is tangible. An effort which led to success, "…and not least because of a close cooperation between all parties involved," explained Willem Dammers, Managing Director of TRILUX BENELUX.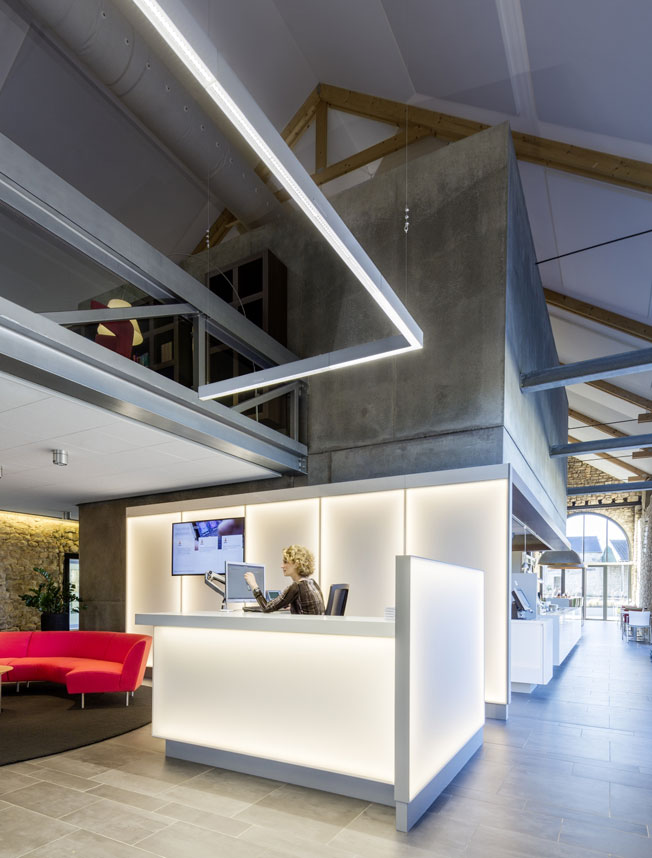 Bauherr
Rabobank Adviescentrum Centraal Zuid Limburg - Bocholtz, Niederlande
Objekt
Büro- und Beratungsgebäude
TRILUX-Baureihe
Lateralo Plus LED
Polaron IQ LED
Belviso LED
Coriflex LED
Luceo LED